OSCE: Kosovo's Prosecution of Terrorism Financing 'Ineffective'
A new OSCE report says financing of terrorism cases are 'under-prosecuted' in Kosovo and lack operational oversight.
This post is also available in: Bosnian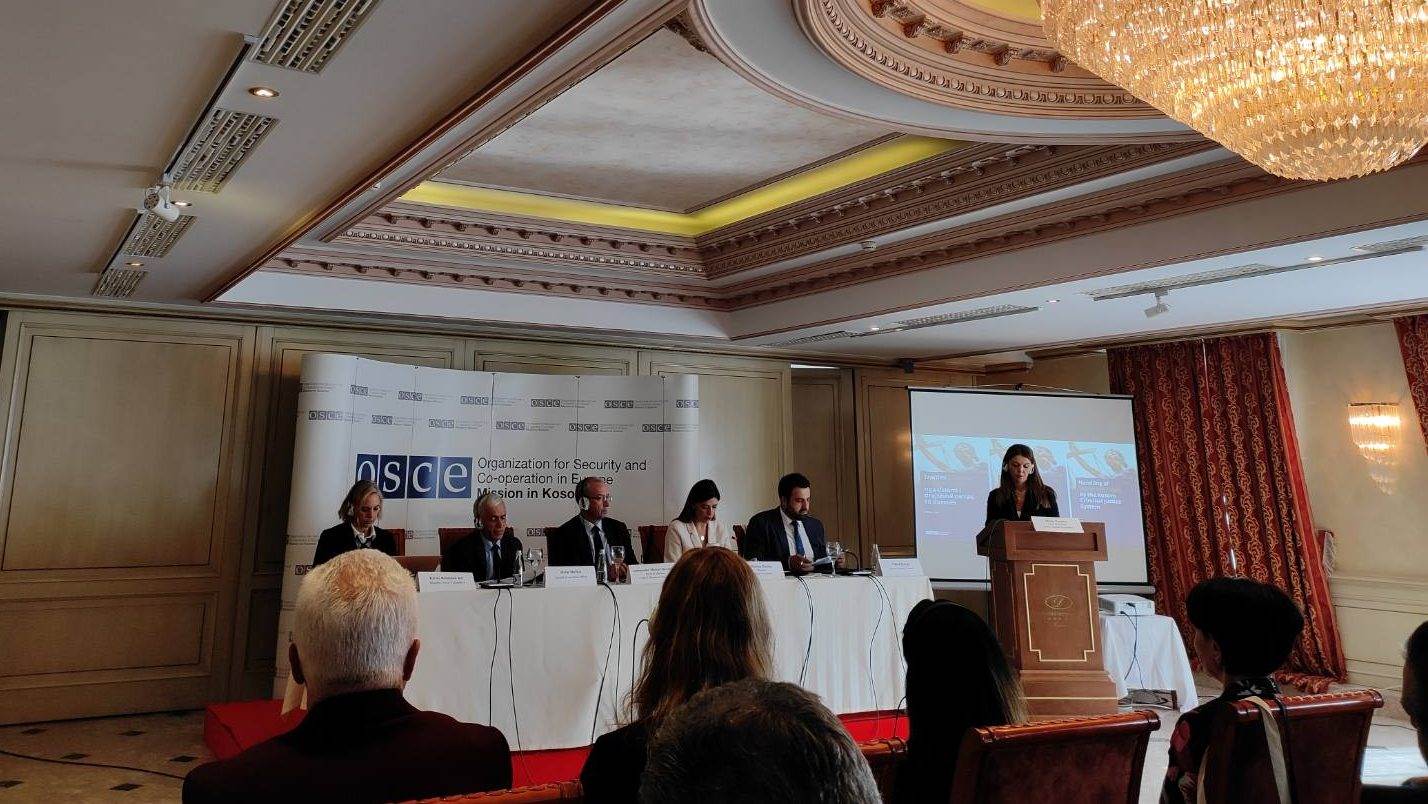 OSCE Mission in Kosovo presents the report on handling of terrorism cases by the courts in Pristina on September 19, 2022. Photo: BIRN
Kosovo's justice system needs to be more committed to prosecuting the financing of terrorism, a new OSCE Mission report on the handling of terrorism cases by the country's criminal justice system says.
"Terrorist financing is under-prosecuted. There has only been one conviction for financing terrorism in 2019 despite the FIU [Financial Intelligence Unit] having referred 16 cases to the police in 2019," the report published on Monday says.
It adds that judges, prosecutors and the FIU need training focused on the prosecution of financing of terrorism and on areas of crossover with money laundering offences.
It says the existing law and prosecution practice in the field of financing terrorism should be brought closer in line with EU and international standards.
"A lack of operational oversight has led to ineffective prosecution in this area," the report says.
The head of the OSCE Mission in Kosovo, Ambassador Michael Davenport, said that terrorism cases are particularly challenging when it comes to law policy practice and called on Kosovo legal practitioners "to hold the highest standards of professionalism in this area and make adjustments where this is really justified.
"The threat from terrorism is always changing and response has to change with it. Robust investigation, prosecution and judication are crucial. We have to be vigilant in response to these challenges but, always remember that our response has to respect basic human rights and the rule of law," Davenport said.
Kosovo outlawed participation in foreign armed groups back in 2015 after more than 400 of its citizens joined the conflict in Syria, fighting alongside the Islamist terrorist organisations Al-Nusra and ISIS. Tens of those who returned from the Middle East faced trial and were imprisoned.
Kosovo's five-year Strategy for the Prevention of Violent Extremism and Radicalism Leading to Terrorism expired last year. That strategy outlined steps to take, with a focus on early identification, prevention and intervention, and the de-radicalisation and reintegration of individuals and groups affected by extremism and radicalism.
This includes support with the state bureaucracy, food, shelter, education, inclusion in community programmes, professional training for women and access to healthcare.
The OSCE report notes that the implementation of such strategies often is undermined by inadequate financial and other resources, particularly at local level, limited political prioritisation and lack of co-ordination.
It also says that there remains a lack of clarity of the evidence underpinning the charging of indictments, while pre-trial detentions are routinely ordered before any evidence underpinning the indictment has been served.
"Judgments issued on conviction and sentences lack transparency and detailed reasoning on the elements of the offence and burdens being applied, evidential analysis and particularisation to the defendant," it says.