Although the European Union has placed the Russian oil company under sanctions, Motorways of the Federation, a public company, is running a campaign encouraging driver to fill their vehicles at its petrol stations.
This post is also available in: Bosnian
The road company of Bosnia's Federation entity, Motorways of the Federation, Autoceste Federacije, recently emailed its subscribers about a promotion it is running whereby drivers can get an electronic toll tag for free if they buy a certain quantity of gas at Gazprom petrol stations.
The public company is conducting the campaign all over July, offering benefits for its users who buy fuel at petrol stations indirectly owned by Gazprom whose Russian owners have been sanctioned by the European Union due to Russia's invasion of Ukraine.
Federation Motorways has been offering drivers a free electronic tag to pass rapidly through toll points if they buy fuel for a certain amount of money at those petrol stations. It justifies the selection of Gazprom as its partner, citing a public call which was open to all companies.
In response to a request for comment by BIRN BiH, the Delegation of the European Union called on the authorities and managers of state companies in Bosnia to show solidarity with Ukraine, noting that the EU has imposed sanctions against Gazprom and its subsidiaries.
The EU Delegation said that Bosnia had only formally harmonized its position with the EU on Ukraine, but that actual harmonization with the sanctions remained lacking.
"As a country with a strong perspective in the EU, we expect Bosnia and Herzegovina to harmonize its foreign and security policy with the policies of the EU. Therefore, we appeal to authorities at all levels, as well as managers of state enterprises, to show solidarity with Ukrainian citizens and join the EU in its efforts to impose serious consequences on Russia for its actions, thus effectively stymieing Russia's ability to proceed with the aggression," the EU Delegation said.
The EU has allocated tens of millions for construction of motorways in the Federation entity through grants and loans.
Most Western countries have imposed sanctions against Russian companies to reduce the possibilities for Russia to finance its invasion against Ukraine in which hundreds of civilians have been killed and injured.
European countries are also trying to rapidly reduce their dependency on Russian gas and oil, while allowing the import of energy products for a certain period, in order to minimize the damage done to their economies.
Unclear policy towards sanctions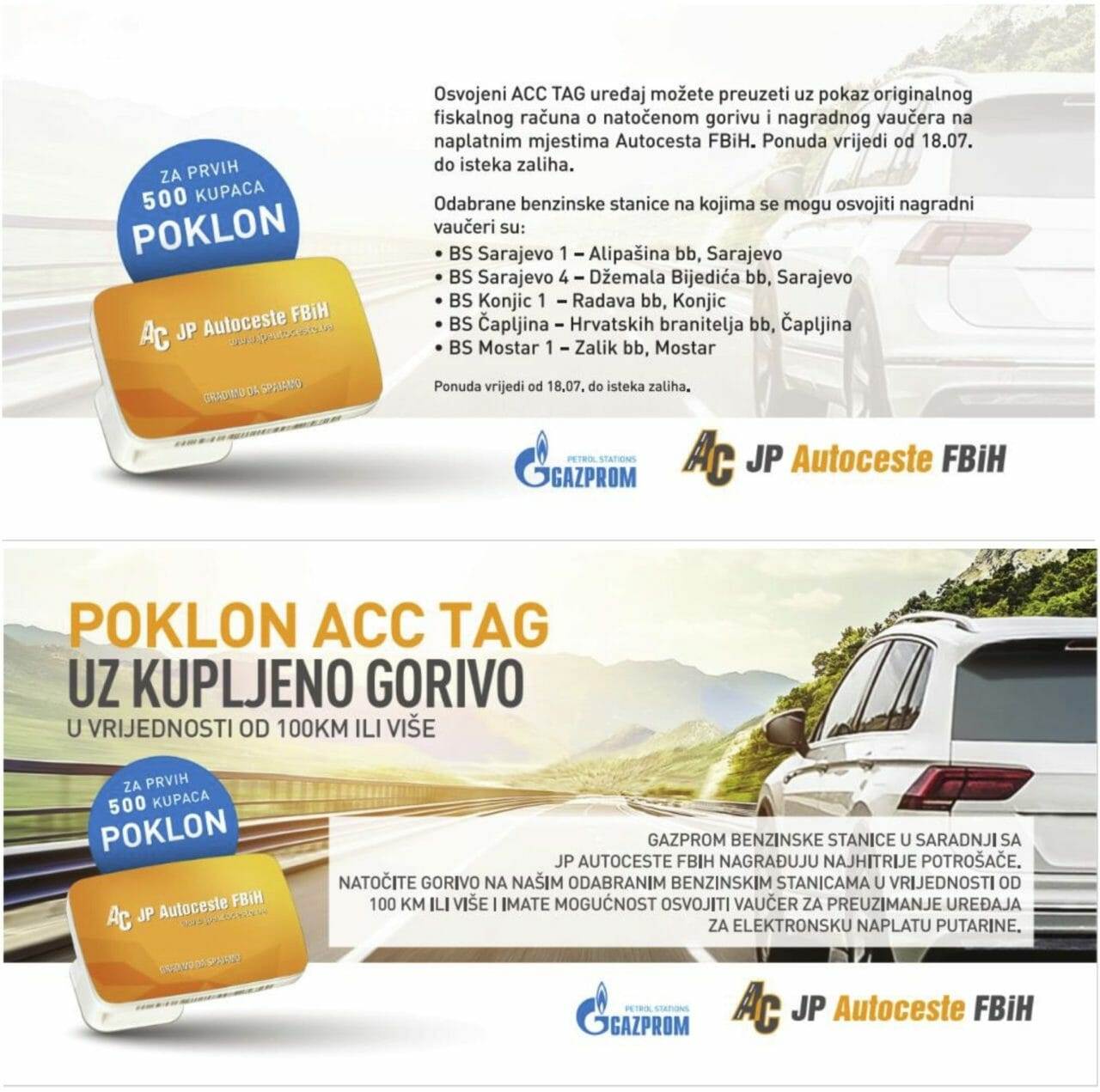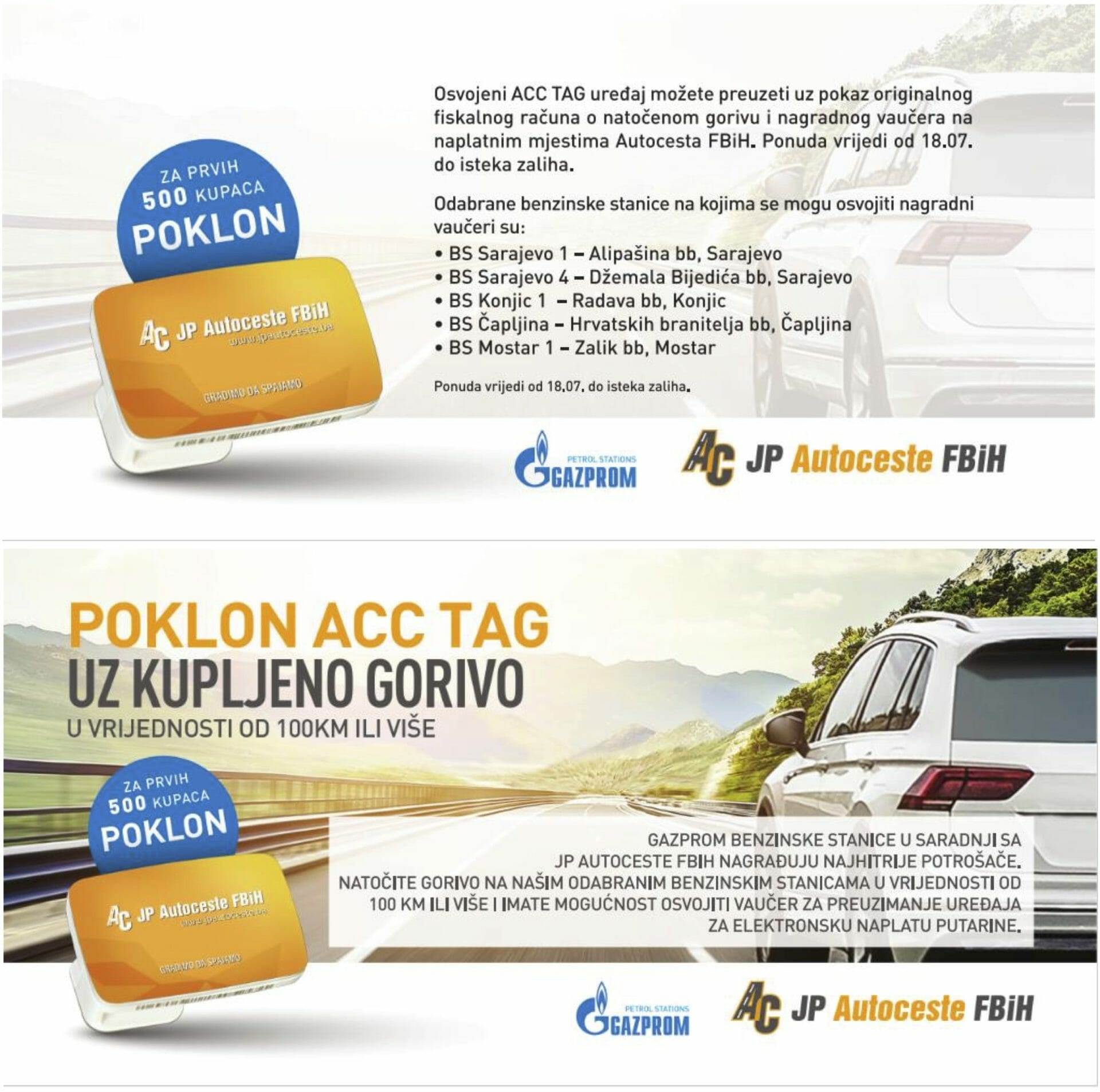 Announcement of promotional actions on the website of JP Autoceste FBiH. Photo: Screenshot
In early July, the Motorways authority promoted a prize campaign in cooperation with G-Petrol for buying fuel at their and Gazprom's petrol stations.
During the prize campaign, whoever buys fuel for KM 100 or more [50 Euros] gets a free electronic toll collection tag.
While G-Petrol insists it is not subject to sanctions, nor is its work on the Bosnian market disrupted, analysts say public companies in Bosnia need to be careful when selecting their partners.
"If a state company decides to do business with any partner in promoting certain things, the users of their services or products might think that they actually share the same values," Sinisa Vukelic, editor of Capital business portal, pointed out.
"Given that those are Russian companies, and it is not quite certain … whether it has been sanctioned to that extent by the European Union, companies must be much more careful when deciding who to do business with," Vukelic said.
G-Petrol, which is registered in Sarajevo, has ownership links with Gazprom Neft. The company is owned by Petrol Industry of Serbia, NIS, in which Gazprom Neft has a 50-per-cent share.
Previously Gazprom Neft owned 56.15 per cent of NIS, but in May 2022, after the EU included Gazprom Neft on the list of sanctioned companies, 6 per cent of the shares were sold to another Russian company, Gazprom, which was not under sanctions.
The sale followed the fourth package of restrictive measures of March 16, which obliged European Union members not to "engage in any transactions with legal persons, entities or bodies established outside the borders of the Union whose direct or indirect proprietary rights are greater than 50 per cent".
Alongside Rosneft and Transneft, Gazprom Neft is one of the three Russian oil companies that have been put on the list of companies sanctioned by the European Union since March.
The fifth package of restrictive measures, adopted in April, exempted, among others, the Western Balkan countries, including Serbia, which allowed for an uninterrupted oil supply to NIS.
The sixth package of measures, whose implementation should begin in November, however, bans imports of Russian oil, which the Serbian authorities have assessed as being liable to affect NIS.
Bosnia has formally joined the EU sanctions against Russia through the Bosnian Mission in Brussels, on the basis of the Foreign Policy Strategy and obligations stemming from its Stabilisation and Association Agreement with the EU, SAA.
According to the European Council's website, Bosnia "has harmonized with the EU" in sanctioning several hundred individuals and companies from Russia.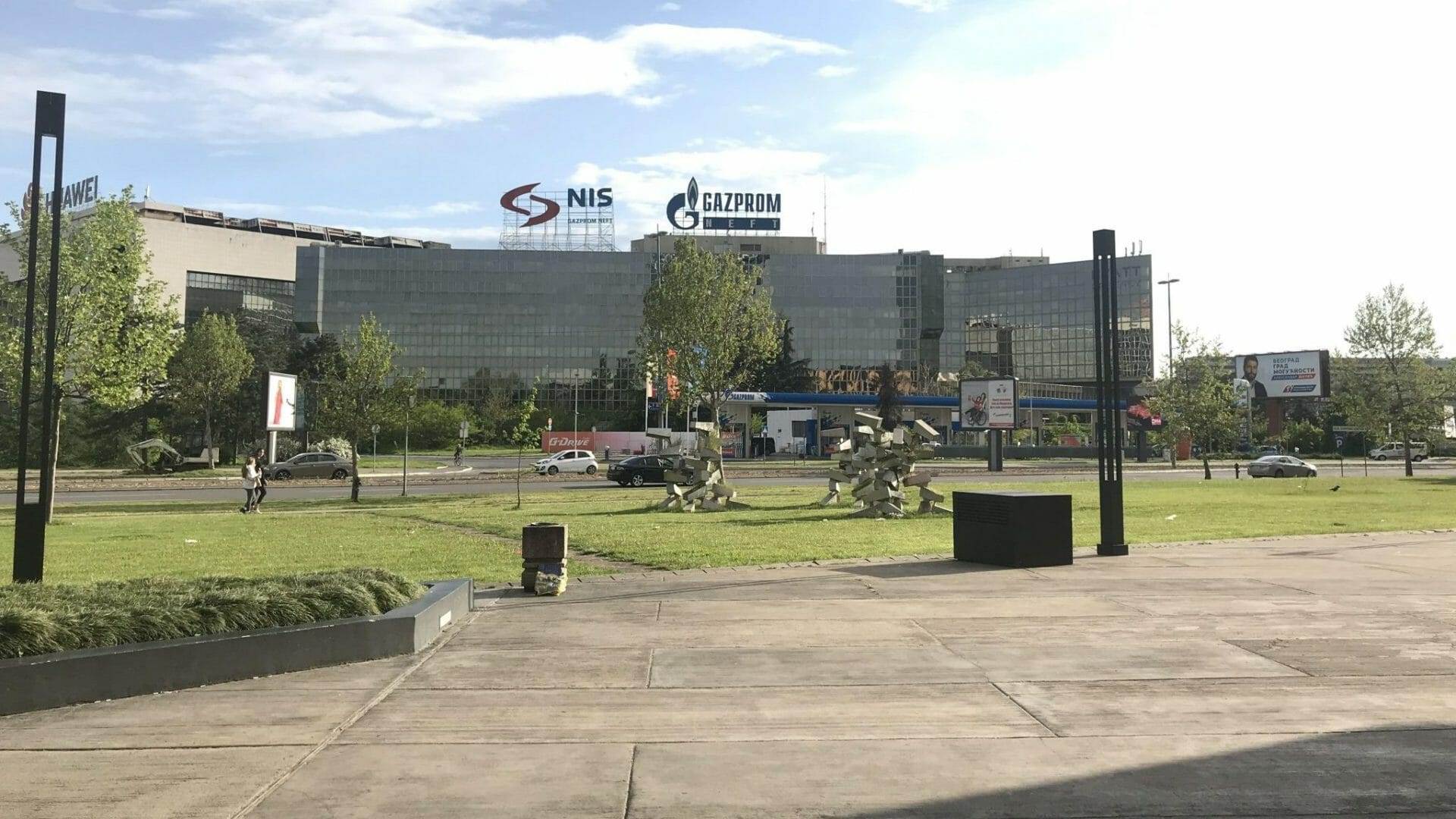 G-Petrol is part of the Oil Industry of Serbia, whose majority owner is the sanctioned Gazprom Neft. Photo: BIRN
But Sead Turcalo, dean of the Faculty of Political Sciences in Sarajevo, deems the situation more complex than that, because he says that although Bosnia has formally joined sanctions in some segments, it is not implementing them in practice; for that reason all the companies linked with Russia, including Gazprom, operate unimpeded in Bosnia.
"Institutions in Bosnia and Herzegovina should send some sort of a message that public institutions should not be partners in such dealings with state companies of the Russian Federation, which is an aggressor against a sovereign country like Ukraine," he said.
Turcalo says that much of the blame rests on authorities that accepted sanctions without explaining them or ordering public institutions and companies to comply with them.
For that reason, he says, it is hard to expect public companies to be truly aware the sanctions or impose them.
"From that perspective, it is hard to expect the Motorways of the Federation to act in a different manner, because if you take part in sanctions, you should clearly communicate that to all institutions throughout Bosnia and Herzegovina. It is hard to expect institutions themselves to act on them. That is the problem," Turcalo explained.
Motorways promise to align business with sanctions
Economic analyst Admir Cavalic says the sanctions and the obligations assumed are not taken seriously in Bosnia.
Speaking about the cooperation between Federation Motorways and Gazprom, he says he would not be surprised to see more examples like that.
"It simply shows that the hierarchy of relations, including political and other relations, like economic ones, has not been achieved and harmonized in Bosnia and Herzegovina in such way that, if the state commits to do something, it is automatically passed on, in this case, to an entity company, which is a state company," Cavalic said.
He added that it is not good for Bosnia to find itself in such situations as the country is directly violating obligations it previously assumed.
"That can present us as being unserious in the context of international relations, but also generally in the context of future commitments made by Bosnia and Herzegovina," Cavalic said.
Speaking about the consequences of failing to act on sanctions that Bosnia has joined, Turcalo notes that the authorities in Bosnia often undermine their own credibility; this is just another example.
"The failure to act on sanctions is something that can undermine the image of Bosnia and Herzegovina, but also our partner relations and, at least in a declarative sense, our commitment towards the integration into those Euro-Atlantic structures, towards our most constructive partners, namely the EU countries and the US," Turcalo said.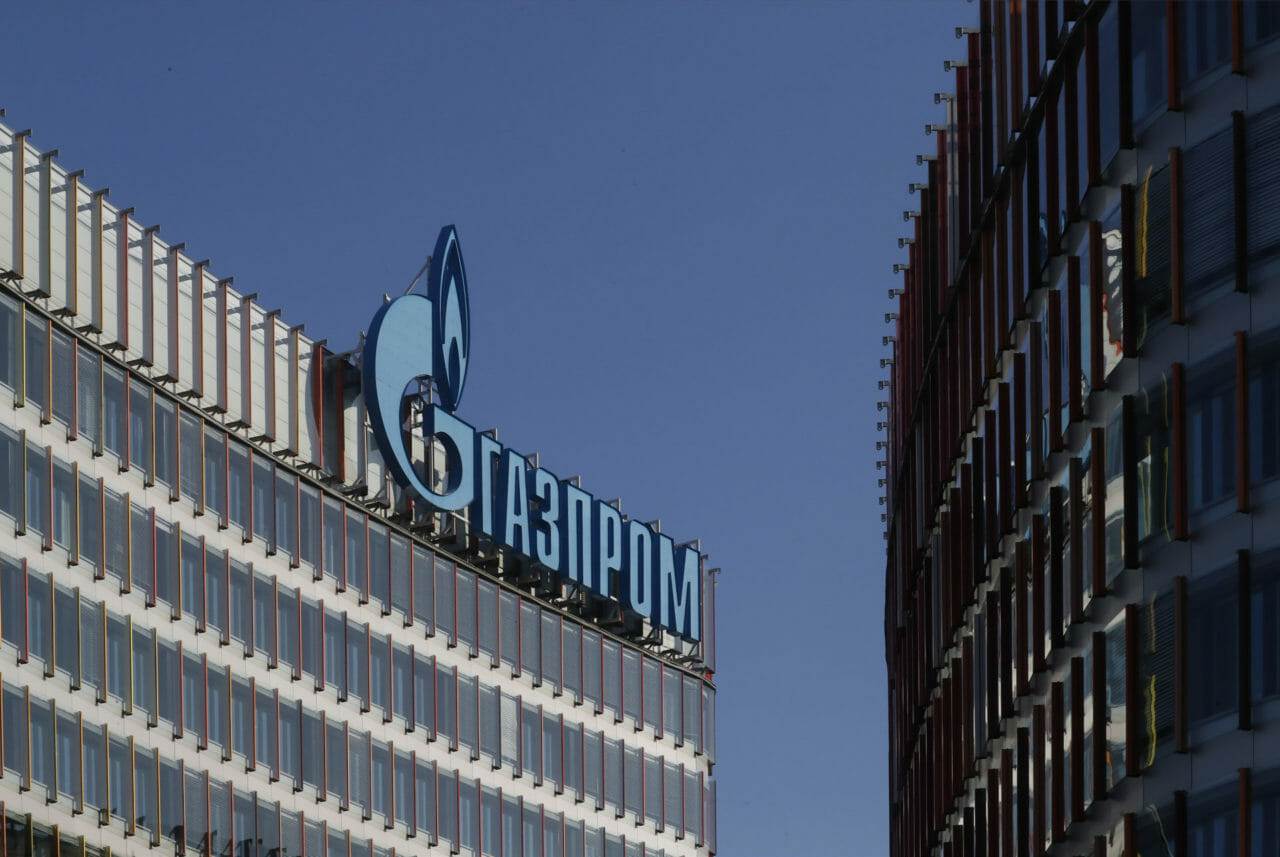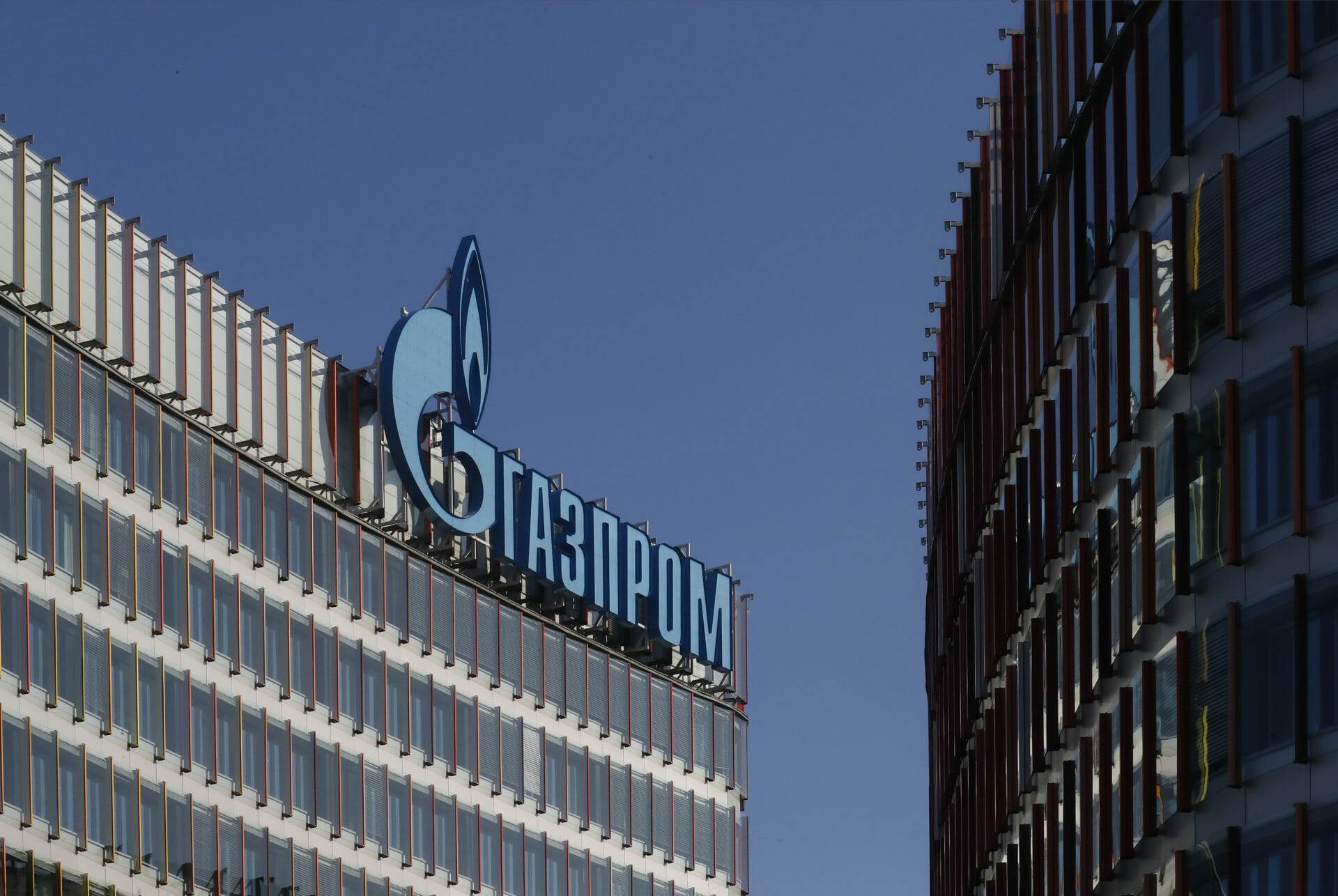 Gazprom headquarters in Saint Petersburg. Photo: EPA-EFE/ANATOLY MALTSEV
Following BIRN BiH's inquiry sent to general manager of the Motorways, Elmedin Voloder, the company answered that the new promotional campaign had started at the beginning of the year, "when there was no mention of Russian aggression against Ukraine, and hence, sanctions against Russia and Russian companies".
G-Petrol told BIRN BiH that its cooperation with Federation Motorways started in April with a public call published on April 13, in which the company invited potential bidders to express interest "in a form of joint cooperation which will result in ensuring payment of ACC Tag devices to motorway users and potential additional bonuses". Russian invaded Ukraine in late-February and the promotional activities of the Motorways towards Gazprom began during July.
Federation Motorways said it remains committed to respecting European values through its day-to-day operations, adding that without respect for strict regulations which the European Union demands through its banks for investments, reconstruction and development, it would not be in a position to use the funds it's been allocated for construction of roads.
It also said it consider the grants it has received show that the EU considers it "a serious partner", which is capable of dealing with the challenges of construction Corridor Vc. At the same time, it "respects the causes for which the Union stands", and will comply with those causes in future.
"Motorways of the Federation will conduct all its future activities in coordination with instructions of the Ministry of Foreign Affairs… keeping in mind the restrictive measures imposed by the European Union against Russia," it pledged.
The Motorways website states that, through the Western Balkans Investment Framework, WBIF, a joint initiative of the European Commission, Council of Europe Development Bank, CEB, European Bank for Reconstruction and Development, EBRD, and European Investment Bank, EIB – which the World Bank, WB, and German Development Bank, KfW, joined subsequently – more than 300 million marks in grants have been allocated for the construction of motorways in the Federation.