Two small but vocal groups of right-wing Bosnian Serb nationalists exerted pressure that is believed to have caused the authorities in the city of Prijedor to ban this year's White Armband Day march to commemorate war victims.
This post is also available in: Bosnian
The annual White Armband Day commemoration has been held for the past decade in memory of crimes committed by Bosnian Serb forces in the Prijedor area in the spring of 1992, and the killing of 102 children in the area during wartime.
It commemorates the issuing of a decree in May 1992 by the wartime Bosnian Serb authorities in Prijedor, which was announced on Radio Prijedor, telling all non-Serbs to mark their houses with white flags or bedsheets and to wear white armbands when going outside – an incident that has become symbolic of the deadly campaign of persecution in the area at the time.
Last year there was a White Armband Day march through Prijedor. But this year, the authorities declined to give it a permit.
Self-Respect and another right-wing nationalist group from Prijedor, a youth organisation called Principle (Princip), do not have many members. But over a couple of years before the event was denied a permit, they had staged a relentless online campaign to get the authorities to ban the White Armband Day march, one of the most prominent events commemorating the wartime suffering of non-Serbs in the area.
To find out how they worked for the ban, BIRN BiH analysed all the social media posts published by the two nationalist groups, as well as examining a series of events that they organised and documentaries that they made, and speaking to some of their members.
The two groups announced this year that they would hold several public gatherings in Prijedor on May 31, the date on which White Armband Day is marked.
Members of Principle said that they planned to hold a march to celebrate the birthdays of right-wing Hungarian Prime Minister Viktor Orban and Zeljko Mitrovic, the owner of Serbian pro-government channel TV Pink, as well as the fifth anniversary of the inauguration of Serbian President Aleksandar Vucic.
The Prijedor police department decided that allowing all these gatherings on the same day would cause "a serious danger of violence". The police allowed a White Armband Day gathering to go ahead, but banned a march through the city, according to Because It Concerns Me, the campaign group that organises the event.
The Orban and TV Pink events were also banned, according to their organisers, although police have not confirmed this.
However, nobody even showed up for the Orban and Mitrovic gatherings. Activists said that they believe that the right-wing events were only announced in order to prevent the White Armband Day march.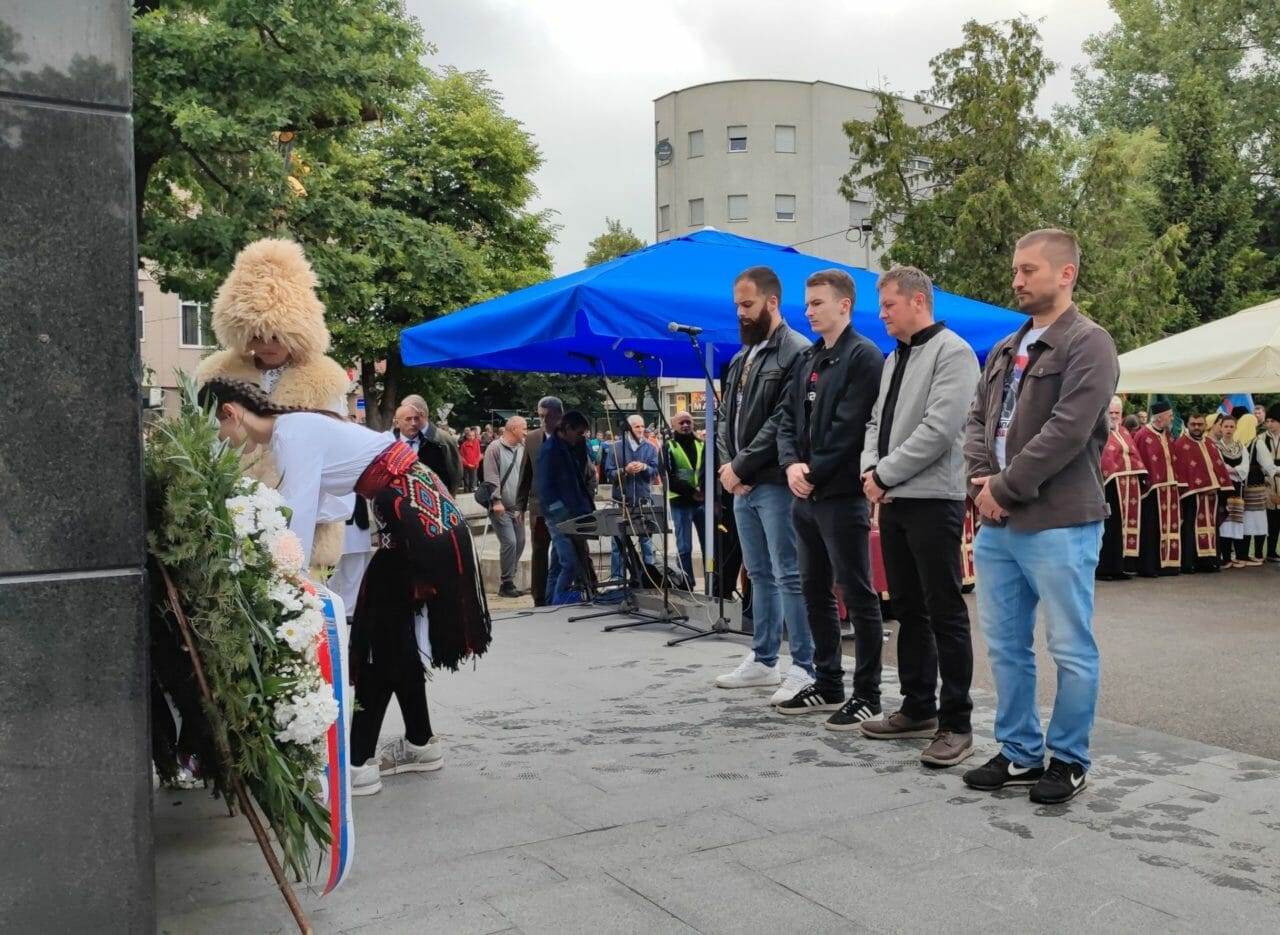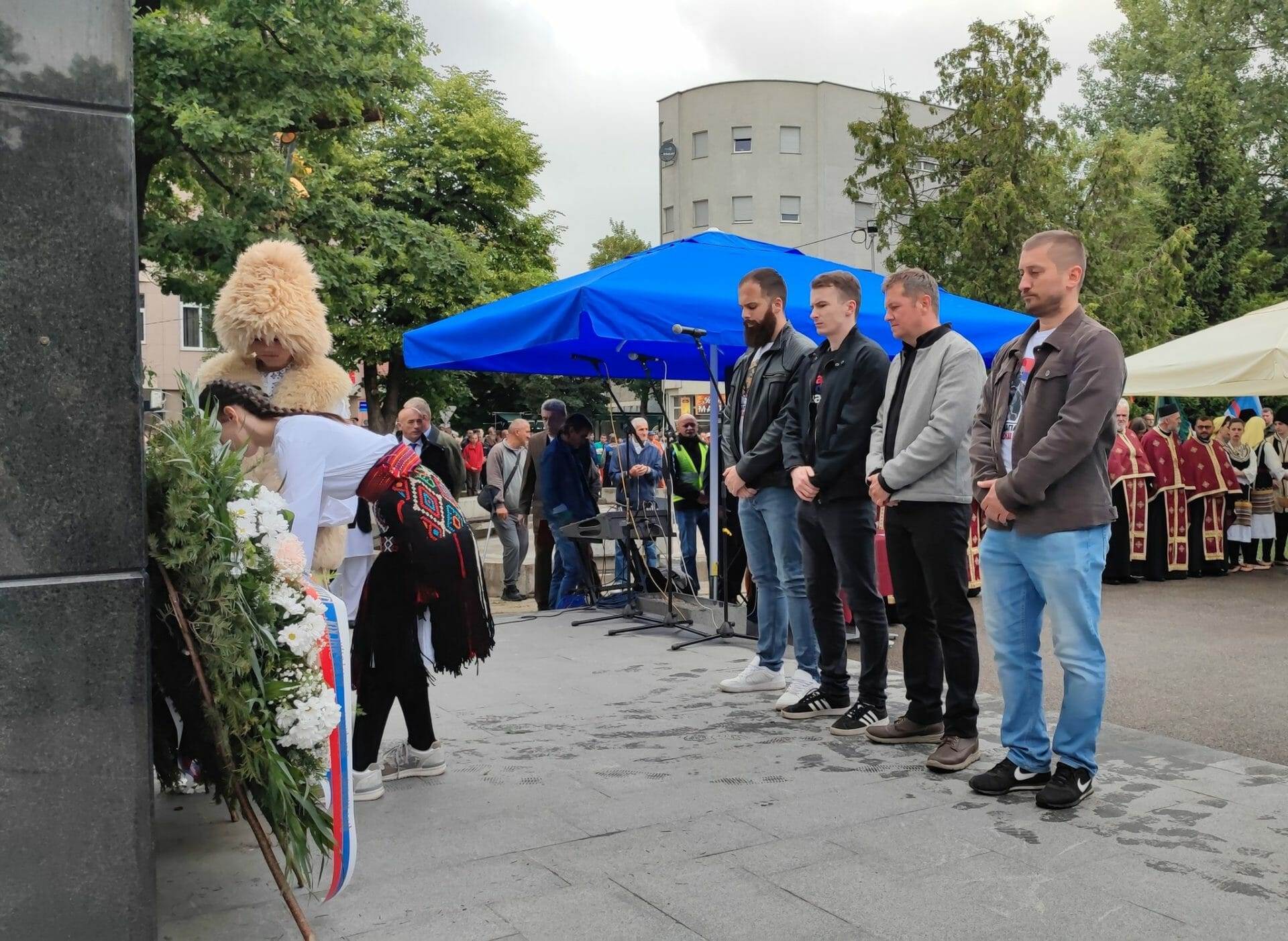 Self-Respect (Samopostovanje) activists at the Prijedor City Defence Day event in May. Photo: BIRN BiH
BIRN BiH has analysed more than 860 posts on Facebook by Self-Respect and over 30 posts by Principle. The posts show that the two organisations built a story that led to the march being banned, as well as promoting the denial of facts about the May 1992 'white armband' decree.
Self-Respect published 50 posts about white armbands, 45 of which cited various opinions and documents claiming to show that there was never an order to wear the armbands. As well as their social media campaigning, the two groups have so far organised seven series of lectures and filmed two documentaries. They are also active on Instagram, Telegram and Russian social network VKontakte Russian.
September-December 2020: 'Muslim extremists attacked Prijedor'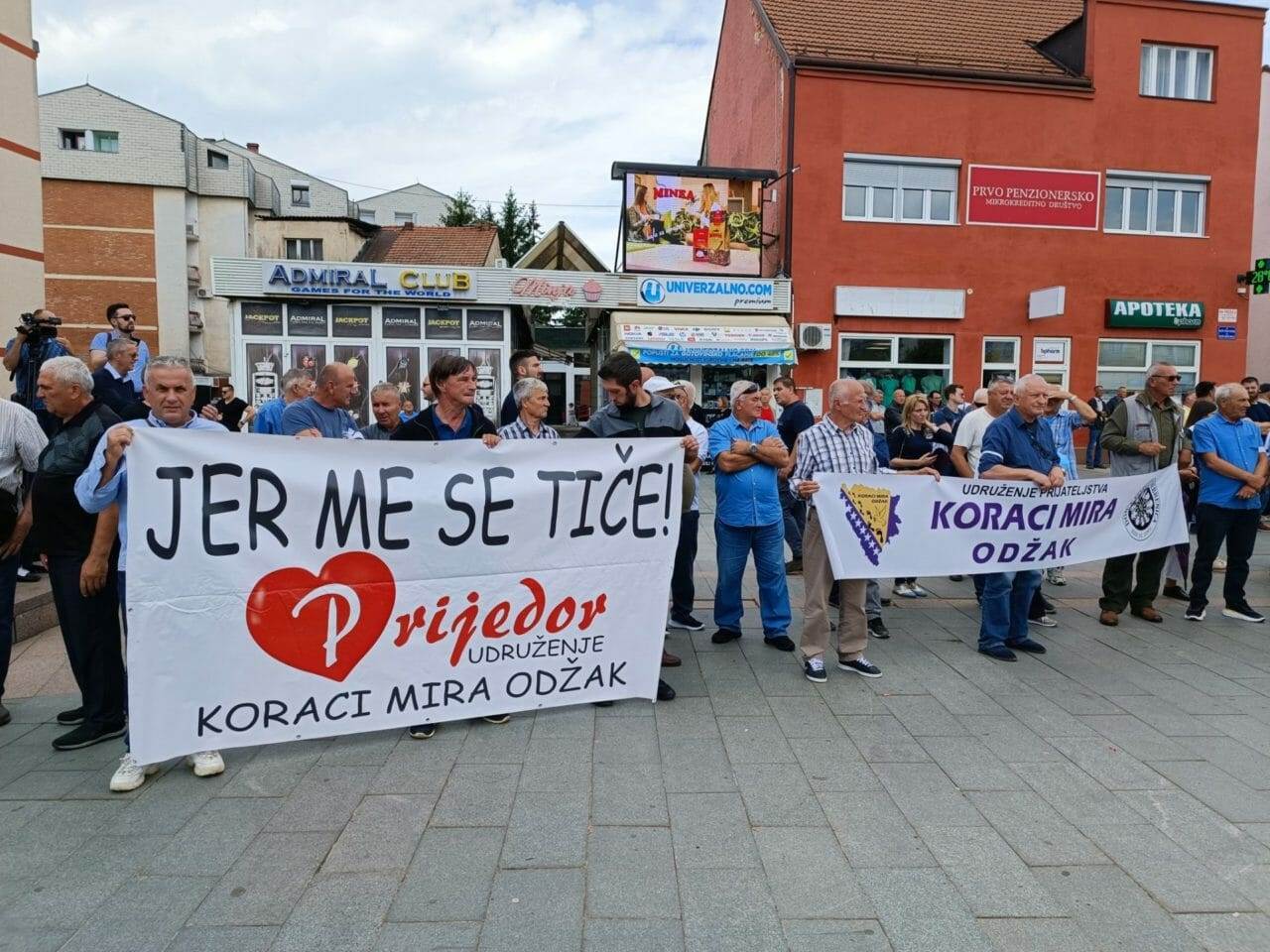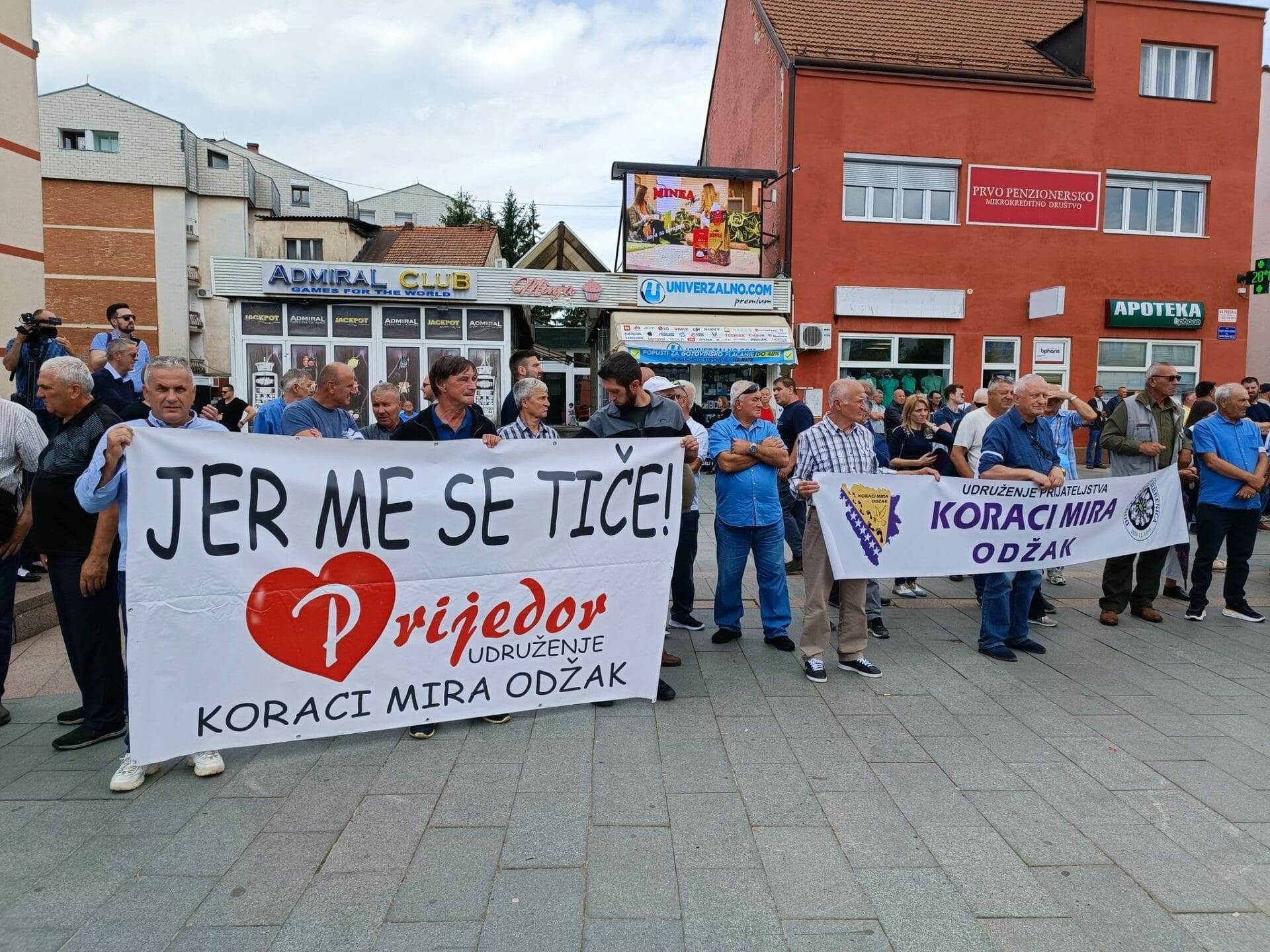 White Ribbon Day was marked with a static gathering in central Prijedor in May. Photo: BIRN BiH
Self-Respect started posting on Facebook in September 2020, mostly about Serb culture and history. In November 2020, the group posted its first denial of the white armband decree, in a post that claimed that "Muslim extremists" were responsible for starting the violence in Prijedor on May 30, 1992.
By the end of 2020, Self-Respect had started building a narrative that justified crimes committed during the 1990s war by citing the suffering of the Serb people in previous wars, claiming that this caused Serbs to fear renewed harm in 1992.
Branko Culibrk of Because It Concerns Me argued that Self-Respect simply does not have the courage to face up to what really happened. "It's shameful for the Serb people to seek justification in the past for what happened in the 1990s," Culibrk said.
January-April 2021: 'Ratko Mladic is a hero'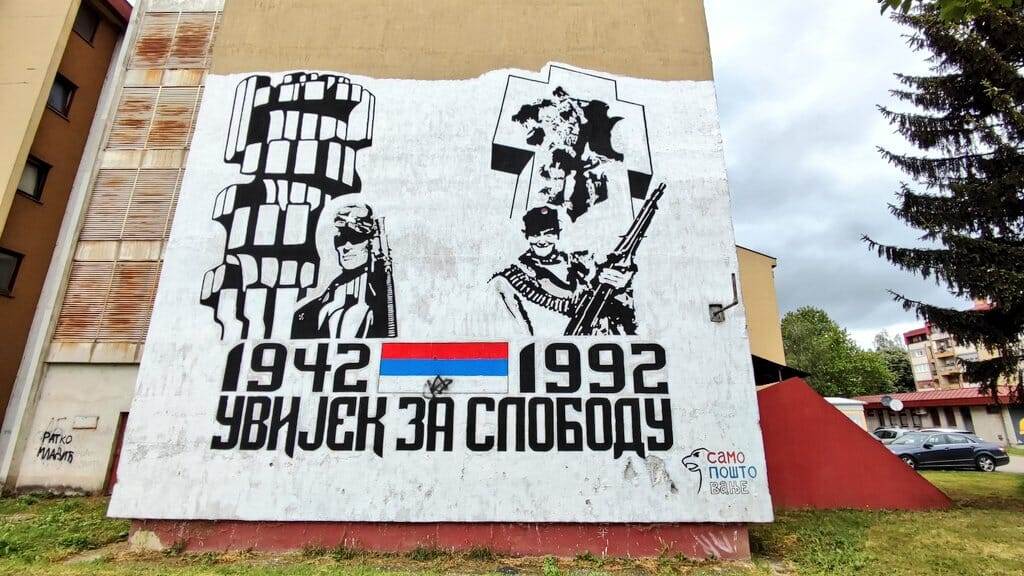 A mural promoting the Self-Respect (Samopostovanje) group in Prijedor with the slogan "Always for freedom". Photo: BIRN BiH
In posts in January 2021, Self-Respect described wartime Bosnian Serb military chief Ratko Mladic as a hero. Mladic was later sentenced to life imprisonment for the genocide of Bosniaks from Srebrenica, as well as crimes committed in Prijedor and elsewhere.
In February 2021, the group repeated numerous times that the conflict started in the Prijedor area in 1992 because of attacks by "Muslim extremists", "terrorists" or "aggressors". This is contrary to the Hague Tribunal's verdict in the case against wartime Serb official Radoslav Brdjanin, which said that between May and July 1992, areas predominantly inhabited by Bosnian Muslims and Croats were attacked by the Bosnian Serb Army, police and paramilitary groups.
The period from January to April, Self-Respect also began campaigns against Jasmila Zbanic's Oscar-nominated Srebrenica film 'Quo Vadis, Aida?' and against the use of the term genocide in to describe the 1995 Srebrenica massacres.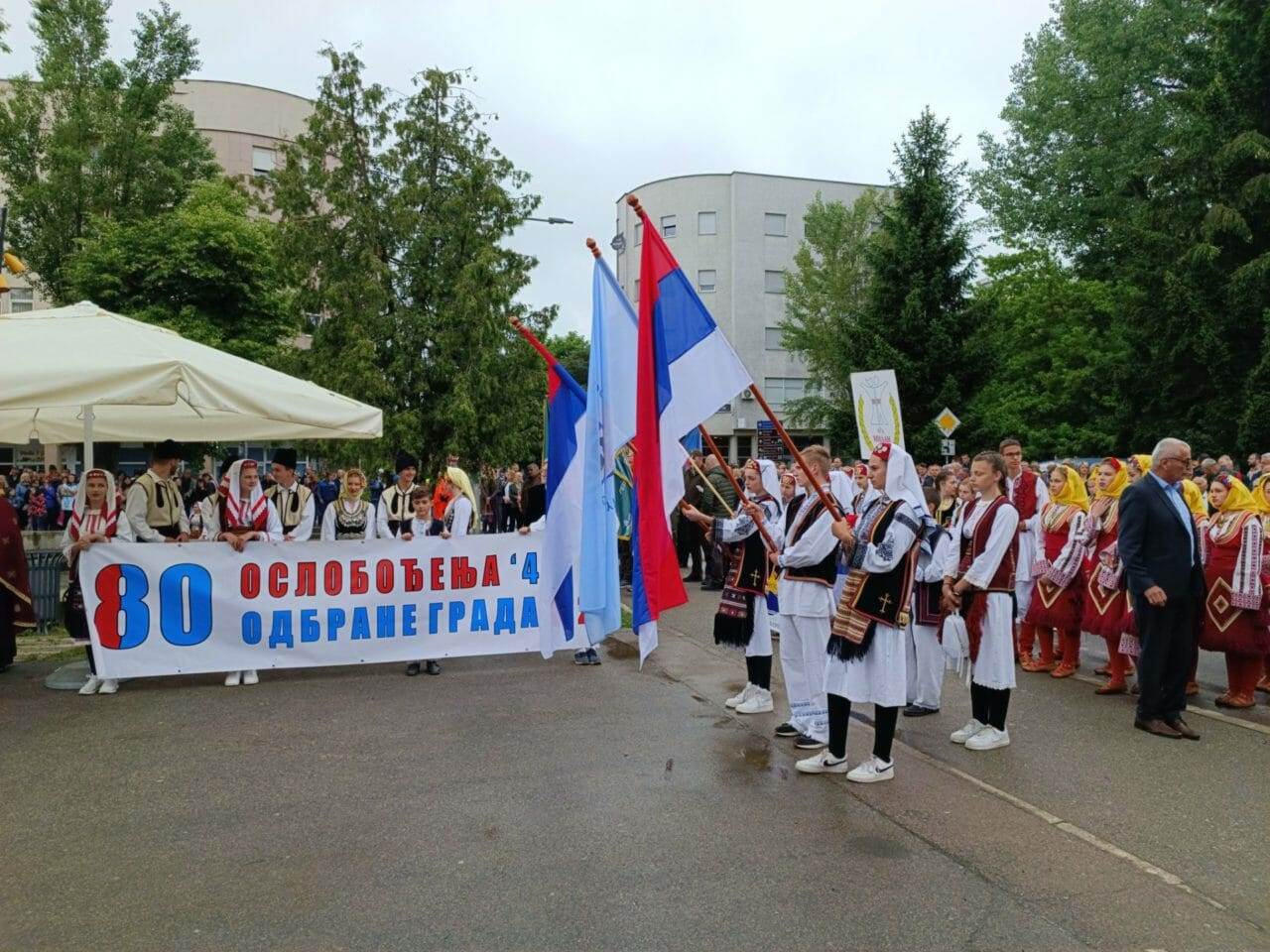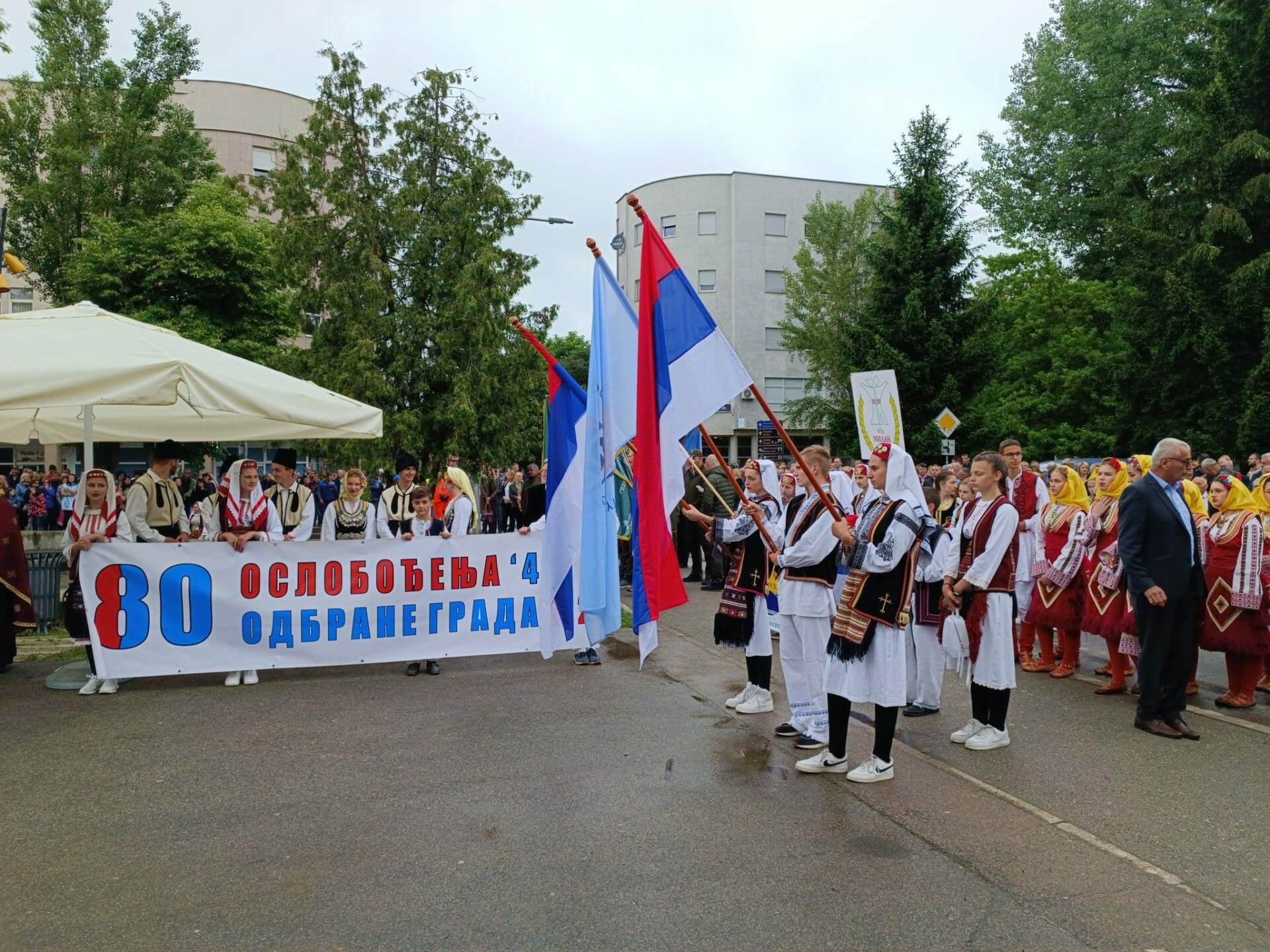 Prijedor City Defence Day event in May. Photo: BIRN BiH
Self-Respect's attempts to deny the white armband decree spiked in early May 2021, the month of the annual commemorative event. One post made, Self-Respect described White Armband Day as "a big lie, manipulation and an instrument for the Satanisation of Serbs, [Bosnia's Serb-dominated entity] Republika Srpska and Prijedor".
A series of posts denied the existence of an order to wear white armbands, claiming it was a notification to put up white sheets on houses. Self-Respect said the notification was issued "following an attack by Muslim-Croat paramilitary forces on the city of Prijedor", and that it called on all locals, not only Bosniaks and Croats, to display white flags.
Self-Respect also said that white flags were hung at many Serb houses and apartments as a symbol of peace and loyalty to the authorities. It claimed there were no detention camps in Prijedor, only 'collection centres', and that the Party of Democratic Action, a Bosniak nationalist party, "made up the story about 'holocaust' against Muslims".
Similar claims that the white armbands were fictional were made throughout May, despite the fact that the order to wear them was mentioned in the Hague Tribunal's verdict convicting five police officers and prison guards, Miroslav Kvocka, Dragoljub Prcac, Mladjo Radic, Zoran Zigic and Milojica Kos, for committing crimes in detention camps in Prijedor.
"Muslims were ordered via radio to put up white sheets in front of their houses as a sign of loyalty to Serb authorities and tie a white band around their arms and go towards the downtown area," the Hague verdict said.
But Boris Radakovic, a member of Self-Respect, insisted that "no one has been accused in The Hague of forcing anyone to wear a white armband".
June 2021-May 2022: 'There were no detention camps'
During this period, Self-Respect's Facebook posts continued to deny that a decree ordered non-Serbs to wear white armbands, while also blaming "Muslim terrorist units", "Muslim extremists", "Croat-Muslim Ustasas" and "Mujahideen" for the violence in Prijedor and Bosnia and Herzegovina in general.
The group again denied the existence of detention camps in Prijedor, calling them 'collection centres', although Hague Tribunal judgments have determined that thousands of Bosniaks and Croats were held in detention camps in the area such as Omarska, Keraterm and Trnopolje.
The Hague court's verdict convicting local Serb Crisis Committee chief Milomir Stakic of extermination, murder and persecution, stated that he planned and ordered the deportation of about 20,000 mainly non-Serb residents of the Prijedor municipality.
"He actively participated in the establishment of the Omarska, Keraterm and Trnopolje detention camps in which detainees were subjected to serious mistreatment and abuse amounting to torture on a daily basis," the verdict said.
From January to May 2022, Self-Respect continued to insist that the white armbands never existed. "Without valid evidence, they are pressing claims that non-Serbs used to wear white armbands in Prijedor in 1992 so they could be more easily executed or taken to 'detentioan camps'," one of its posts said.
May-June 2022: 'White Armband Day is anti-Serb'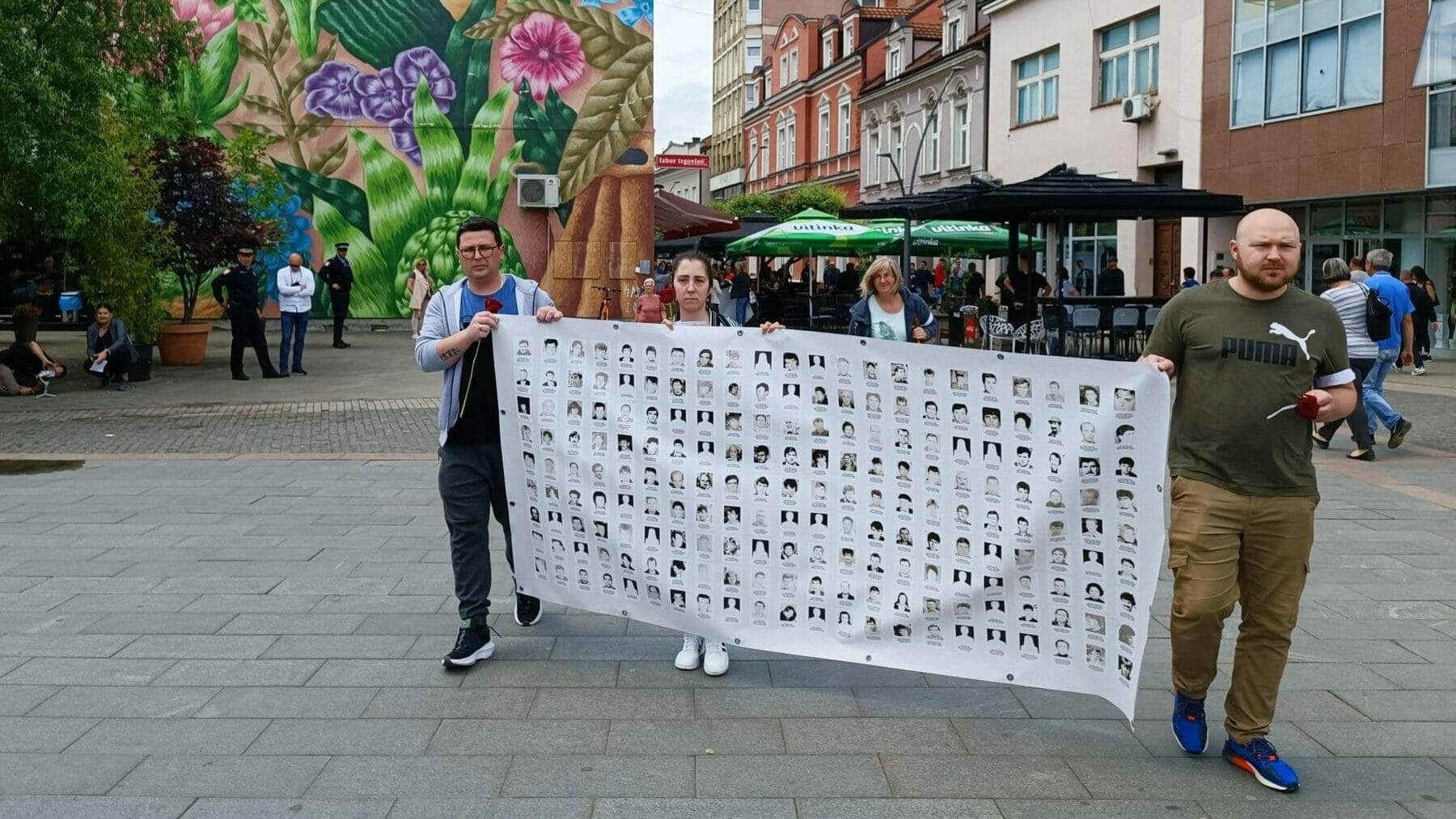 White Ribbon Day in central Prijedor in May. Photo: BIRN BiH
In late May, Self-Respect started a new campaign against White Armband Day and organised a series of lectures about "the falsification of historical facts, the misuse of the Holocaust and the negative narrative that is forced upon the Western public about Prijedor and the Serb people".
Self-Respect also promoted its own documentary entitled 'We Defended Prijedor', in which it said that "the war in Prijedor started with attacks by Muslim extremists".
"It is undisputable that a large number of Muslim and Croat civilians died in Prijedor, but Muslim-Croat representatives bear some of the responsibility as they led their peoples into an attack against Serbs in Prijedor," the documentary said.
On May 30, the day before White Armband Day, Self-Respect took part in marking Prijedor City Defence Day, which was organised by the City of Prijedor, which is now Serb-dominated. The event marks what the local Serb authorities call the liberation of the city from Bosniaks.
Hasan Kahrimanovic, one of the first Bosniaks to be detained in 1992 in Prijedor, accused the participants of falsifying history.
"From whom did they defend themselves? On April 30, 1992, the Prijedor authorities fell without a single bullet being fired. The mayor was simply removed from office, new authorities came and now they are celebrating the 30th anniversary of the defence of Prijedor," Kahrimanovic said.
War victims' organisations and activists also accused the Prijedor authorities of triumphalism over the deaths of the 3,000 civilians who were killed during wartime, claiming that the use of nationalist rhetoric encourages people to excuse the crimes that were committed.
But Self-Respect member Radakovic said that his group will continue to work to create pressure for a permanent ban on White Armband Day.
"Facts tell us that the event is used for political purposes," Radakovic claimed. "It is not too much to say that it is anti-Serb. So we are advocating the refusal to issue permission for future White Armband Day events."