Bosnian Serb Army Officer Faces Srebrenica Trial in Serbia
The wartime commander of the Drina Corps, Milenko Zivanovic, will go on trial next month in Serbia for forcing Bosniak civilians out of Srebrenica during the Bosnian Serb Army's offensive in July 1995.
This post is also available in: Bosnian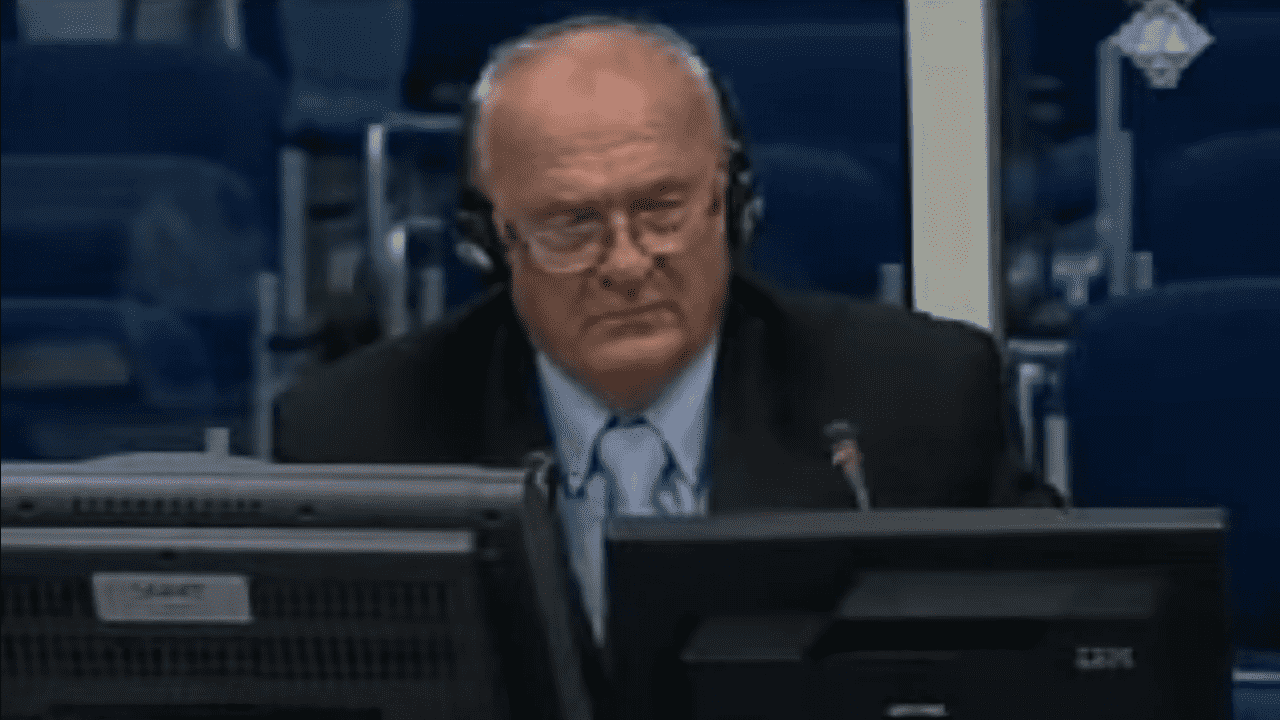 Milenko Zivanovic testifying at the Radovan Karadzic trial at the Hague Tribunal, October 2013. Screenshot: ICTY.
The war crime trial of former Drina Corps commander Milenko Zivanovic will start on May 30, it was decided at a preparatory hearing at Belgrade Higher Court on Wednesday.
Zivanovic was commander of the Drina Corps at the time of the offensive against Srebrenica in July 1995, which ended with the killings of more than 7,000 Bosniak men and boys and the expulsion of some 40,000 women, children and elderly people.
The Serbian Prosecutor's Office indicted him in December 2021 for ordering the forced relocation of the Bosniak civilian population and participating in their forced relocation out of Srebrenica.
Preparatory hearings ahead of trials in Serbia are closed to the public and media are not allowed to attend.
Jovana Kolaric, researcher at the Belgrade-based Humanitarian Law Centre said that the Zivanovic case is significant because until now, "no proceedings have been conducted in Serbia" against high-ranking Bosnian Serb Army officers.
She also said it is significant because this will be only the third Srebrenica-related case to be heard in the Serbian courts, excluding a plea bargain in the case against Brano Gojkovic, a former member of the Bosnian Serb Army's 10th Detachment.
A week after he was indicted in Serbia, Zivanovic was also indicted in Bosnia and Herzegovina for planning and directing the activities of Bosnian Serb Army Drina Corps units in a widespread and systematic attack on Bosniak civilians in the Srebrenica and Zepa areas in 1995.
The Bosnian indictment also accuses him of ordering artillery attacks on civilians in Srebrenica, but the Serbian indictment does not mention these offences, Kolaric noted.
She also pointed out that "it is not logical to conduct an investigation into a high-ranking officer without the prosecutions [of Serbia and Bosnia] discussing it with each other".
The importance of Zivanovic's role and the orders that he issued was highlighted at trials at the International Criminal Tribunal for the Former Yugoslavia, Kolaric added.
"One of those orders is the one from July 2, 1995 for Operation Krivaja '95, which included putting into operation [Radovan] Karadzic's Directive No. 7, which ordered the creation of 'an unbearable situation of total insecurity with no hope of further survival or life for the inhabitants of Srebrenica and Zepa'," she said.
This order is not listed in the Serbian indictment of Zivanovic.
Zivanovic was a witness at the ICTY's trial of Karadzic in 2013 after he was summoned to testify. He insisted there was never a plan to expel Bosniaks from Srebrenica or kill them.
His successor as commander of the Drina Corps, Radislav Krstic, was sentenced in 2004 to 35 years in prison. Krstic was the first person convicted of genocide by the ICTY.