Despite shelling and sniper fire, Sarajevo's sportsmen and women kept on training throughout the 1992-95 siege of the city, and even managed to represent Bosnia at international tournaments.
This post is also available in: Bosnian
Almir Hodzic, president of the Bosna volleyball club, was also coming back from training the same day.
"Maja was a symbol of a cosmopolitan Sarajevo, a symbol of the stupidity of the war. All the absurdity of the war is reflected in her face," Hodzic said.
"After being severely wounded, hit in her neck with a piece of shrapnel, a man planting flowers in front of the presidency building, whose name was Aleksandar, carried Maja in his arms to his parked car and drove her to the Kosevo hospital," he added. The young volleyball player did not survive.
At the beginning of the siege of the Bosnian capital, in the same place where Djokic was killed, Ivan Ivandic, a former member of the Yugoslav karate national team and the trainer of the Bosna karate club, witnessed another artillery blast while walking to a training centre at the FIS sports centre.
"I was around 50 metres away from FIS when a shell fell. The detonation threw me upwards. A piece of shrapnel plunged into my boot, but I wasn't hurt," he recalled. Four or five people were severely injured in the blast, he said.
During the 1992-95 siege, sportspeople used to walk to training sessions even though there was a constant risk of being hit by shell fire or a sniper's bullet.
Hodzic said that after the death of Djokic, who he described as a promising player, the women's volleyball club ceased operating for the next 15 years.
Judo player Vinko Samarlic, volleyball player Bedrudin Kameric and handball player Goran Cengic were also among the thousands of civilians killed during the siege, he added.
Because of food shortages, top athletes ate the same diet as other residents of Sarajevo and suffered from poor nutrition.
Hodzic recalled how the prize for the winners of one volleyball tournament was a lunch parcel that had been received as humanitarian aid.
"So you would get that lunch parcel containing a piece of cheese, two chocolates and some humanitarian cookies," he said.
"We would organise a gathering in the club afterwards and celebrate over the parcel," he added.
Due to the lack of electricity, they could only play in daylight hours, but their passion for karate kept them going, Ivandic said.
"There was enthusiasm and love for this sport, because people always do karate out of love; karate is not as profitable as football or basketball," he pointed out.
'I felt I was always a target'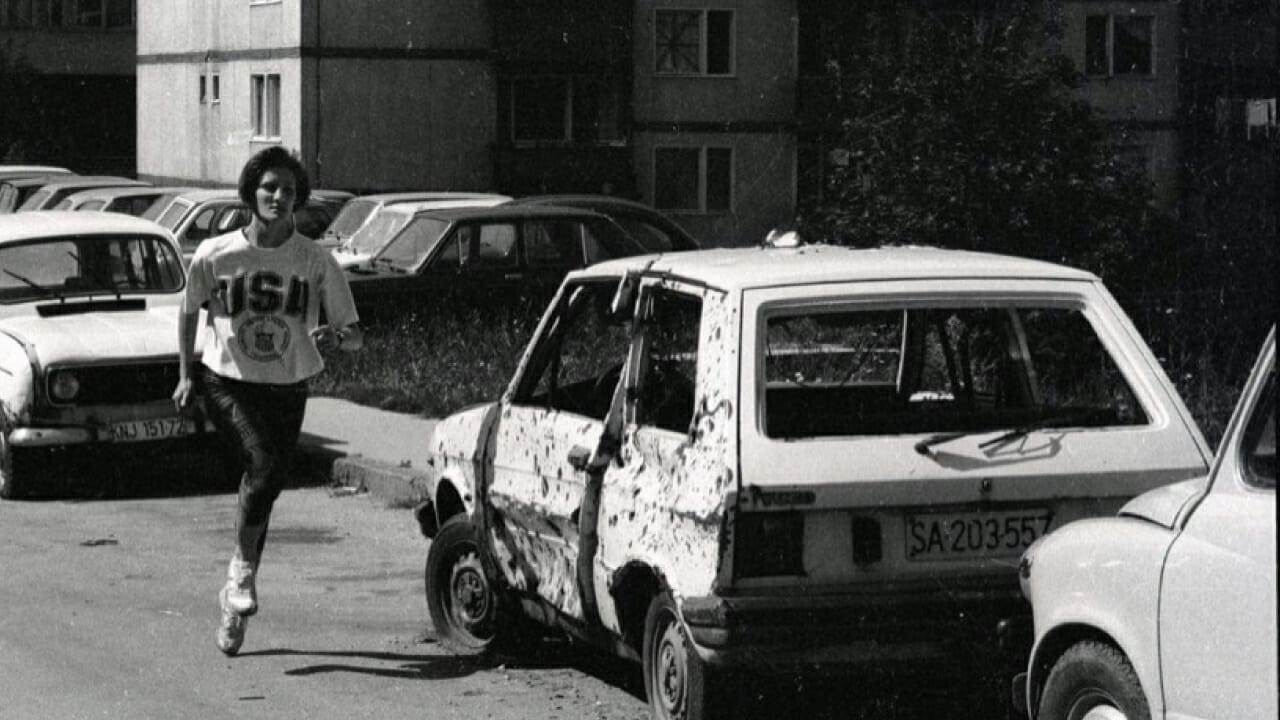 Mirsada Buric running through the streets of Sarajevo in 1992. Photo courtesy of Mirsada Buric.
Mirsada Buric, a Bosnian long-distance runner and journalism student, was released from a detention camp in Rajlovac in early June 1992 and went to Sarajevo, where she started training for the Olympics in Barcelona, which were due to begin towards the end of July.
"I usually went out to run when I thought the shelling was not as intense. I had a feeling that I was always a target, but the encouragement and support of my fellow citizens gave me additional strength to persevere," Buric said.
"When we couldn't train in the streets due to a fierce shelling, I used staircases inside residential buildings, as well as an underground parking lot in the Holiday Inn hotel," Buric said. She still holds the record in Bosnia and Herzegovina for the 5,000 metres, both indoors and outdoors.
Buric said that when Bosnia and Herzegovina's Olympic Committee started offering help, she got to have her meals at the Holiday Inn hotel.
"At the time, the restaurant was serving a contingent of foreign journalists and chiefs of [UN Protection Force] UNPROFOR. The hotel was under constant sniper fire and shelling, so I risked my life every day walking there from my temporary residence in Kosevsko Brdo in order to feed myself," she recalled. A popular Bosnian TV comedy show, 'Nadrealisti', named her 'Madam Sniper' because she defied the gunmen who took aim at her.
Dzelaludin Muharemovic, a footballer who played 300 games for the country's most successful cub, Zeljeznicar Sarajevo, and scored more than 170 goals, also went from end to end of the city on foot. For him, training was a way to forget everyday troubles.
"I lived in the Alipasino Polje neighbourhood and I walked [over seven kilometres] to Cengic Vila or Skenderija. That is where we would gather, fool around, play and train, trying to feel like players in those ugly times," Muharemovic said.
There was no water in Sarajevo's sport halls so players who lived nearby would bring water in canisters or bottles so everyone could wash after training, he recalled.
Despite these conditions, the first football championship in independent Bosnia and Herzegovina was played in 1994. Twenty-two teams divided into four groups, in Sarajevo, Tuzla, Zenica and Jablanica, took part in the qualifiers.
The final tournament took place in Zenica, where local club Celik took first place, while Zeljeznicar Sarajevo came fourth.
'More fans attended games than today'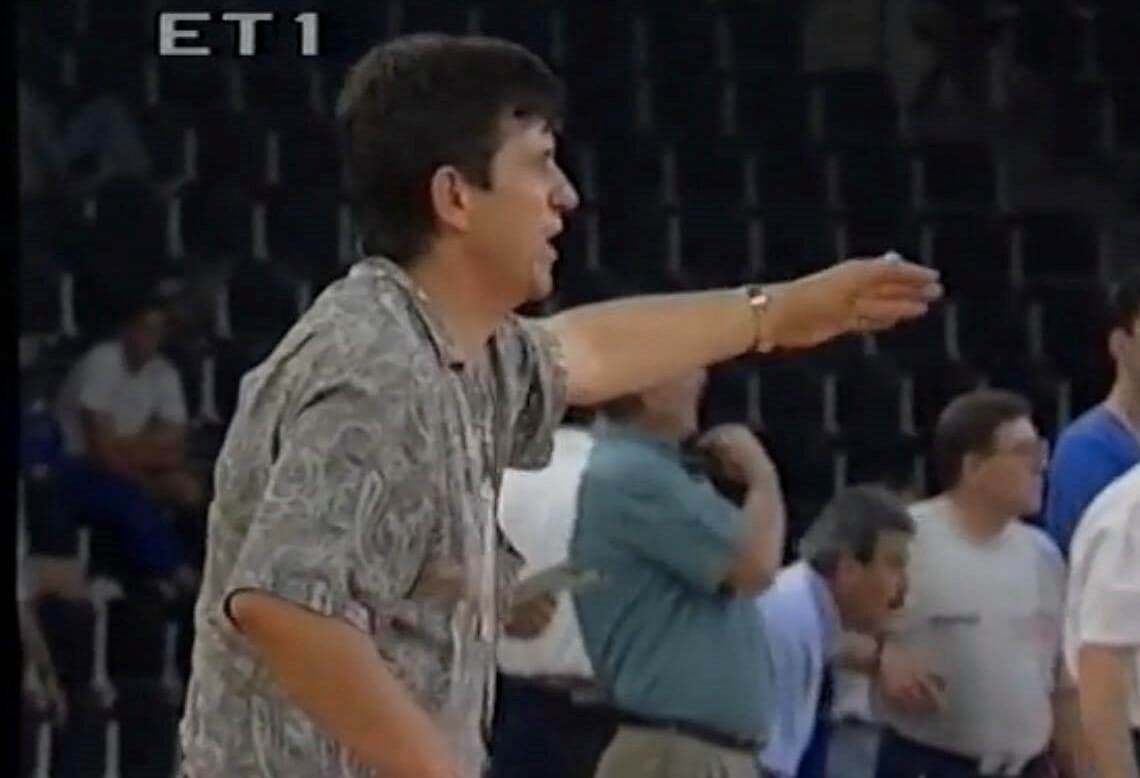 Bosnian basketball coach Ibrahim Krehic at the European championships in Germany in 1993. Photo courtesy of Ibrahim Krehic.
Igor Stojanovic played for the Bosna basketball club in Sarajevo from 1993 to 1998. He said that during the siege, a wartime basketball league was played at Skenderija Hall, an indoor sporting arena.
"More fans attended those games than they do today. Considering the war and the number of games in one round, five or six games were played during gthe course of one day," Stojanovic recalled.
"Skenderija was often full. People would bring some food from home and stay there watching the competitors for ten or 12 hours a day. It was an escape from the war and a desire for a normal life. We felt relatively safe, as a UN compound was next to Skenderija. Many players would come from the front lines and play games," he added.
He added that during the war years, Cesko Promex was the most successful team. Its players included experienced and older players who had played in the Yugoslavia second league before the war.
In 1992, the Basketball Association of Bosnia and Herzegovina was admitted to the International Basketball Association, FIBA, and applied to participate in the European Championships in Germany in 1993. Ibrahim Krehic became one of the new national team's coaches.
"The preparations for the championship began in December 1992. Training took place at the Slavisa Vajner Cica [now Isak Samokovlija] school gym. It wasn't very good or regular. There was no heating in the hall. The main thing was to get together and socialise," Krehic said.
Adis Beciragic, a player who came to Sarajevo from Zenica in April 1992 and then couldn't return because the roads were blocked, also took part in the preparations for the European tournament in Germany at the school gym.
Once, Beciragic recalled, the school was bombed and "we barely made it out alive".
The Bosnian national team took eighth place at the European Championships, the best placing it has ever achieved.
"Playing for the Bosnian national team in that period meant having mixed feelings. On one hand, we felt great pride and happiness, and on the other, I feared for my family as I had left them behind in the war," Beciragic said.
'By what right could I leave my family?'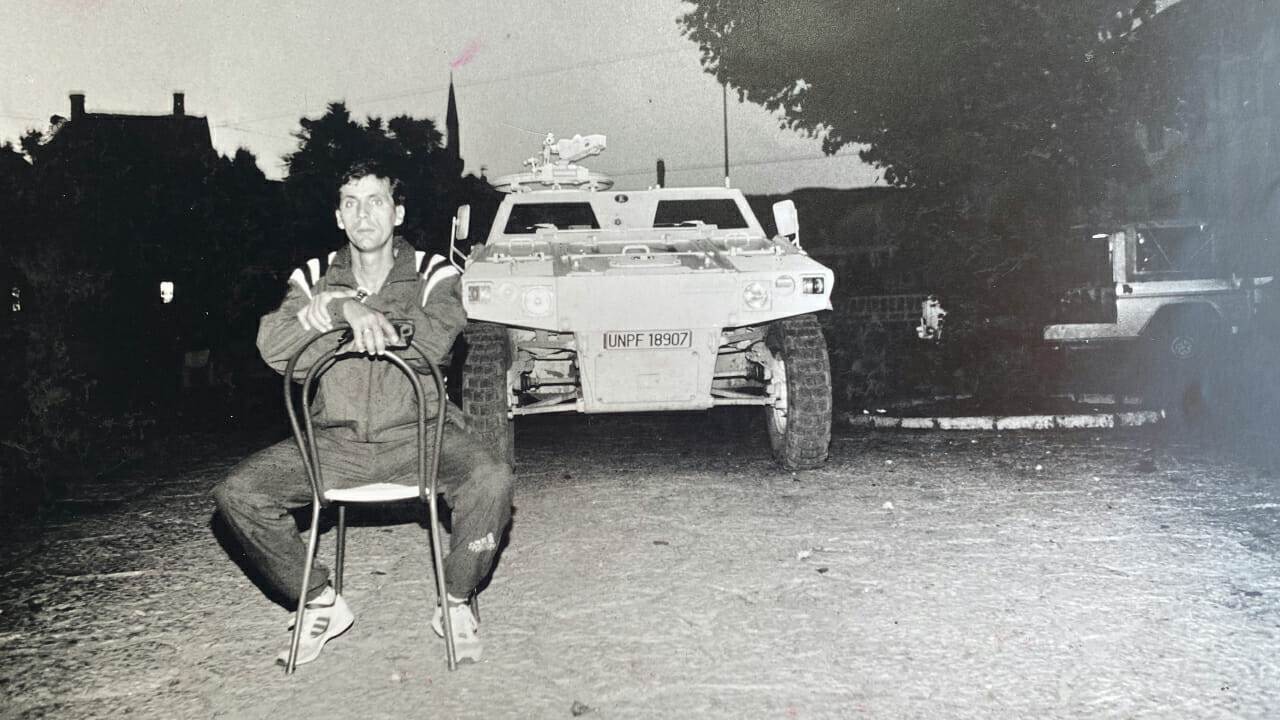 Islam Djugum in front of a UN peacekeeping force vehicle during the war. Photo courtesy of Islam Djugum.
Islam Djugum, a well-known long-distance runner and Olympic competitor, could often been seen running through the streets of besieged Sarajevo. He was a soldier in the Bosnian Army, but when not on duty, he would run between 30 and 50 kilometres a day.
"Sarajevo was not big enough for me, so I would run in the surrounding hills, through Put Zivota Street, across the railway station platforms, indoors at FIS [sports centre], wherever I found space," Djugum recalled.
Following several unsuccessful attempts, he left the besieged city for the first time in 1994 to take part in the European Championships in Helsinki, where he took 53rd place out of 88 contestants in the marathon.
In November that year, he took part in the New York marathon, finishing the race in 88th place out of 40,000 contestants. Djugum said that he often received offers from acquaintances all over the world to leave Sarajevo and continue training in another country.
"They would say: 'There is war, there's shooting, why are you going back?' But by what right could I leave my family? I returned to my [army] unit and I returned to our reality in Sarajevo," he said.
In April 1995, he organised the Vivicitta International City Athletic Race in Sarajevo, which was held at Skenderija and attracted 100 contestants.
"I remember all that as if it was yesterday. The City Hall was on fire, but I ran. Zetra [Olympic Hall] was on fire, but I ran," he said.
"Life goes on. What matters is to keep up your spirits."