Serbian Policemen Who Revealed Secret Srebrenica Mission Acquitted
Policemen Milan Dumanovic and Mladen Trbovic were cleared of disclosing an official secret when they spoke publicly about covertly recording a Srebrenica genocide commemoration in 2015, when Serbian leader Aleksandar Vucic was attacked.
This post is also available in: Bosnian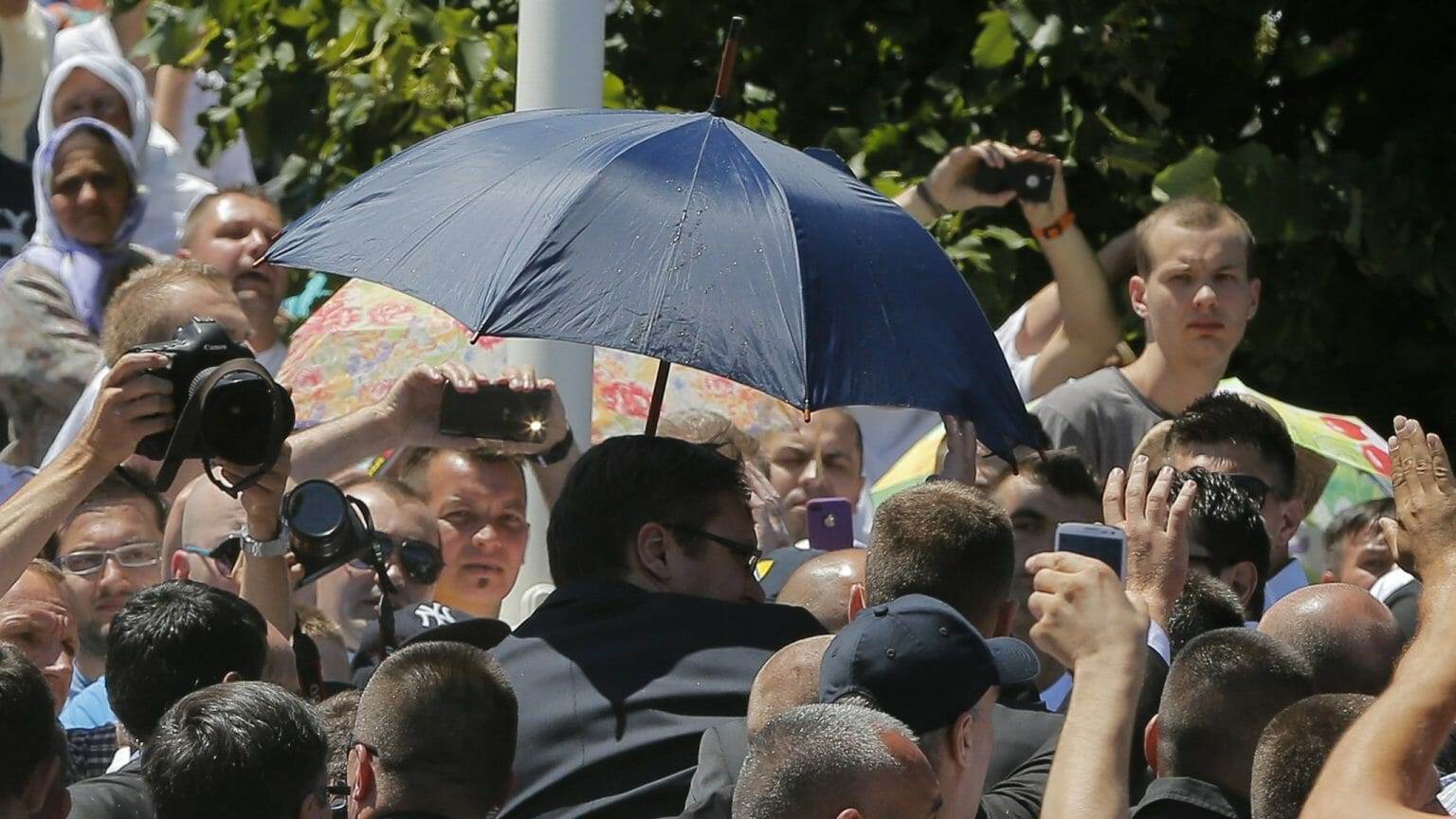 Serbian Prime Minister Aleksandar Vucic at the Srebrenica Memorial Centre, July 2015. Photo: EPA/VALDRIN XHEMAJ.
Belgrade Higher Court acquitted policeman Milan Dumanovic and Mladen Trbovic on Friday of disclosing an official secret by giving a TV interview about secretly recording the Srebrenica commemoration in 2015.
Trbovic and Dumanovic were arrested in December 2016 after telling Al Jazeera Balkans that were among 18 Serbian police officers sent to Srebrenica to secretly film the commemoration ceremony, at which then Serbian Prime Minister Aleksandar Vucic was pelted with stones and water bottles by angry mourners.
The two men said they believed the deployment was unlawful because Bosnia and Herzegovina was not told that they were working as policemen at the ceremony.
Both Trbovic and Dumanovic were fired after speaking out, but after a legal battle, they were reinstated to the police force.
N1 Television reported that Belgrade Higher Court said in Friday's ruling that in order for something to be declared an official secret, two criteria must be met – that the information has been declared an official secret by law and that its disclosure caused consequences or damage.
According to the court, the second criteria was not met.
Trbovic and Dumanovic's trial started in 2018 but it was declared a state secret and was closed to the public and media.
The commemoration in Srebrenica in 2015 marked the 20th anniversary of the massacres of some 8,000 Bosniaks from Srebrenica by Bosnian Serb forces.
Vucic attended even though the Serbian authorities do not recognise the massacres as genocide, despite the rulings of international courts.
Since 2015, no Serbian state official has attended the commemoration.