Montenegro Police Protect Activist From Russian Nationalist's Threats
Montenegrin police on Thursday promised to secure the safety of rights activist Aleksandar Sasa Zekovic, after Russian nationalist extremist Vladislav Pozdnyakov threatened him online, saying he would 'pay for his lies'.
This post is also available in: Bosnian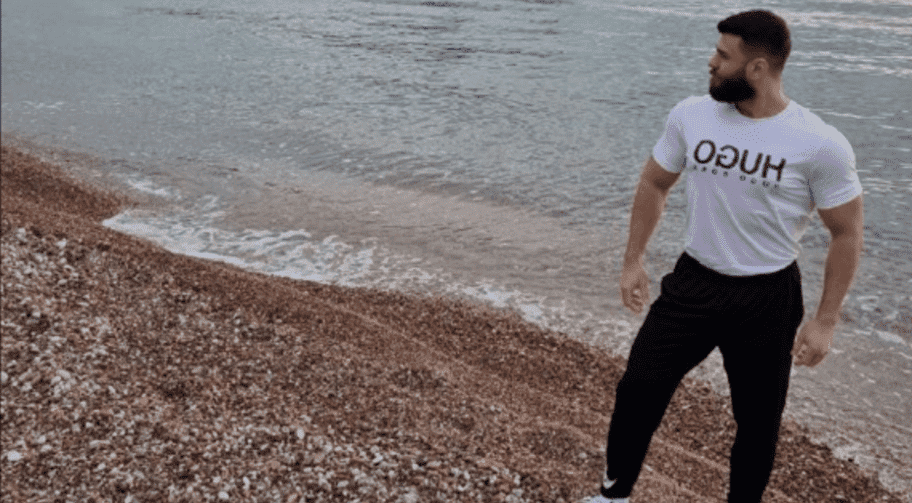 Founder of Russian ultra-nationalist online group 'Male State', Vladislav Pozdnyakov, on a beach in Montenegro. Photo:Telegram/Vladislav Pozdnyakov
Montenegrin police on Thursday said they were taking measures to secure the safety of activist Aleksandar Sasa Zekovic after he received online threats from Vladislav Pozdnyakov, the founder of a Russian ultra-nationalist online group, "Male State", who had reportedly moved at one stage to Montenegro.
On Wednesday Zekovic filed charges against Pozdnyakov after he posted on the Telegram group that Zekovic "will pay for his lies".
"Police took operational and preventive measures for Zekovic. We will protect his movements, primarily in relation to his place of residence. After police determine the facts of his report, an assessment of his endangerment will be initiated," the head of the police, Zoran Brdjanin, told news outlet Pobjeda.
On Wednesday, Pozdnyakov, on Telegram, accused Zekovic of spreading lies about him. The same day Pobjeda reported that he had told the National Security Agency that a bomb would be activated in the resort town of Budva if the media don't report more positively on the Russian invasion on Ukraine.
Earlier, on March 27, police evacuated the largest shopping mall in Budva after a false alarm about a bomb. Pozdnyakov posted on Telegram that Zekovic was behind the false claims about bombs.
"For your lies and your false reports of bombs, you will get an answer. You signed a sentence for yourself," Pozdnyakov posted on Telegram.
On Wednesday, protesters in front of the National Security Agency, ANB, headquarters in Podgorica called on the authorities to protect Zekovic, while some opposition parties and organizations also called on the authorities to react.
"Authorities must oppose individuals and groups from extreme pro-Russian positions who are trying to undermine the already weakened rule of law and democracy in Montenegro," Zekovic told the media.
On March 16, Zekovic urged the authorities to investigate claims that Pozdnyakov was now living in Montenegro.
On February 14, Pozdynakov posted a video on Telegram saying he was now living in Podgorica. He also posted photos of the Montenegrin resorts of Perast and Budva. Police later reported that Pozdnyakov had left Montenegro.
Pozdnyakov left Russia after receiving a two-year suspended sentence for inciting hatred toward women in 2018. The sentence was later overturned, but in 2019, four members of his group were convicted of extremist activities.
"Male State" has focused on trolling, harassing and threatening anybody they deem an opponent of "national patriarchy", particularly women.
The fitness coach created the group on the Russian social media network VKontakte in 2016. Many of its members are also openly racist and misogynistic, advocating extreme right-wing nationalist views.