War Criminals Campaign for Ruling Parties in Serbian Elections
Four convicted war criminals have been involved in campaigning for the upcoming elections in Serbia, all of them supporting parties in the governing coalition, the Youth Initiative for Human Rights said in a new report.
This post is also available in: Bosnian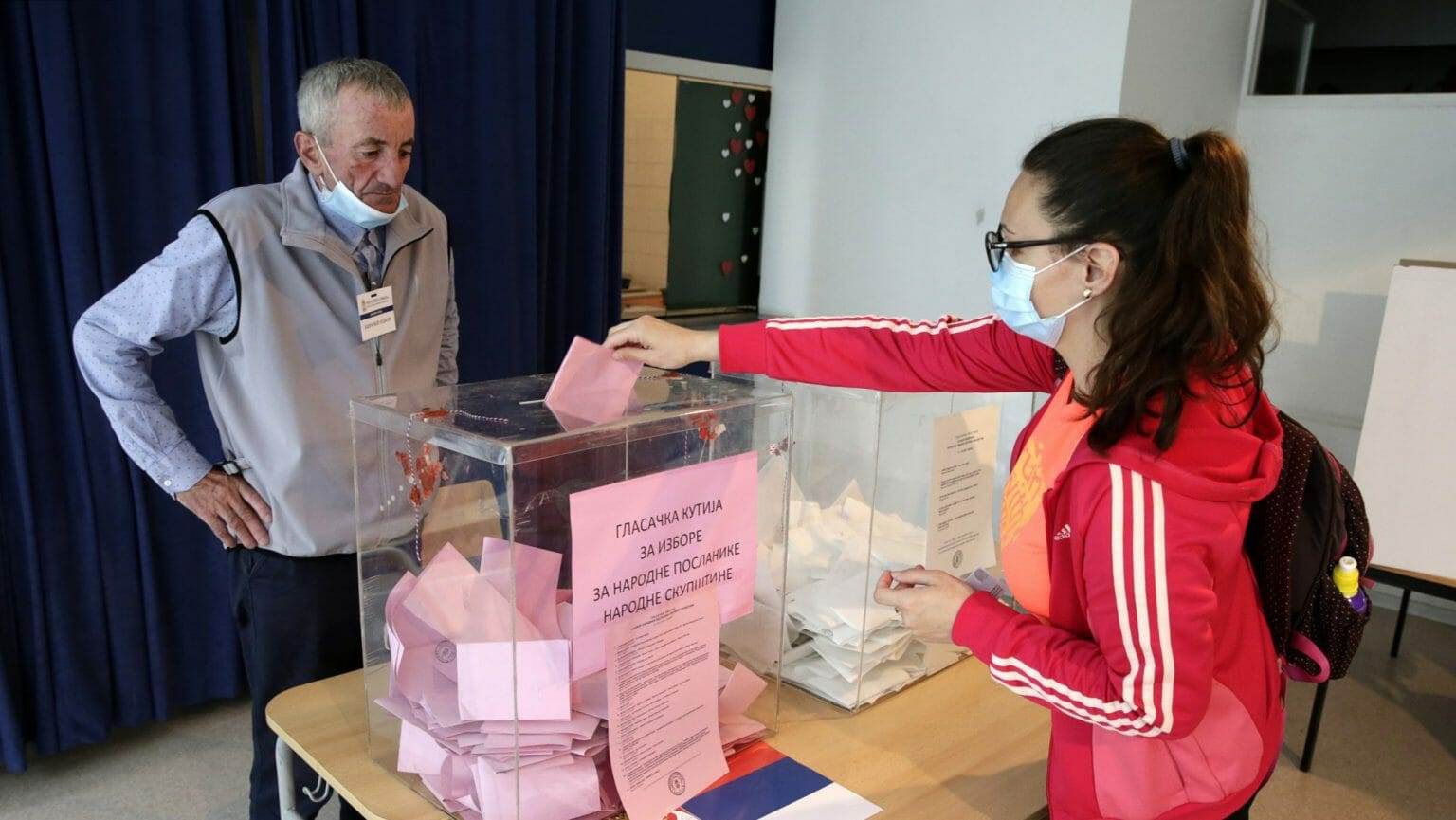 A woman casts her ballot at a polling station in Belgrade at the last elections in June 2020. Photo: EPA-EFE/ANDREJ CUKIC.
The Youth Initiative for Human Rights NGO said in a report published on Monday that four war criminals have been involved in political campaigning ahead of the April 3 parliamentary and presidential elections in Serbia.
Vladmir Lazarevic, Veselin Sljivancanin and Nikola Sainovic have all supported candidates from the Serbian Progressive Party or the Socialist Party of Serbia, the main parties in the governing coalition, said the report entitled 'Attitudes Towards War Crimes in the 2022 Election Campaign'.
Ultranationalist Serbian Radical Party leader Vojislav Seselj is standing for parliament himself, but has also publicly supported Serbian President Aleksandar Vucic's run for a second term in office.
Vladimir Lazarevic, a retired general, commanded the Pristina Corps of the Yugoslav Army during the 1998-99 Kosovo war and was sentenced to 14 years in prison by the Hague tribunal for the murders, deportations and inhumane treatment of Kosovo Albanians.
Veselin Sljivancanin, a former Yugoslav People's Army officer, was sentenced by the Hague Tribunal to ten years in prison for aiding and abetting the torture of prisoners and for complicity in the murder of some 260 captives during the Croatian war.
Nikola Sainovic, who was the Yugoslav deputy prime minister during the Kosovo war, was sentenced to 18 years in prison for the murders, deportations and inhumane treatment of Kosovo Albanians in 1999.
Vojislav Seselj was sentenced to ten years in prison for inciting war crimes against ethnic Croats in the Serbian village of Hrtkovci in 1992.
According to the Youth Initiative for Human Rights report, two other men who have been convicted of war crimes, Dragan Vasiljkovic, alias Captain Dragan, and Vinko Pandurevic, have also been interviewed by mainstream media about the elections and have criticised opposition presidential candidate Zdravko Ponos, who is considered to be Vucic's most serious rival.
"I think it is important and indicative that we have six convicted war criminals who support the electoral lists and candidates of the ruling coalition of the SNS [Serbian Progressive Party] and SPS [Socialist Party of Serbia]," said Marko Milosavljevic, one of the authors of the report.
The report noted meanwhile that Ponos said that Bosnian Serb wartime military chief, another convicted war criminal, Ratko Mladic was "a tragic person", but that he "did brilliant things in Bosnia and Herzegovina militarily".
Two members of the Serbian Radical Party who are wanted for arrest by the UN court in The Hague are standing for parliament at the April 3 elections.
Vjerica Radeta and Petar Jojic are charged with contempt of the Hague court for threatening, blackmailing and bribing witnesses during Seselj's trial.
Seselj's former secretary, Ljiljana Mihajlovic, who seized an apartment in Belgrade's Zemun district from a Croatian family while they were on vacation, is also standing as a Radical Party candidate.
Bozidar Delic, a retired Yugoslav Army general who was commander of the 549th Motorised Brigade during the Kosovo war, is on the right-wing NADA (Hope) coalition's candidate list for the parliamentary elections.
The Humanitarian Law Centre NGO has accused the 549th Motorised Brigade of attacks on eight Kosovo villages which left a total of 885 people dead. The Serbian war crimes prosecutor's office told BIRN in 2013 that Delic has been under investigation more than once, although he has denied committing war crimes and has never been charged.
Momir Stojanovic, who was commander of military security with the Yugoslav Army's Pristina Corps during Kosovo war, has publicly supported opposition presidential hopeful Zdravko Ponos.
Interpol issued a 'red notice' in 2015 calling on states worldwide to arrest Stojanovic and 16 others who the EU's rule-of law-mission in Kosovo suspected of bearing responsibility for killings of ethnic Albanian civilians in the villages of Meja and Korenica in April 1999. Stojanovic has denied any wrongdoing.