Serbia Convicts Bosnian War Camp Official of Abusing Prisoners
A Serbian court sentenced Osman Osmanovic to five years in prison for abusing civilians and prisoners of war at the Rasadnik detention camp near Brcko in Bosnia in 1992.
This post is also available in: Bosnian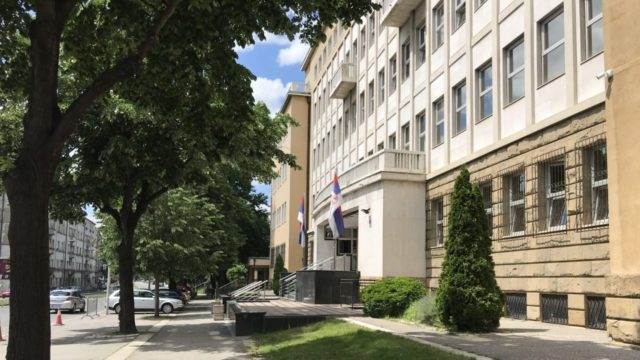 Belgrade Higher Court. Photo: BIRN.
Belgrade Higher Court on Friday sentenced Osman Osmanovic, a wartime official at the Rasadnik camp in Gornji Rahic in Brcko, to five years in prison for abusing civilians and prisoners of war who were held at the detention facility during the summer of 1992.
The court found that Osmanovic's actions constituted war crimes against civilians. It also established that he was working for the Interior Ministry of Bosnia and Herzegovina at the time of the crime.
The verdict named three of the victims he abused at the camp – Vasiljko Todic, a Bosnian Serb Army soldier, and civilians Milenko Radusic and Rado Simic.
Judge Mirjana Ilic said that "Vasiljko Todic was someone who was no longer capable of fighting, which gives him the status of a protected person in terms of the Geneva Conventions".
She added that there was no evidence that Osmanovic was one of the main investigators who interrogated prisoners at the camp.
This was a first-instance verdict and can be appealed.
Osmanovic's lawyer Djordje Dozet announced immediately after the verdict that he will challenge the court's ruling.
"A general assessment of this verdict is that it is unfair and illegal," Dozet told journalists.
Osmanovic, a citizen of Bosnia and Herzegovina, has been in custody since November 2019, when he was arrested on the border between Serbia and Bosnia. Sarajevo asked for his extradition, but Serbia refused.
Osmanovic is one of three Bosnian citizens arrested in the period from 2018 to 2021 over suspicion on war crimes while trying to enter Serbia. Before him, same happened to the wartime commander of a military prison in Hrasnica near Sarajevo, Husein Mujanovic in July 2018 and in September 2021, Serbia arrested another Bosnian citizen, Edin Vranj, a former senior Police Administration official in Bosnia and Herzegovina's Federation entity.
However, after sharp reactions from Bosnian officials and a meeting between the two countries' prosecutors in Belgrade, Vranj was released from custody and the Serbian prosecutor's office proposed that Bosnia take over his case.
During closing arguments in February, Osmanovic's lawyer criticised this decision, saying that his client's case is similar and should also have been transferred to Bosnia.
"I must mention the Vranj case, where the prosecution proposes the transfer of the case [to Bosnia], proposes that detention be ended and the man released and not handed over to the authorities of Bosnia and Herzegovina, and my client to this day cannot exercise the right to have his detention commuted," Dozet said.