The Turkish construction behemoth continues to win contract after contract in Bosnia, but is it looking after its ownworker's safety?
This post is also available in: Bosnian
Despite shortcomings in the occupational safety measures over the past ten years, the company has continued to win big deals, an investigation by Balkan Investigative Reporting Network Bosnia and Herzegovina, BIRN BiH, based on court verdicts, shows that.
In November last year, rescue teams from Bosnia and Turkey took nearly three weeks to find the body of the second worker who had fallen into the river Bosna while working on building a bridge on the new highway section, on a rainy day.
Domestic institutions have since tried to determine how he fell into the river from a platform where workers should be protected while performing their tasks.
For more than three months, they have been unwilling to say whose fault led to the death of the two workers.
Zenica police said that the accident happened when one of the workers stepped onto a lifting basket to unload material.
"Did the basket hit the construction, or was something else done the wrong way, making it break, due to his weight? … but they just slipped and fell down there," Asim Alajbegovic, an inspector with the Crime Police Sector of Zenica-Doboj Canton, said.
Officers have so far examined several witnesses who said that the worker fell when unloading construction material onto a metal platform.
In its written response, the Zenica-Doboj Cantonal Directorate for Inspection Affairs told BIRN BiH that a report on the incident had been completed and made available to Cengiz's legal representatives.
The well-known Turkish company, which has won valuable international deals and participated in the construction of several motorway sections in Bosnia, worth several millions, has not been willing to talk about the death of the employees.
In a written response, it wrote that it strictly followed occupational safety rules. However, according to domestic court verdicts, which BIRN BiH has seen, the company has faced a number of lawsuits over work safety flaws since 2012.
Second instance verdicts have determined that, several years ago the company failed to undertake several important steps concerning occupational safety.
According to findings of an inspection from 2020, whose conclusions BIRN BiH has seen, the company previously failed to keep proper records of working hours or annual leave for its workers. A court adjudication was requested due to irregularities related to annual leave records.
Under four verdicts brought as a result of workers' lawsuits, courts awarded them compensation claims amounting to over 240,000 marks, equal to some 120,000 euros.
While other construction companies in Bosnia have also made such omissions, what surprised workers, lawyers and journalists about Cengiz is the company's relationship towards its workers and the clear sympathies it has from the local authorities.
Besides slow court cases, the lack of rule of law in Bosnia, including weak penalties, insufficient inspection capacities and complicated and sometimes unclear administrative jurisdictions, worked in favour of the company, the BIRN BiH investigation revealed.
No compensation after years of legal battles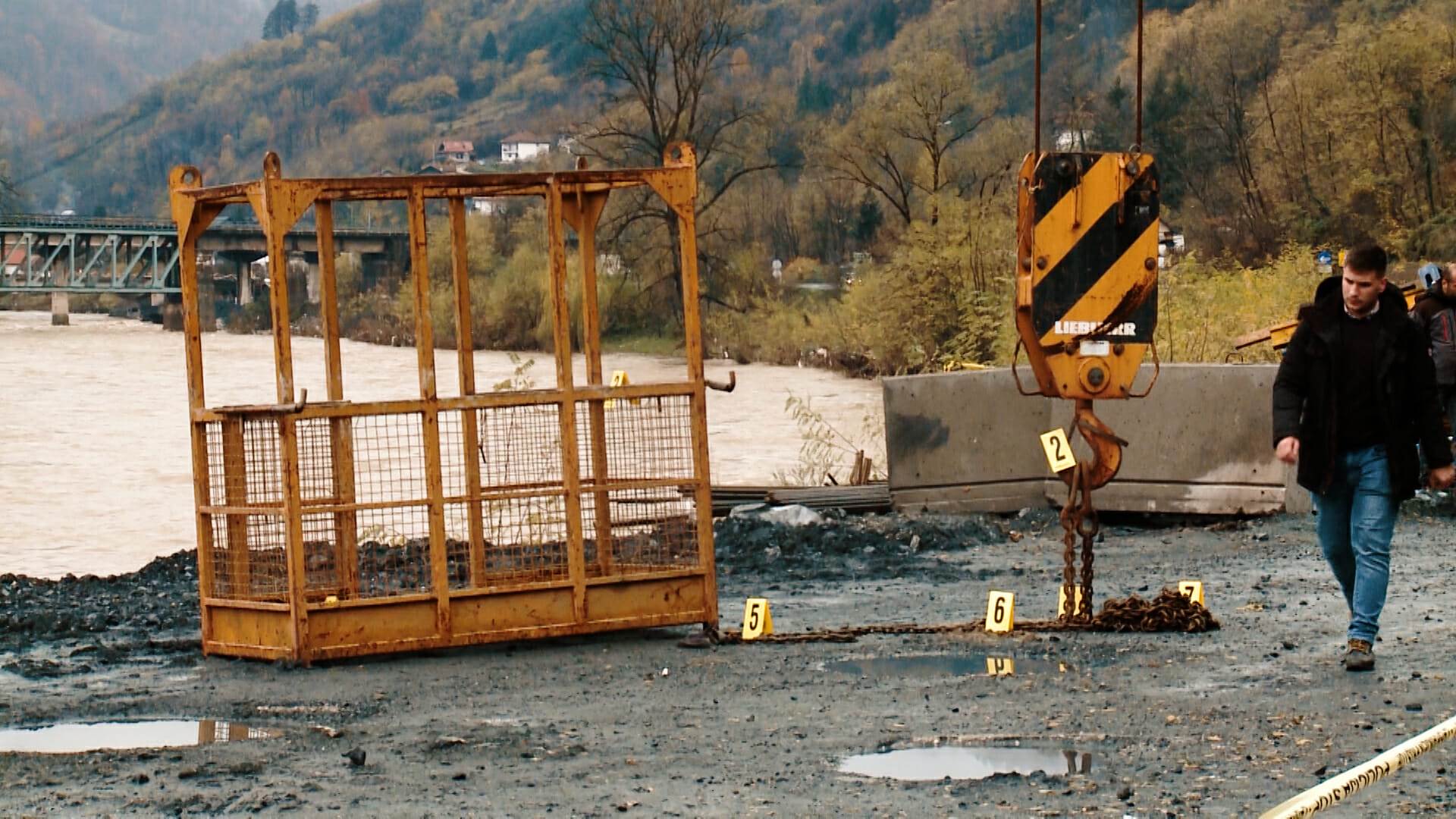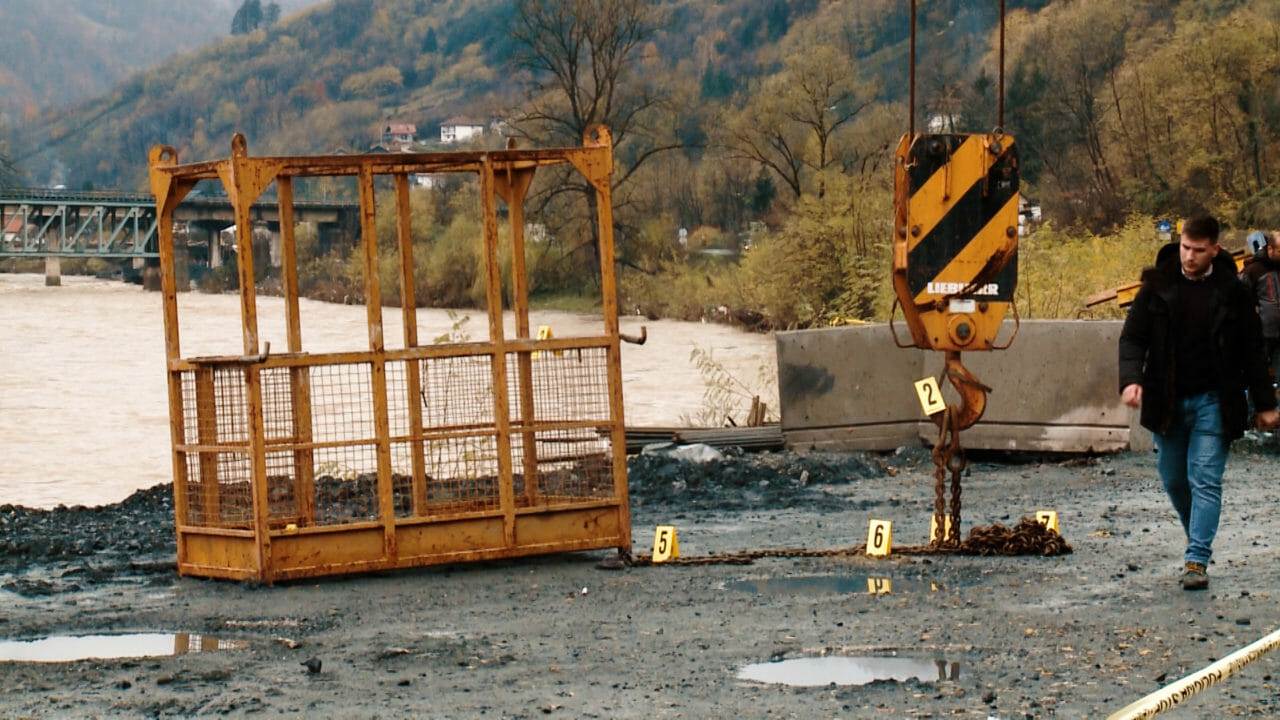 Inspectors next to the site of workers death. Photo: N1
Under a 2012 ruling of the Cantonal Court in Zenica, which BIRN BiH has seen, cantonal inspectors observed irregularities in the company's relations towards workers, namely a lack of general control over work, lack of protective devices and violations of occupational safety regulations and measures.
One worker, whose identity was protected in the verdict, was injured while working in a concrete plant on a construction site only 20 days after having been hired by Cengiz.
A second-instance verdict in his case said his supervisor asked him to repair a machine while it was still running and without proper lighting, giving him only a hand lamp and running headlights. When he tried to repair the machine, part of his arm was cut off, resulting in permanent disability.
Appealing the first-instance verdict, Cengiz insisted that the worker acted irrationally, saying that even someone without work experience but with average life experience and knowledge at construction sites, would not put their hand into a machine while it was in operation.
However, the court concluded that it Cengiz made the omission, as the worker was ordered to do this task. The court also determined that Cengiz was not training workers on occupational safety at that time.
According to occupational safety expert findings, quoted in the court verdict, the accident happened due to lack of, and violation of, work safety regulations. The court found that the worker had not completed training on work safety, whereby Cengiz violated Bosnia's Law on Occupational Safety.
Under the verdict, the worker was awarded more than 55,000 marks, equal to 28,000 euros, as compensation for work-related injury.
In another case, five years after the accident, the court ordered Cengiz to pay more than 135,000 marks for a prosthesis for that worker.
Less than a year after the accident, in October 2013, a similar thing happened to Admir Menzilovic. He has still not collected compensation for his disability, caused by a spine injury, while working on a highway section near Sarajevo, which Cengiz built.
He said he told his boss that the construction work they were doing could not be done in the way he had requested.
"He said: 'Do as I tell you.' When we were taking the steel part off, all the supports broke and I fell off that part and injured my spine," Menzilovic said, explaining that he also got fired while on sick leave.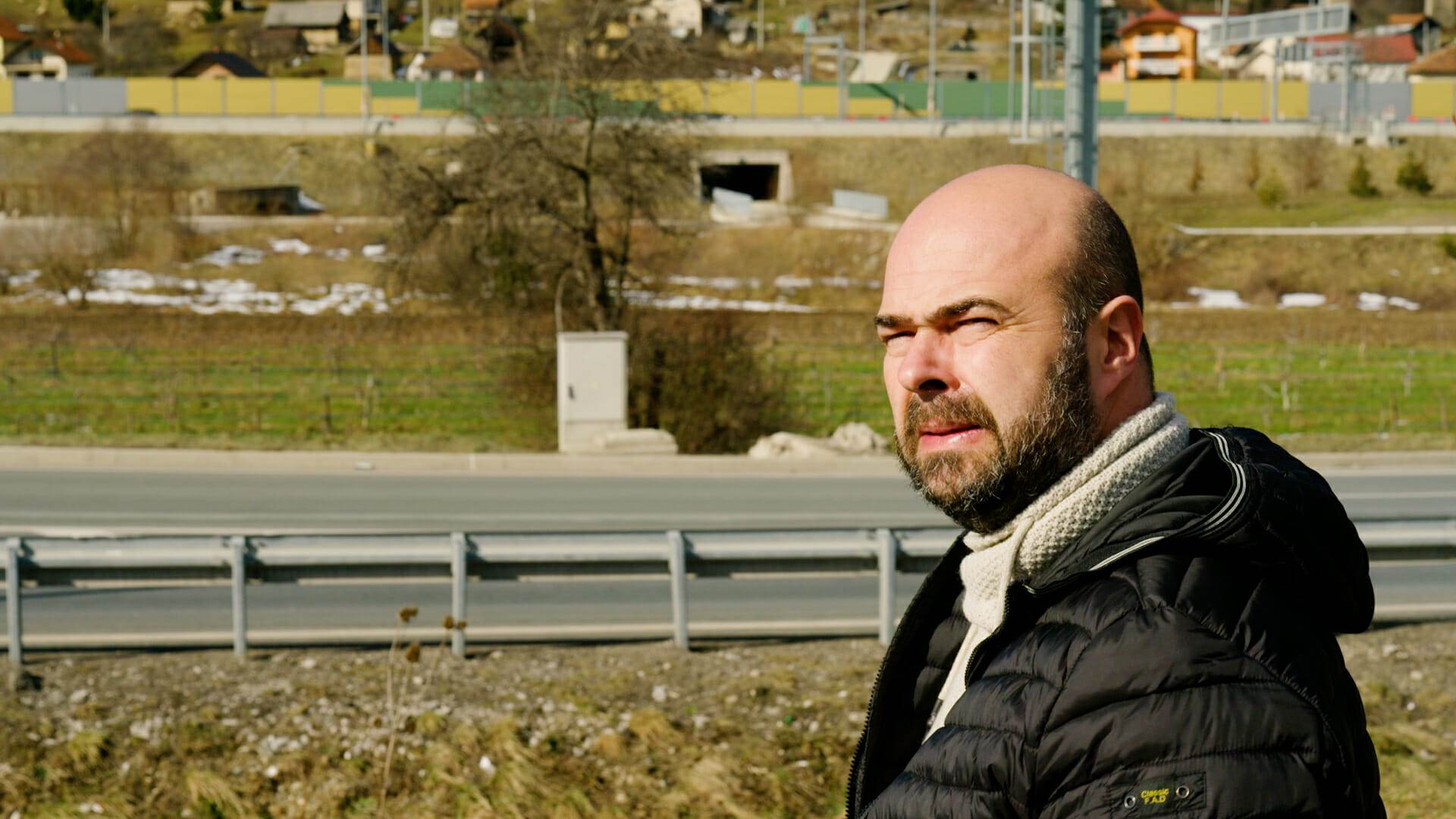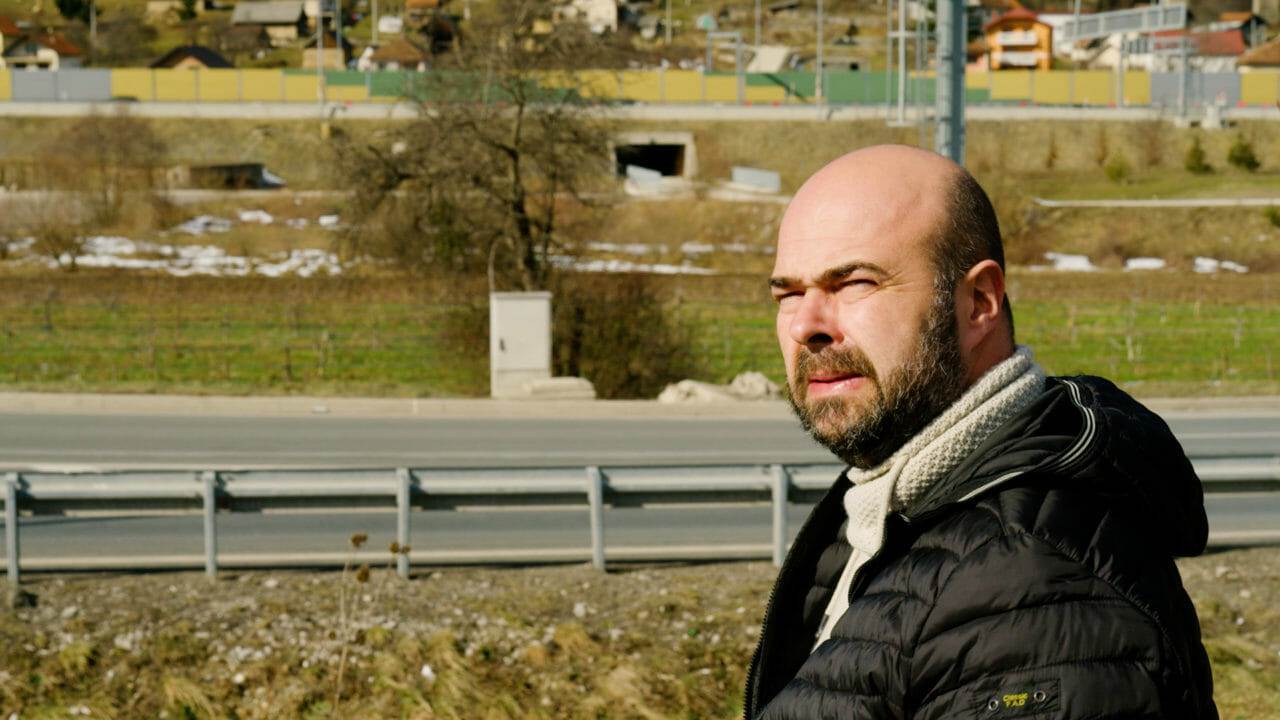 Admir Menzilovic. Photo: BIRN BiH
Despite verdicts ordering the company to pay him compensation, Cengiz has not done so, even after seven years of legal battles, he says.
His lawyer, Senad Dupovac, showing BIRN BiH the court verdicts, according to which Cengiz owes his client tens of thousands of marks, including interest, says that both he and his client find it unbelievable that the company, which has won projects worth hundreds of millions of euros in Bosnia, has evaded paying compensation.
"I didn't believe that such a respectable company … would resort to malfeasance," Dupovac said, noting that Cengiz's ownership had changed, as had the name of the company, between the first and second instance judgements.
"All of a sudden, their account was blocked, there is nothing, no resources, they simply had no movable or immovable property," Dupovac said.
He said these changes have prevented Menzilovic from collecting any compensation from Cengiz.
When Fokus journalist Semira Degirmendzic tried to get an official comment from the company about the payment deadlock – she had published the story about Menzilovic – she encountered problems she considered unusual for such an internationally known company.
In various registries she found several companies named Cengiz, but no contact information was available. She says that messages she sent to email addresses she had found were returned as undeliverable, while the numbers she had found in phone directories belonged to private persons.
"Everything seemed a little odd from the very beginning," she said, adding that this non-transparency raised doubts in her about the company's doings.
"Such things should not be happening. They should be more open to all journalistic questions, especially those concerning citizens' rights. Since 2014 onwards, that company has gained deals worth over a 1.2 billion Bosnian marks [600 million euros] for building Corridor VC," Degirmendzic said.
BIRN BiH journalists encountered similar problems when trying to contact Cengiz. The only other way was to do the same as Menzilovic and Degirmendzic did – hand over a query at the porter's lodge at a construction site near Zepce.
The company partially answered BIRN BiH's query, but didn't agree to answer our questions in person, saying they didn't want to speak while the investigation into the death of the workers was still underway.
"Cengiz has an organized licenced work safety service, which takes care of the training of workers on occupational safety and provision of work safety equipment, so if need be, or in case of a work-related injury, it will inform competent institutions accordingly," the company's written response said.
It also wrote that it strictly followed all regulations referring to occupational safety, adding that the company had more than 50,000 workers worldwide.
"Cengiz complies with all legal regulations in Bosnia and Herzegovina, it has no outstanding debts for taxes, including debts related to contributions on salaries, it has no debts towards suppliers or subcontractors," it wrote in the response.
It added that the company has no debts or final unpaid judgments. It did not mention the change of name and ownership of one of the companies.
According to data obtained by BIRN BiH, some more workers are involved in court cases against Cengiz.
Night guard's injury exposes numerous omissions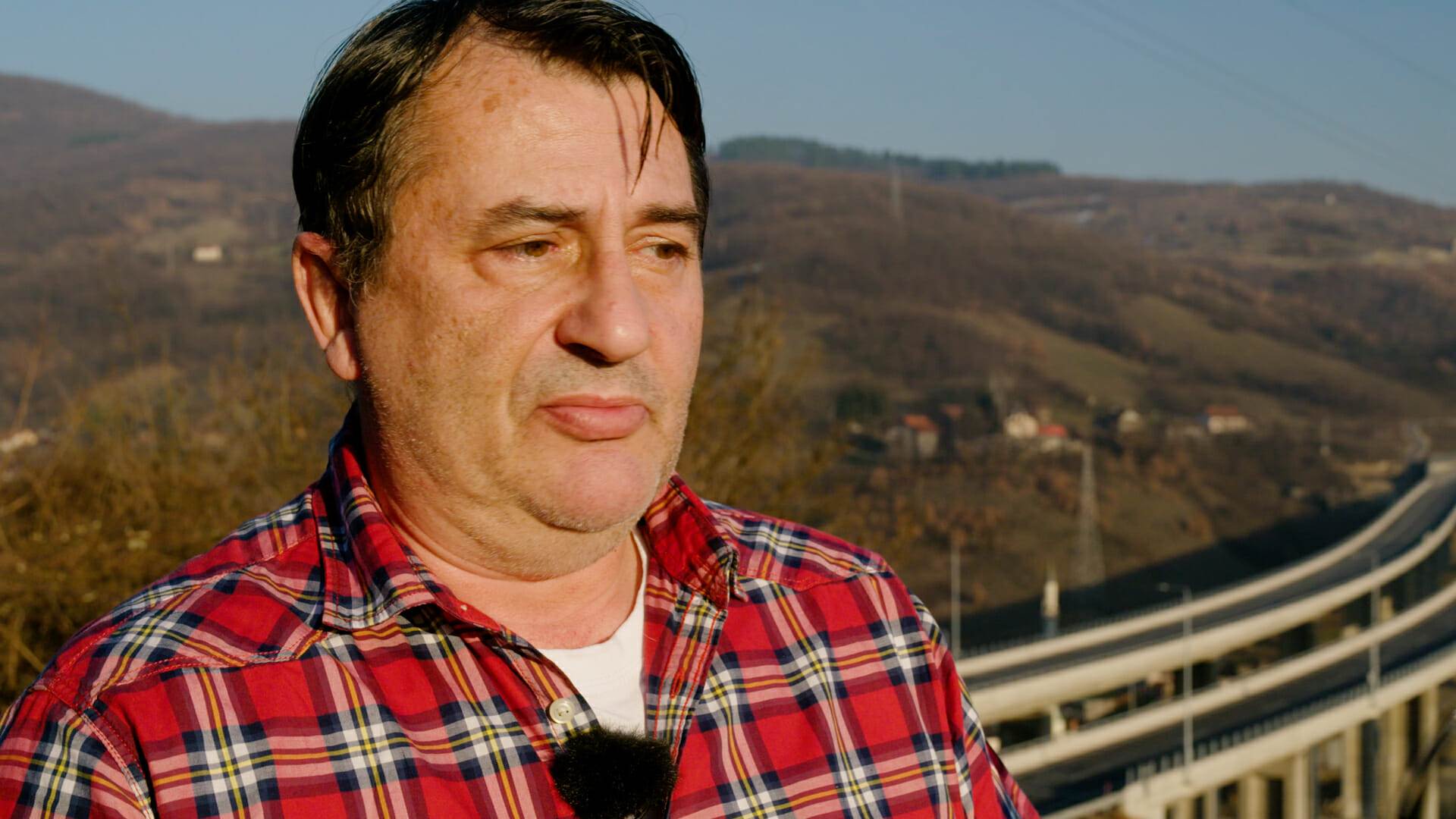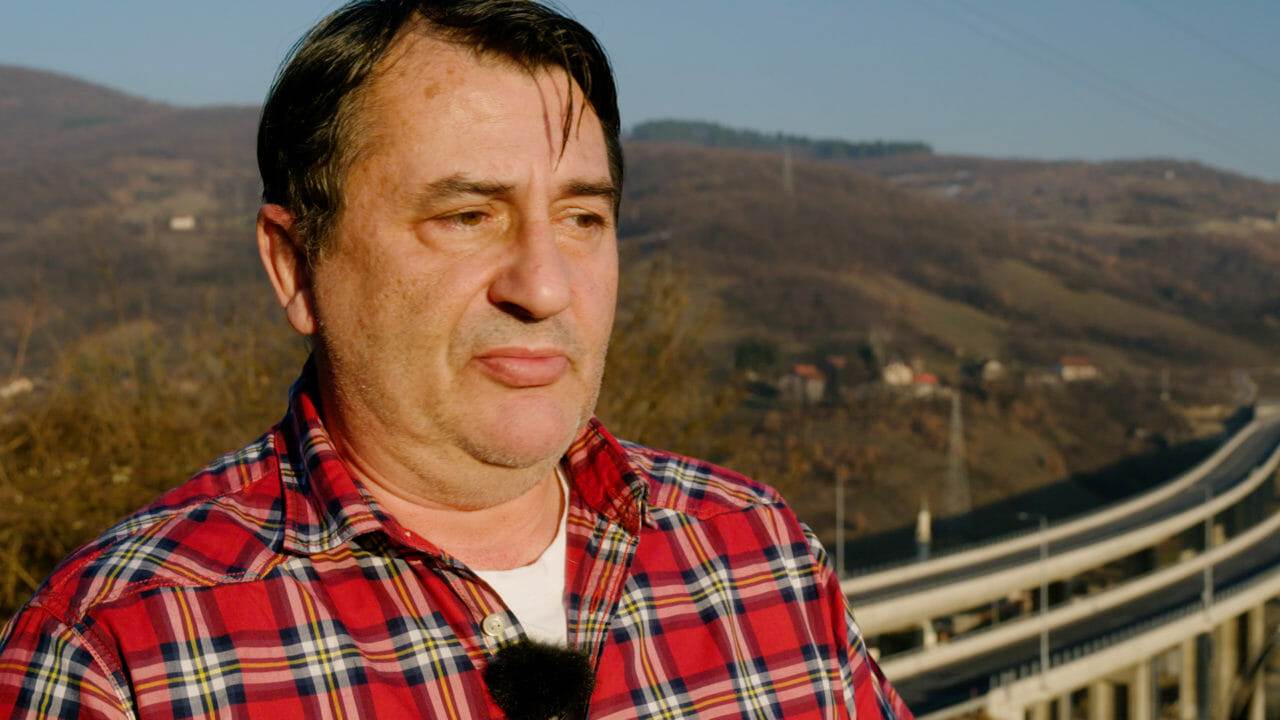 Mirza Zildzic. Photo: BIRN BiH
Mirza Zildzic worked for Cengiz as a night guard at the beginning of construction of the highway section towards Zepce in 2019.
He said he was satisfied with the offered contract terms, but it seemed odd that one of the conditions for employment was to possess a vehicle. When he came to working in the hills, where the new highway route was being laid, it was clear why he needed a car.
"When deployed to various locations along the route, the working conditions for a guard were very bad. There was no sentry box, no light, no heating. Unless you had a car, you would practically be outside," he said, adding that heating fuel was not covered separately, so he used to light a fire to keep himself warm.
While looking for firewood in a nearby forest, seven days before New Year's Eve, he fell and injured himself.
Despite calling his supervisors, he said he had to drive himself to the emergency clinic alone. He was put on sick leave due to the injury.
On sick leave, Zildzic learnt that the number of hours the company declared to the tax office was smaller than the actual number of hours he had worked.
"That practically means that [Cengiz] not only failed to include it [the hours worked] in our payroll and salaries, but practically also deceived the state," Zildzic said.
He reported his findings. The Inspection Directorate of Zenica-Doboj Canton confirmed to BIRN BiH that its inspectors observed incorrect work records for all the workers at the Cengiz branch office in Zenica. Months later, it also discovered irregularities on the right to use annual leave in 2019. The procedure is in court after Cengiz filed an appeal.
Zildzic has brought several lawsuits against Cengiz, which are still underway, "with the exception of an out-of-court settlement in which the employer recognized some costs on the basis of my injury".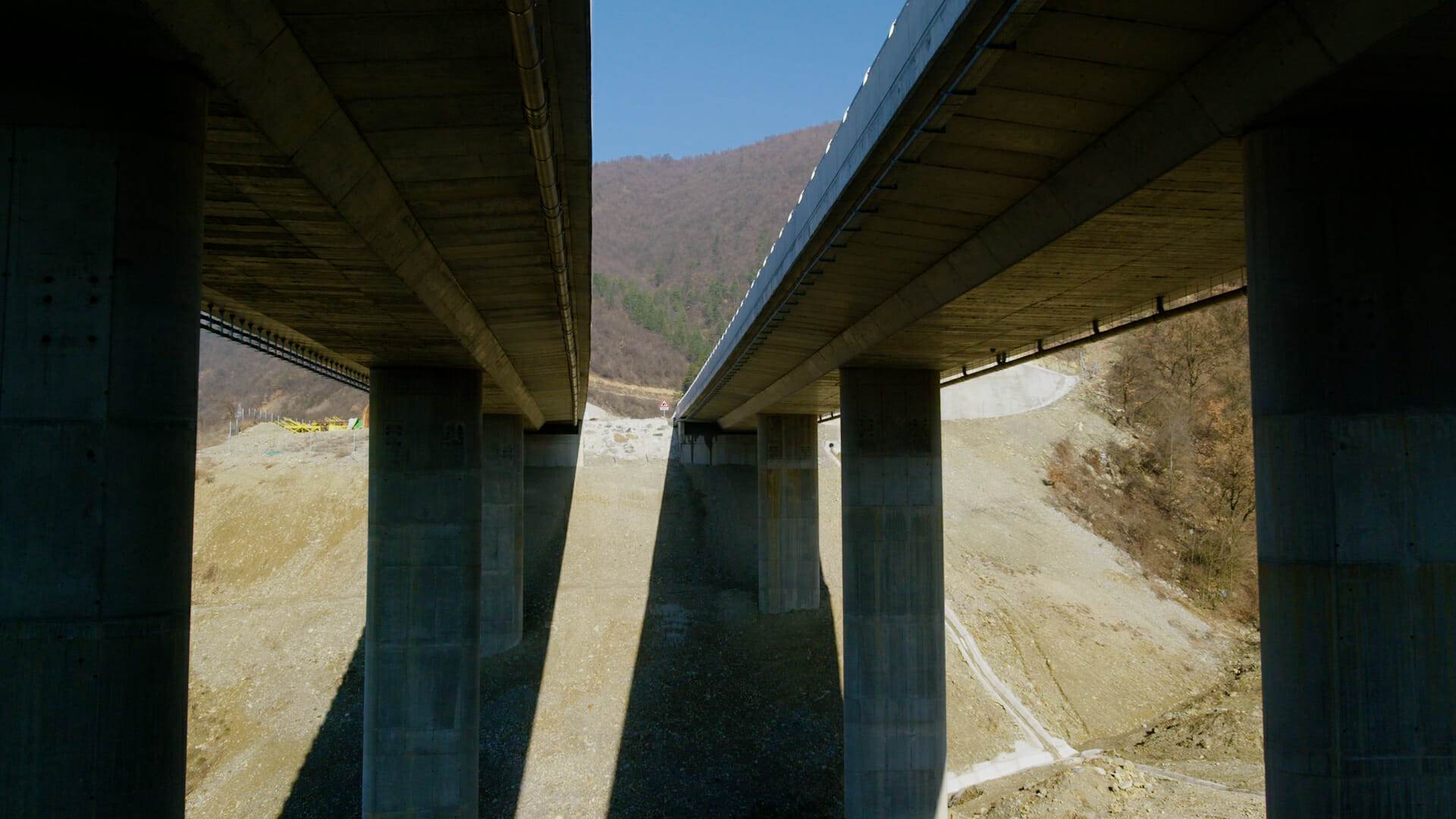 Highway through BiH. Photo: BIRN BiH
When BIRN BiH wanted to enter Cengiz's construction site near Zepce to check the living and working conditions for workers from Turkey and Bosnia, the Federation entity's highways company didn't approve the request. But several Turkish workers during a break said they were satisfied with working conditions and salaries, which were higher than the usual salaries in Turkey.
Degirmendzic says that, according to data she has received from the Federation entity's Ministry of Transport and Communications, there are four times more Turkish than local workers at the construction site.
"That is their right, but someone has to say this, because whenever a foreign company gets a contract in our country, we are told that Bosnian workers will also benefit, but that's not how it works," Degirmendzic said.
Some locals living along the highway sections built by Cengiz understand the benefits of modern roads for Bosnia, but still think the price they have had to pay was too high, unnecessary and in disregard of regulations.
Sulejman Lisnjic is one of the locals whose assets have been directly endangered by water flowing out of a landfill built by Cengiz near Zenica. During heavy rain, material and water from the landfill run towards his house.
Before construction work started, local residents were assured by the local authorities and the company that any problems related to water would be solved. But it has never been followed through, Lisnjic said, and there is no one to complain to.
"Before they started building the highway, their promises were endless. In the end, we got nothing, only problems," Lisnjic said.
Hadis Sisic's house was damaged during blasting. He said he had to move out of his house because the walls cracked due to detonations, which he and his family listened to for months during the excavation of a tunnel only a hundred meters from his house.
"My two children, mother and wife were endangered, and I realized that the roof would fall in on my family. I now have no access to my house or anything; you can't put a price to that. I didn't want to leave the place I was born in, but they forced me to leave," Sisic said, lamenting how Cengiz and the Highways of the Federation company had treated his property.
Turkish journalist Serdar Vardar, who previously investigated Cengiz's affairs and now works for Deutche Welle, Germany, says he witnessed similar poor behaviour in Turkey.
"Because of the explosions in the mines, a lot of the houses started to shake and crack because of the explosions, but nothing happened," he said.
He said that in Turkey, it is increasingly difficult to obtain data on the contracts awarded to Cengiz by the authorities, adding that transparency is diminishing there.
"It started to get very big after Recep Tayyip Erdogan came to power and, especially after 2010, started to be global company. Between 2010 and 2020, according to World Bank data,it became the third company in the world in terms of the most public bids," Vardar said.
According to a report by the International Confederation of Trade Unions on the safety of workers involved in construction of a new airport in Istanbul, where Cengiz was one of the five contractors, poor working conditions and pressure to comply with deadlines resulted in unsafe and unhealthy working environment and long working hours. This then resulted in serious dangers to the lives of workers and in some cases, in injuries and deaths.  
Workers expressed dissatisfaction with their conditions by organizing rallies and strike, which led to their arrests and the court convictions of some of them, the report said.
Company with strong ties to governments
Vardar explained that Cengiz is favoured by the authorities in Turkey. .
Political analyst Adnan Huskic said that the business operations of Turkish companies in Bosnia, including Cengiz, must be seen through the prism of political relations between the two countries, "especially between the Bosniak and Turkish leaders" – Bakir Izetbegovic and Erdogan.
"So, even when viewing the economic aspects, you can and should view things through that prism," he said.
"In that sense Cengiz is surely one of the companies enjoying support from the Bosniak political elite," Huskic added.
In his opinion, problems come down also to the rule of law, which Bosnia and Herzegovina has had trouble establishing.
The competent authorities in Bosnia have no wish to talk to journalists about their relations to the Turkish company.
Highways of the Federation didn't want to talk to BIRN BiH. Neither did two former directors of that public company. The Federation's Minister of Transport and Communications, Denis Lasic, did not answer our request, sent to the ministry's email address, by time of publication.
Federation construction inspectors are the only representatives of the Bosnian authorities who agreed to an interview.
Over the past three years, they said they have monitored Cengiz operations 20 times. The company had not been fined once, Ejub Salkic, chief inspector of the Urban Planning and Environmental Inspectorate with the Federation's Directorate for Inspection Affairs, confirmed to BIRN BiH.
He said that fines imposed on companies under the Law on Spatial Planning and Use of Land are low, amounting to 250 marks – hardly enough to deter companies from breaking the rules. He said he had asked for changes to the law, but it has never happened.
"It is a shame. Someone can put people in danger with their unprofessional operations, so a man might get killed, or a stone might slide and destroy someone's house, but the fines provided for in the law are such … All these problems should be resolved by law," Salkic said.
The Federation Directorate of Inspection Affairs confirmed to BIRN BiH that it had investigated controlled waste disposal by Cengiz in the vicinity of Zenica and found that the Highway Company had to carry out additional procedures to assess the environmental impact. Inspectors fined the company 20,000 marks.
Salkic explained that the capacities and small number of inspectors posed a problem; only two of them cover the entire Federation.
He said another problem related to the specifics of the highway's construction, given that the project was declared to be of public importance and a special law was adopted for it. Such arrangements work in favour of the construction companies.
"When it comes to Cengiz, they are no better or worse than our other contractors who appear here, be they foreign or domestic ones. They are all similar," he said.
"They all try to bypass whatever they can, but the supervisory engineers and representatives of investors have the biggest role in trying to take account of all the things we have mentioned here," Salkic addede.
For former Cengiz employee Zildzic, his poor working experience with this company has led him to lose faith in the Bosnian institutions that should be protecting him.
"Probably like most workers in similar situations, I feel humiliated, hopeless, without any support from the authorities, judiciary or prosecution. It is simply hard, or impossible, to fulfil your rights, so it is a hopeless situation," he said.