The Ukrainian Army's claim that Serbian 'militants' are being recruited to supplement Russian 'occupation' forces in Ukraine has drawn an angry riposte from the Serbian Defence Ministry.
This post is also available in: Bosnian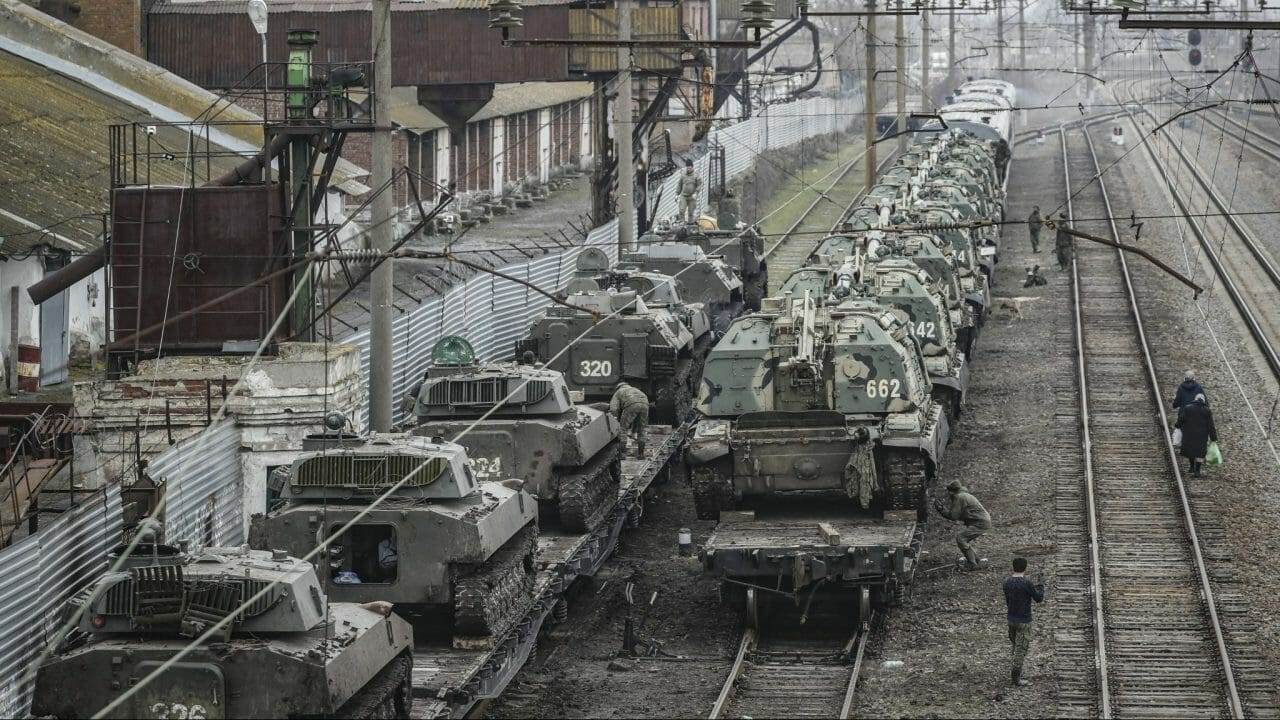 Russian armoured vehicles at the railway station in the Rostov region, Russia, February 23 2022. Photo: EPA-EFE/STRINGER
Serbia's Defence Ministry on Sunday condemned Ukraine's "dangerous misinformation" that Serbian fighters are being recruited to supplement Russian forces in Ukraine, and said: "We demand that it be withdrawn immediately."
"The participation of Serbian citizens in armed conflicts abroad is a serious crime punishable by several years in prison," Minister Nebojsa Stefanovic said in a press release.
"Serbia is committed to a peaceful solution to this conflict and will not allow its commitment to peace to be called into question in any way," he added.
Ukraine's General Staff said in operational information on Sunday that, "for the purpose of the urgent replenishment of the losses of the occupation troops", Russia was bringing in fighters from the disputed Nagorno-Karabakh region in the Caucasus, and also that "a large number of militants from other countries are involved (Syria, Serbia)".
It did not respond BIRN's request for additional information about Serbian fighters.
There is a track record of Serbian fighters being present in warzones in Ukraine since the outbreak of the conflict in 2014. Social media posts from the Ukrainian battlefields later enabled prosecutors to prove the illegal military action of fighhters in Ukraine.
In February 2018 an official from the Ukraine's Security Service, SBU, Igor Guskov, said at least seven Serbian citizens were members of a Russian-led unit fighting in Ukraine, one of whom had been killed.
BIRN also reported about Serbian citizens fighting in Ukraine.
Serbia outlawed fighting abroad back in 2014 and the maximum punishment is five years for individuals, and eight years for going as a part of organised group. Those who organise such departures can be sentenced to 10 years.
In practice, however, while 32 persons were sentenced for going to fight in Ukraine in previous years, they all received suspended sentences. Since they all admitted guilt, there were no real trials. In October 2021, one person was sentenced to house arrest for organising the departure of fighters in 2014.