Despite joining European Union sanctions on Russia, watchdogs say Montenegro's government has yet to officially implement any restrictive measures beyond a flight ban.
This post is also available in: Bosnian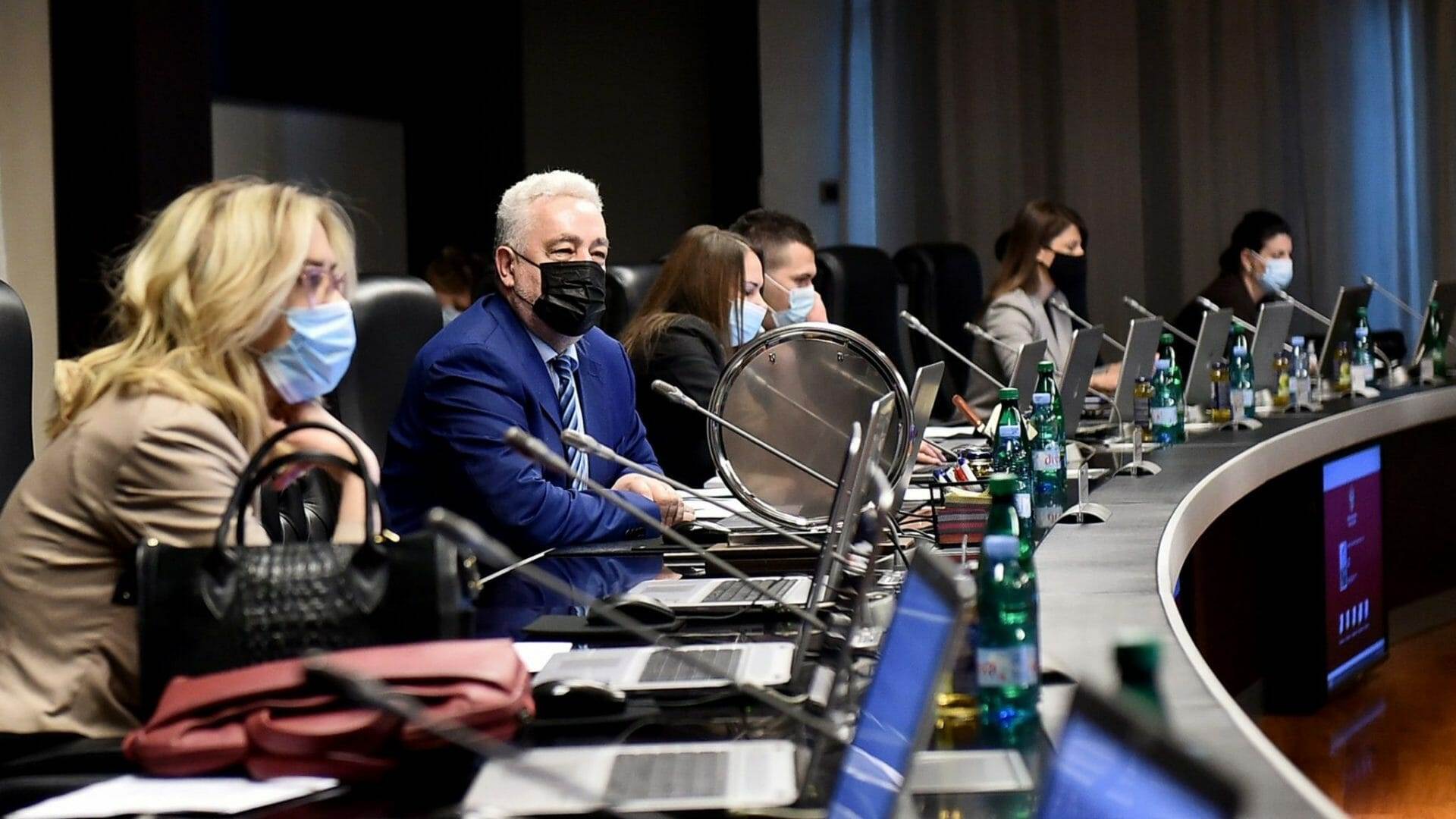 Montenegrin government session in Podgorica. Photo: Government of Montenegro
Montenegro has yet to implement restrictive measures on Russia even though the country has joined European Union sanctions on Moscow over the war in Ukraine, civic activists said.
On March 1, Montenegro said it had joined European Union sanctions on Russia, but so far banning Russian flights is the only measure actually confirmed by the government.
Dejan Milovac, from the prominent watchdog MANS, called on the government to confirm EU sanctions by adopting a decision to implement the restrictive measures.
"While EU member countries and the US are especially targeting Russian oligarchs and their property, the Montenegrin government is acting passively when it comes to concrete actions to implement sanctions. As soon as possible, it should make a decision to operationalize EU sanctions on our territory," Milovac told BIRN.
By supporting EU sanctions, Montenegro committed itself to ban overflight of its airspace and access to its airports for Russian carriers, ban transactions with the Russian Central Bank and the Swift ban for seven Russian banks, and suspend broadcasting of Russian state-owned media.
According to Montenegrin law on international restrictive measures, ministries propose measures but the government has to officially confirm them before implementation. After confirmation, the government sends a list of measures to state institutions, which must implement them.
Montenegro's Ministry of Capital Investments said on March 3 that Russian flights would indeed be banned, but the government has postponed a discussion on the proposal of the Ministry of Public Administration, Digital Society and Media to suspend Russia Today and Sputnik broadcasts.
Media reported that the proposal was postponed because it was suspected that such a decision would not have enough support from within the coalition government.
The ministry didn't respond to BIRN's questions about which legislative procedures it will use to suspend Russian media broadcasts in Montenegro.
On March 4, a former Montenegrin ambassador to NATO and a professor at Boston University, Vesko Garcevic, said the authorities should act promptly when it comes to the Ukraine conflict.
"Any government hesitation creates the impression that Montenegro does not have an attitude when it comes to events in Ukraine and is avoiding responsibility," Garcevic told the daily Pobjeda.
In line with EU restrictions, Albania on February 27 unveiled sanctions, banning Russian flights and freezing more than 650 Russian assets in the country.
Economic sanctions include measures in the finance, energy, transport and technology fields. Albania's Audiovisual Media Authority AMA declared on March 4 that it was following how the Albania media was covering developments in Ukraine.
"During the monitoring process, but also based on the complaints received by the AMA, inappropriate content was examined – unfounded and intolerant [content] reflecting nostalgia and glorifying against the promotion of democratic values ​​widely accepted by Western European countries and progressive democracies," it said.
In line with the EU's move to shut down Russia Today and Sputnik, North Macedonia last week sent a "recommendation" to the National Agency for Audio and Audio-Visual Services, AVMU, to do the same. The AVMU in turn urged cable operators to stop airing "channels founded by the Russian Federation or… originating from Russia".
It said operators should do this immediately, despite the Association of Journalists of Macedonia, ZNM, warning that "closing media under an arbitrary decision from the government does not contribute to the fight against disinformation".
On February 25, Kosovo imposed sanctions against a long list of Russian individuals and entities. Sanctions include freezing assets within Kosovo and a ban on travel to Kosovo. The list of sanctioned individuals and entities is the same as that approved by the United States and EU.
On February 26, Kosovo's Independent Media Commission ordered operators to temporarily remove Russian-origin TV stations "in order to prevent propaganda and protect security in Kosovo".
On Monday, March 7, Russia added Montenegro, North Macedonia and Albania to the list of "enemy" states after they joined EU sanctions on Russia in retaliation for its attack on Ukraine.