Ukrajina je pozvala Međunarodni sud pravde (MSP) da donese hitnu odluku kojom će Rusiju pozvati da obustavi svoje oružane operacije u ovoj zemlji, dok je Moskva odbila da učestvuje na saslušanjima u Hagu.
This post is also available in: Bosnian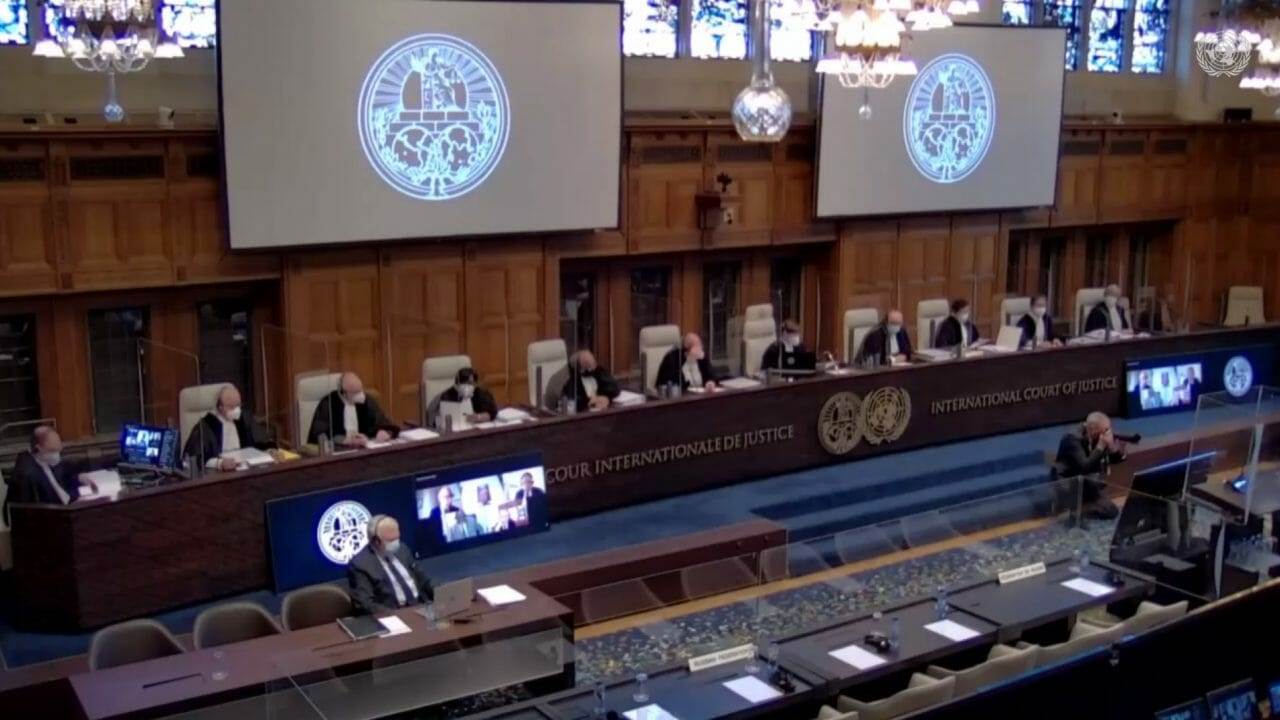 The International Court of Justice hearing on Monday. Screenshot: media.un.org.
Ukraine's legal team called on the International Court of Justice in The Hague on Monday to act as soon as possible on Kyiv's request for an emergency ruling telling Russia to halt its invasion of the country because the situation is deteriorating rapidly and increasing numbers of people are being killed.
"If you speak clearly and decisively now, you will not act alone: other parts of the international legal system will act in concert with you, focusing on other aspects on Russian aggression," Harold Hongju Koh, a lawyer acting for Ukraine, told the ICJ.
"But amid this broad network of legal activities your order is the essential spark that will inspire other competent international organs and agencies to take the further steps necessary to protect peace, security, accountability and human rights in this rapidly deepening crisis," he added.
Ukraine has asked the ICJ to instigate 'provisional measures' telling Russia to "immediately suspend the military operations commenced on 24 February".
Kyiv argues that Moscow falsely justified its case for the invasion of Ukraine by alleging that it needed to prevent and punish a 'genocide' of Russian speakers in the Russian-sponsored eastern rebel territories of Donetsk and Luhansk.
Jonathan Gimblett, another lawyer for Ukraine, said that the "appalling human and environmental consequences of Russia's invasion of Ukraine satisfied the condition of irreparable harm and urgency to which the court looks when considering the appropriateness of provisional measures".
"Every day that passes more lives will be lost, and probably at an accelerating rate, alongside the loss of life; millions of Ukrainians' lives will never be the same again," Gimblett told the ICJ.
Russia is refusing to participate in the case and its legal representatives failed to appear for Monday's hearing.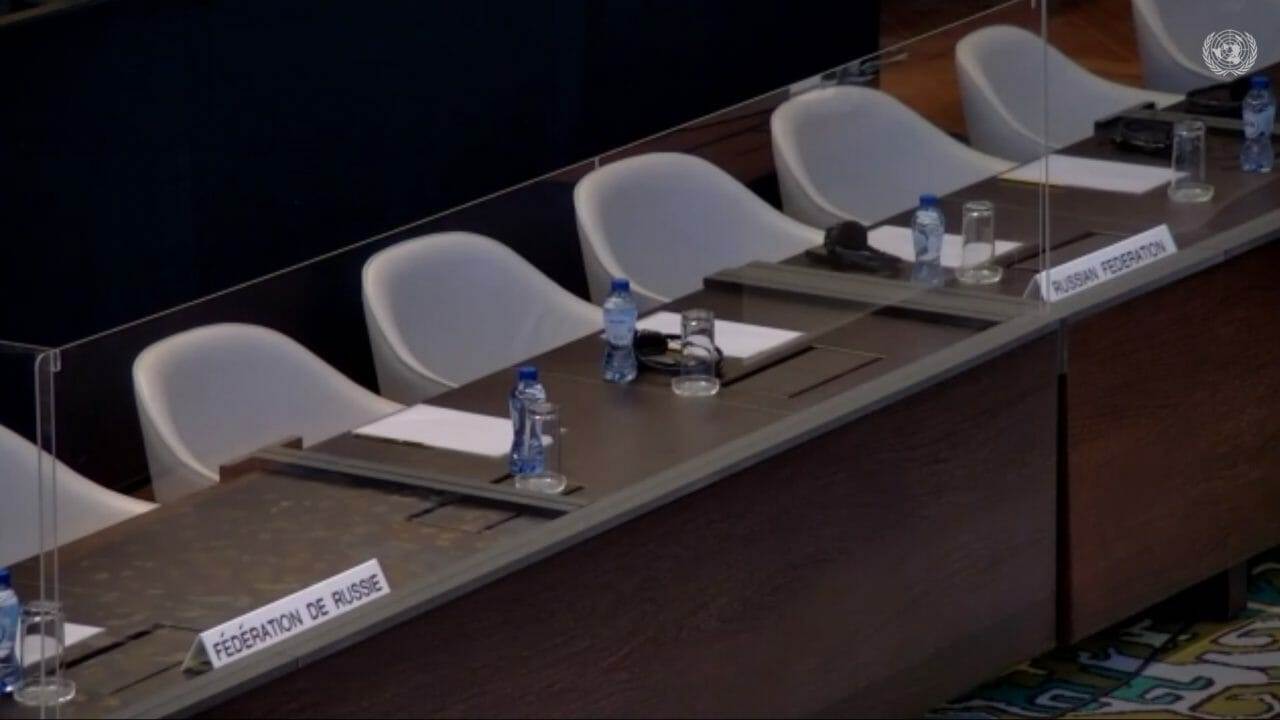 Empty seats of the absent members of the Russian delegation at the hearing on Monday. Screenshot: media.un.org.
ICJ president Joan Donoghue said that in letter dated March 5, the Russian ambassador to the Netherlands, Alexander Vasilievich Shulgin, "indicated that his government did not intended to participate in the oral proceedings".
The Associated Press reported that as a result of this, Moscow's turn to present legal arguments to the court on Tuesday has been cancelled.
Judge Donoghue said that the court will make its decision on the provisional measures requested by Ukraine "as soon as possible".
'Putin lies and Ukrainians die'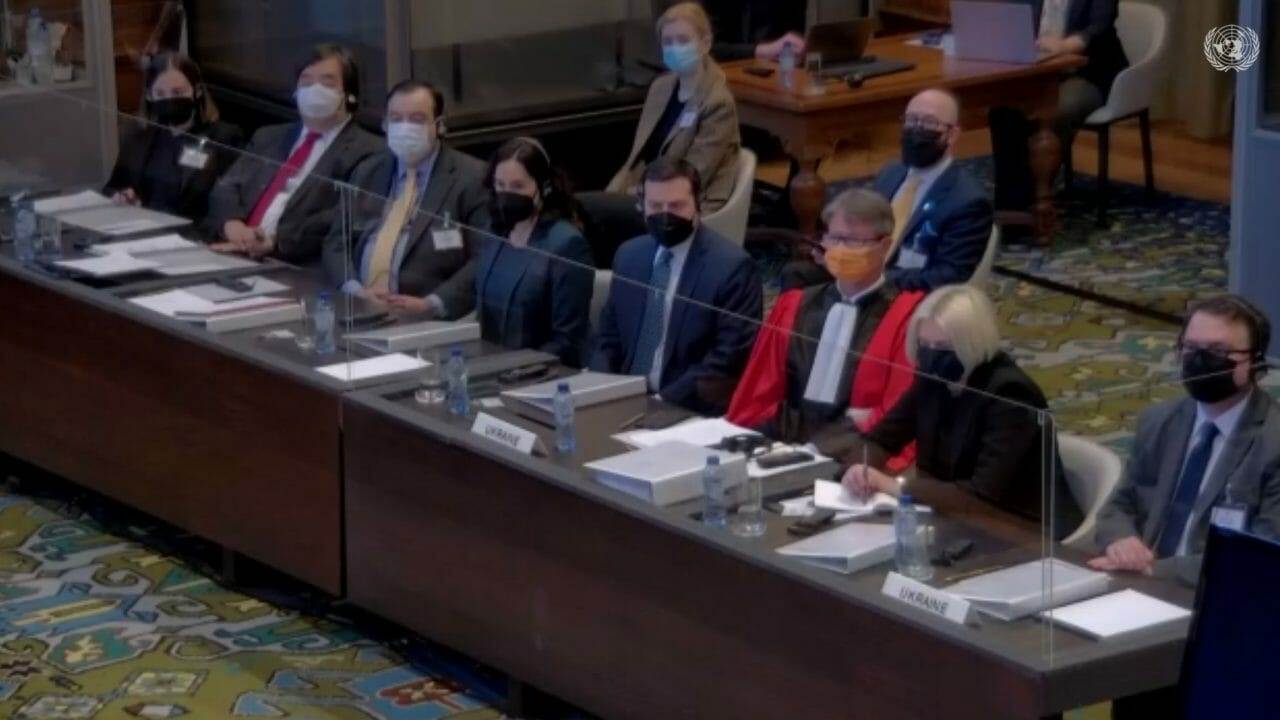 The Ukrainian delegation at the hearing on Monday. Screenshot: media.un.org.
Russia invaded Ukraine on February 24. On the same day, just prior to attack, Putin said  that he had "decided to conduct a special military operation" in the country in line with the "treaties of friendship and mutual assistance" that Russia had ratified with the so-called Donetsk and Luhansk People's Republics two days earlier.
"Its goal is to protect people [in Donetsk and Luhansk] who have been subjected to bullying and genocide by the Kyiv regime for eight years," Putin alleged, without providing any evidence of genocide.
Anton Korynevych, the Ukrainian president's envoy for Crimea and Ukraine's representative at the ICJ, said that Russia was trying to "justify its aggression" with "a horrible lie" about alleged genocide.
"Putin lies and Ukrainians, our citizens, die," Korynevych told the ICJ.
US lawyer David Zionts, who is also acting for Ukraine, pointed out that "UN human rights monitors have been meticulously tracking the conflict in Donetsk and Luhansk from its inception [in 2014] to the present".
"In eight years of reporting, there is not a single hint of any act of genocide," Zionts said.
His colleague Marney Cheek further argued that "there is simply no plausible evidence" that Ukraine committed acts that come under the definition of genocide in the 1948 Convention on the Prevention and Punishment of the Crime of Genocide.
She said that the eight-year long armed conflict between government forces and Russian-sponsored rebels in eastern Ukraine has "tragically led to civilian deaths"
"But civilian deaths in an armed conflict are not per se genocide," Cheeck said.