Appeals for volunteers from Bosnia and Serbia to join pro-Russian forces in Ukraine are getting a strong response on social media – but how many are actually going is less clear.
This post is also available in: Bosnian
"Many people who want to defend Novorossiya are sending me messages. Don't doubt it … There will be Serbs [there], as always," Zivkovic said.
Seven days later, on March 2, Zivkovic told BIRN that Serbian volunteers had already arrived in Ukraine to fight for Russia and the two Russian-backed self-proclaimed statelets in eastern Ukraine, the Luhansk and Donetsk People's Republics, sometimes known collectively as the LDPR.
"Among the volunteers fighting for the LDPR are Serbs who were there before, some found themselves in Russia, and some who newly arrived, albeit not many, due to transportation difficulties," Zivkovic said. "But the interest is huge."
He reportedly lived in the LDPR for eight years.
Mentioning Serbs who had already reached the Ukrainian battlefront, he said he cannot offer more concrete information about them, or about the routes, they used, as "people will be directly accused of a criminal offence".
Fighting in a foreign war is illegal in Serbia. The Higher Public Prosecution in Krusevac opened and then discontinued an investigation against Zivkovic for organizing participation in the first round of warfare in Ukraine, in 2014.
After the first outbreak of fighting in Ukraine in 2014, BIRN's Database of Verdicts for Terrorism and Fighting on Foreign Battlefronts identified 16 persons of a total of 29 that Serbia sentenced for the crime. All were given suspended sentences. Montenegro sentenced one person for participation in the fighting
Police in Bosnia and Herzegovina estimate that some 10 or more volunteers fought in Ukraine. Courts in Bosnia tried only one person for the crime – who was acquitted.
Gavrilo Stevic was charged with having departed from Belgrade to Moscow and then to eastern Ukraine, where he joined the "Jovan Sevic" paramilitary formation as a volunteer.
Under a verdict by the Bosnian State Court, he was acquitted of charges of joining foreign paramilitary or para-police formations and fighting in Ukraine.
BIRN was unable to confirm Zivkovic's allegations about the arrival of Serbian and Bosnian Serb fighters in Ukraine.
Travel to Russia and Ukraine have been reduced after a number of European countries suspended flights to Russia due to the invasion.
But Serbia is not one of those countries, and Air Serbia is still running flights between Belgrade and Moscow.
And, while joining foreign combat is illegal in Bosnia and Serbia, the mild sentences handed down last time may not affect the decisions of many volunteers.
As in Serbia, there are no official data on the departure of Bosnian citizens to Ukraine over the past few days.
In both countries, many social network users express readiness to go there, but experts say it is impossible to estimate whether the opinions expressed on social media reflect the actual situation.
Volunteers being sent to Donbas in 'an organised manner'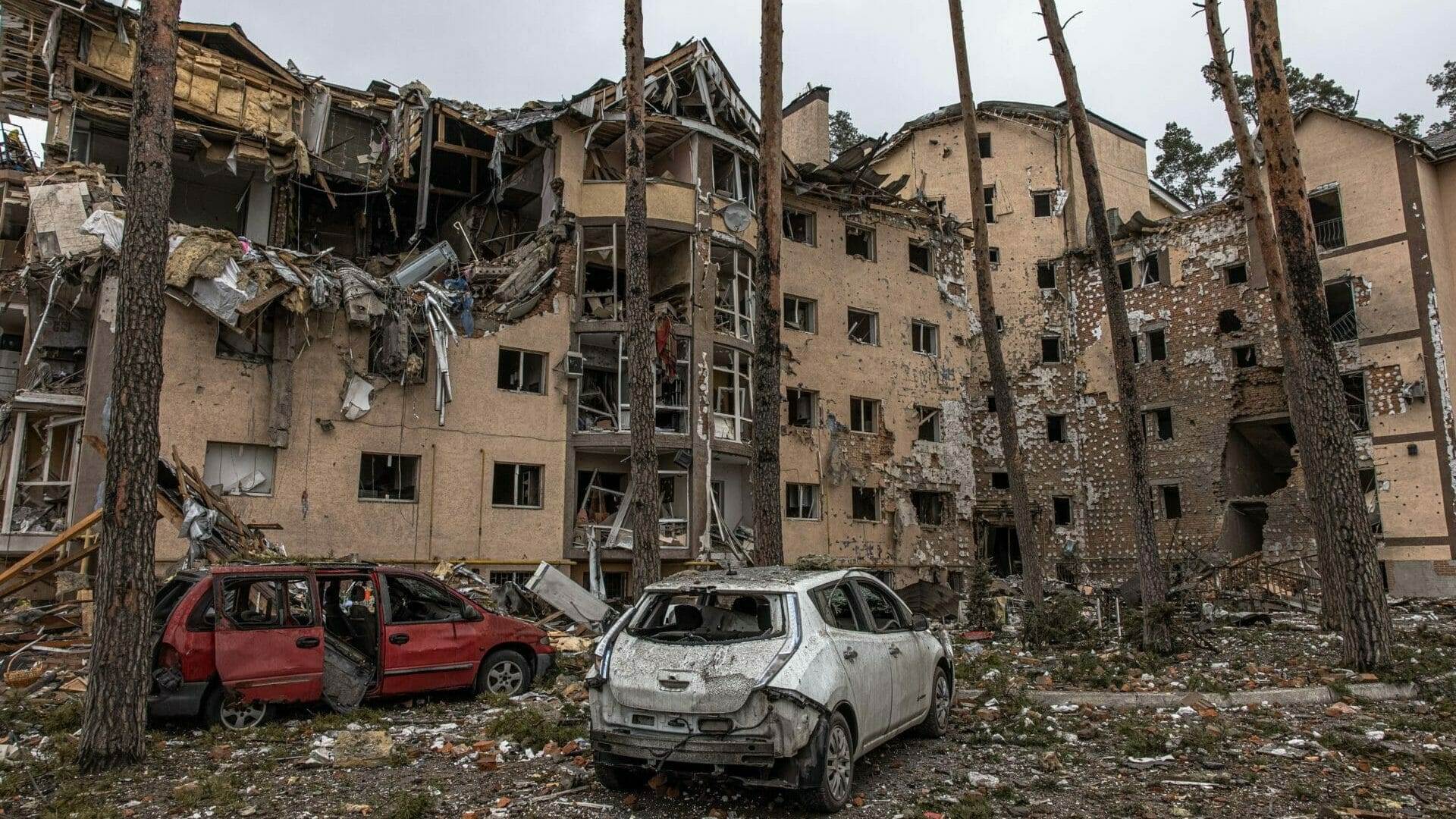 Kyiv after the bombing, March 3, 2022. Photo:EPA-EFE/ROMAN PILIPEY
There is no doubt that the breakaway statelets in eastern Ukraine, often called Donbas, and their supporters want foreign volunteers.
Alexander Borodai, leader of the so-called Union of Donbas Volunteers and first "prime minister" of the breakaway Donetsk Republic, said recently on local TV that "the time has come" for recruitment.
"The Union of Donbas Volunteers, especially I and the Union's headquarters, are busy with mobilization," a transcript of his statement published on the Union's Telegram account on February 18 said.
"We are mobilizing volunteers to send them in an organized manner to help the Donbas republics and the Russian population of Donbas," he added.
On that same day, the Union announced the establishment of a reserve force of volunteers, saying that interested people should contact its headquarters to join.
Volunteers from both Serbia and the Bosnian Serb entity, Republika Srpska, fought on the Russian side in the Donbas in the first military conflict in Ukraine in 2014.
Kacper Rekawek, from the Centre for Research on Extremism of Oslo University, says calls to go to Ukraine were previously answered by Serbs who travelled to Donbas.
While calls for volunteers in 2014 were more hidden, now they are visible on all social networks, and include advice on how to get to the battlefront, he noted.
"This enables the mobilization of individuals … We'll see how many people will go, I'm sure there will be more than in 2014," Rekawek said.
But Predrag Petrovic, of the Belgrade Center for Security Policy, says that the departures today, in comparison to 2014, have more political than military weight.
"Those volunteers cannot make a considerable difference now as they did in 2014 or 2015. The military operation is now more extensive. They are just a small drop in the ocean," Petrovic said.
However, it carries a political weight that such organizations are ready to take part in military operations, which may have consequences for Serbia and other Western Balkan countries because taking part in the conflict does matter, Petrovic said.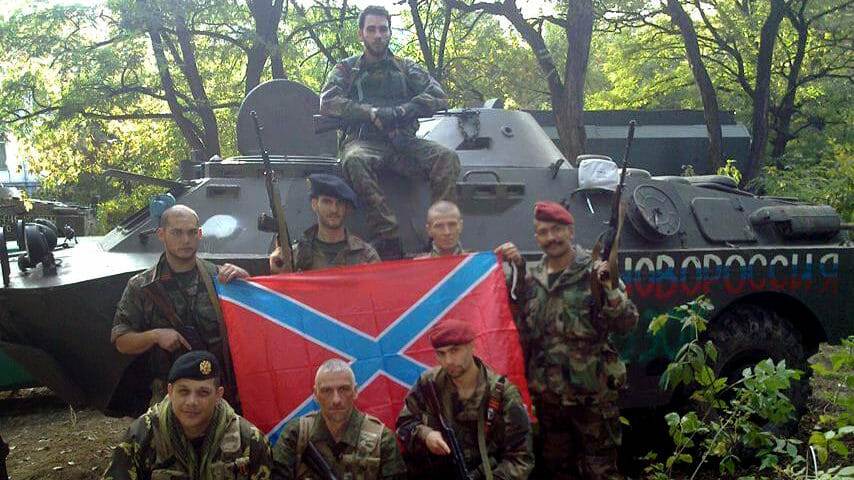 Serbian fighters in Ukraine. Photo: Facebook.com
The call published by the Union of Donbas Volunteers is accompanied by instructions for applicants.
Volunteers must provide their full name, date of birth, military speciality, experience in military operations and contact phone number.
Neither the Union nor the phone numbers listed in the call, answered BIRN's queries about the process by the time of publication.
The Union, which gathers former volunteers, previously decorated some fighters from Bosnia and Serbia.
One of these former fighters told BIRN that, to his knowledge, no volunteers had yet departed from Bosnia, or Serbia, to Ukraine.
Cossack associations also gather volunteers from the Balkans and elsewhere, to fight for Russia in Ukraine.
Nikola Djakonov, a former member of the Managing Board of the Union of Donbas Volunteers, now supreme commander, or Ataman, of the Union of Cossack Soldiers of Russia and Abroad, has ties to the Kremlin. President Putin has decorated him.
Djakonov also has ties to the Bosnian Serbs. He visited the Bosnian Serb city of Banja Luka in 2014, which some saw as a show of support for Bosnian Serb leader Milorad Dodik's candidacy for the post of Republika Srpska president.
He has published appeals for volunteers on his Facebook account since the beginning of the Russian invasion of Ukraine.
Djakonov wrote that this was an important and decisive moment in Russian history. It was time to "protect citizens of independent republics of Donetsk and Luhansk from neo-Nazis' blood-shed".
Cossacks had always been crucial to protecting Russian borders, and he hoped they will not let down the Cossacks' glory now, he said.
"Our task in these difficult and decisive days of world history is to support the President [Putin] and our armed forces, which are solving the most important geopolitical tasks. If help is needed, don't stay on the sidelines," Djakonov wrote.
Another Cossack organization, the Balkan Cossack Army, whose members previously called for departures to the war in Ukraine, has not spoken since the start of the Russian invasion. BIRN BiH was not able to contact either Djakonov, or the Balkan Cossack Army.
Besides Cossacks, other pro-Russian organizations in the region previously have called for and welcomed departures of volunteers to the battlefront in Ukraine.
Payback to Russia – and revenge on the West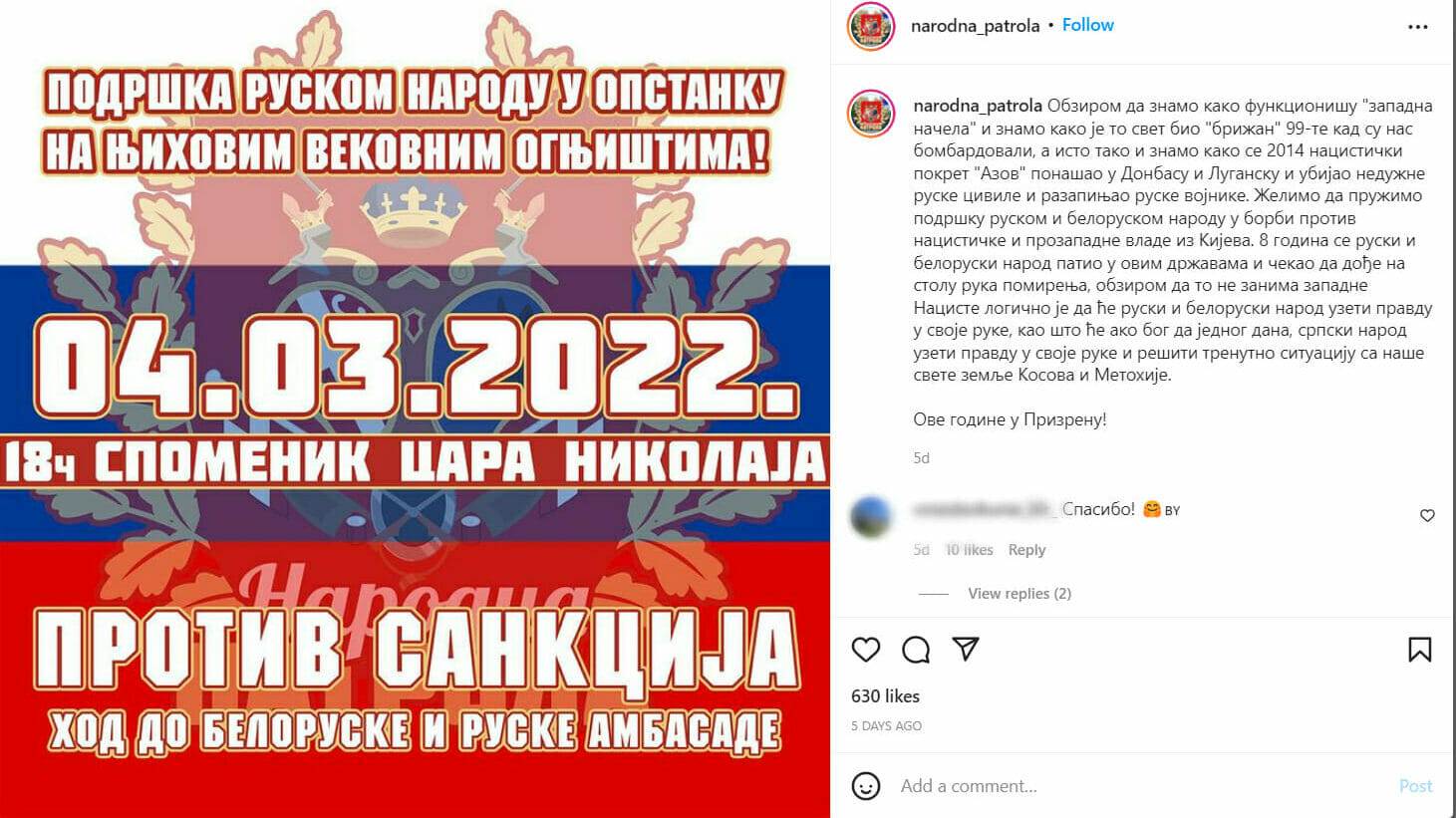 Call of the People's Patrols for a protest of support to Russia in Belgrade. Photo: Instagram.com/Screenshot.
Petrovic said that by encouraging departures to Ukraine, right-wing organisations in Serbia are undermining Serbia's official policy of military neutrality.
"According to our research, organisations propagating departures to Ukrainian battlefront are … having great success and resonating with Serbian citizens," he said.
He said many Serbs celebrate what the Russian regime is doing in Ukraine, as it represents some sort of justice for them, vis-a-vis Western support for the Yugoslav breakaway republics and Kosovo in the 1990s. The West, in other words, "is now facing what it did to Serbia in the 1990s".
In the meantime, a far-right Serbian organisation, the People's Patrols, hold a protest rally in support of Russia in Belgrade on March 4 claiming that Putin is fighting Ukraine's "Nazi pro-Western government".
Damnjan Knezevic, a representative of the organisation, with a Z mark on his jacket, expressed disagreement with the Serbian political leadership's balancing act. "Every Serb is a Russian brother," he said.
Serbs would rally to Russia "no matter how much we are pressured", said Knezevic, known for expressing anti-immigrant and anti-vaccination attitudes.
As announced, the head of another extreme-right Obraz organisation, Mladen Obradovic, also attended.
Serbia's Constitutional Court banned his organization in 2012, but it has continued to exist by partially changing its name. This was then officially registered in 2019.
New departures using old routes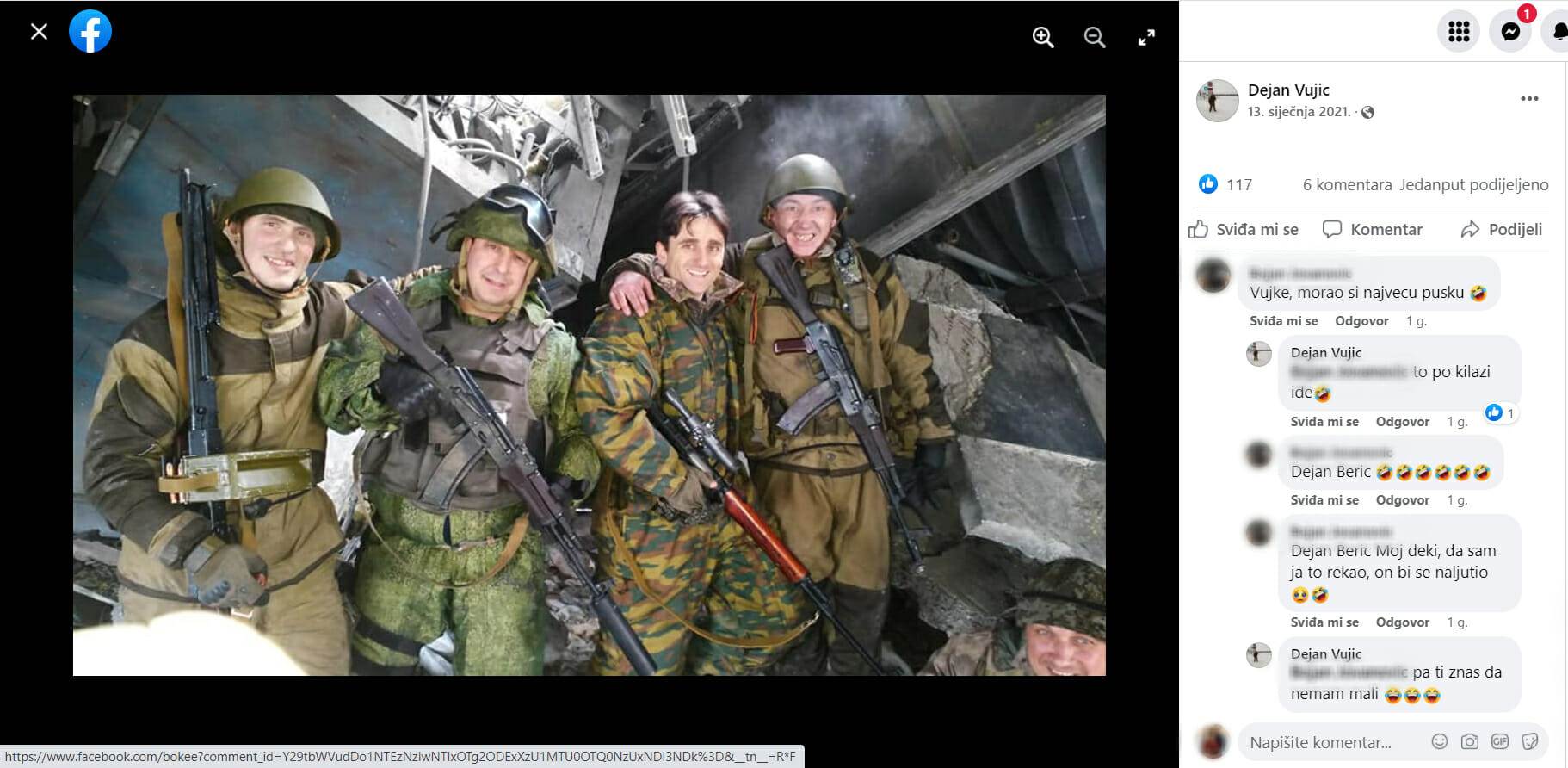 Dejan Beric, second from the right and Dejan Vujic, second from the left, Ukraine in 2021. Photo: Facebook.com/Screenshot
Dejan Beric, a Serbian volunteer who joined pro-Russian forces in the self-proclaimed LDPR as a sniper several years ago, backed the calls to join the war on social networks.
"I think that after this video, I will not be online for some time … The war has begun, it has begun fiercely," he said in a video posted on YouTube on February 21.
At the end of the video, Beric said he will get in touch again when he has internet access, maybe from some other territory.
Two days later he posted a photo of a sniper on his Facebook account, saying he will be absent for a time. Beric did not answer queries sent by BIRN BiH by the time of publication.
He wrote before that he already has an LDPR passport, so considers it an obligation to join the pro-Russian forces.
Dejan Vulic, from Sabac, and Momir Simic, who previously shared photos in military uniform with Beric, recently posted new photos of themselves in military uniform.
On February 24, the first day of the Russian invasion, Vulic posted a photo of himself in uniform with a rifle standing next to a board reading: "Russia". A comment below reads: "Uncle, take care".
However, he told BIRN BiH that he was in fact not in Ukraine at present, as he had given his contribution before.
"I have done my part, so to say, and now the regular [Russian] army will finish the rest," he told BIRN BiH.
However, various friends commented on the post as if he was in Ukraine, wishing him luck and skin him "to come back alive and well". "Call me if you are there [Ukraine] to play a game," was written by Milan Djordjevic.
Simic did not answer a query from BIRN BiH journalists on whether he is at the battlefront.
Dejan Sesum, from Belgrade, posted a photo of himself in military gear with a rifle in hand, expressing support to Russia. Judging by his posts, Sesum is a member of an Airsoft Club team.
Under the post, Milan Stojkovic has written: "Brother, we'll go if needed". Stojkovic did not answer queries from BIRN about his departure by the time of publication.
Borko Rajic, who said he would be glad to go as a volunteer to Ukraine in the comments section under Dejan Beric's post, mentioned earlier, told BIRN he considers himself obliged to help his Russian brothers who had helped the Serbs in Bosnia and Kosovo voluntarily.
"But this is not the only reason," he said. "The biggest reason is that someone has finally risen up against a new world order that aims to reduce humanity," he said adding he saw the war as a fight against the darkest forces that have started to exterminate or reduce the number of people on earth.
Petrovic told BIRN BiH that the routes for departure to the battlefronts will be no different from those used to travel from Serbia to Ukraine in 2014.
"Serbia has not introduced sanctions against Russia and the number of flights from Serbia to Russia has increased," Petrovic said.
The Border Police of Serbia and Air Serbia did not answer BIRN's queries about the number of Bosnian citizens who had travelled to Moscow in the past period by the time of publication.
The Prosecution of Bosnia and Herzegovina said it was working on several allegations about Bosnian citizens travelling to battlefronts in Ukraine in the past and was checking them with the help of the police and security agencies.