Some pro-Russian groups in Bosnia have expressed support for Russia's invasion of Ukraine. Others are still silent.
This post is also available in: Bosnian
Goran Tadic, deputy leader of the group, shared a photo of a banner erected in Banja Luka, administrative seat of the mainly Serb-populated Republika Srpska entity of Bosnia and Herzegovina, backing Russia.
He followed it up with a video of Alexander Zaldostanov, founder of the original Russian Night Wolves biker gang, praising his friend, President Vladimir Putin, for recognising two rebel regions of the eastern Donbas region of Ukraine.
"We are not a political party, we have no pretensions to power, but, as Russian citizens, we support your decision to recognise Donbas," Zaldostanov said, signing off with the rallying cry, "Donbas-Russia, Kyiv-Russia, Kosovo-Serbia."
As Europe unites in condemnation of Russia's invasion of Ukraine, some in the Balkans have rallied behind Putin, notably a number of Serb right-wing, pro-Russian groups in Bosnia previously mapped by the Balkan Investigative Reporting Network in Bosnia and Herzegovina, BIRN BiH, and, in some cases, recipients of Russian embassy funds.
"It is primarily about a conjunction of interests between the leaders of the groups, their personal authoritarian values and their discovery of a radical ideological matrix in militant support for Russian interests," said Damir Kapidzic, a professor at the Faculty of Political Sciences in Sarajevo.
Tadic did not respond to requests for comment for this story.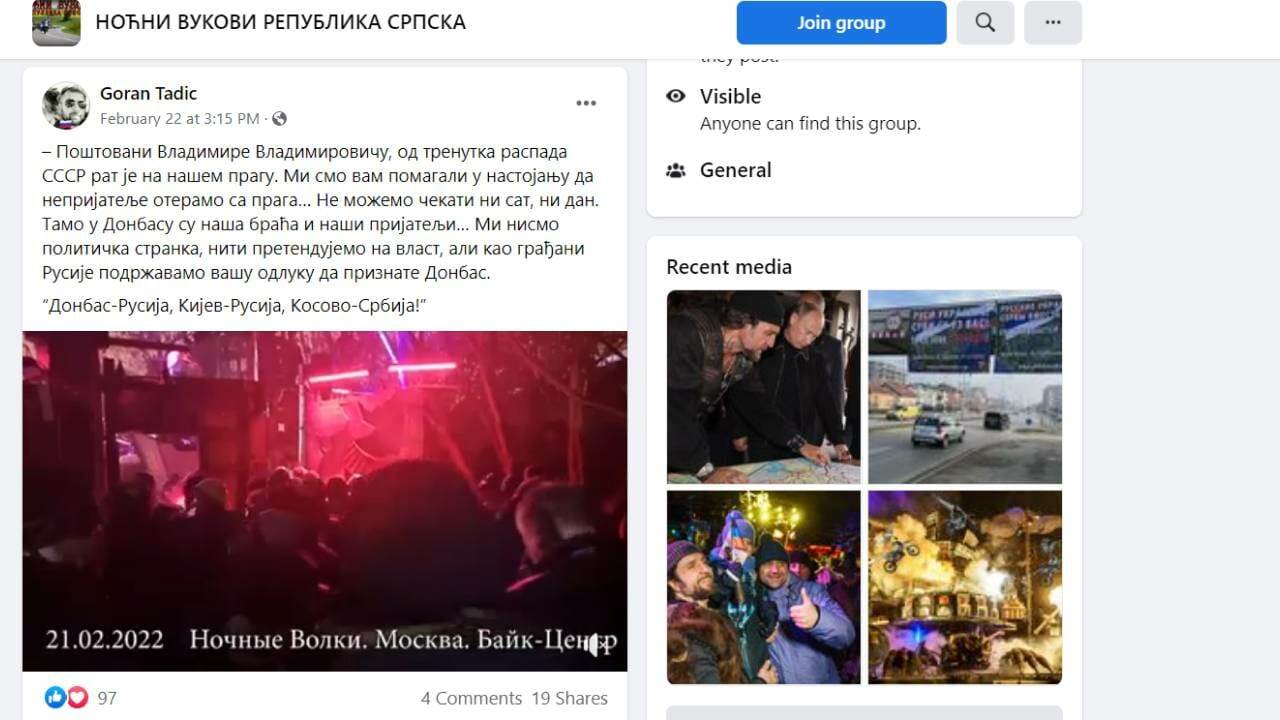 Gorana Tadic's post on the official Facebook account of Republike Srpska's branch of Night Wolves. Photo: Screenshot Facebook
As BIRN BiH previously reported, the nationalist Night Wolves have emerged as a key instrument of the Kremlin's influence campaign in the Western Balkans.
His men accused of involvement in fighting in Ukraine, Zaldostanov – known as 'The Surgeon' – is banned from entering at least two EU states as well as the US, Canada and Bosnia.
Kenan Hodzic from the Faculty of Criminalistics, Criminology and Security Studies of the Sarajevo University, said that the past five years had seen a growth in the number of organisations promoting pro-Russian, anti-Western sentiment in Bosnia.
"Such ideological and mobilisation risks should not be underestimated," Hodzic told BIRN, "especially as they promote neo-Fascist, national and religious supremacy."
Some pro-Russian organisations in Bosnia have taken longer to express a stand on Russia's actions in Ukraine, or are still yet to do so.
It took four days from the start of the Russian invasion for the unregistered 'humanitarian organisation' Sveti Georgije to speak out on what it called a "holy war" involving Orthodox Christians on both sides. The West was to blame, it said.
"We sympathise with the entire Orthodox people in Ukraine, but also others," the organisation wrote on its Facebook page. "At the same time, we hope that this will serve as advice to future generations, as well as for all other countries and politicians, that being in friendly relations with the EU and US can only get them into trouble."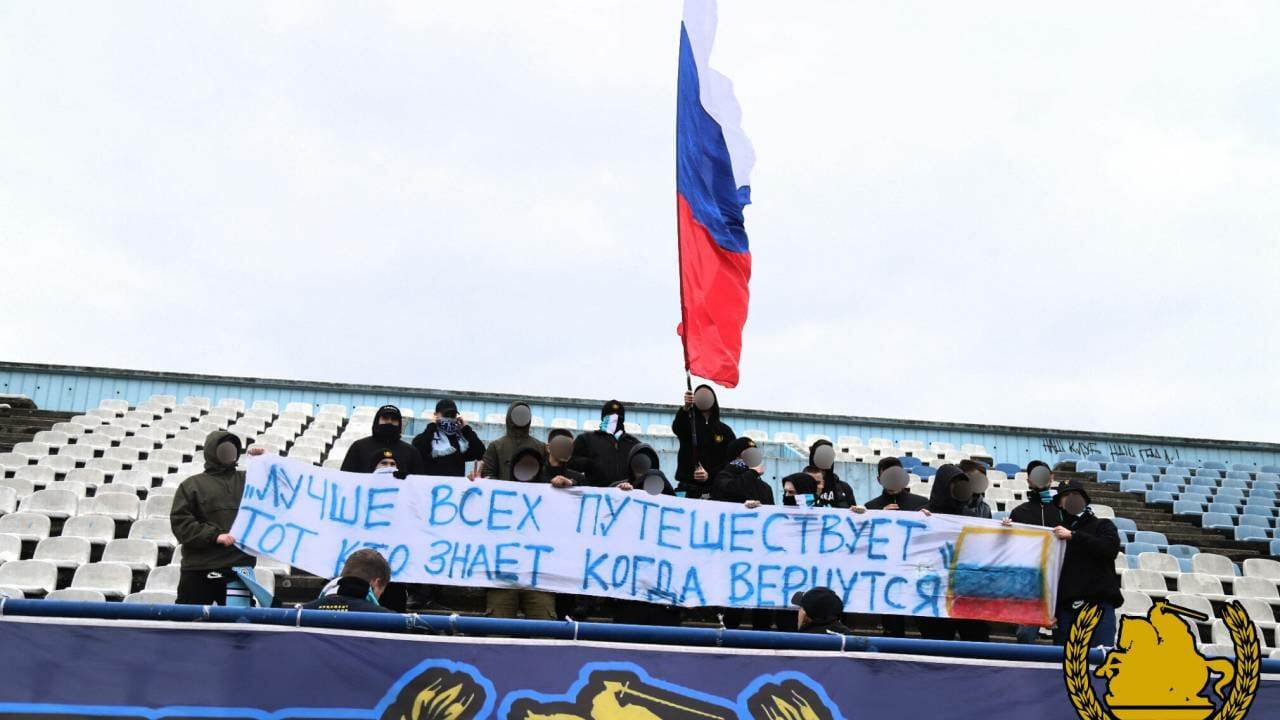 Bosnian Serb football fan group "Incident". Photo: Screenshot Facebook
It signed off, "Long live Republika Srpska and Serbia, long live our mother Russia."
Veterans of Republika Srpska, an organisation of Bosnian Serb veterans of the 1992-95 Bosnian war, have not posed anything on Facebook since February 23, the day before the Russian invasion, despite previously proclaiming their loyalty to Russia.
However, another veterans association, Garda Panteri from the eastern town of Bijeljina, have published posts calling for a Russian victory.
As for Bosnian Serb football fan groups, which are traditionally strongly pro-Russian, few have spoken up. On February 27, fans of the Bijeljina club Radnik, unfurled a Russian flag on the stands and a banner that read, in Russian, 'The best traveller is the one who knows when they will return'.
The Balkan Cossack Army, an organisation gathering, among others, Russian volunteers in the Bosnian war, has not posted anything on Facebook since the start of the invasion, despite previously encouraging Serbs to join a Russian-fomented rebellion that began in eastern Ukraine in 2014. Nor has Mile Aljetic, head of the right-wing Young Activists of United Srpska.
Nenad Stevandic, president of United Srpska, told BIRN he regretted it had come to war: "I feel sorry for every victim, be they on the Russian or Ukrainian side."