Montenegro Ponders Ukrainian Far-Right Group Member's Asylum Request
Authorities are mulling Ukrainian 'Right Sector' member Rizvan Babayev's request for political asylum, after he was detained on a Russian-issued international arrest warrant.
This post is also available in: Bosnian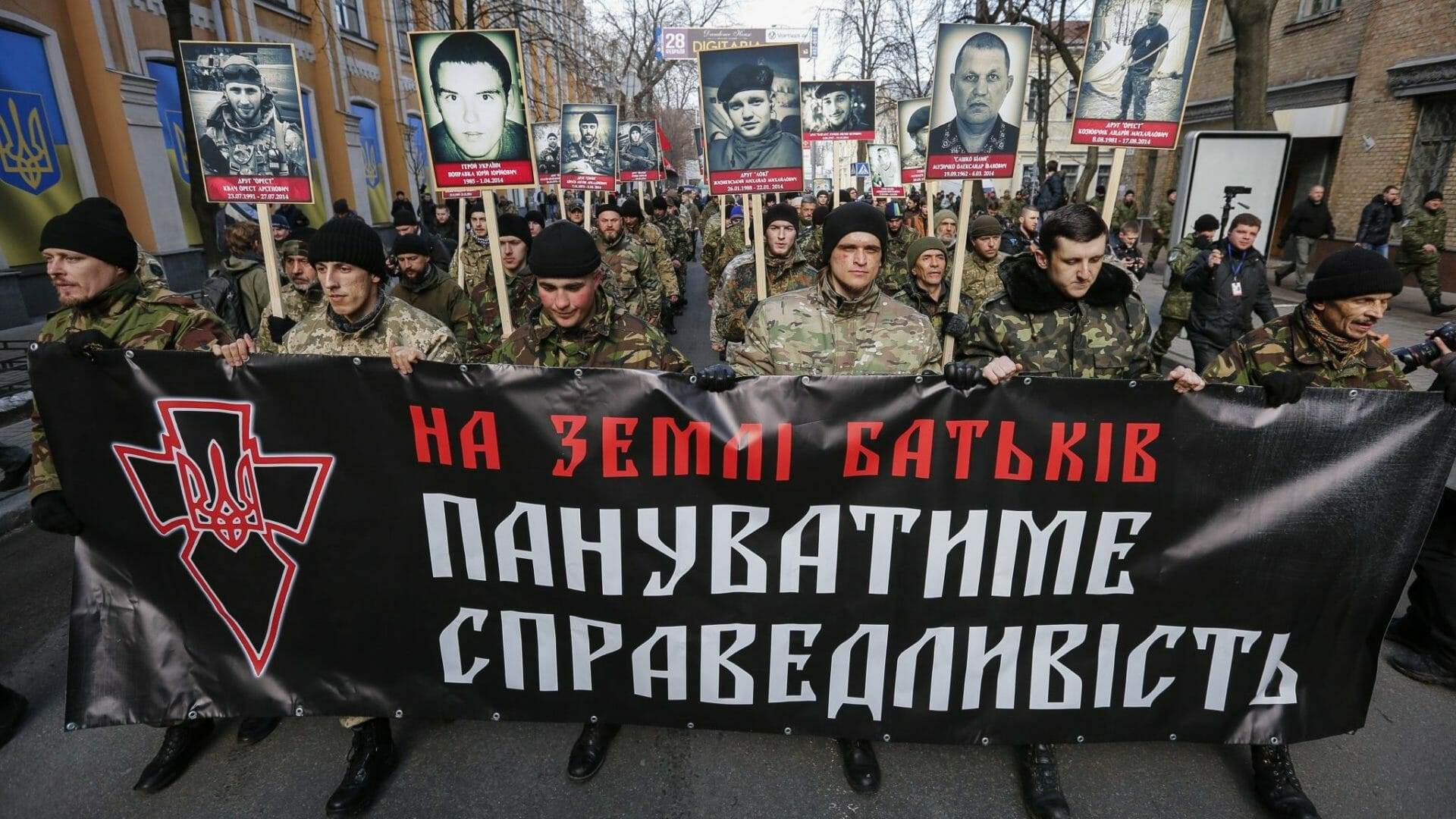 Supporters of the 'Right Sector' carry portraits of their comrades killed fighting in eastern Ukraine. Photo: EPA/ROMAN PILIPEY
Montenegrin authorities have restricted the movements of a member of a far-right Ukrainian group, "Right sector", Rizvan Babayev, until they decide on his request for political asylum.
Since December, he has been held in a migrant shelter near the capital, Podgorica, until Montenegro's Interior Ministry decides on his request; he is on a Russian-issued international arrest warrant for allegedly smuggling strategically important resources.
His lawyer, Ibrahim Smailovic, on Wednesday pressed the ministry to address his client's request for asylum before taking any decision to extradite him to Russia.
"We expect the authorities to decide on the political asylum request, as Babayev is a victim of political persecution by Russia. Also, his health is deteriorating, so we have urged the Interior ministry to let him wait for the decision in a rented apartment in Budva instead of a migrant shelter," Smailovic told BIRN.
On January 26 last year, Babayev was arrested in Podgorica on a Russian-issued international arrest warrant and held for six months in the prison of Spuz.
On September 23 that year, the Ministry of Justice decided to extradite him to Russia. But on December 12, he applied to the Interior Ministry for asylum. Under Montenegrin law, he may not be extradited until a decision on his asylum request is made.
The Russian international arrest warrant from 2019 charges Babayev with smuggling strategically important resources during the conflict between Russia and Ukraine in 2014.
According to the Russian warrant, an investigation into Babayev was launched in December 2016, but he then fled to Ukraine and gained Ukrainian citizenship in April 2017.
In his request for asylum, Babayev confirmed he was a member of "Right Sector", which Russia cosiders an illegal terrorist organisation.
Originally set up in November 2013, Right Sector became the most radical wing of Ukraine's Maidan protest movement, which toppled then President Viktor Yanukovych.
The group, whose ideology has been described as hardline right-wing nationalist, neo-fascist and anti-Russian, became a political party in March 2014.
Its members participated in the Ukraine conflict in 2014, as warfare erupted in the east between pro–Russian separatists and Ukrainian forces.
On Wednesday, the Ukrainian embassy in Podgorica asked Montenegro not to extradite Babayev, saying his rights could be violated in Russia.
"Babayev's case has signs of political persecution because he actively participated in the public and political life of our country and helped the Ukrainian army and the National Guard of Ukraine. In the state of current military conflict, extradition of a Ukrainian citizen to Russia may result in a violation of his rights," the embassy told the media.
This is not the first request for political asylum in Montenegro from citizens with Russian-issued international arrest warrants.
On October 22, 2021, Montenegro gave political asylum to Azerbaijan-born tycoon Telman Ismalov who is on a Russian-issued international arrest warrant for allegedly ordering contract murders.
While Montenegro has not explained why it gave political asylum to Ismalov, the media reported that it was due to the known existence of political persecution in Russia.
On February 2, Russia's Foreign Ministry did not allow a Montenegrin Interior Ministry official, Zoran Miljanic, to enter the country in a dispute over Montenegro's decision to give asylum to Ismailov.