Montenegro Mayor Resigns Over Ratko Mladic Graffiti Dispute
The mayor of the Montenegrin town of Pljevlja, Igor Golubovic, resigned amid a controversy over his alleged opposition to removing graffiti celebrating Bosnian Serb war criminal Ratko Mladic in his hometown.
This post is also available in: Bosnian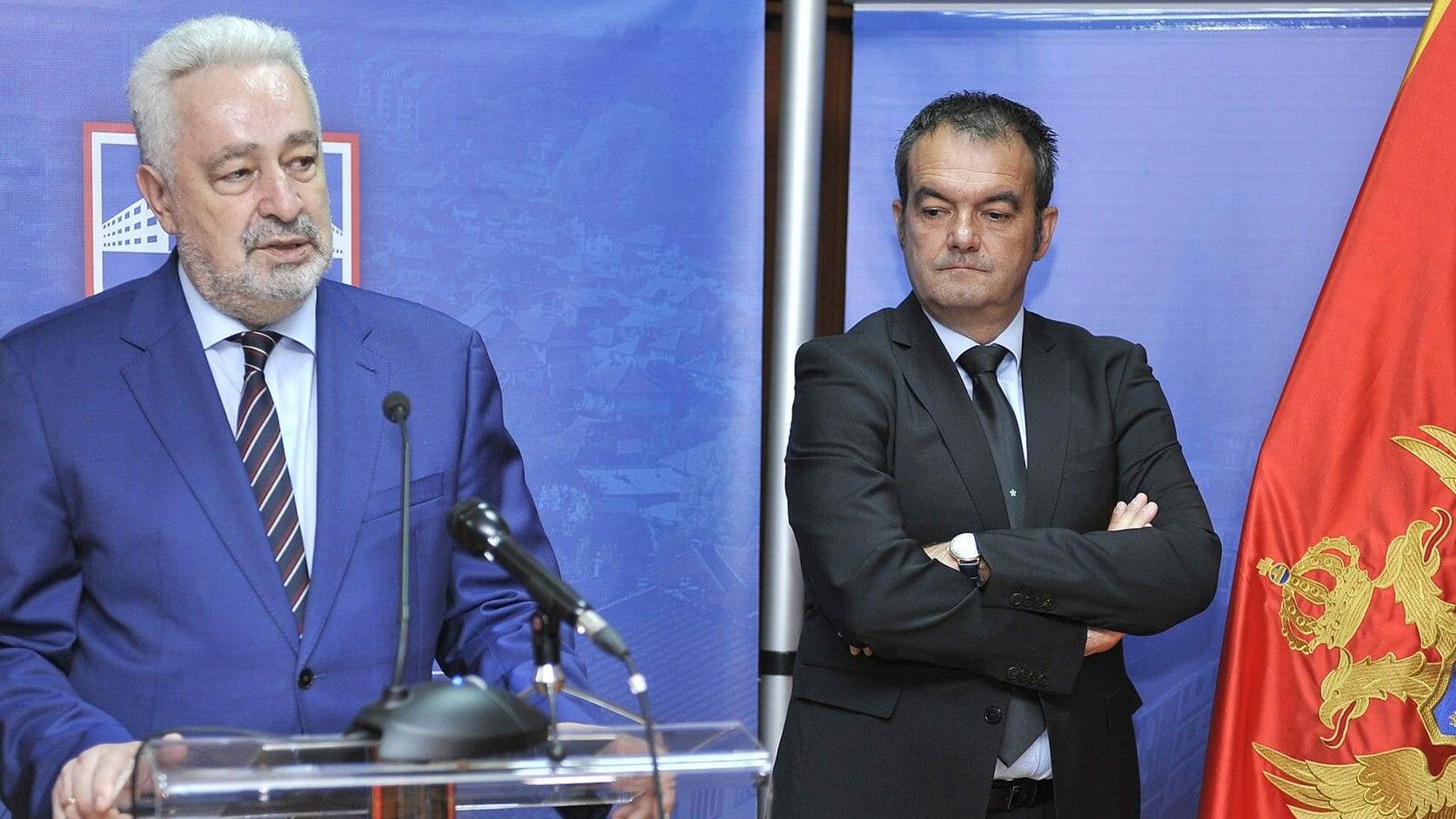 Mayor of Pljevlja Igor Golubovic (right) and former Prime Minister Zdravko Krivokapic at a press conference. Photo: Government of Montenegro.
Igor Golubovic stepped down as mayor of Pljevlja on Thursday after a row sparked by his alleged refusal to remove graffiti celebrating Bosnian Serb military leader Ratko Mladic, who was convicted of genocide and other wartime crimes.
"Due to certain doubts that have arisen recently, and driven by the human and sincere desire to stop any further controversy that Pljevlja and Montenegro do not need, I am submitting my irrevocable resignation. I will continue to promote democratic values as a member of Democratic Party of Socialists," Golubovic told a press conference.
Golubovic said that the local council has to confirm his resignation, but insisted that he has never supported the politics of intolerance and hatred.
On January 16, in an interview for the local Gradska television station, Golubovic was asked about requests for the local authorities to remove graffiti in the town, including graffiti celebrating Mladic.
Golubovic said the graffiti would not be removed because "Pljevlja is an urban city and one of the urban features is self-expression with graffiti and murals".
The Social Democrats and the Bosniak Party, which are both part of the local ruling coalition in Pljevlja, accused Golubovic of promoting war criminals and called for his dismissal.
Democratic Party of Socialists MP Marta Scepanovic called on the party's leadership to expel Golubovic for acting against party principles, while DPS general secretary Aleksandar Bogdanovic said that the party distances itself from what he described as Golubovic's "inadmissible" attitudes.
Local authorities removed the graffiti two days after the DPS officials' comments.
Golubovic insisted however that he was speaking about all the graffiti in the town.
"I explained that quite clearly and said that Ratko Mladic was a convicted war criminal and that the Serbian people should be ashamed of him," he said.
Media claimed that Golubovic had been put under pressure to resign by his party leadership because of his good relations with the Serbian Orthodox Church and the country's new ruling majority blocs, which ousted the DPS in 2020 after it spent almost three decades in power.
The appearance of the Ratko Mladic graffiti follows another incident in Pljevlja in September 2020, when unknown assailants smashed windows at the local office of the Islamic Community, the official body representing the country's Muslims.
The perpetrators, who were never prosecuted, threw a message through a broken window warning that "Pljevlja will be Srebrenica" – the town in Bosnia and Herzegovina that was overrun by Bosnian Serb forces who then killed some 8,000 members of its Bosniak population in July 1995.
Last June, the Mechanism for International Criminal Tribunals in The Hague upheld Ratko Mladic's life sentence for the genocide of Bosniaks from Srebrenica, the persecution of Bosniaks and Croats across the country during the war, terrorising the population of Sarajevo with a campaign of shelling and sniping during the siege of the city, and taking UN peacekeepers hostage.
Montenegro is a multi-ethnic state in which no community has an absolute majority. About 45 per cent of the population identify themselves as Montenegrin and about 29 per cent as Serb.
Bosniaks make up roughly 8.3 per cent of the population, and mostly live in the northern towns of Rozaje, Pljevlja, Bijelo Polje, Petnjica, Plav and Gusinje.