Bosnian Serb Army Ex-Soldier Convicted of Crimes Against Humanity
Sabahudin Kajdic was found guilty of involvement in persecuting Bosniak civilians, murders and forcible disappearances while serving with the Bosnian Serb Army in Prijedor during the war in 1992.
This post is also available in: Bosnian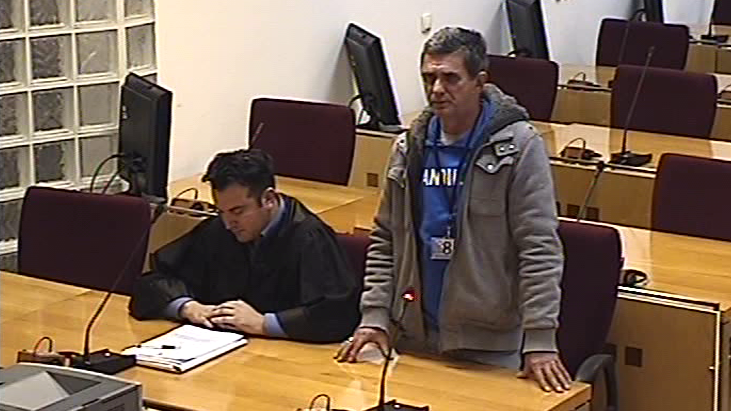 Sabahudin Kajdic with his lawyer in court. Photo: Bosnian state court.
The Bosnian state court on Wednesday handed down a first-instance verdict sentencing Sabahudin 'Sasa' Kajdic, a former member of the Third Company of the Bosnian Serb Army's Prijedor Motorised Brigade, to 12 years in prison for committed crimes against humanity in Prijedor in 1992.
Kajdic was found guilty of persecuting Bosniaks and the murders and forced disappearances of civilians as part of a widespread and systematic attack on the non-Serb population in the Prijedor area between July and August 1992.
The verdict said that in July 1992, Kajdic unlawfully took away and killed two civilians and, acting in collaboration with other soldiers, took two other civilians to Jordan Njiva, where they were also killed.
Kajdic was also found guilty of participating, together with other soldiers, in inflicting injuries on a woman and her sons, who they took from their house and hit with rifle butts.
On an undetermined date in July or August 1992, he seized a man from another house and hit the son of a woman who was there, the verdict said.
He was further found guilty of hitting and kicking another man, alongside several other unidentified soldiers, also on an undetermined date.
Presiding judge Saban Maksumic said that the court determined that at the time of the widespread and systematic attack, non-Serbs were not allowed to move outside the Prijedor municipality, the homes of nearly all the local Bosniaks and Croats were searched, and an atmosphere of fear was created to force non-Serbs to flee.
Maksumic said that "nearly all the prosecution witnesses" testified that this happened. He also said that the majority of the prosecution witnesses "described, in an almost identical way, what the defendant looked like" at the time of the crimes.
Kajdic did not attend Wednesday's hearing because he has COVID-19.
The verdict can be appealed.