Serbian Peace Activists' HQ Sprayed with Ratko Mladic Graffiti
The Women in Black organisation's office in Belgrade was sprayed with slogans describing Ratko Mladic as a hero, as disputes over graffiti hailing the Bosnian Serb war criminal continued in Serbia.
This post is also available in: Bosnian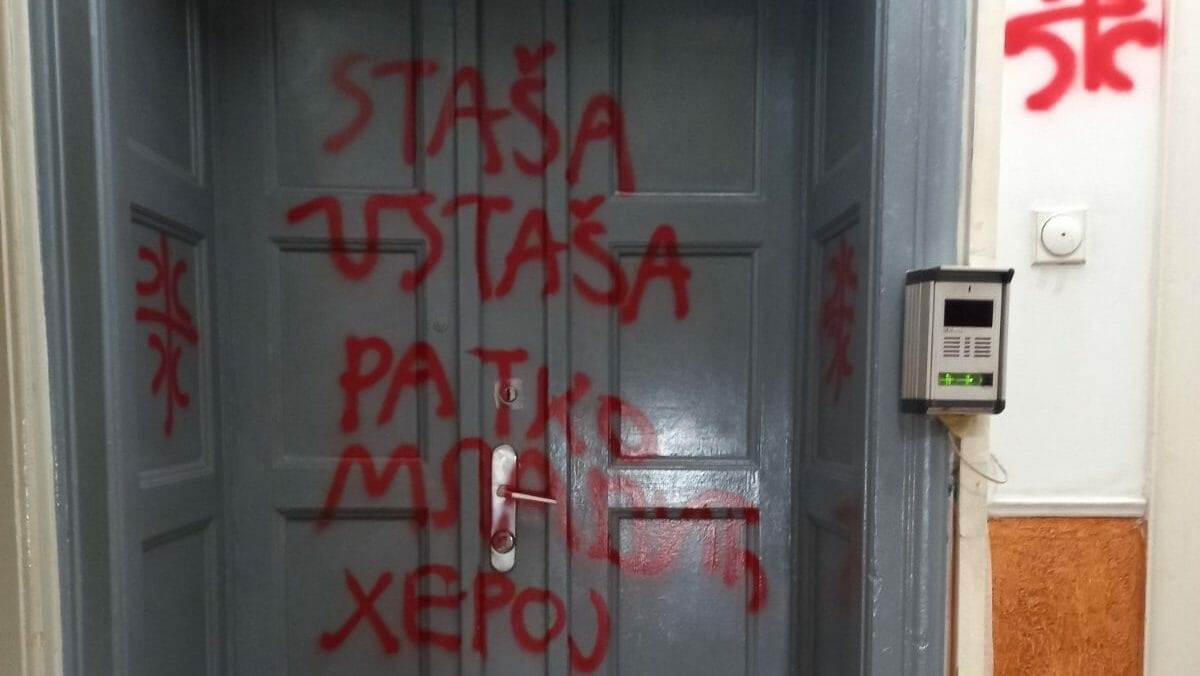 The entrance door to Women in Black's premises on Monday morning. Photo: Facebook/Zene U Crnom Srbija.
Unidentified perpetrators spraypainted insults and defamatory messages on the entrance door of Women in Black's office in Belgrade on Sunday night – the latest in a series of graffiti attacks on the anti-war NGO's premises.
The doors of the building were sprayed with messages like "Whores in Black", "Ratko Mladic – Hero" and "[Women in Black head] Stasa [Zajovic] – Ustasa".
The incident followed another week of disputes in Belgrade over murals and graffiti hailing Bosnian Serb Army commander and convicted war criminal Mladic as a 'hero'.
Women in Black claimed the incident was also linked to unrest at protests in various cities in Serbia on Saturday against two new laws that critics believe will give unjust privileges to foreign companies.
In a couple of cities, young men in masks and hoodies used wooden sticks to attack protesters who were blocking roads, and a mechanical digger tried to break through one of the protesters' blockades.
"We remind you that this is the third attack on the premises and activists of Women in Black in the last few weeks, and that at the same time the premises and activists from other organisations, as well as journalists, have been attacked, and it all culminated in the attacks by police and state-sponsored criminals and thugs on citizens who protested on Saturday all over Serbia," Women in Black said in a statement.
On Thursday last week, there was a stand-off between civil rights activists and far-right supporters near the Dom Omladine (House of Youth) building in central Belgrade over the Mladic issue.
After the slogan "Ratko Mladic Serbian hero" was sprayed on Dom Omladine's wall, activists covered the graffiti with stickers bearing the slogan "Ratko Mladic war criminal".
The stickers were quickly removed so activists gathered to clean away the graffiti, sparking the stand-off, during which one far-right supporter slapped Danas newspaper journalist Snezana Congradin while she was reporting the incident. The Mladic graffiti was cleaned off the wall but was then resprayed that evening.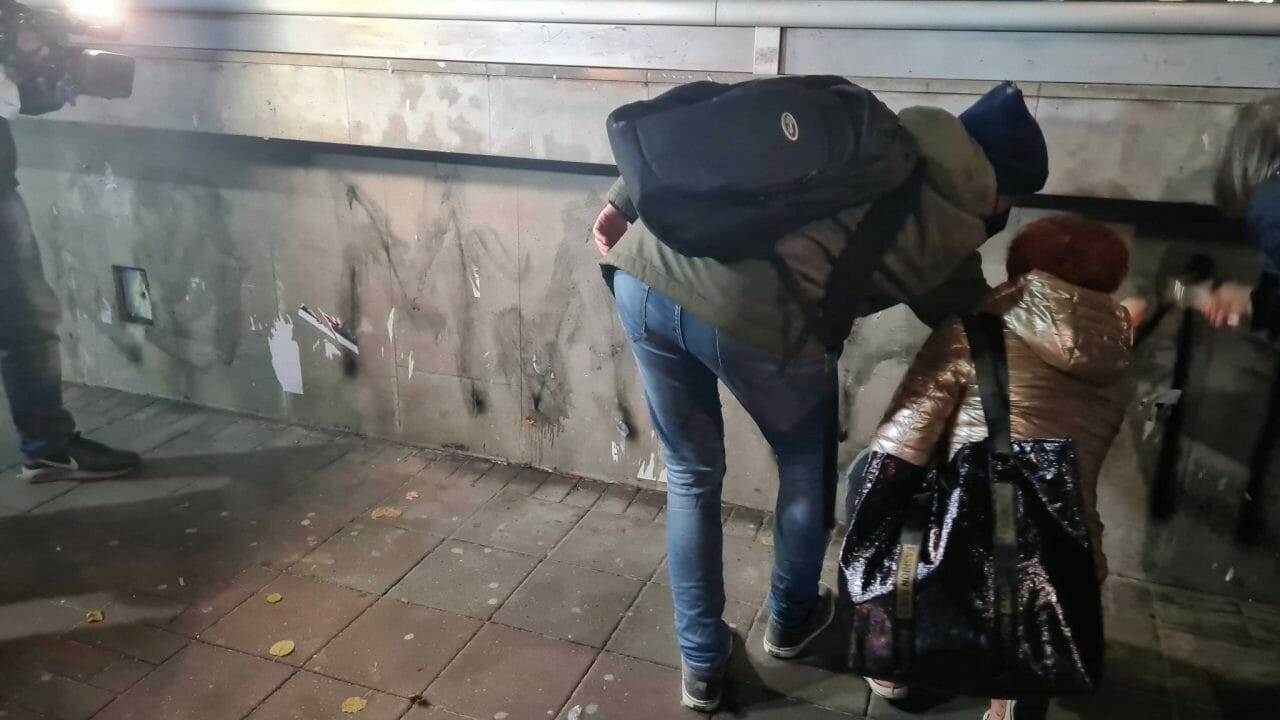 An activist cleans up graffiti at Dom Omladine on Thursday. Photo: BIRN.
Disputes over graffiti tributes to Mladic in Belgrade started earlier this month when Serbian police banned a public gathering organised by activists who wanted to paint over a mural celebrating the Bosnian Serb wartime military chief in the Vracar neighbourhood.
Two activists were arrested for throwing eggs at the mural, which caused protests. The mural was then obliterated with paint, but was cleaned up again by young far-right supporters who were keeping watch over it.
Mladic was sentenced to life imprisonment by the UN tribunal in The Hague for genocide and other wartime crimes. But Serbian and Bosnian Serb officials do not accept that the 1995 massacres of Bosniaks from Srebrenica by Bosnian Serb forces constituted genocide.