EU Parliament Condemns 'Russian Proxy' Wagner Group's 'Heinous Crimes'
Toughly worded resolution on Thursday called the well-known paramilitary body a 'proxy of the Russian state' – and urged sanctions on the Group and its affiliates.
This post is also available in: Bosnian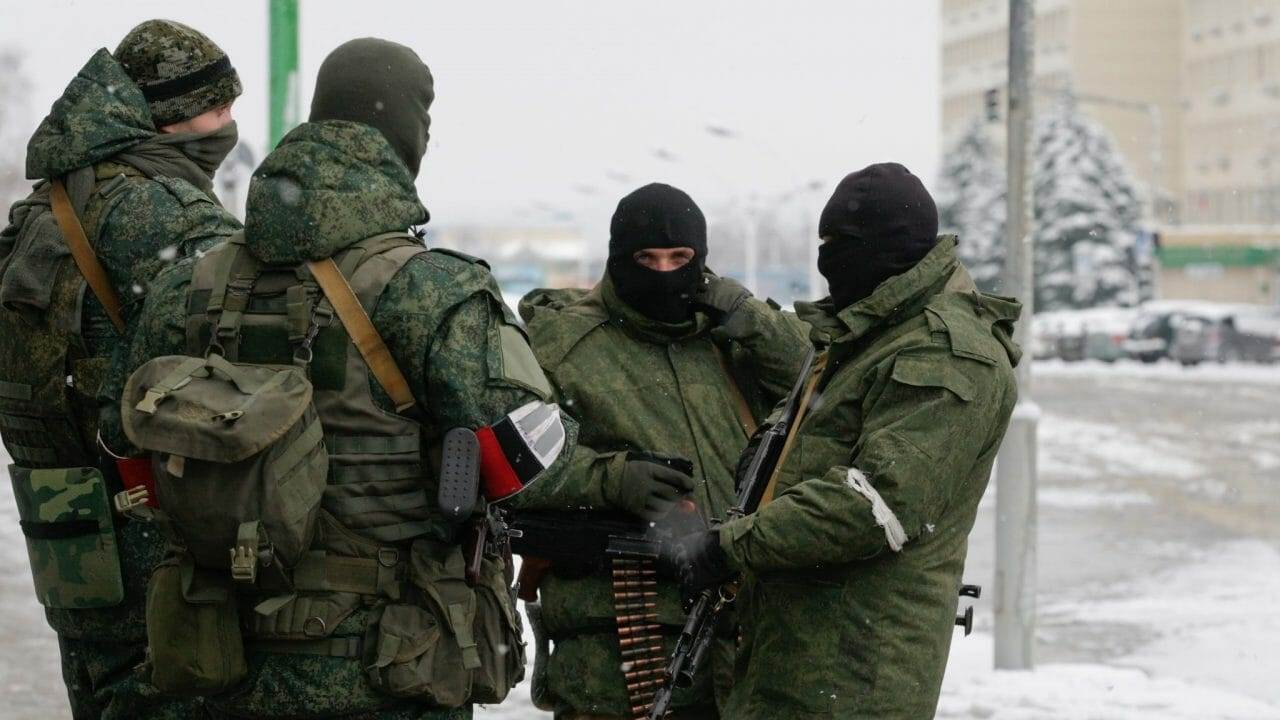 Armed men stand guard in the pro-Russian rebel-controlled city of Luhansk, Ukraine, November 2017. Photo: EPA-EFE/ALEXANDER ERMOCHENKO
The European Parliament on Thursday strongly condemned a notorious Russian paramilitary body, saying it "condemns in the strongest terms the heinous crimes committed by the Wagner Group and related private military entities".
The resolution, adopted by 585 votes in favour, with 40 against and 43 abstentions, "underlines the strong indications that the Russian State bears responsibility for the funding, training, management and operational command of those paramilitary groups; underscores that the Wagner Group's activities coincide and correspond with the spread of Russia's influence in conflict zones; expresses its firm conviction that the Wagner Group, and other Russian-led security contractors, should be treated as proxy organisations of the Russian State".
MEPs called on Moscow "to enforce the Russian Criminal Code, notably Article 359, prohibiting the recruitment, training, financing or material provision of mercenaries and their use in an armed conflict".
The resolution noted that Wagner mercenaries participated or are active in warzones ranging from Ukraine to Syria, Libya and the Central African Republic.
Residents of some Balkan countries have also participated in fighting in Ukraine's eastern war zones, most often as part of paramilitary units.
In 2018, the Ukrainian Security Service, SBU  published a list of 206 individuals who it claimed have been fighting for Wagner Group in Syria and eastern Ukraine, including three Moldovan citizens.
Some Serbs that went to fight for pro-Russian rebels in eastern Ukraine were, according to court documents, also part of this unit.
The European Parliament also called on "the EU and its Member States to seize all opportunities to communicate to relevant countries the risks associated with joining or collaborating with the Wagner Group and its affiliates, and to highlight the group's dreadful human rights record".
It also "requests that the Commission critically review EU support to the governments and state institutions associated with the Wagner Group".
MEPs said they reiterated "the call made during the Paris Conference for Libya of 12 November 2021 for all foreign fighters, including mercenaries, to leave Libyan territory", urging "Russia, Turkey, the United Arab Emirates and all other states to comply with that call, to immediately stop sending mercenaries to Libya and to withdraw those currently present in the country".
They also called on Russia to "supports the efforts of the Ukrainian authorities to bring members of the Wagner Group operating in Crimea and Donbas before a Ukrainian court and calls on Interpol to cooperate closely in these and other similar cases".