Serbia's next anti-terrorism strategy, if there is one, must address the threat from right-wing extremism, experts say.
This post is also available in: Bosnian
There has been no official word on what will replace Serbia's current National Strategy for the Prevention and Fight against Terrorism, adopted in 2017.
But experts say that whatever comes next should do more to address the threat of right-wing extremism and improve cooperation with the civil sector.
Izabela Kisic, executive director of the Helsinki Committee for Human Rights in Serbia, said there were "huge differences" in the punishments handed down against Serbian citizens convicted of joining Islamic State in Iraq and Syria and those who fought on the side of Russian-backed rebels in eastern Ukraine.
"Practically all of those who went to Ukraine received suspended sentences or were acquitted, that is, they admitted guilt and then they were released," said Kisic.
Predrag Popovic, programme director at the Belgrade Centre for Security Policy, BCSP, said more needed to be done to confront the threat from right-wing extremism.
"It should be emphasized that those in power must play a greater and more significant role in the fight against right-wing extremism, especially in condemning their activities, which are full of hatred and violence – most often verbal, but also physical," said Popovic.
The Counter-Terrorism Service of the Criminal Police Directorate at the Serbian interior ministry did not respond to questions concerning the implementation of the current strategy and what will follow it.
Contradictions in treatment of foreign fighters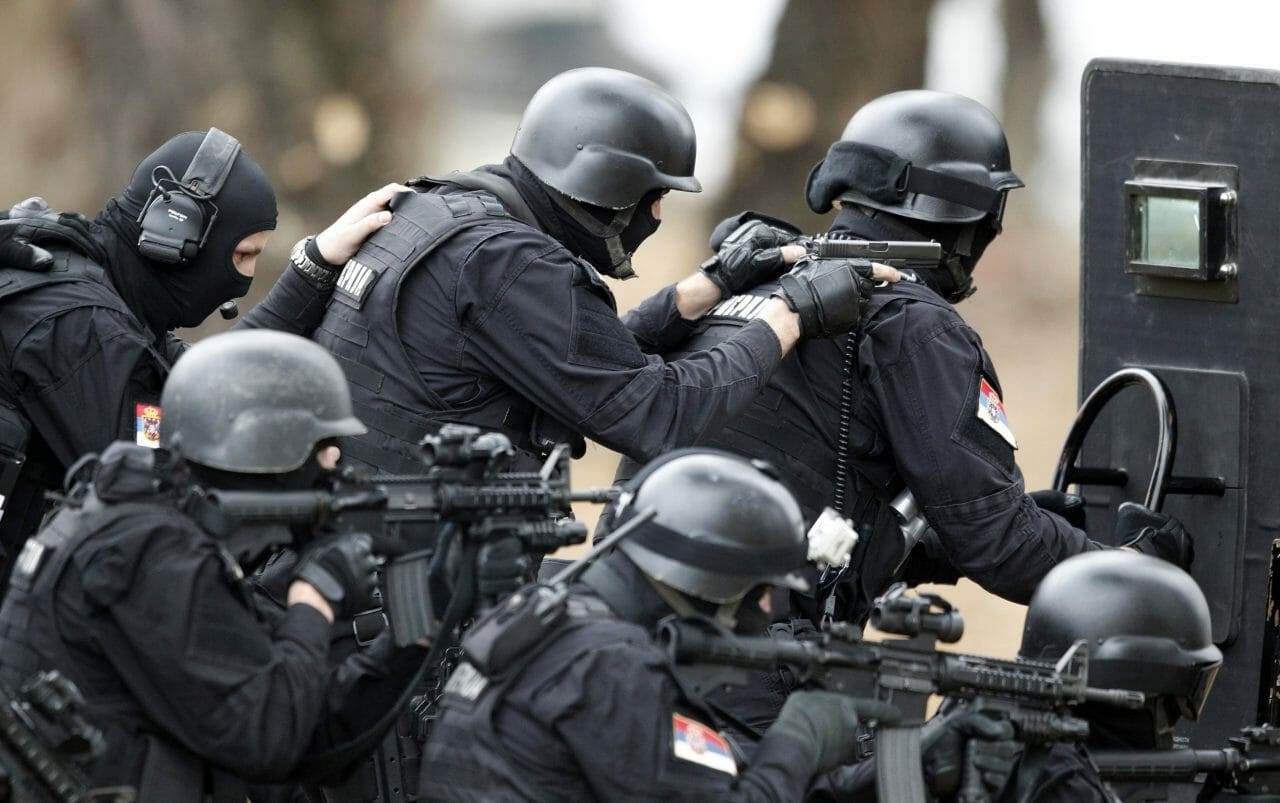 Members of Serbian security forces demonstrate their skills during anti-terrorist exercise 'Shield 2015' in Belgrade. Photo: EPA/KOCA SULEJMANOVIC
Serbia's anti-terrorism strategy has attracted headlines before, notably when an arm of the finance ministry launched a probe into money laundering and terror financing against 20 individuals and 37 non-governmental organisations, including investigative media outlets, journalists and prominent human rights organisations.
But beyond apparent politicisation, Serbia's anti-terrorism strategy suffers from blindness to the danger of right-wing extremism, experts say.
A 2018 UK-funded report into the drivers of radicalisation and violent extremism in the Western Balkans cited the "different treatment" by Serbian authorities of foreign fighters in Ukraine and those in Syria.
"The former group was prosecuted as foreign fighters while the latter has been tried for terrorism, which has created the impression among many Muslims in Serbia that Serbian authorities are anti-Muslim," said the authors of the report, part of the UK-funded research project Extremism Research Forum.
In 2014, Serbia made it a crime to participate in foreign wars, punishable by up to eight years in prison and up to 10 for anyone found guilty of organising participation. Few, however, have spent any time in jail for fighting in Ukraine.
Among those who fought in Ukraine was Radomir Pocuca, a former television host on the pro-government channel Pink and spokesman of the anti-terrorist unit of the Serbian interior ministry. He was arrested in 2016 but swiftly released and received a suspended sentence after pleading guilty.
In March 2018, the High Court in Belgrade announced the conviction of 28 Serbian citizens for fighting in Ukraine. Twenty-four received suspended sentences and four were jailed.
Right-wing attacks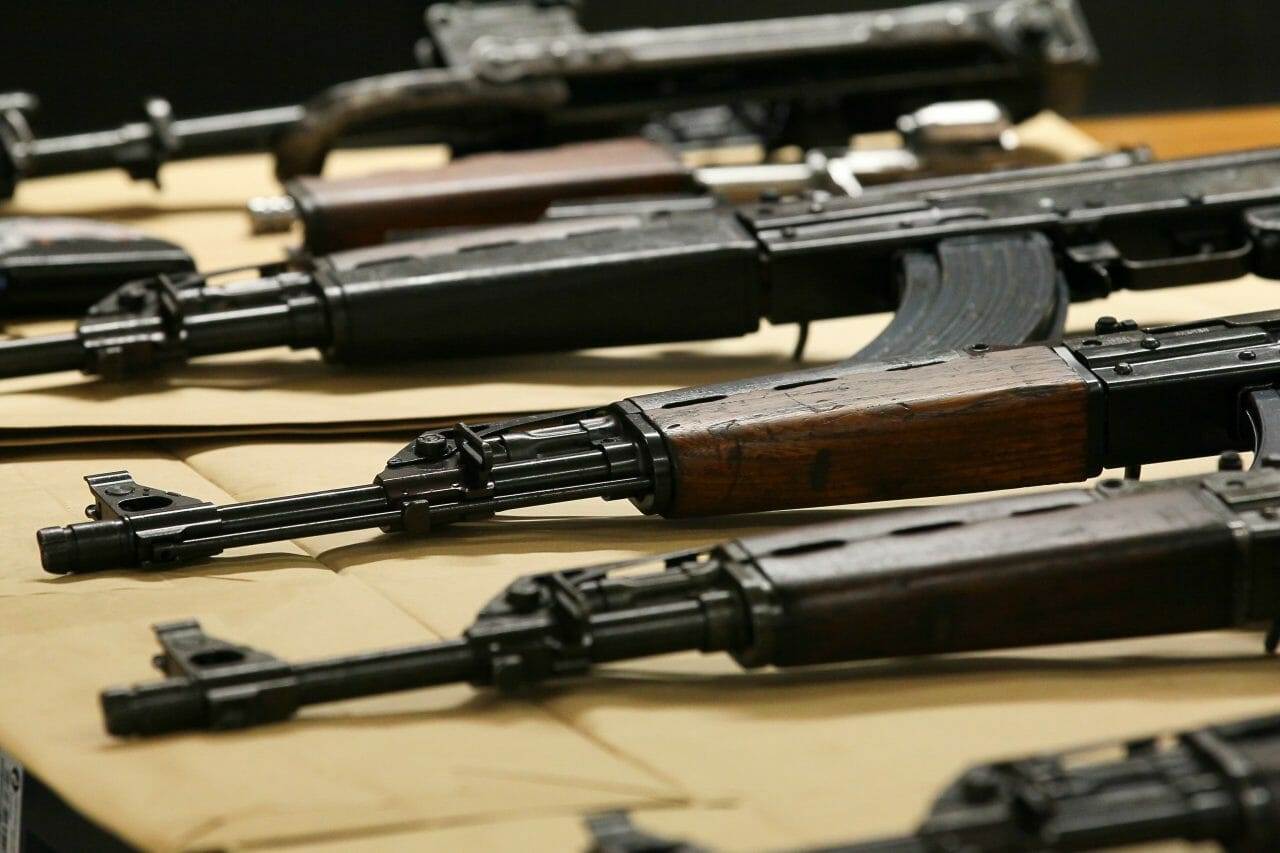 A general view of weapons from an illegal cache at the Police of Saint-Josse-ten-Noode in Brussels. Photo: EPA/JULIEN WARNAND
Questions are being asked in Serbia over the response of authorities to a string of right-wing attacks and the increasingly vocal presence of right-wing groups, most recently as part of the anti-vaccination movement.
In April this year, radio host and anti-fascist activist Dasko Milinovic was attacked by two men armed with pepper spray and metal bars while on his way to work in the northern city of Novi Sad. The alleged assailants were arrested as was a third man for incitement. The first trial hearing was due on November 18; in June 2019, neo-Nazis in the southern city of Nis stabbed Uros Janjic, who was wearing a t-shirt with an anti-fascist slogan. The attack was classified as a hate crime and three men were arrested. Their trial is ongoing.
Members of the extreme right-wing group Narodne Patrole [People's Patrols] – notorious for attacking refugees and migrants travelling through Serbia – have played a prominent part in recent 'anti-vaxxer' demonstrations in Serbia.
Kisic said it was vital that Serbia's anti-terrorism strategy accurately reflects the situation on the ground.
"First of all, this increase in right-wing extremism, right-wing violence, is not only in Serbia; it has certain specifics here, but it is a danger the whole world over," she said. "So the basis for this new strategy must start from that situation in the field."
According to civil society groups and the Serbian office of the Organisation for Security and Cooperation in Europe, the Serbian interior ministry is in the process of evaluating the current strategy. But Kisic said input from the various ministries covered by the strategy was late.
"The ministries listed in the strategy should have already published their reports, of course with a certain level of secrecy for certain data related to security, and then based on that the evaluation of the strategy should be done," she said.
Elsewhere in the Balkans, Bosnia and Herzegovina is still to replace its own anti-terrorism strategy, which expired last year. Kosovo's, which addresses the threat from Islamic State and the radicalisation of ethnic Serbs and Albanians, expires in 2023
North Macedonia has a similar strategy that encourages rehabilitation and reintegration of returnees from foreign battlefields and pays special attention to Islamist extremism. Montenegro's own strategy also stresses the need to provide support for returnees. Albania's does not recognise specific forms of violent extremism.
Under the current Serbian strategy, the lion's share of funding goes to the interior ministry, which in 2017-2019 received a little over 2.2 million euros. Over that period, some 5,300 euros went to the justice ministry, 12,250 euros to the culture and information ministry, and 11,700 euros to the ministry of trade, tourism and telecommunications.