Police said the arrested 19-year-old Kosovar woman was passionately committed to becoming an Islamist 'martyr' – and was actively involved in recruiting others to the cause.
This post is also available in: Bosnian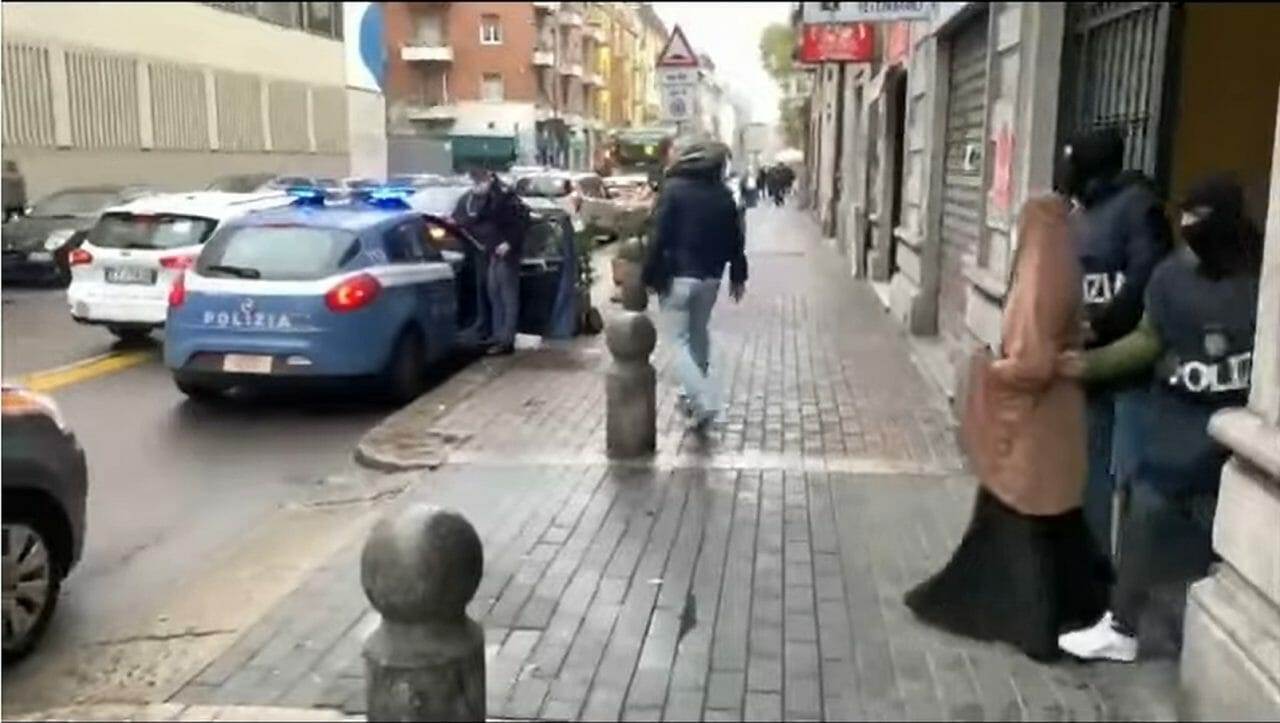 Italian police arrest Bleona Tafallari (C), a 19-year-old native of Kosovo, arrested on terrorism charges in Milan, Italy, November 17, 2021. Photo: Screenshot/Italian Police
The Italian police announced on Wednesday, that in collaboration with Europol, it had arrested a 19-year-old Italian Kosovar woman, Bleona Tafallari, as part of a counter-terrorism operation which took place in Milan.
The operation follows an investigation by Italy's General Investigations and Special Operations Division, Digos, a division in the Italian police, which took place in September.
"According to the investigations, the radicalized young woman, since the age of 16 a fervent supporter of the self-proclaimed Islamic State, recently in Germany married a militiaman of Kosovar origin with whom she has remained in contact in recent months," Italian police reported.
"The man is linked to the Vienna attacker," the Italian police announcement continued.
On November 2, 2020, four people were killed and more than 23 injured, in the Austrian capital after a gunman went on a rampage in the streets. The attacker was a 20-year old Austrian-North Macedonian ethnic Albanian with links to IS. Minutes after the attack, the attacker was shot dead by the police.
Around 15 people were arrested following the attack, with many still in custody.
Two days after the attack, the Austrian authorities admitted to having ignored a warning about the attacker from Slovakia.
The Italian police search on Monday found elements related to Tafallari's involvement in radical jihadist circles.
" In her phone, training manuals, audio and video photographic content exalting Daesh [IS] were identified, more than 2,000 chats were found confirming her propaganda role within a 'women's network': the young woman ideologically supported wives of people imprisoned for acts of terrorism or wives of fighters," the Italian police announcement read.
Italian state police said a chat between Tafallari and a girl from Kosovo "in the process of radicalization" offers proof of Tafallari's role in recruiting others.
"The arrested woman not only provides support for the choice of a husband [for the girl in the process of radicalization] with 'long hair and beard' with whom to die as a martyr, but also seeks to strengthen the path of faith of the 16-year-old who dreams of celebrating a marriage 'soaked in blood of the unbelievers,'" the Italian police said.
The Italian police also seized an audio recording of Tafallari singing a song through which she proclaims "absolute submission to the principles of the Caliphate" and "manifests her availability for martyrdom", as well as photos of her "proudly displaying the symbols of Isis".