A bitter dispute over a mural in Belgrade glorifying Ratko Mladic, which activists have repeatedly tried to destroy, has highlighted how graffiti and street-art tributes to the Bosnian Serb war criminal remain a widespread problem in Serbia.
This post is also available in: Bosnian
The Bosnian Serb war criminal's mural in the city's Vracar neighbourhood was being guarded by police at the time because the Interior Ministry had banned public gatherings next to it after the Youth Initiative for Human Rights NGO called on people to join them and obliterate the image of the wartime military commander.
The following day, the mural hit the headlines again when politician Djordjo Zujovic threw a bucket of white paint over it. But only a few hours passed before then a group of young far-right males in black jackets, hats and masks arrived to clean it up and repaint the image.
After he doused Mladic's face in paint, Zujovic said that the mural "represents a stain on the face of every citizen of Serbia" – but he also pointed out that "if you were to go around Serbia now, there are dozens of these murals".
Graffiti celebrating Mladic, spraypainted slogans describing him as a 'hero' and street artworks depicting his face can indeed be seen in various places around the country, and such tributes often remain untouched for months. The authorities in Serbia, community police and regular officers, usually do not do anything about them; only occasionally registering complaints.
The removal of such graffiti, if it happens at all, is usually the initiative of private individuals or anti-war activist groups. But Ivan Djuric, programme director at the Youth Initiative for Human Rights, says that the mural in Vracar in Belgrade "has become much more symbolic" than other pro-Mladic daubs.
"This mural is not like every other graffiti – there are so many in the city – and we wanted to do a wider action, in which the local community was involved… to remove this mural, as an example, with the hope that it will lead to the removal of other murals as well," Djuric told BIRN.
However, he added: "We are aware that we cannot remove all of them that exist in the city and in Serbia."
A decade of glorification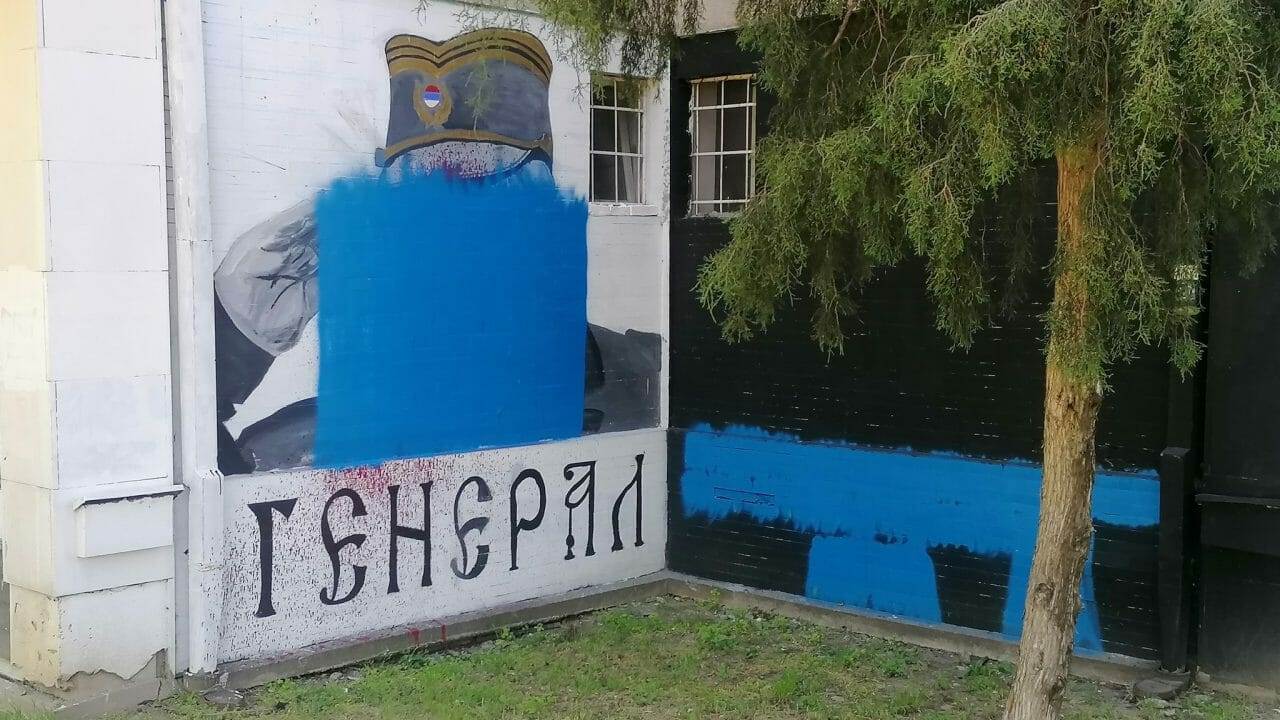 A defaced mural of Ratko Mladic in New Belgrade, May 2021. Photo: Twitter/@K_U_P_E_K.
The glorification of Ratko Mladic is not a new phenomenon on the streets of Serbia, where the Bosnian Serb military commander was arrested in 2011 and sent to stand trial at the Hague Tribunal.
Back in May 2007, police arrested a group of far-right activists who were putting up mock street signs in Belgrade with the inscription 'Ratko Mladic Boulevard'. A few days later, ultra-nationalists from the Serbian Radical Party put up similar signs on a street named after pro-Western reformist Prime Minister Zoran Djindjic, who started sending war crimes suspects to the Hague Tribunal when he was in power.
The ultra-nationalists were led by Aleksandar Vucic, who at the time was the Radical Party's general secretary, and is now president of Serbia. Vucic told media that they did it "to show that we love Serbia".
According to local media, MPs from Democratic Party removed the mock street signs. However, identical ones appeared in Belgrade and in the northern city of Novi Sad in 2010 on the anniversary of the assassination of Djinjdic by state security operatives who were working with an organised crime gang.
In July 2013, graffiti of Mladic's name was painted on a mosque in the city of Nis, even though the religious building has 24-hour police surveillance. It was only removed by the city authorities and a private company after five days.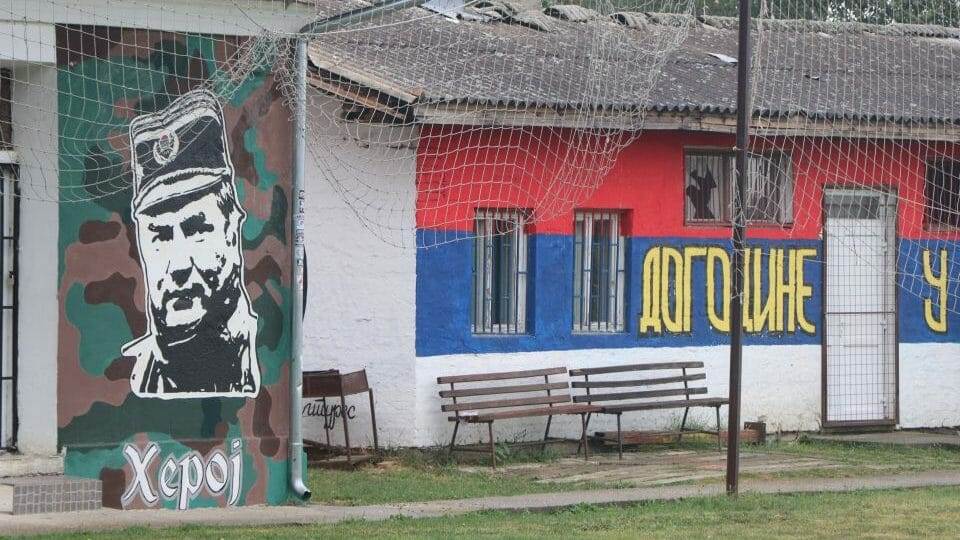 A mural of Mladic in at the Fruskogorac football club stadium, Sremska Kamenica, August 2021. Photo: 021.rs.
According to photos and news reports in Serbian media, there was another increase in pro-Mladic graffiti around the time of the final verdict in his trial in June this year.
The Mechanism for International Criminal Tribunals in The Hague upheld the Bosnian Serb military chief's life sentence for the genocide of Bosniaks from Srebrenica, the persecution of Bosniaks and Croats across the country during the war, terrorising the population of Sarajevo with a campaign of shelling and sniping during the siege of the city, and taking UN peacekeepers hostage.
However, the Serbian authorities and Serb nationalists so not accept that the 1995 massacres of Bosniaks by Bosnian Serb forces under Mladic's leadership constituted genocide, and continue to claim that the Hague court is biased against Serbs. After the verdict, pro-government tabloids in Belgrade condemned what they claimed was the unjust conviction of Mladic, describing him as a "Serbian hero".
Another new mural of Mladic was reportedly painted on a wall in the New Belgrade district of the capital in June, as well as 'Ratko Mladic Boulevard' graffiti, while there were similar incidents in Novi Sad and the town of Sremska Kamenica.
Media reported that the mural in Sremska Kamenica was defaced with black paint on Tuesday this week, the same day as the activists egged the mural in Belgrade.
'Mladic is not a hero'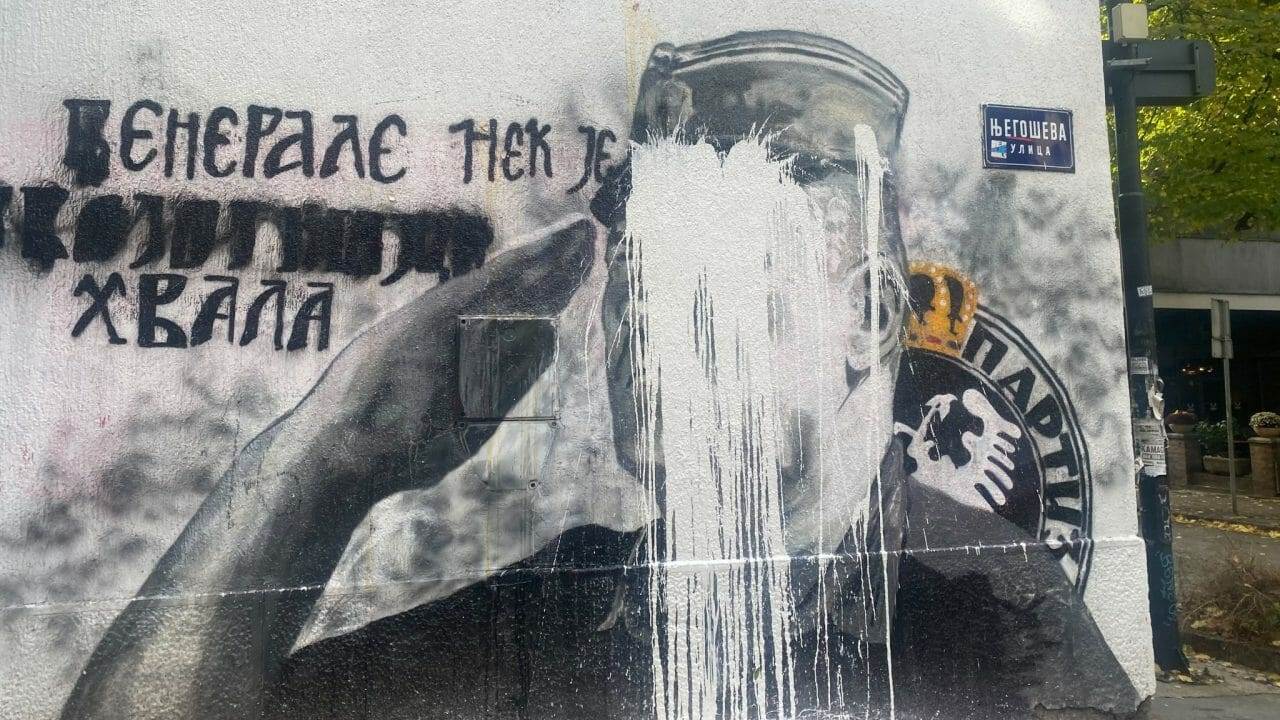 The mural of Mladic in Belgrade after paint was thrown over it on November 10. Photo: BIRN.
The day after she was arrested for throwing eggs at the mural of Mladic in Belgrade on Tuesday, Aida Corovic explained to BIRN that it was a spontaneous act.
Corovic had gone to the site of the mural, expecting that there would be sort of informal gathering – "that 50, 100 activists would gather, that we would stand there, we wouldn't have to do anything but stand there to show that we don't all think that Ratko Mladic is a hero".
"However, I was stunned by the fact that there were two of us, I said: 'This is horrible, a message will be sent that they have won, and I cannot allow that,'" she said.
She bought some eggs in a nearby shop and she and Jelena Jacimovic hurled them at the image of the Bosnian Serb war criminal until they were dragged away by plainclothes police officers.
"It's a small gesture, [eggs] can be washed off, it's not even visible, but it shows what we stand for," she said.
Ivan Djuric said that political activists paint street murals "to conquer public space, to send a message to a very wide audience".
He cited the numerous murals across Belgrade celebrating the capital's most famous football clubs, Partizan and Red Star. "It's known in every district in Belgrade whether they are Partizan or Red Star fans there, and this is made known by ruling the public space through graffiti and murals," he said.
When it comes to the Mladic murals, he said that the wartime general's supporters want to send out the message: "Serbia is ours, Belgrade is ours."
Meanwhile activists engaged in the constant struggle to remove murals celebrating war criminals are determined to show that it is not.