A fresh postponement in the trial of 11 Yugoslav Army soldiers accused of committing crimes against civilians during the Kosovo war means that there has been no hearing in the case since November 2019.
This post is also available in: Bosnian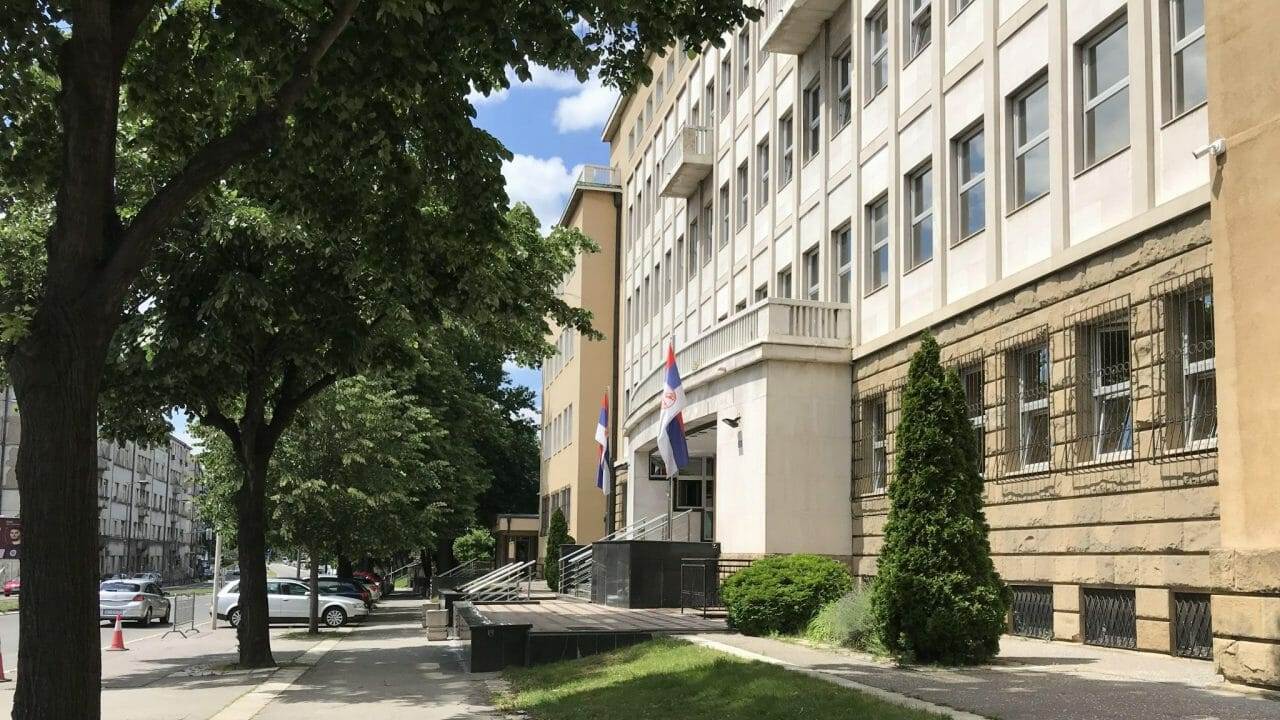 Belgrade Higher Court. Photo: BIRN.
A hearing in the trial of 11 former Yugoslav Army soldiers for war crimes in four Kosovo villages in May 1999 was postponed at Belgrade Higher Court on Monday, meaning that two full years have passed without any hearing in the case being held.
The hearing was postponed because the court did not manage to establish a video conference call with a prison in Germany where Zoran Raskovic, a witness in the case, is serving a sentence.
Another witness who was slated to appear, Zoran Obradovic, who is also living in Germany, could not come to Belgrade due to the COVID-19 situation.
Judge Vladimir Duruz said that the video call could not be established because November 1 is a holiday in Germany.
"It was definite that we would be questioning Raskovic, until Friday afternoon when they [the prison] informed us that they have to take him from that prison where he was being held to another institution [for the video call], but they remembered that it is a holiday," Duruz said.
The 11 former members of the 177th Yugoslav Army Unit are on trial for committing war crimes in the western Kosovo villages of Zahac/Zahaq, Cuska/Qushk, Pavlan and Ljubenic in May 1999. The indictment alleges that they killed at least 118 ethnic Albanians.
The ex-soldiers were initially convicted in 2014 and sentenced to a total of 106 years in jail, but the Serbian appeals court reversed the verdict in 2015 and sent the case for a retrial.
The most recent witness in the case was heard in June 2019, and the last hearing was on November 22, 2019, when defendant Predrag Vukovic, who was arrested in Montenegro the previous year, appeared in court for the first time.
Judge Duruz explained in July this year, when a hearing was also postponed, that Vukovic and his defence had proposed that two witnesses, Zoran Raskovic and Zoran Obradovic, be questioned.
Duruz noted that the appeal verdict, which ordered a retrial in the case, suggested that during the first trial, the court did not make enough effort for all witnesses to be heard directly.
Proposed witness Raskovic is a former comrade of the defendants. He was interviewed for 'The Unidentified', BIRN's documentary film which investigated the commanders behind the 1999 Kosovo massacres.