Bosnian Acquitted of Going to Fight in Syria as Teenager
The Bosnian state court acquitted Jahja Vukovic of organising a terrorist group and joining terrorist organisations in Syria.
This post is also available in: Bosnian (Bosnian)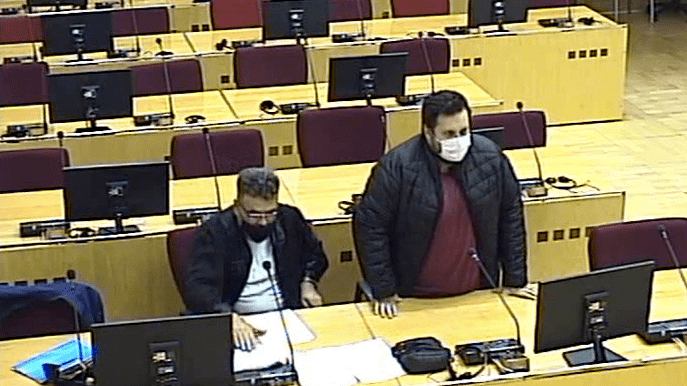 Jahja Vukovic. Photo: Court of Bosnia and Herzegovina
The state court in Sarajevo cleared Jahja Vukovic of going to Syria and fighting for terrorist organisations in 2014 when he was still a minor.
The indictment claimed that he travelled from Bosnia and Herzegovina to Germany in June 2014, then departed to Antalya in Turkey, in August that year, crossed the Syrian border and stayed in the town of Jisr al-Shughur, where he took part in terrorist activities and assisted and fought for the Jabhat al-Nusra Front until the collapse of the so-called Islamic State.
After he was then located in Turkey, Vukovic was extradited to Bosnia in October 2020.
Giving a brief explanation of the first-instance verdict, presiding judge Nenad Seleda said the prosecution had not proved beyond reasonable doubt that the criminal offence was committed at the time and in the manner described in the indictment.
The court found that it had not been proved that Vukovic travelled to Syria to fight for terrorist organisations, participate in terrorist activities and provide assistance in the fight against the regular Syrian forces.
"[Protected] Witness A was the only witness to have spoken about Vukovic's time in Syria, but he only presented indirect findings. His testimony was not supported by evidence and the court was unable to come to a conclusion about whether he was responsible on the basis of that testimony," judge Seleda said.
Seleda said the prosecution attempted to prove that Vukovic appeared in a video that was posted on social networks, but the court was unable to establish this as a fact.
"The court could not determine in a reliable way that it was Vukovic, because the video only shows the lower part of the person's body," Seleda said.
The judge said the defendant had been a very young man who assumed he was not a terrorist, and was acquitted for all of the reasons given.
Vukovic was not in court for verdict. Measures limiting his movement were lifted, and he was exempted from paying court costs.
The verdict can be appealed.