Serbia, Kosovo Urged to Publish 'Deal to Open Up War Archives'
Rights activists urged Serbia and Kosovo to make public a reported agreement to open up or exchange material from their wartime archives, which could reveal the whereabouts of the remaining missing persons from the 1998-99 conflict.
This post is also available in: Bosnian (Bosnian)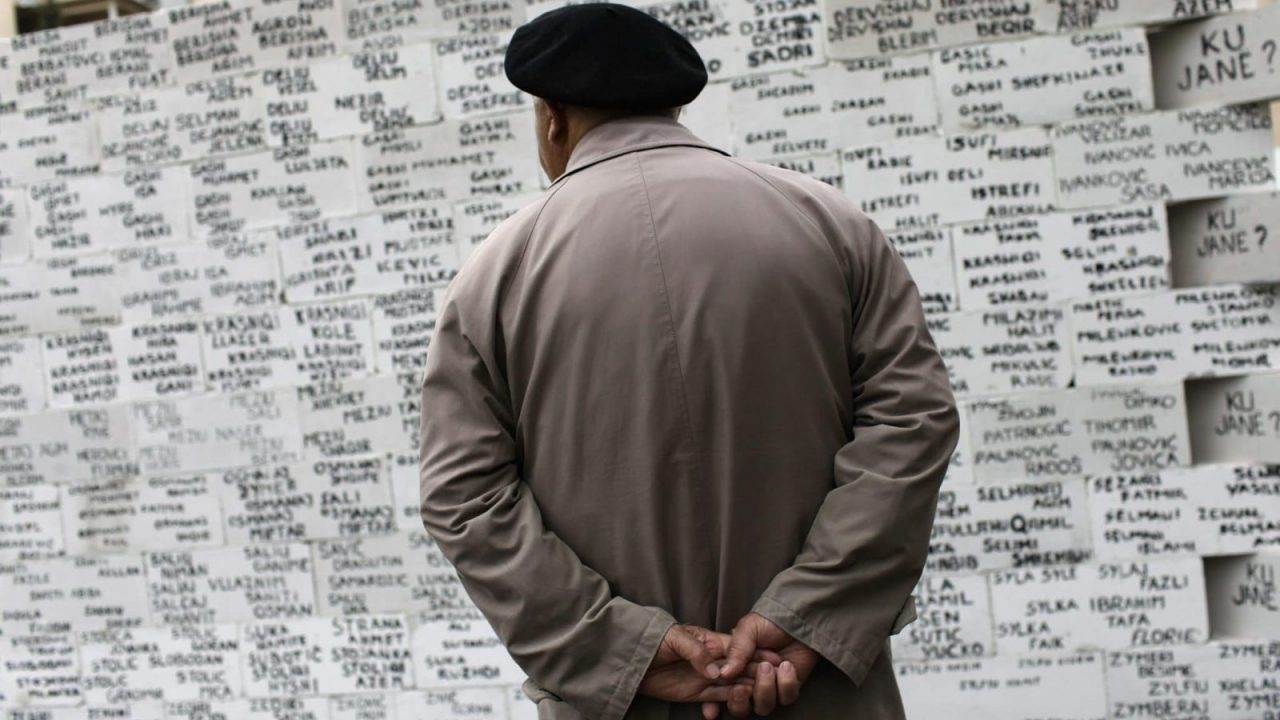 The names of missing Albanians and Serbs written on a wall in Pristina, April 2011. Photo: EPA/VALDRIN XHEMAJ.
Youth Initiative for Human Rights in Serbia and Kosovo on Monday called on the authorities in both countries to publish the details of a deal on revealing the contents of secret wartime archives that was reportedly made during negotiations in Brussels last week.
The two NGOs said they "demand that Belgrade and Pristina's negotiating teams publish as soon as possible a document in Serbian and Albanian on the exchange and/or opening up of secret archives and, above all, that the families of the missing be informed about further steps in the search for missing persons".
After the latest round of ongoing technical-level negotiations between Kosovo and Serbia on September 7 and 8 in Brussels, Kosovo's Deputy Prime Minister Besnik Bislimi said that Serbia had agreed to open up its military archives, including those on the former Kosovo Liberation Army, KLA.
However, Bislimi said that Serbia's claims that the KLA had its own military archives were based on a misunderstanding of a footnote in a book by an activist named Nysret Pllana which refers to the KLA's archives.
Bislimi insisted that the footnote actually refers to Kosovo's State Archives, and added that Kosovo has offered Serbia "full access to those archives", Kosovo news outlet Koha reported.
Meanwhile the head of the Serbian government's office for Kosovo, Petar Petkovic said after the meeting in Brussels that "there has been some progress" on the war archives issue but did not give more details.
In their statement, the two NGOs also called on Kosovo and Serbia to "initiate changes in the criminal code, as well as in the laws on missing persons, so that enforced disappearance becomes a separate crime under the UN Convention on the Protection of All Persons from Enforced Disappearance, to expedite the discovery of the missing and prosecute those who hide information [about their whereabouts]".
Some 1,600 people who went missing as a result of the Kosovo war have yet to be found, most of them ethnic Albanians, but also some Serbs.