Bosnian Croat Ex-Leader's Jail Letter Expresses Regret for Crimes
Milivoj Petkovic, former president of the self-proclaimed Croat-led wartime statelet of Herzeg-Bosnia, wrote a letter from jail to the UN court saying he accepts the verdict sentencing him to 20 years in prison for wartime crimes against Bosniaks.
This post is also available in: Bosnian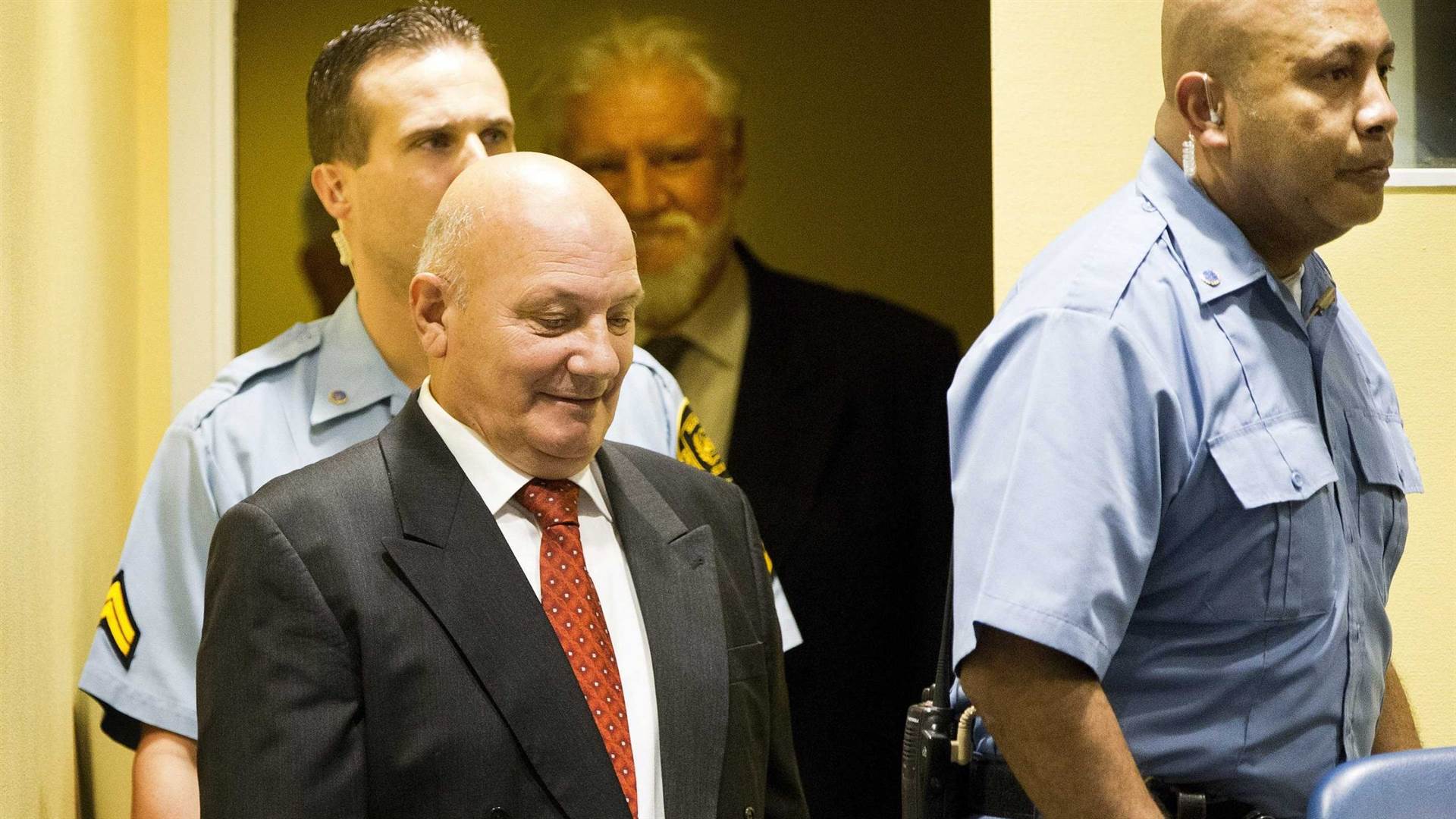 Milivoj Petkovic entering the courtroom in The Hague in May 2013. Photo: EPA/Jiri Buller/Pool.
Milivoj Petkovic has written a letter to the president of the UN's Mechanism for International Criminal Tribunals in The Hague from prison in Belgium saying that he accepts his 20-year sentence and expresses regret for the crimes committed against Bosniaks during the war.
"Today, eight years since the first-instance judgement and four years since the final judgment, I have a need to say to you, Mr. President, and to all others, that I accept my judgment and personal responsibility for my acts or omissions which led to the commission of crimes I was convicted for. also accepted the punishment which I serve," Petkovic said in the letter, which was sent on August 30 and made public on Monday.
"There is no justification, nor excuse, for the crimes committed. Because of that I feel sincere remorse and express my deep condolences to all victims of Bosniak ethnicity, and to their relatives and friends. I feel a human need to say this, although I am aware that my regret and expression of condolences offer weak consolation to those who have lost their loved ones," he added.
Petkovic also said in the letter that admitting the crimes and expressing "sincere remorse and expression of condolences" to the families of victims was "the only way to reconciliation, preserving peace and coexistence among the peoples of Bosnia and Herzegovina and ex-Yugoslavia".
"I hope this statement of mine will contribute to that goal at least a little bit," he added.
In November 2020, Milivoj Petkovic's defence asked the Mechanism for International Criminal Tribunals to grant him early release, saying he will have met the conditions to be freed after having served two-thirds of his sentence in February 2021.
In a submission to the Mechanism for International Criminal Tribunals on Monday, the defence asked for Petkovic's letter to be "taken into consideration in assessing his application for early release".
Petkovic was one of six wartime Herzeg-Bosna political and military leaders who were found guilty in March 2017 of crimes against the Bosniak population in 1993 and 1994 and sentenced to a total of 111 years in prison.
They were convicted of participation in a joint criminal enterprise that involved expulsions, murders, unlawful detentions, inhumane treatment and destruction of property.
One of them, Slobodan Praljak, took poison in the courtroom when his verdict was being read out, and died shortly afterwards.
Bruno Stojic, the former defence minister of Herzeg-Bosnia, who was among those convicted, also appealed for early release last year, with his defence arguing that he had showed remorse.
Since his appointment, the president of the Mechanism for International Criminal Tribunals, Carmel Agius, has rejected several early release requests filed by Hague convicts because he thought they had not demonstrated adequate signs of rehabilitation.