After Taliban forces swept to power in Afghanistan, governments in Albania, Kosovo and North Macedonia have accepted a US request to offer temporary refuge to some political refugees who are fleeing the country in fear of retaliation.
This post is also available in: Bosnian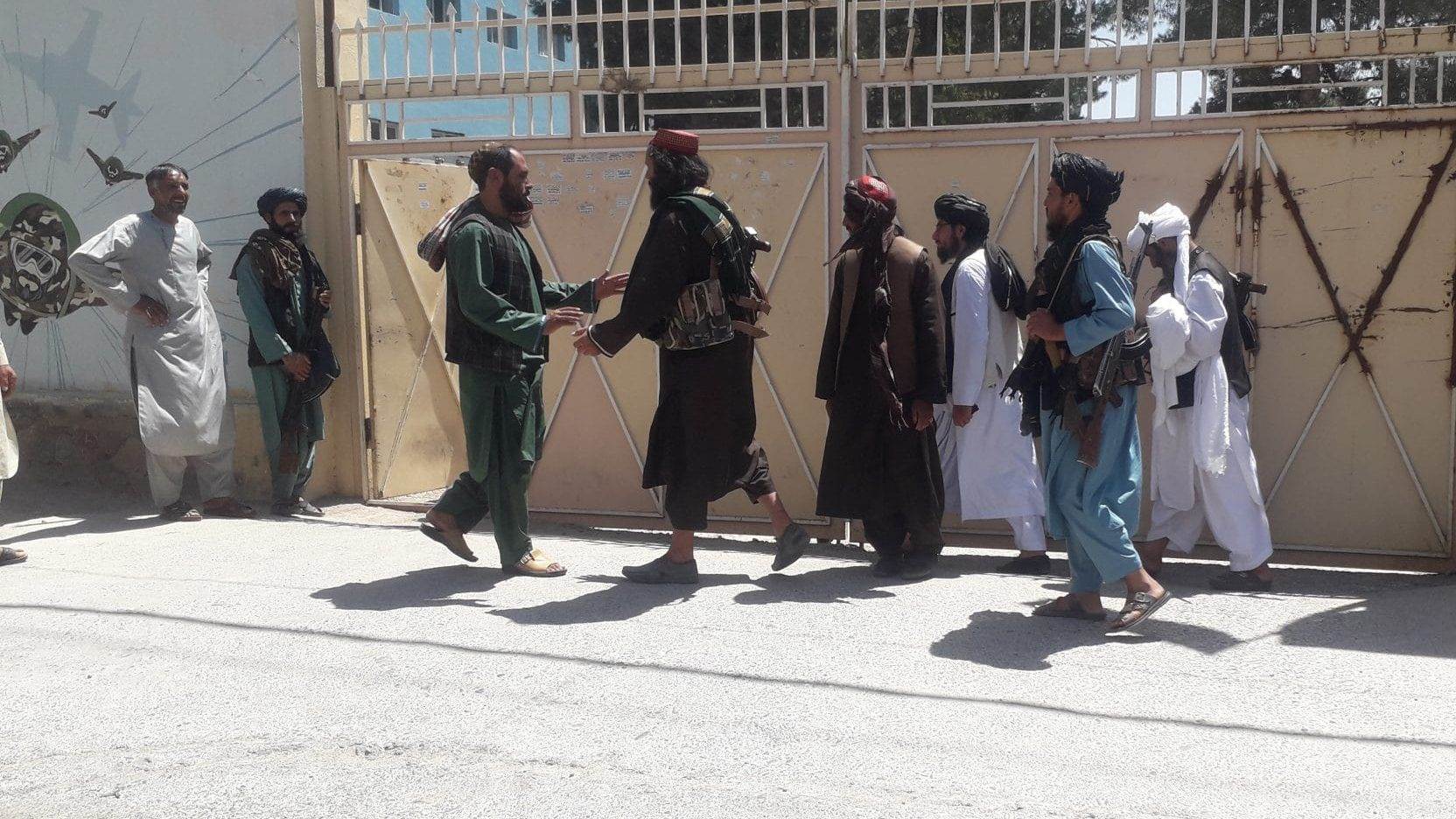 Taliban militants at a provincial government office after taking control of Herat on Friday. Photo: EPA-EFE/STRINGER.
Albania, Kosovo and North Macedonia have expressed readiness to temporarily host an undefined number of Afghans fleeing their country after Taliban forces seized control over the weekend as the United States pulled out.
"It is true that in recent days, US government has asked Albania to assess if we could serve as a transit country for a certain number of Afghan political migrants, which have US as the final destination. And undoubtedly we will not say no, not only because our allies are asking this, but because we are Albania," Albanian Prime Minister Edi Rama said in a statement on Facebook on Sunday.
The final destination for the refugees, who fear retaliation from the Taliban because they cooperated with NATO forces in Afghanistan, is the US. Their number is so far unknown.
Kosovo President Vjosa Osmani also confirmed that her country agreed to the request to give temporary safe haven refugees "without any hesitation".
"Kosovo respects the international right and obligation to not close the door to refugees," Osmani said.
The Kosovo government said that discussions with the US government over hosting the refugees started in mid-July.
Luan Dalipi, chief of staff of Kosovo's Prime Minister Albin Kurti, told BIRN that since then, the government has been in "constant communication and cooperation" with the US authorities.
"There are many logistical, technical, security and social issues we are carefully addressing. The US is our main ally and our strategic partner," Dalipi said.
North Macedonia's Prime Minister Zoran Zaev told media on Sunday that his country will accept civilians from Afghanistan who need evacuation and that they will be allowed to stay in the country until a more permanent solution is found for them.
"With the aim of saving the lives of the local population [in Afghanistan], we have informed the US that we are ready to accept civilians from Afghanistan who over the past 20 years have been working for peace in that country, who were the local support for the allied NATO troops, including our forces, including activists from the humanitarian and human rights organisations," Zaev said.
He said that North Macedonia could accommodate the refugees in hotels and resorts, and that the financial cost for this accommodation, until a more permanent solution is found, will be covered by the US.
"We are a country of solidarity. Our people and our society have always given support and help, the same way we have been receiving help during major catastrophes," Zaev said.
Washington wants to evacuate thousands of people from Afghanistan and has been seeking other countries to host them temporarily while their papers for entering the US are finalised.
Adrian Shtuni, a Washington-based foreign policy and security specialist, told BIRN that Tirana and Pristina's move to shelter Afghans was "as much a sign of moral leadership and humanitarian compassion as it is a confirmation that Albanians are reliable partners of the United States".
"The main concerns associated with refugee relocations are often related to potential security risks and financial costs. From a security perspective, there's no reason to believe the contingent of Afghan refugees would present a risk. These are interpreters and contractors (as well as family members) employed by the US Military, waiting to be issued Special Immigration Visas by the US State Department. They are not former fighters or militants," Shtuni said.
Adrian Shtuni said that both Albania and Kosovo will not be burdened by hosting the Afghans because "the refugee contingent will be a few hundred people and nor Albania neither Kosovo are intended as their final destination the financial costs will be contained".
The chairman of the US Senate Foreign Relations Committee, Bob Menendez, welcomed Albania's decision to give temporary safe haven to the Afghans.
"The people of Albania are once again showing the world what 'BESA' ['word of honour' in Albanian] means. You have our respect and thanks," Menendez wrote on Twitter on Sunday.