Bosnia's Proposal to Prosecute Croatian Generals Sparks Controversy
Croatian officials reacted indignantly after state prosecutors in Bosnia and Herzegovina reportedly asked Zagreb if its judiciary can prosecute Croatian wartime generals for crimes allegedly committed during the Croatian Army's Operation Flash in 1995.
This post is also available in: Bosnian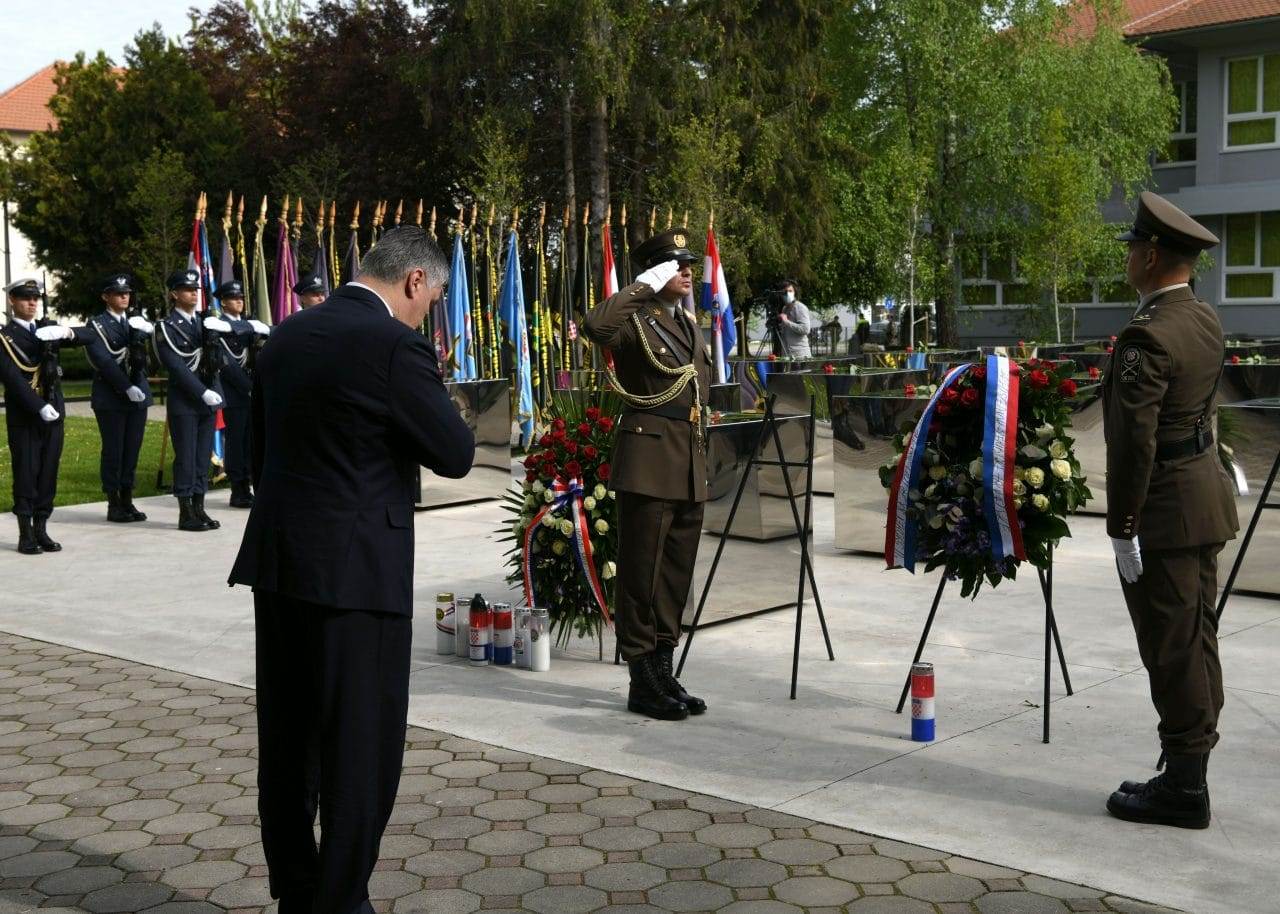 Croatian President Zoran Milanovic attends a commemoration of the Croatian Army's 1995 Operation Flash in May this year.
Photo: Office of the President of the Republic of Croatia/Marko Beljan.
Controversy simmered on Monday in the wake of media reports at the weekend that the Bosnian state prosecution has asked Croatia if it can take over proceedings against 14 Croatian generals who are reportedly suspected of committing war crimes during the Croatian Army's 1995 Operation Flash.
Josip Salapic, state secretary of the Ministry of Justice and Administration, confirmed to N1 TV on Monday that Croatia has received "an international request for certain legal assistance" and that the Ministry will be assessing whether it will forward the documentation to the State Attorney's Office, which can then decide "whether to launch an investigation or not".
Salapic also expressed discontent with the Bosnian proposal to prosecute officers involved in the Operation Flash, which saw the Croatian Army oust Serb rebel forces in and around the Croatian town of Pakrac.
"We are not happy with what is happening in Bosnia and Herzegovina. The legal defence of the country from aggressors cannot be used for [Bosnia's] everyday political purposes," he said.
The Croat member of the Bosnian tripartite presidency, Zeljko Komsic, said on Monday that if the legal request involves Operation Flash or 1995's Operation Storm, there is no legal basis for it.
"Even if there was such a crime, it was not committed on the territory of Bosnia and Herzegovina or against Bosnian citizens," Komsic said.
Croatian media have reported that 14 senior Croatian officers are under suspicion, including wartime commander generals Pavao Miljavac, Mladen Markac, Marijan Marekovic, Davor Domazet Loso and Luka Dzanko.
Reports said that the generals are suspected of issuing orders during Operation Flash for indiscriminate shelling and artillery fire against civilian targets and on the undefended Bosnian towns of Bosanska Gradiska and Kozarska Dubica from territory controlled by the Croatian Army.
But General Miljavac insisted on Sunday that Operation Flash "was a legitimate Croatian Army operation and there was no particular intention of putting Bosnia in danger".
Operation Flash on May 1, 1995 saw the Croatian Army mount a surprise attack on the town of Pakrac, rapidly taking control of the whole area from rebel Serbs and reintegrating it into Croatia.
Around 30,000 Serbs fled the area to Serb-held land in Bosnia, or to Serbia. According to Serbian NGO Veritas, 283 people were killed during the operation, although the Croatian Helsinki Committee for Human Rights said the number of deaths was below 90.
The Bosnian state prosecution has not yet made a public statement about the case, while Croatian Justice Ministry official Salapic gave no details about the specific accusations.
Croatian President Zoran Milanovic also criticised the Bosnian request last week during the anniversary commemorations for Operation Storm.
"Even today in neighbouring countries, including Bosnia and Herzegovina, which I want to believe is our friend, we are still witnessing accusations piling up against Croatian wartime commanders for unproven or fabricated crimes of collective or command responsibility from 26 years ago. This is not good for our joint relations," Milanovic said in a speech.