While top officials in Croatia celebrated the 26th anniversary of the country's military victory over rebel Serbs in Operation Storm, their counterparts in Serbia lamented the consequences of a 'policy of extermination'.
This post is also available in: Bosnian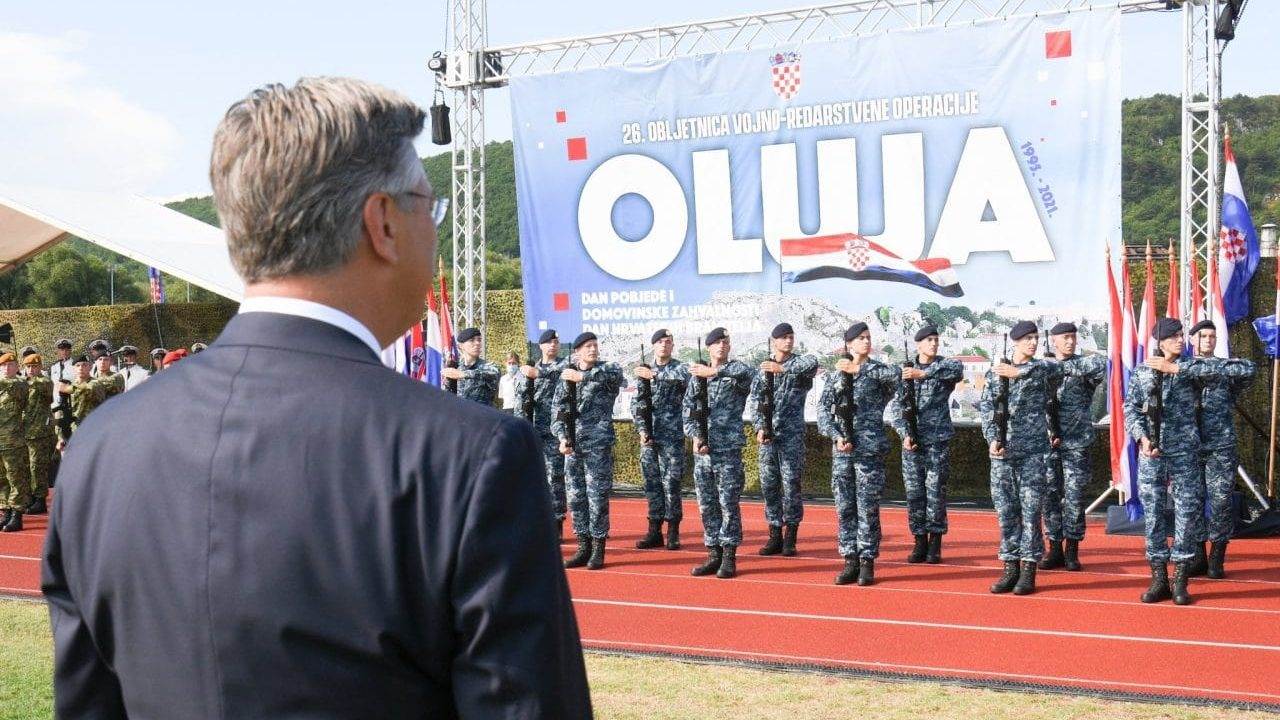 Croatian Prime Minister at the ceremony on Thursday. Photo: Croatian Government/Twitter.
Croatia's political leadership, wartime generals and war veterans gathered on Thursday in the town of Knin to mark the anniversary of the victorious military offensive, Operation Storm, that practically ended the independence war in the country in 1995.
Part of the ceremony took place at the Knin Fortress, while another part was held at the town's football stadium.
In a speech, Prime Minister Andrej Plenkovic praised the "victorious" Croatian army and police for "ending the war and establishing lasting peace". President Zoran Milanovic recalled Storm as "one of the boldest ventures in Croatian history".
During the operation, Croatian forces regained almost all the territory seized in 1991 by rebel Croatian Serbs, helped by the Yugoslav People's Army and Serbian paramilitaries.
But around 200,000 Serbs fled Croatia in a long convoy of tractors, buses and cars, and 677 civilians were killed during and after the operation, according to the Croatian Helsinki Committee.
While Deputy Prime Minister Boris Milosevic from the Independent Democratic Serb Party, which represents Croatia's Serb minority, attended the state celebration of Operation Storm last year, he announced earlier that he will skip the ceremony this year.
He pointed out that not all government officials will attend the ceremony and that the fact that he will not be present does not mean giving up on reconciliation between Croats and Serbs.
Also last year, top state officials joined representatives of the Serb minority in commemoration of the anniversary of a massacre in the hamlet of Grubori and in the village of Varivode – two of several violent incidents in the wake of Operation Storm.
Plenkovic stated that symbolic gestures expressed at last year's anniversary "continue to be implemented, guided by a policy of reconciliation, coexistence and understanding while respecting the historical truth and expressing respect for all innocent victims".
He also sent a message to neighbouring Serbia, adding that it "should abandon the futile rhetoric of the past, face its responsibility and turn to the policy of reconciliation".
Serbia organised commemoration in refuge settlement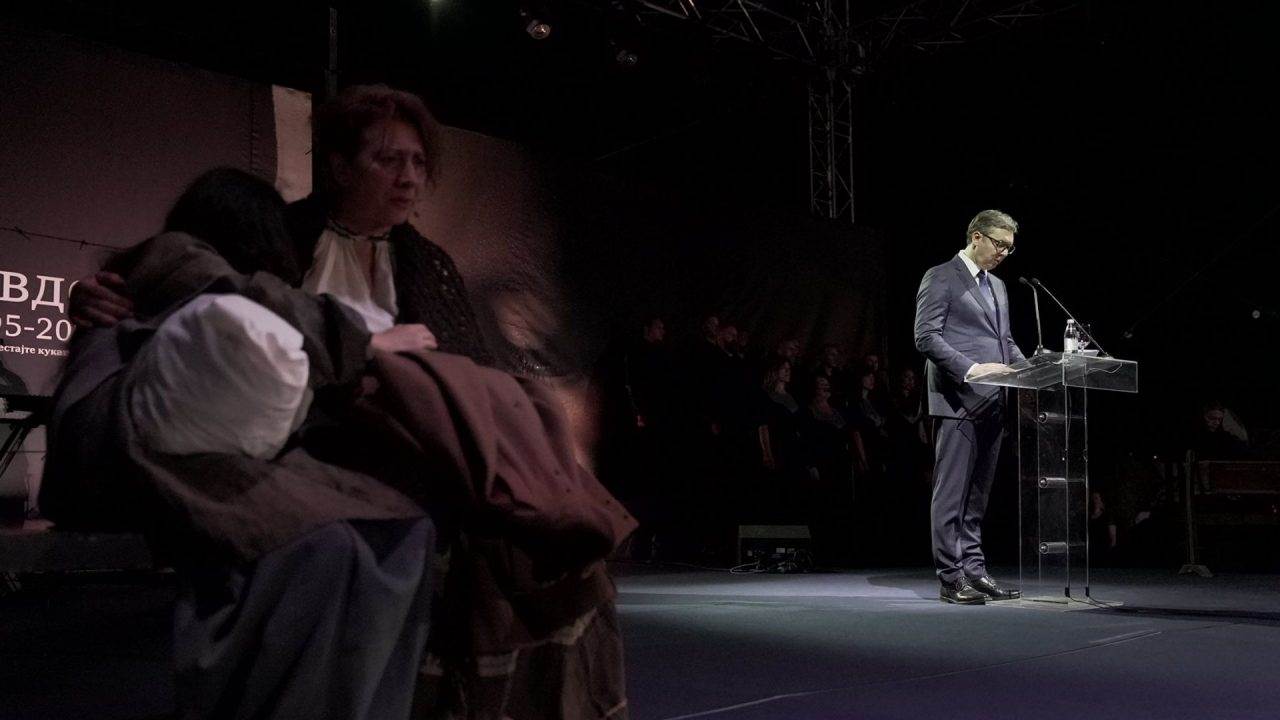 Serbia's president Aleksandar Vucic speaking during commemoration of Storm Operation victims in Busije, Belgrade, August 4 2021. Photo: Presidency of Serbia
Serbia meanwhile marked the 26th anniversary of Operation Storm on Wednesday evening in a different spirit, with a ceremony commemorating the Serbian victims.
The ceremony was held in the settlement of Busije, near Zemun, Belgrade, the biggest settlement of Serbian refugees who fled Croatia during Operation Storm in 1995.
The event consisted of a memorial service, which Serbian Orthodox Church Patriarch Porfirije held, and speeches by Serbia's President, Aleksandar Vucic, and the Serbian member of the Bosnian presidency, Milorad Dodik.
The event also consisted of video and drama pieces, mostly referring to crimes that members of the Nazi-allied Ustasa movement committed against Serbs in Croatia during World War II.
Speeches by Dodik and Vucic, besides referring to recent political events, like Serbia's negotiations with Kosovo or the new ban of genocide denial in Bosnia and Herzegovina, mostly referred to World War II crimes against Serbs.
Dodik said that "the suffering of biblical proportions of the Serbs from the region that happened for the second time [in 1995], is remembered today".
"Today, when we remind ourselves again of what happened in August 1995" we at the same time "remind ourselves of who we are, what we are, where we are from and where we are going", Vucic said.
"We are talking about our identity in which columns [of people] on tractors, refugees, murders on Petrovac road and someone's clear intention that there should be no more Serbs in Croatia are forever embedded," Vucic said.
"We are talking about the identity in which Jasenovac, Jadovno, Prebilovci [places of mass crimes against Serbs in World War II] every pit, every hammer and every dagger, which were a consequence of the same policy of extermination of Serbs, some 50 years earlier, are forever embedded," he added.
Since 2015, the Serbian authorities have magnified the ceremonies marking the anniversary of Operation Storm, organizing big events with speakers every year in different cities or municipalities, mostly where Croatian Serbs settled when they came to Serbia.