Bosnian Serb Brigade Commander's Trial Opens in Belgrade
The wartime commander of the Bosnian Serb Army's Sana Brigade, Branko Basara, is accused of attacking, forcibly relocating and murdering civilians in the Sanski Most area of Bosnia and Herzegovina in 1992.
This post is also available in: Bosnian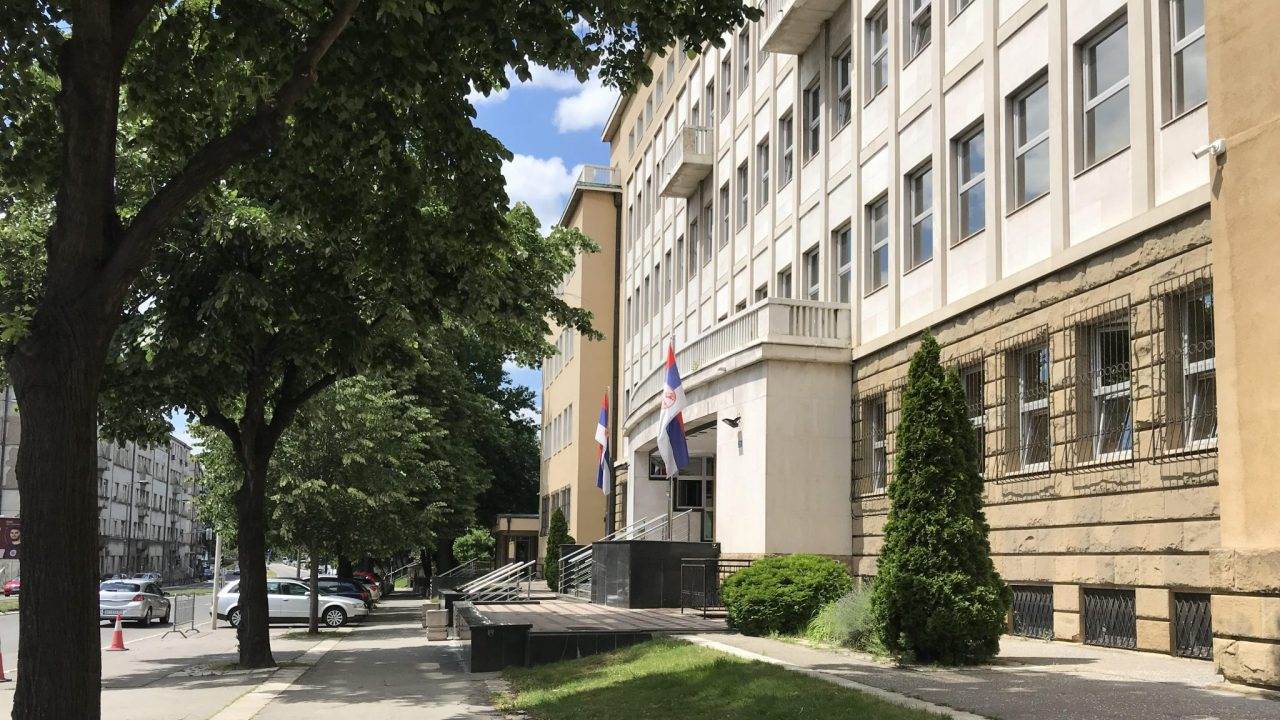 Belgrade Higher Court. Photo: BIRN
The trial of the former commander of Bosnian Serb Army's Sana Brigade, Branko Basara, who is accused of war crimes against Bosnian civilians in the Sanski Most area from April to September 1992, opened at Belgrade Higher Court on Monday.
Basara is indicted on 21 accounts, accused of bearing responsibility for killings, forcible relocations, imprisonment and attacking the civilian population in the settlements of Mahala, Muhici, Otoka, Brisevo, Stara Rijeka, Stari Majdan, Hrustovo, Vrhpolje, Lukavice, Begici and Kenjari. The indictment names a total of around 200 victims.
Basara pleaded not guilty, insisting that his brigade was only involved in fighting in Mahala and Hrustovo and in the Golaja forest in the Sanski Most area.
"In the other villages, we did not participate, we did make arrests or take people away – I have no idea who did that," Basara told the court.
Basara confirmed that his unit attacked both settlements, claiming it was a disarmament operation ordered by the command of the Bosnian Serb Army's First Krajina Corp.
He also claimed that in Mahala and Hrustovo, he gave time to civilians to leave before the fighting started.
One of crimes in the indictment happened on May 31, 1992 after Bosnian Serb forces entered the hamlet of Begici and took its civilian residents to Vrhpolje Bridge.
The indictment alleges that Basara then participated in the murders of civilians by ordering them to jump off the bridge, and while they were falling into the water, his troops they shot at and killed them.
Sixteen people's remains were later exhumed from the Vrhpolje Bridge I and II mass grave sites.
Basara claimed he was not in that exact area at the time of the killings. He said that he heard shots, but that some unknown unit killed the civilians.
According to Basara, the unit left before he got to the site. This is also what he told the Hague Tribunal in April 2015 when he testified as a defence witness at Bosnian Serb military chief Ratko Mladic's trial.
Basara was originally indicted together with Nedeljko Ancic, the commander of the Sanski Most Territorial Defence force, but the case against Anicic was dismissed on Monday because court medical experts said that he is permanently incapable of participating in the process.
Court expert commission head Zoran Stojkovic told the court that Anicic is over 90 years old, that he has health issues, has had a stroke, is not capable of moving without a wheelchair and has lost sight in one eye.
Basara meanwhile claimed that he does not know Anicic.
Basara and Anicic were indicted originally in Bosnia and Herzegovina in 2014. The case was transferred to Serbia in 2020 and they were indicted in Serbia in March this year.