In less than two years, the Banja Luka police has filed at least 160 charges against activists seeking justice in the Dragan Dragicevic case – which experts see this as open intimidation of free citizens by the Bosnian Serb authorities.
This post is also available in: Bosnian
He was deprived of his liberty because he had ignored a police order to move away from a public space on Trg Krajine in the city of Banja Luka, where protests over the unresolved murder of David Dragicevic had been going on for weeks.
Testen says the police had no reason to prohibit him from the public area and they did not explain why they were banning him from the square.
"They banished us just because we were members of 'Pravda za Davida' and because we sought the truth about the killed youngster," Testen said prior to his hearing in court.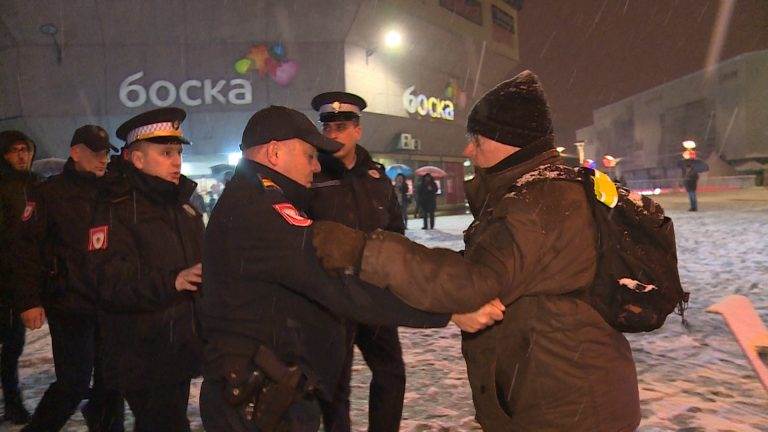 Jasenko Testen's arrest. Photo: Gerila.info
David Dragicevic went missing in Banja Luka on March 18, 2018. His body was found on March 24. His unsolved death, as well as police and prosecution attitude, sparked protests, which have continued, alongside numerous court processes against citizens and institutions in Republika Srpska, RS, the Serb-led entity of Bosnia.
The Prosecution of Bosnia and Herzegovina took over the investigation into the murder from the Banja Luka District Prosecution due to the non-existence of any investigation results.
Over the past two years dozens of Banja Luka activists have had similar experiences to Testen's.
Data made available to BIRN collected by the Pravda za Davida group suggest that at least 160 misdemeanour or criminal complaints have been filed against Banja Luka citizens for violating the Public Order Law and the Law on Public Assemblies. The Basic Court has rejected all complaints it has considered so far.
Some cases have been discontinued because the Ministry of Interior in Republika Srpska, MUP RS, has given up on them.
Due to such treatment, the activists demand accountability from the competent police and their superiors and have filed criminal complaints – but there is no confirmation that anyone has been sanctioned so far for filing dozens of unjustified crime charges.
Experts BIRN BiH spoke to view this as a proof of a lack of institutional accountability.
A lawyer at the Banja Luka Centre for Human Rights, Dejan Todorovic, says the police complaints and the lack of reaction by the prosecutors' offices point to the discriminatory treatment of activists.
"Such behaviour by institutions represents open and direct discrimination against one group of free citizens. It is a classic example of a system's retaliation against those who dare to point to criminals inside the system," Todorovic said.
Due to the treatment of activists, including those from Pravda za Davida, the European Commission's report for Bosnia and Herzegovina for 2020 states that no progress was made in addressing one of the 14 key priorities for EU accession – upholding European standards on freedom of association and freedom of assembly.
"Challenges remain, as exemplified in the case of the Justice for David movement in Banja Luka," the report stated, adding that activists have been subject to intimidation, fines, and judicial prosecution.
Bosnia will have to harmonize its declarative commitment to the EU membership with respect to right to assembly because the current attitude towards the protection of activists' rights is incompatible with EU values, Todorovic explained.
"An inefficient and corrupt judicial system is something the EU member states will not ignore when deciding on the progress of Bosnia and Herzegovina on its road to EU accession," he says.
Todorovic considers it paradoxical that, the more is said about Bosnia's commitment to the EU membership, the more the authorities violate citizens' rights.
Long wait for court processes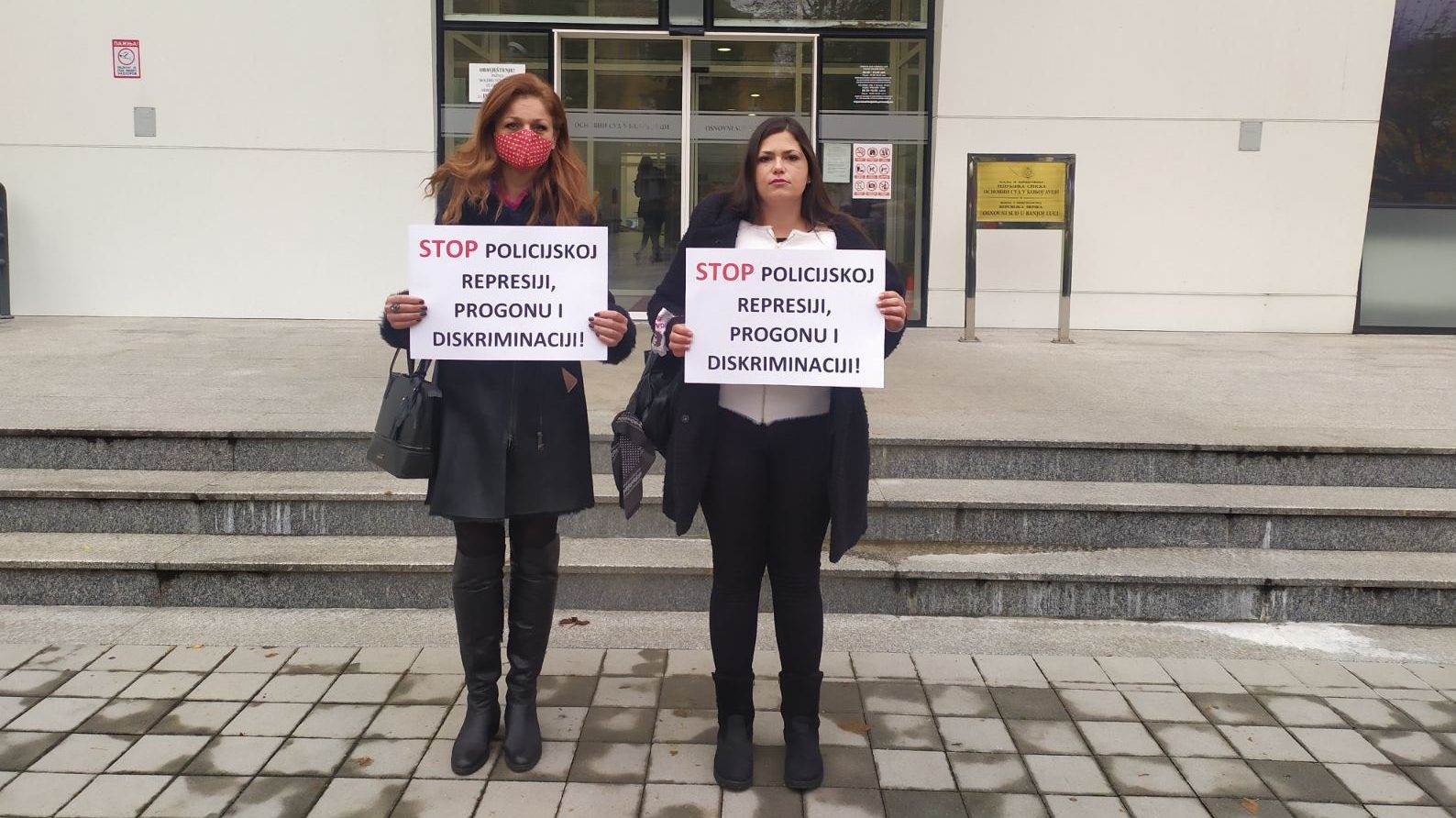 Aleksandra Ninic Vranjes and Sofija Grmusa in front of Basic court in Banja Luka. Photo: BIRN
Banja Luka police filed 15 criminal complaints against citizens for jeopardizing the safety of minister Lukac, attacking an official person at Trg Krajine and jeopardizing the safety of pathologist Zeljko Karan, as well as Djordje Radjen, the owner of the house which, according to the police, David Dragicevic had robbed.
Proceedings against five people are still underway before the Banja Luka Basic Court on a police charge over an attack on an official person at Trg Krajine in December 2018. In May this year, the main trial was postponed until September.
As for charges against four individuals for jeopardizing the safety of Djordje Radjen and Zeljko Karan, the District Public Prosecution in Banja Luka discontinued the investigation in late 2019.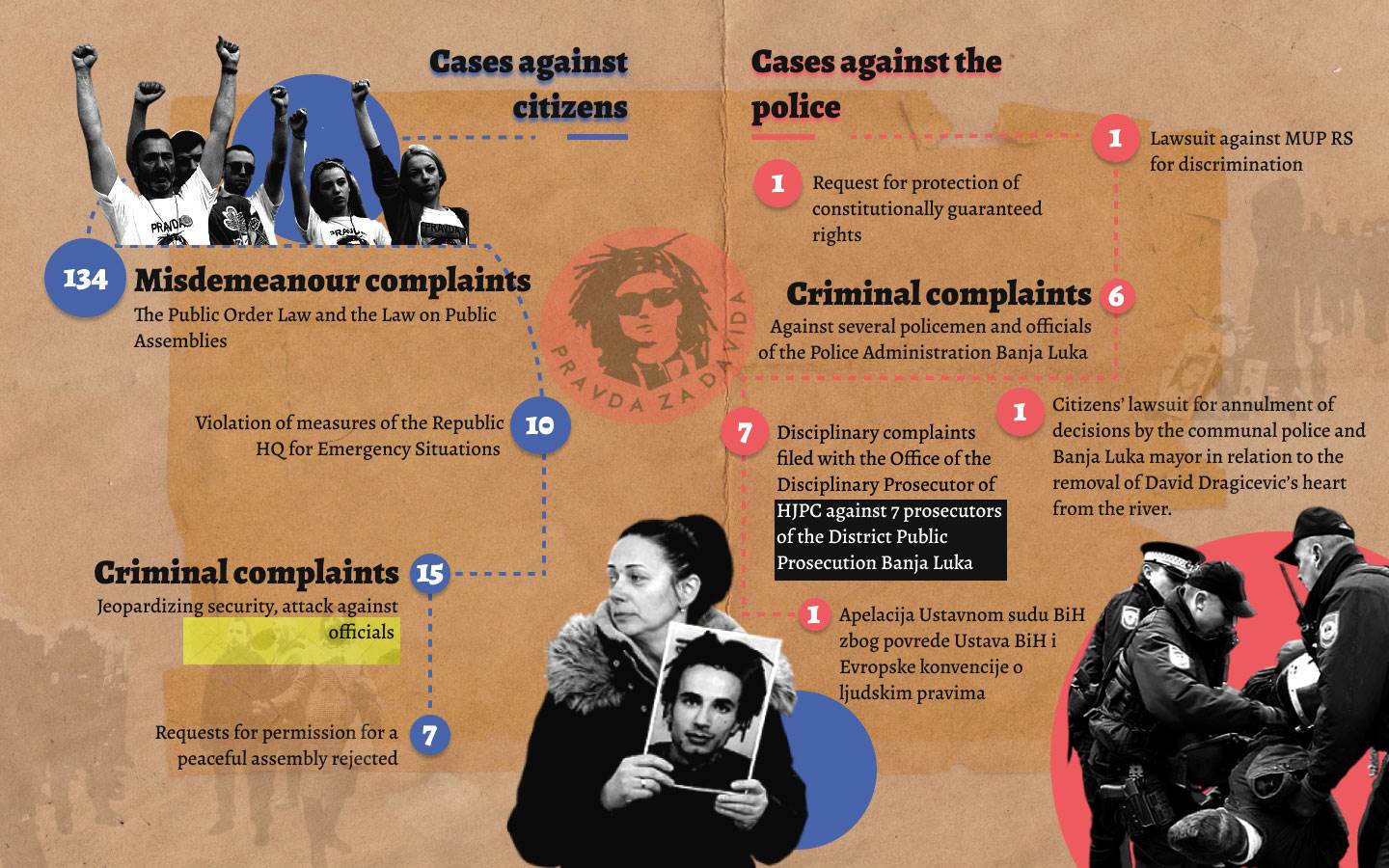 Infographic: BIRN
As regards the misdemeanour complaints for violating the Law on Public Assemblies and the Public Order Law, all citizens who have requested court adjudication have so far been acquitted of responsibility, while the complaints filed by the police have been dropped as incomplete and ill-founded. The costs of these proceedings have been paid from the budget.
Officials of the Police Administration in Banja Luka and MUP RS have insisted that the police complied with regulations. The police did not comment on the fact that all misdemeanour complaints have been dropped as ill-founded.
Dejan Todorovic blames the absence of institutional accountability for the issue of so many charges that end up being rejected on the slow reaction of the judiciary.
"This applies in particular to the prosecutorial sector, which has all the main competences when carrying out investigations in criminal proceedings," he says, adding that numerous proceedings launched on the basis of complaints against activists were resolved in favour of the citizens.
"However, this did not stop MUP from continuing to file such unfounded misdemeanour charges. This has been accompanied by the silence of prosecutors over criminal complaints filed by citizens against those policemen, which they have every legal and moral right to make," Todorovic told BIRN BiH.
He says citizens have no alternative but to protect their rights with available legal resources and put pressure on institutions to do their job.
Slow resolution of complaints against police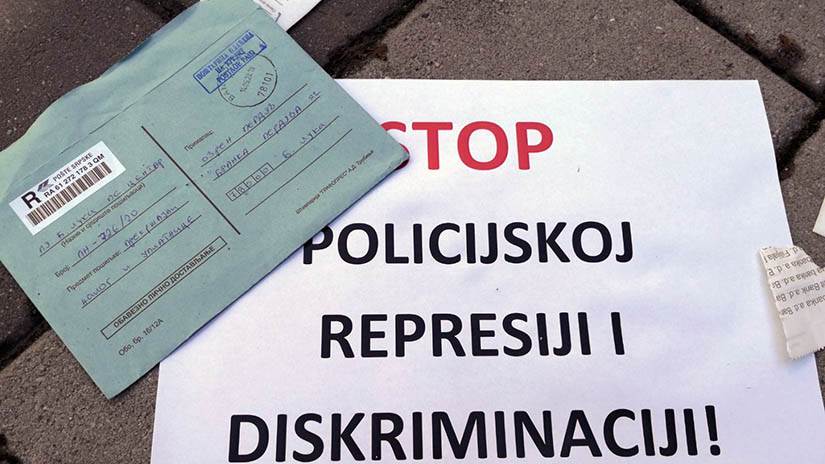 Sign "Stop police repression and discrimination" with a letter calling four court. Photo: BIRN
Pravda za Davida activists have filed 35 suits and criminal complaints against Banja Luka police and officials of the RS Ministry of Interior with the Banja Luka District Public Prosecution.
They also filed a discrimination case against the RS MUP. The Basic Court passed a first-instance verdict in favour of the activists, banning further discrimination of citizens. They are now awaiting a second-instance verdict.
Activists have also filed criminal complaints against police officers for abuse of office and authority, misconduct in public office, violation of human dignity through the abuse of office and authority, violation of equality of citizens and unlawful arrests.
The Banja Luka District Prosecution has still not decided on the criminal complaints filed in January 2020. It said the complaints filed against policemen on January 8 and July 8, 2020 were being processed and in the investigation phase.
"Given that both cases are in the investigation phase, we cannot provide further information," it told BIRN BiH.
A criminal complaint filed against 14 policemen, filed on May 27 this year, has been assigned to a competent prosecutor, it added.
On May 26 this year, members of Pravda za Davida filed disciplinary complaints with the Disciplinary Prosecutor's Office against Banja Luka district prosecutors Gordana Mijatovic, Aleksandar Simonovic, Tanja Mrdja, Zana Bojic, Goran Rakic and Sinisa Labotic due to the lack of results concerning their complaints.
The High Judicial and Prosecutorial Council, HJPC, confirmed to BIRN BiH that no disciplinary proceedings had been initiated on this complaint so far.
It confirmed that, to now, one disciplinary proceeding has been initiated on a complaint filed by Pravda za Davida, against Banja Luka public prosecutor Slavica Matijas, for insulting citizens assembled in front of the prosecution building.
One day after the complaint was filed, the Banja Luka District Prosecution opened an investigation against assistant commander of the Banja Luka Centre Police Station and other unidentified police of the Banja Luka Police Administration.
This was due to existence of suspicions that that they committed the offence of infringement of equality of citizens. Pravda za Davida activists Sofija Grmusa and Aleksandra Ninic Vranjes filed the complaint against them with that prosecution on February 14.
Banja Luka criminal law professor Ivanka Markovic, a member of the opposition Serbian Democratic Party in the RS Assembly, says a huge number of proceedings against citizens had been initiated due to a kind of awakened civic conscientiousness and appearance of civic activism, expressed through various forms, protests, civil disobedience, actions, petitions and so on.
"Banja Luka first encountered various forms of civic activism only a few years ago. It seems to me that the governing structures, which are used to dealing with 'dormant citizens' and aren't ready to face such forms of expression of disagreement …, were surprised and did not react adequately to every situation," she said.
Such behaviour by the authorities and the Interior Ministry has sometimes prompted new actions by citizens, which Markovic said likely led to the violation of certain norms in some situations.
She recalled that a number of complaints had been filed against activists, while the activists, believing the police exceeded its authority with an excessive use of force, had then filed criminal complaints against the police.
"At some stage, an image was created in public that there was an open conflict between the police and activists, which, in my opinion was a reflection of impotence of those who should create conditions for a safe life of all Republika Srpska citizens," Markovic told BIRN BiH.
Absence of reaction by HJPC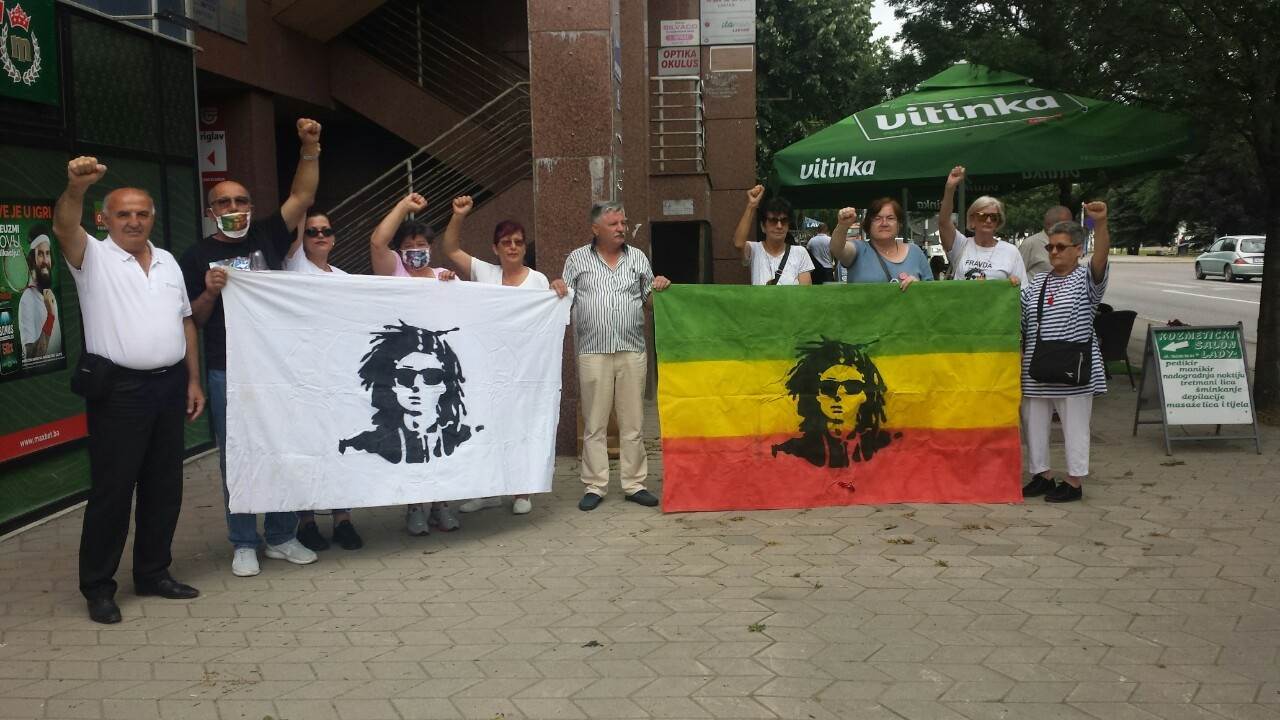 Activist before the court in Laktasi. Photo: BIRN
On June 25, 2019 members of Pravda za Davida filed a request for protection of their constitutional rights with the Banja Luka District Court, which they said were being jeopardized by police actions.
The request refers to the police selectively banning individuals from passing through a church courtyard in Banja Luka in 2019. It was filed against then-director of RS police Darko Culum, who is now director of the State Investigation and Protection Agency, SIPA.
In December 2019, the court rejected the request. In February 2020, they filed a request for an extraordinary review of the court decision by the Supreme Court of RS. The Supreme Court has still not decided on the request.
The Banja Luka Basic Court, which has ended up adjudicating on numerous misdemeanour complaints following citizens' request for court adjudication, says it is obliged to act on each request and has already resolved such cases.
The court's task is to solve all cases with integrity and in accordance with the law and judicial ethics, the court explained, adding that it could not discuss the complaints with representatives of the Police Administration as that would be contrary to the principle of equality of parties to proceedings.
"It cannot be considered that the court is being used as leverage against citizens," it said.
Elvir Padalovic, of Buka magazine's editorial office, which regularly reports on Pravda za Davida developments, says there is a paradox in those advocating for the truth and a just society being prosecuted, while "nobody searches for" those responsible for the death of the 21-year-old man.
Pravda za Davida had become the personification of a struggle for a just society, because they have been fighting for the judicial system in this country to start functioning for three years already, he says.
"At the same time, it is apparent how many problems exist within the institutions of this system which has decided, at any cost, to punish those assembling. The system's will to persecute dissenters is fascinating. It is also fascinating how easily they lose in court. Doesn't this show that they are doing something wrong, that they are wrong? No, they persistently continue with judicial persecution, filing misdemeanour and criminal complaints against group members," Padalovic says.
The HJPC, as the senior judicial institution in Bosnia and Herzegovina, has not responded to BIRN BiH's request to comment on numerous court proceedings or on judicial institutions' attitude towards the Dragicevic case and activists seeking criminal prosecution of those responsible.
A council member, state prosecutor Biljana Simeunovic, says the council should take a more proactive stand towards such developments in the judiciary.
"It would be interesting to set this as a topic, and have HJPC express its position in that regard. There is no clear competence for the HJPC in this matter, but my own stand is that HJPC should have taken stand in Dragicevic case long ago. However, I am just one of the votes in this council," Simeunovic said.
"I'm afraid that the obstructions by the Prosecution will continue also in relation to criminal complaints against policemen," Aleksandar Zolja says.
The Banja Luka police and MUP Republika Srpska have still not answered BIRN BiH's request to comment on the complaints filed against activists.