Historian Nicolas Moll's new book tells the story of European humanitarian activists who braved the risks of war to deliver aid supplies by road to Bosnia during the 1992-95 conflict.
This post is also available in: Bosnian (Bosnian)
This is the back-cover introduction to 'Solidarity is More Than a Slogan', a new book by historian and researcher Nicolas Moll, which explores the activities of International Workers Aid, IWA, a left-wing, trade union-connected organisation that delivered humanitarian supplies to Bosnia and Herzegovina and helped refugees inside and outside the country during and after the 1992-95 war.
Belgian-born, Sarajevo-based Moll said that he wrote the book to preserve the memory of the grassroots activists who were involved in non-governmental aid initiatives.
"We often talk about the passivity and also complicity of the international governments and the UN, who did nothing to stop the war and the ethnic cleansing in [Bosnia and Herzegovina]," he told BIRN.
"But at the same time we forget that there have been tens of thousands of individuals in many European countries who disagreed with that passivity, who strongly criticised their own governments, and who tried to show solidarity in a very concrete and pragmatic way," he added.
Moll said that some of the IWA's activists had only just turned 18 when they began to deliver humanitarian supplies by truck to the northern Bosnian mining town of Tuzla while the war was still raging.
The IWA organised more than 30 food convoys to Tuzla between 1993 and 1995, as well as supporting other projects including the creation of a trade unionists' magazine and the opening of a women's centre in Tuzla.
Moll explained that the IWA also had ideological motives – "they wanted to support those who were defending the multi-ethnic idea of Bosnia and Herzegovina, and as they were not a very big organisation, they focused their activities on Tuzla, because it was a town with a strong workers' tradition and because there the multi-ethnic spirit was particularly strong".
"I was very impressed by them, even more as the persons I met are modest and self-critical, and they do not walk around bragging 'See what I did during the war'," he said.
'They risked their lives to help us'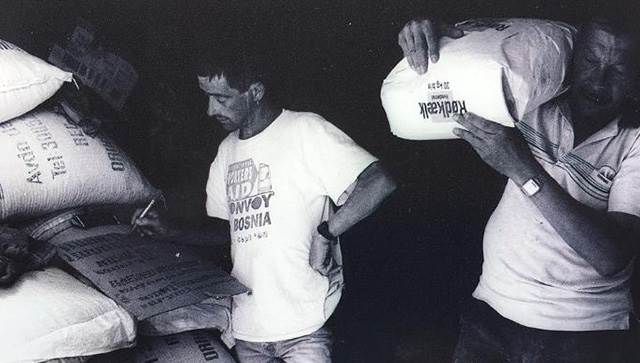 International Workers Aid activists unload supplies at a warehouse in Tuzla in 1994. Photo: Kristian Buus.
One of the locals in Tuzla who worked with the foreign humanitarian volunteers when they arrived during the war was Viktorija Juric, who was a teenager at the time.
"I joined IWA thanks to my dad who worked at the Mosa Pijade Centre in Tuzla, where humanitarian assistance arrived. At the time, that suited me fine, helping my dad and avoiding the sad teenager day-to-day routine and reality. I knew foreign languages and I could be of help," Juric told BIRN.
She said that she looked at the foreigners with envy, because they "could do everything that we could only dream of".
"They were around 19, they had the privilege to travel, to get to know the world, discover it, study. Franciska, who became my lifelong friend, chose to come to wartime Bosnia and help people, in order to give us some hope and support," she recalled.
But she also admired them for their courage in travelling to a war-ravaged country to offer assistance.
"The solidarity from Europe, the help from trade unions, meant a lot to people in Bosnia and Herzegovina in the most difficult moments of their lives. They risked their lives to come here and help us," she explained.
Juric's career as an adult was informed by her involvement with IWA in Tuzla as a teenager during the war, she said. She is now an 'ambassador of peace' with the International Women's Peace Group and a professor of foreign languages in Germany. She is also involved in volunteer work, teaching refugees from Syria.
"My language courses [for refugees] are somehow always fully booked, because we have similar life stories, we are on the same level and we have similar biographies. Sometimes I give them hope because they see how I arrived here alone and succeeded on my own," she said.
Lejla Majdancic, a former student at the Mining, Geology and Construction Faculty of Tuzla University, was also a member of an IWA initiative that involved trade union organisations from Sweden, Denmark, the Netherlands and Germany and helped mineworkers and their families in Tuzla.
Majdancic told BIRN that she became the right hand of the IWA's activists because she spoke excellent English and helped them reach out to the mining communities.
"In Tuzla, there were many organisations helping refugees, but International Workers Aid wanted to help working-class people, miners who also had needs, because it was difficult to get food and everything was very expensive," she explained.
"I also originate from a working-class family and I know how things were hard for us," she added, recalling how people in Tuzla lived without electricity and water supplies during the war.
She said that the IWA also enabled students from Tuzla University to make connections with 22 universities in Belgium, the Netherlands, Germany and France. The organisation closed down in 2000, but friendships between its volunteers and residents of Tuzla residents continue.
Moll argued that it is important to learn more about grassroots solidarity initiatives during the Bosnian war.
"At the same time, solidarity is a timeless question: How can we support those who experience wars or other disasters?" he added.
"What IWA did cannot be copy-pasted, but learning about IWA can also stimulate our reflection on what we can concretely do today to support persons who are in need, for example refugees."
'Solidarity is More Than a Slogan' by Nicolas Moll is published by the Rosa-Luxemburg-Stiftung and is available for download here.