Dzananovic and Gadzo: Total of 16 Years for Crimes in Sarajevo
The Court of Bosnia and Herzegovina sentenced Senad Dzananovic to 11 and Edin Gadzo to five years in prison for crimes against Serb civilians detained in Alipasino Polje, Sarajevo – though they may appeal the verdict.
This post is also available in: Bosnian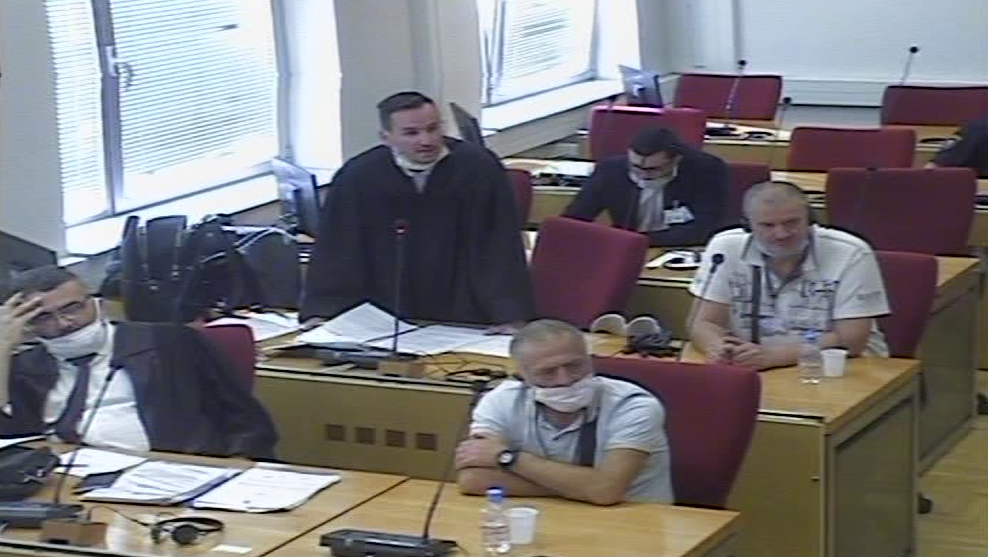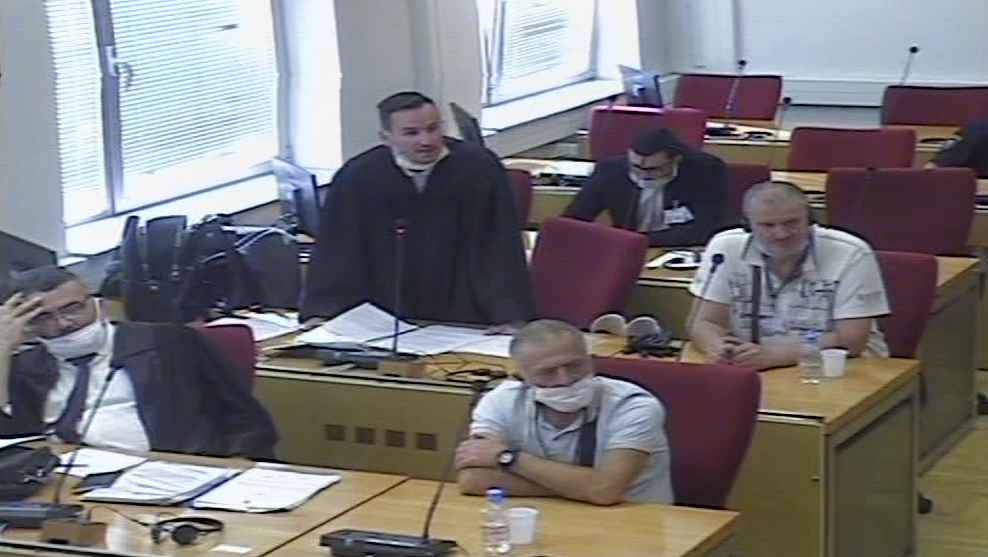 Senad Dzananovic (first row, right) and Edin Gadzo (second row, right) in the courtroom. Photo: Court of Bosnia and Herzegovina
Senad Dzananovic and Edin Gadzo were found guilty of having participated in the unlawful detention of people in the Stela Territorial Defence premises in Alipasino Polje neighbourhood, where more than 100 Serb civilians were held in unsanitary and humiliating conditions, while being subjected to murder, inhumane treatment, rape, disappearances, torture and forced labour, from May to August 1992.
They were sentenced in their capacity as members of the Stela Territorial Defence and special units of the Army of the Republic of Bosnia and Herzegovina, ARBiH, under the command of Jusuf "Juka" Prazina and Samir "Krusko" Kahvedzic.
Dzananovic was found guilty of 20 counts and Gadzo of 11. An acquittal was passed down for 24 counts. Charges in two counts were rejected because Dzananovic had already been sentenced for those crimes in 1994.
Dzananovic, who did not attend the verdict, was sentenced for a number of beatings of detained civilians. One victim was Novica Draskovic who, according to the verdict, other soldiers beat and returned to his cell, covered with blood. Dzananovic then entered the room and continued hitting him. According to the verdict, Draskovic passed away in front of other detainees.
Other cases for which Dzananovic was found guilty include the beating of detainees with various items, cutting them with knives, and riding and urinating on them.
According to the verdict, some of the abused civilians went missing without trace and some fainted due to the beatings, laid in pools of their own blood and received fractures in different parts of their bodies.
Dzananovic was also sentenced for having taken witness A to an abandoned apartment and, after having insulted her and put a handgun in her mouth, raped her and forced her to please him orally. Tthe verdict said the witness was sexually abused by up to 20 men, one after the other.
It further stated that Dzananovic would bring the witness to a room to wash blood from his legs and the floor. He was also sentenced for having raped protected witness B.
Dzananovic and Gadzo were both pronounced guilty of having abused Mirko Jovanovic, whom they hung on a meat hook in a butcher's shop and hit him.
Gadzo was found guilty of having assisted in the unlawful detention of civilians on several occasions, transporting civilians from their apartments to detention facilities.
He was also sentenced for having taken people to locations where they had to perform forced labour and hit some of the detainees. That included hitting Kosta Kosovic in his stomach when the man asked for medical assistance.
Trial chamber chairman Halil Lagumdzija said the concept of a joint criminal enterprise had not been accepted. He explained it was not enough to just mention the concept, but it was necessary to specify and prove the defendants' contribution, as well as their agreeing and coordinating with other people to that end.
The chamber considered that it had not been proved, beyond reasonable doubt, that Dzananovic was the de facto manager of the detention facilities or that Gadzo issued certain orders to others.
Commenting on the acquittal part of the verdict, Lagumdzija said there were a number of illogical and contradictory statements by witnesses which did not match the factual description of events in the indictment.
The chamber imposed a travel ban on Dzananovic and extended the same measure against Gadzo.
The parties may appeal this verdict.