The UN court will deliver Bosnian Serb military leader Ratko Mladic's final verdict next week, but dozens of his associates who have been accused or convicted of Bosnian war crimes now live in Serbia with little fear of prosecution.
This post is also available in: Bosnian (Bosnian)
Accusations that Pelemis played a role in the 1995 Srebrenica genocide were played down. But courts have already established that the 10th Sabotage Detachment massacred at least 1,000 Bosniaks from Srebrenica at Branjevo Farm in July 1995.
The Bosnian court has sentenced five of the 10th Sabotage Detachment's members to a total of 122 years in prison for their involvement, but Pelemis was not one of them.
He lived in Serbia after the war ended, and was tried for allegedly plotting to assassinate Yugoslav President Slobodan Milosevic, but he was never indicted for the Srebrenica genocide or any other crimes committed during the Bosnian war.
The Srebrenica genocide, in which some 8,000 Bosniak men and boys were killed, is one of the crimes for which Bosnian Serb Army commander Ratko Mladic is awaiting his final verdict at the UN court in The Hague on June 8.
Over 40 people have been convicted of Srebrenica crimes by the Hague Tribunal and domestic courts in Bosnia and Herzegovina and Serbia.
Around 40 more former Bosnian Serb Army soldiers who have either been indicted for or convicted of war crimes are living freely in Serbia and are unavailable to the Bosnian judicial authorities.
Serbia and Bosnia and Herzegovina do have an agreement on legal cooperation, but Serbia does not extradite its citizens to other countries. War crimes are a particularly problematic issue in this relationship.
Some of those who are wanted have been living quietly in Serbia, but others appear on Serbian TV to deny their alleged crimes.
"Serbia has never accepted its responsibility for participating in the war in Bosnia and Herzegovina, nor is it ready to cooperate," Murat Tahirovic, president of the Association of Victims and Witnesses of Genocide, a Bosnian campaign group, told BIRN.
"A large number of those who have been indicted by the Prosecutor's Office and the Court of Bosnia and Herzegovina are also in Serbia, and there is absolutely no interest in arresting and prosecuting those people," Tahirovic claimed.
'Charges based on false documents'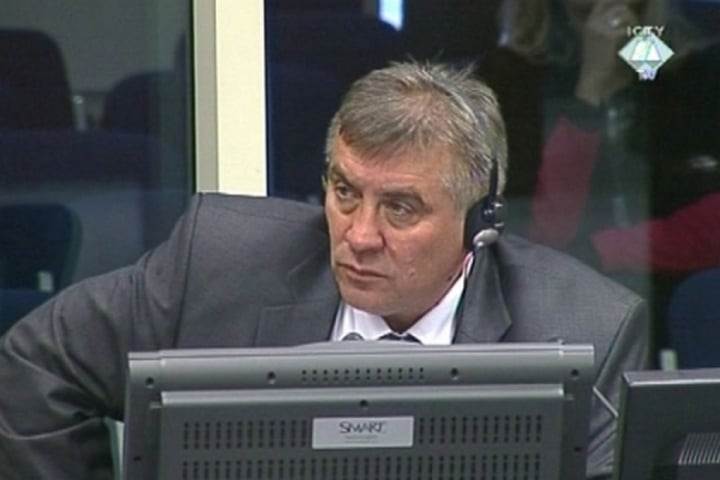 Tomislav Kovac in court at the Hague Tribunal during the trial of Radovan Karadzic in 2013. Photo: ICTY.
Among the senior Bosnian Serb Army and police officers indicted for genocide in Bosnia and Herzegovina are the former intelligence officer at the Main Headquarters of the Bosnian Serb Army, Radoslav Jankovic, the head of the intelligence section and main staff member of the Bosnian Serb Army's Drina Corps, Svetozar Kosoric, and the wartime head of the Bosnian Serb police, Tomislav Kovac.
All three genocide indictees are living freely in Serbia.
In January 2018, the Bosnian state court confirmed an indictment charging former Bosnian Serb interior minister Kovac with participating in a joint criminal enterprise which aimed to exterminate Bosniaks from Srebrenica and was responsible for the execution of around 8,000 men and boys.
According to the charges, police under his control carried out an operation to capture, detain and summarily execute able-bodied Bosniak males from the Srebrenica enclave after it fell to Bosnian Serb force in July 1995.
Kovac now lives and runs a business in Serbia, and sometimes appears on a popular show on a national television channel, Happy TV, to talk about the war and the Bosnian Serbs' role in it.
He told BIRN that the charges against him were based on "false documents". He also claimed that he was only indicted for genocide because the Bosnian authorities "needed me so they have a commander of police or a minister… as part of a joint criminal enterprise for genocide".
Kovac testified at the trial of five former Bosnian Serb fighters in Sarajevo in 2016 via video link from Belgrade, and denied that the Bosnian Serb police participated in the Srebrenica crimes.
He also appeared in court in Belgrade as a defence witness in the trial of eight Serb ex-policemen accused of killing 1,313 Bosniaks from Srebrenica in a hangar at a farm in Kravica in July 1995.
Kovac has testified in another case in Belgrade, against members of the Scorpions paramilitary unit, who were convicted of killing six Bosniaks from Srebrenica, and has appeared as a defence witness in couple of cases at the Hague Tribunal.
BIRN could not reach Kosoric or Jankovic for comment.
Serbia refuses to accept Srebrenica genocide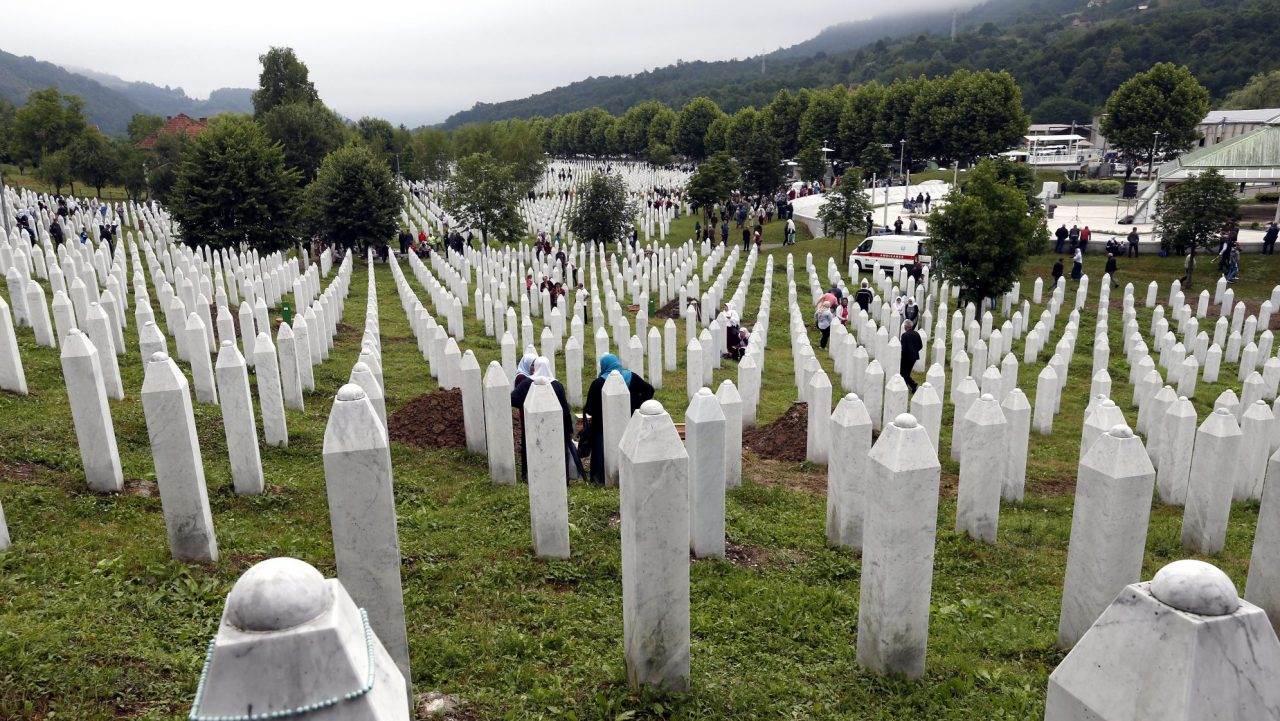 The Srebrenica Memorial Centre, where victims' bodies are buried, in July 2019. Photo: EPA-EFE/FEHIM DEMIR.
In 2010, the Humanitarian Law Centre filed a criminal complaint to the Serbian war crimes prosecution against Pelemis and 11 other people over their alleged involvement in the Srebrenica genocide. The HLC claimed that six people named in the criminal complaint, including Pelemis, were living in Serbia.
The prosecution told BIRN that the criminal complaint was rejected in 2011.
Only one of the six named by the HLC, Brano Gojkovic has been convicted by a Serbian court of crimes related to Srebrenica. In 2016, he agreed a plea bargain, admitted guilt and was sentenced to ten years in prison. Because of the plea bargain, there was no trial in his case.
However, Gojkovic was convicted of war crimes, not genocide, because Serbia does not accept that the Srebrenica massacres amounted to genocide despite the rulings of international courts.
The HLC also filed a criminal complaint in 2018 against Svetozar Andric, who was the commander of the Bosnian Serb Army's Birac Brigade and later the chief of staff of the Bosnian Serb Army's Drina Corps. The prosecution has since said it has opened a case against him.
Andric went into politics in Serbia and became a local official in Belgrade. In August 2020, he became an MP after running for parliament on the candidate list of the Serbian Patriotic Alliance, SPAS party led by former water polo player Aleksandar Sapic. Last month, SPAS officially become part of the ruling Serbian Progressive Party.
The majority of ongoing war crimes trials in Serbia are of Bosnian Serbs whose cases have been taken from Bosnia and Herzegovina. But most of them are low-ranking soldiers or policeman, or concern crimes with a small number of victims.
Only recently has Serbia started to try a few cases against unit commanders or those involving larger numbers of victims.
The trial of Rajko Kusic, commander of Bosnian Serb Army's Rogatica Brigade, started in March, while the trial of Dragan Dopudja, a former member of the 15th Bihac Brigade of the Bosnian Serb Army accused of involvement in the murders of at least ten Bosniak civilians in the village of Hrgar near Bihac in 1992, started the same month.
The trial of Visnja Acimovic, who is accused of involvement in the shooting of 37 Bosniak men at Mracni Dol near the Susica detention camp in 1992 while she was a Bosnian Serb Army soldier, started in December.
Marko Milosavljevic from the Youth Initiative for Human Rights campaign group said that a key problem is that Serbia is only taking over cases from Bosnia and not initiating its own, and that senior officers are not being indicted.
"As long as there is no prosecution of high-ranking officers as well as indictments that come as a result of our prosecutor's office investigations, we will not see progress in domestic war crimes trials," Milosavljevic said.
'Serbia has not experienced any catharsis'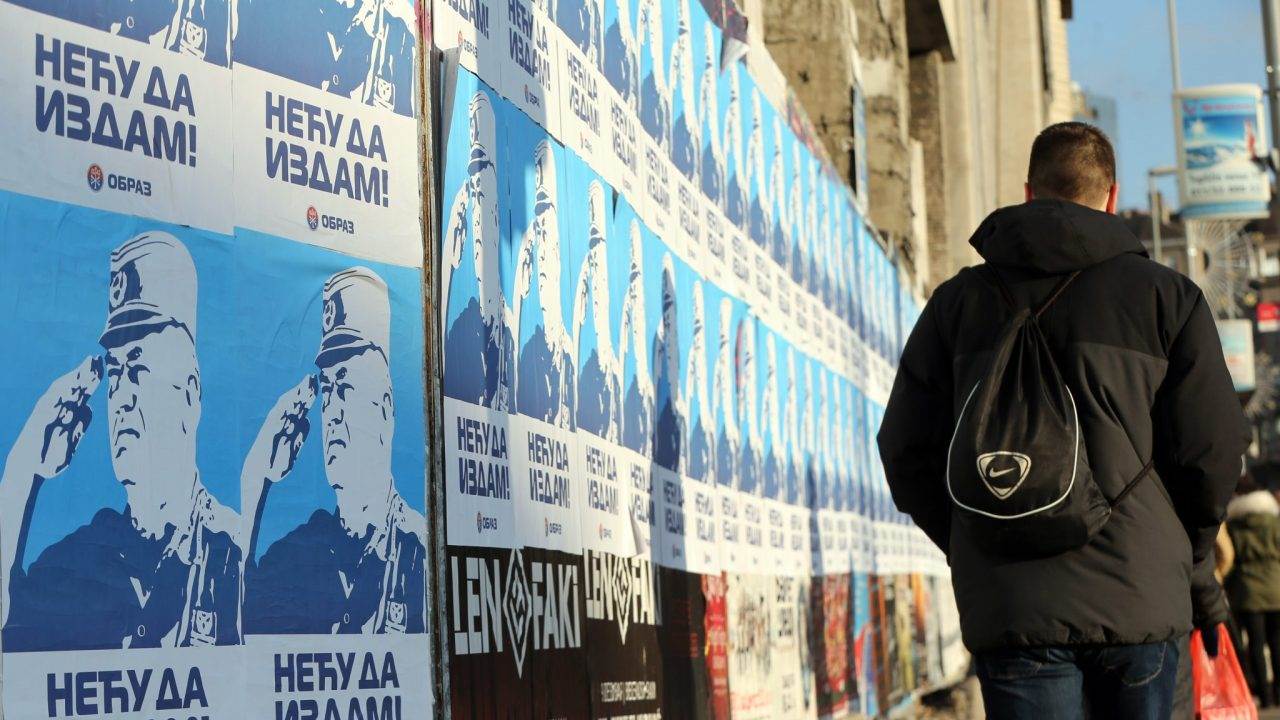 Posters in support of Ratko Mladic in Belgrade in December 2017. Photo: EPA-EFE/KOCA SULEJMANOVIC.
Cooperation between Serbia and Bosnia and Herzegovina, Croatia and Montenegro in war crimes cases remains a problem, said a recent European Commission report on Serbia's progress towards EU accession.
"Mutual legal cooperation continues to be extremely limited in war crimes cases," said the report.
Some of the problematic issues involved prosecuting high-ranking subordinates of Ratko Mladic in Serbia have been illuminated by the case against Bosnian Serb Army general Novak Djukic, the wartime commander of the Ozren Tactical Group.
Djukic was sentenced to 20 years in prison in 2014 by the Bosnian state court, which found him guilty of ordering the shelling of the Tuzla Gate area of the Bosnian town of Tuzla on May 25, 1995. A total of 71 people, most of them young, were killed.
Djukic left for Serbia to avoid serving his sentence. Serbia agreed to take over the enforcement of the Bosnian verdict under a legal cooperation agreement between the two countries.
But the process involves new court hearings at Belgrade Higher Court, and these have been repeatedly delayed for several years because of Djukic's illness, meaning that he has remained free.
In November 2020, Belgrade Higher Court told BIRN that Djukic is not well enough to participate in the proceedings until September 2021.
Meanwhile Djukic's defence team has also sought to spread its theory that unknown terrorists staged Tuzla blast, and the Serbian Defence Ministry even hosted a promotional event in Belgrade in 2019 for a book that claimed to prove that Bosnian Serb forces were not responsible for the massacre.
Milosavljevic said that in Serbia, war indictees are being depicted as "victims of the times or of history, in order to expunge them of any responsibility" for crimes.
As Mladic awaits his final verdict in The Hague, the view among representatives of Bosnian war victims is that Serbia simply doesn't want to prosecute his subordinates.
"Unfortunately, 20 or so years after the war, Serbia has not experienced any catharsis and is not ready to cooperate when it comes to war crimes," said Murat Tahirovic.