Serbia Mass Grave Exhumation Yields 'At Least Nine' Bodies
The remains of at least nine suspected Kosovo war victims have been found in a mass grave in an old open-cast mine in Kizevak in south-western Serbia, officials said as the exhumation was completed.
This post is also available in: Bosnian (Bosnian)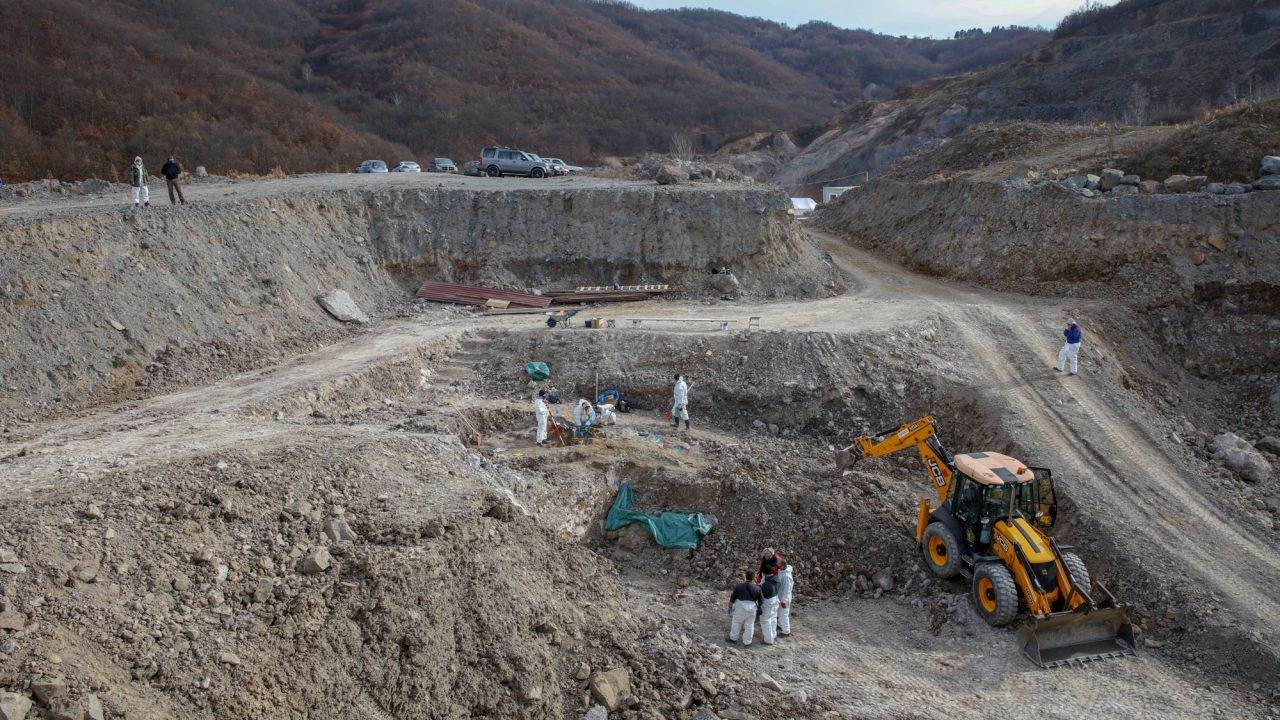 The Kizevak mass grave. Photo: BIRN/Marko Risovic.
Missing persons officials from Serbia and Kosovo on Wednesday announced the completion of exhumation work at the former Kizevak open-cast mine, near the town of Raska, where victims' bodies from the Kosovo war have been found.
"What is certain on the basis of the forensics, on the basis of what the anthropologists and archaeologists have done, is that it is to be expected that there will be at least nine identifications here, but we will confirm the final number when we receive the reports at the end," the head of Serbia's Commission for Missing Persons, Veljko Odalovic, told media in Kizevak, N1 television reported.
The Kosovo government said on Wednesday that two of the victims have been already been identified through DNA analysis.
Ibrahim Makolli, the representative for missing persons on Kosovo's negotiating team at the EU-mediated talks with Serbia, said that the two victims who were identified were killed in a massacre in the Kosovo village of Rrezalle/Rezala in 1999.
Makolli expressed hope that more war victims' bodies can be found buried in Serbia.
"There are a number of suspected locations in Serbia that we believe will be addressed in the coming months and weeks. According to Serbian officials, there are suspicions of 16 mass graves," Makolli said.
Odalovic confirmed that more locations in Serbia will be checked.
The Kizevak mass grave was discovered in November after aerial images indicated where the bodies might be buried.
An exhumation was launched shortly afterwards but was temporarily halted at the beginning of December due to bad weather, before resuming in May.
The Kizevak mass grave is the fifth such site to be discovered in Serbia since the end of the Kosovo war 22 years ago. It is not far away from the Rudnica mine, where a mass grave was found in 2013 containing the remains of 52 Kosovo Albanians.
In 2014, the International Criminal Tribunal for the Former Yugoslavia in The Hague sentenced former senior Serbian police official Vlastimir Djordjevic to 18 years in prison in part for his role in concealing the bodies of ethnic Albanians who were killed in Kosovo.
Over 900 bodies have been found in mass graves in Serbia, but no Serbian court has ever convicted anyone of involvement in the cover-up.