Serbs Excluded from Kosovo Memorial to NATO Attack Victims
The Humanitarian Law Centre Kosovo urged the municipality of Podujevo to correct a recently-unveiled memorial to bus passengers killed in a NATO air strike in 1999 because it excludes the names of Serb victims.
This post is also available in: Bosnian (Bosnian)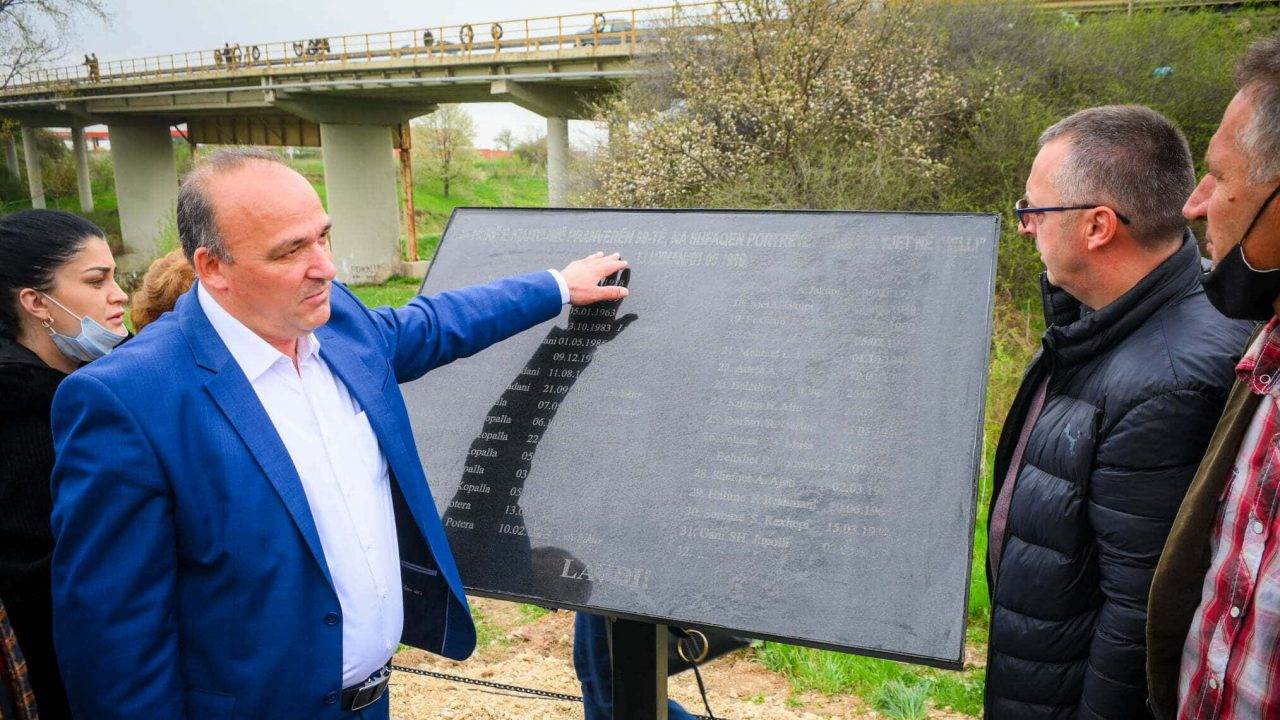 The mayor of Podujevo, Shpejtim Bulliqi, unveils the memorial on Saturday. Photo: Shpejtim Bulliqi/Facebook
The Humanitarian Law Centre Kosovo on Wednesday called on the municipality of Podujevo to add the names of 13 Serb victims to the memorial plaque commemorating the 44 people who lost their lives when a NATO missile hit a bus on a bridge in Lluzhan/Luzane on May 1, 1999.
The memorial was unveiled by the mayor of Podujevo, Shpejtim Bulliqi, on Saturday, the 22nd anniversary of the attack, but it only commemorates the 31 Kosovo Albanian casualties, the HLC said in a statement.
"The denial of victims on ethnic grounds is an insult to victims and their families and only deepens the divisions between communities in Kosovo," the statement said.
The HLC also expressed concern about local and state institutions contributing to "the reinforcement of one-sided narratives, that put forward selective versions of history".
Mayor Bulliqi defended the memorial, claiming that it did indicate that there had been other victims of the air strike because after the 31 Kosovo Albanians' names, a number 32 is listed in the plaque followed by an ellipsis.
"At the end of the plaque there are three dots, which means there are others," he told BIRN.
Bulliqi claimed that the municipality was relying on information from a municipal commission, which did not have confirmed information about other victims of the attack.
He did not confirm whether or not the memorial would be updated if names were provided.
Responding to Bulliqi's comments, Bekim Blakaj, the executive director of the HLC, told BIRN that the inclusion of three dots on the plaque was "not dignifying to the victims".
"Putting three dots means that the municipality knew there were other victims and more research should have been conducted," Blakaj said.
"It is unacceptable. Among the victims were Serb children, as there were Albanian children… You can imagine how the family of the victims feel," he added.
The bus that was hit was a regular express service linking Kosovo's capital Pristina with Nis in Serbia, and several of the passengers were children.
NATO expressed regret for the deaths but insisted that the bridge was a legitimate military target.
NATO bombs mistakenly killed civilians on several occasions during Western military alliance's 78-day air campaign to make Slobodan Milosevic to end his forces' violent repression of Kosovo Albanians.