A newly-painted mural of Bosnian Serb military chief Ratko Mladic and a gun attack on the local mosque have scared Bosniaks who returned to the town of Foca after fleeing because of wartime atrocities in the 1990s.
This post is also available in: Bosnian
The mural tribute to Mladic, who is currently appealing against his conviction for genocide and other wartime crimes, is about 20 metres long and features the slogan "Praise be to your mother".
Its appearance is one of a series of recent troubling incidents in Foca, which is located in the country's Serb-dominated Republika Srpska entity and was the site of widespread ethnic cleansing by the Bosnian Serb Army, which was commanded by Mladic, during the 1992-95 war.
An unknown person also opened fire at the minaret of the Aladza Mosque, a cultural, historical and religious monument for which Foca was famous before the war. The mosque was blown up by Bosnian Serb forces during the war in 1992 and only reopened again after renovation in 2019.
Bullets from an automatic rifle were also found outside the front door of Serif Halilovic, a Bosniak who fled Foca during the war but returned to his hometown with his family seven years ago.
Halilovic expressed dismay that no one has been arrested yet by the local police.
"We are sort of used to hearing bursts of gunfire fired by drunk people when bullets are flying around our heads. However, the shooting at the Aladza Mosque, at the minaret, sounded all the alarms. It also saddens us. The reaction by the police and local institutions scares us even more," he said.
"Then we get a mural of a convicted war criminal. All of us are victims of that war and that criminal. We all have family members who were killed," he added.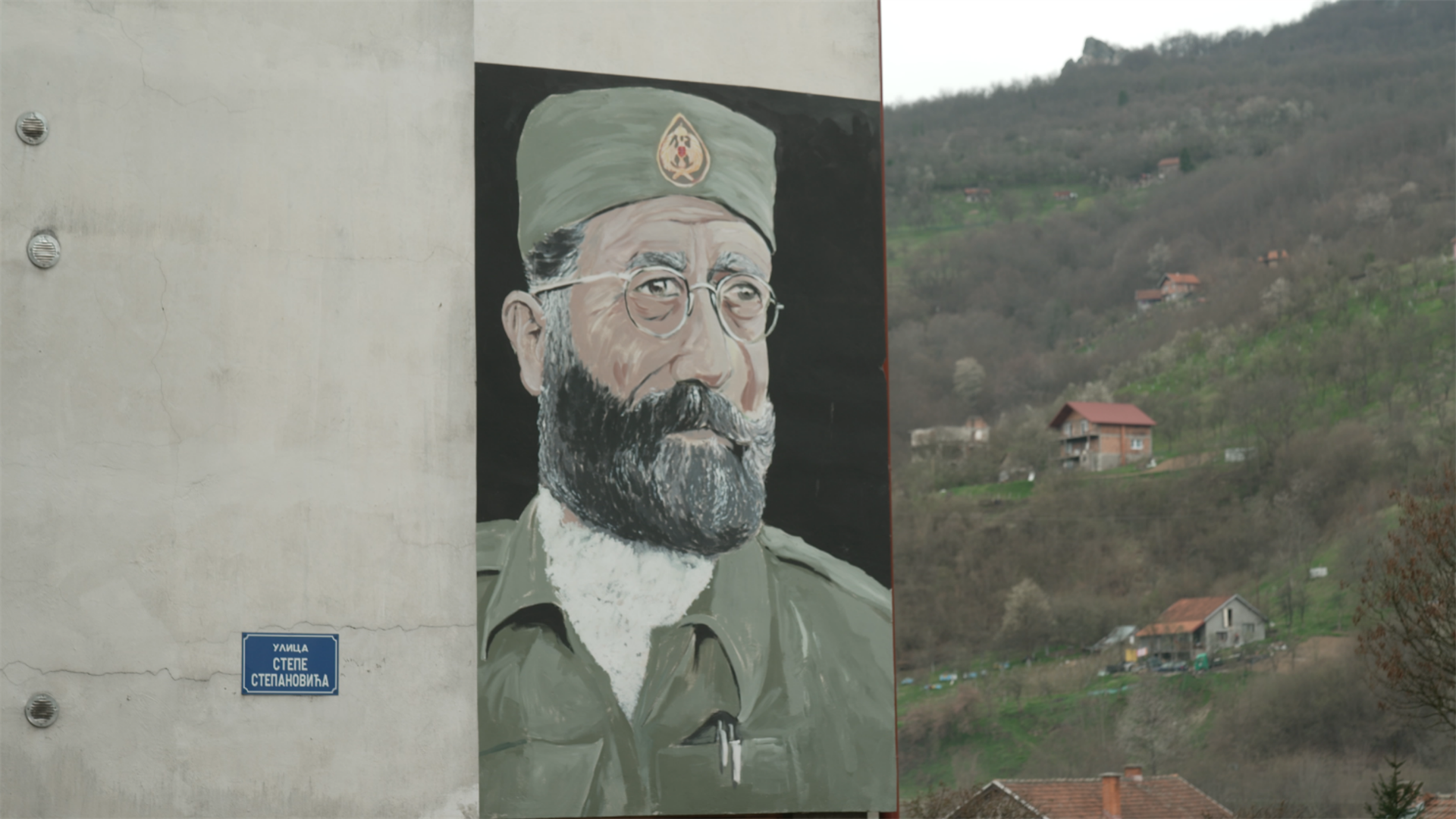 Mural of World War II Chetnik leader Dragoljub 'Draza' Mihailovic in Foca. Photo: BIRN.
'My mother was killed and set on fire'
A controversial mural of World War II-era Serbian nationalist Chetnik leader Dragoljub 'Draza' Mihailovic was also painted in Foca's town centre last year. Mihailovic was executed for high treason and Nazi collaboration by the Yugoslav authorities in 1946 but rehabilitated by a Serbian court in 2015.
"The mural of convicted war criminal Mladic and the mural of Chetnik commander Draza Mihailovic are only 20 metres away from the notorious Partizan hall in Foca, where our mothers, sisters and other loved ones were raped during the last war," said Dzemal Imamovic, president of the Association of Returnees and Displaced Persons of Foca Municipality.
"Imagine what it feels like to come here for a woman who has experienced such unpleasant things from their neighbours," he added.
Bosnian Serb forces used the Partizan sports hall was used as a detention facility for women, children and elderly people who were arrested in Foca and surrounding villages in 1992.
The detainees were kept in unsanitary conditions and subjected to starvation, physical and mental torture, and sexual abuse, said the Bosnian state court's verdict convicting soldier Jasko Gazdic. Gazdic was sentenced to 17 years in prison for raping several female detainees from the Partizan sports hall, including a 12-year-old girl.
Dragoljub Kunarac, the commander of a Bosnian Serb Army special unit, was also convicted by the UN tribunal in The Hague of multiple rape and the enslavement of two women in Foca. It was the first-ever case in which an international war crimes court treated sexual violence as a crime against humanity.
Imamovic explained that around 300 Bosniaks have returned to the area since the war, but they are now feeling unsafe again because of the attack on the mosque and the other incidents, which bring back bad memories of past suffering.
Halilovic said that the tragedies that his family endured go back to World War II and Mihailovic's Chetniks.
"Under the auspices of Draza Mihailovic, 136 members of my family were killed in 1943. Under the auspices of war criminal Mladic, I lost most of my neighbours and relatives and I personally went through agony. My mother was killed in our family house and set on fire. This evokes all of that," he said.
Husein Kavazovic, the grand mufti of the Islamic Community, the official Muslim body in Bosnia and Herzegovina, issued a similar warning during a visit to Foca last week.
"What has been happening in Bosnia in the past days, but also in the past few months, warns all of us, to say the least, that in some parts of our homeland Bosnia and Herzegovina, the ghosts of the past are waking up, being revived and gaining strength," Kavazovic said.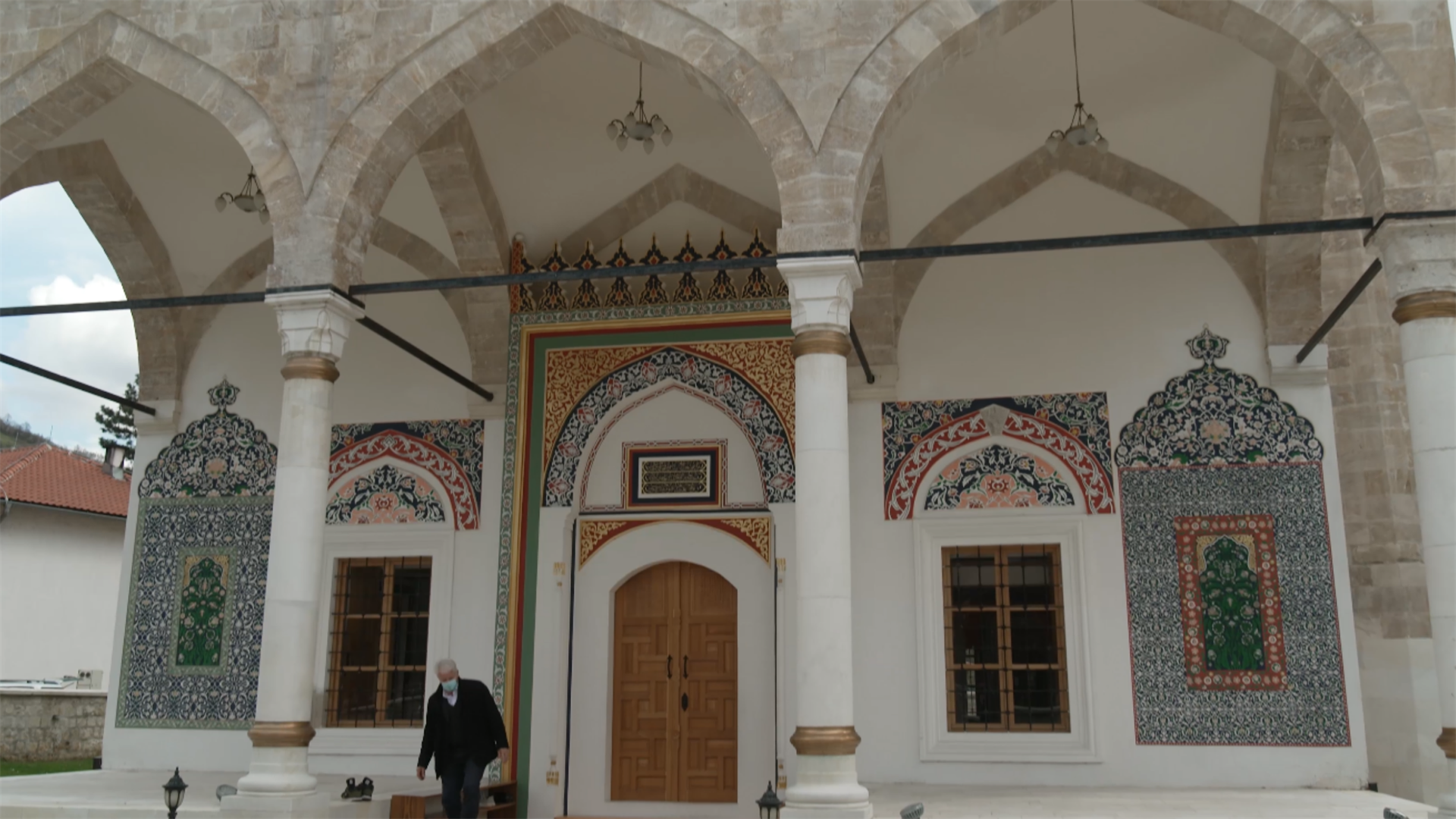 The rebuilt Aladza mosque in Foca. Photo: BIRN.
'Isn't a man who buys weapons dangerous?'
All the incidents over the past few months have been reported to the Foca police, but the perpetrators have not been identified. "That worries us," Imamovic said.
Both Imamovic and Halilovic pointed out that they have polite relations with their neighbours.
"We live here next to each other. There is not much mixing, but this is a political issue," Imamovic explained.
"Some of my Serb neighbours condemn the same things that we do. We talk… about the future. We all raise our children, we are attached to them and we want what is best for them," Halilovic said.
The mayor of Foca was approached for a comment on the situation but did not reply by the time of publication.
Izet Spahic, the only Bosniak on the local council, noted that at the council's second-to-last session, it unanimously adopted the so-called Platform for Peace, a declaration developed by USAID to promote acceptance of peace-building and reconciliation processes among Bosnia and Herzegovina's various ethnic and religious communities. But this has not eased the problems faced by Bosniak post-war returnees in Foca, or prevented dangerous incidents.
"We currently have that declaration on paper, but in practice the situation is completely different. Isn't a man who buys automatic weapons dangerous? Doesn't shooting at the Aladza Mosque represent a security breach?" demanded Spahic, who returned to Foca 11 years ago.
"People write to me about the problems they have faced out there, telling me they reported them to the police, but they are not being solved. That is what puts us in danger," he argued.
Kavazovic said that keeping silent about the problems in Foca will only encourage those in the area who want to "bring back its bloody and troubled history", and appealed to officials to take a stand for peace.
"People with positions of responsibility in this country must understand their role," he urged.
"Their role is most important – to protect each individual and every citizen, to protect peace above all, and of course to show by example that it is possible to live in peace with each other in our homeland, Bosnia and Herzegovina."