Bosnian Serb Ex-Policeman Loses Crimes Against Humanity Appeal
Bosnia's Constitutional Court rejected an appeal from former policeman Darko Mrdja, who was sentenced to 20 years in prison for his involvement in murders and other crimes against Bosniaks in the Prijedor area in 1992.
This post is also available in: Bosnian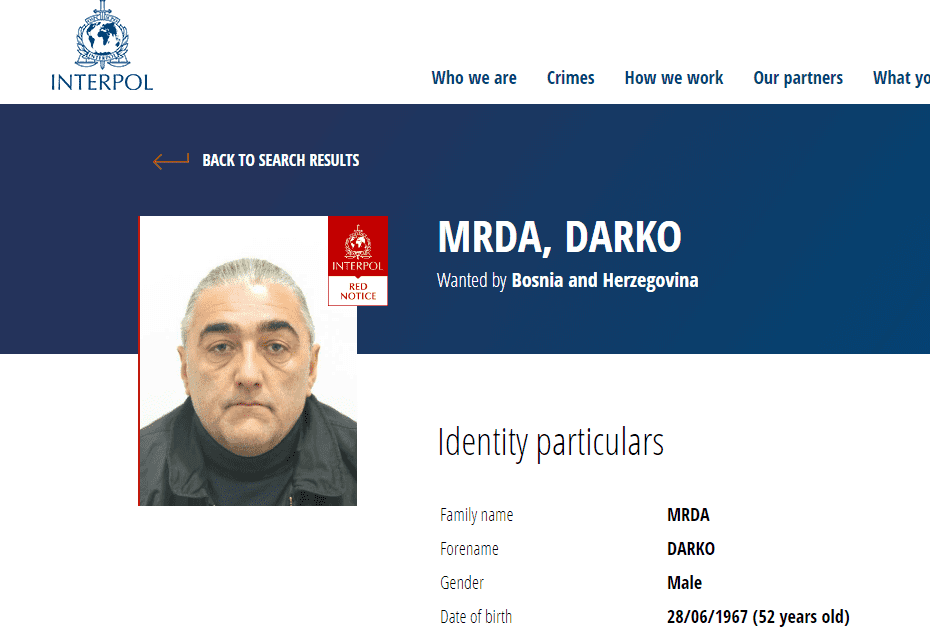 Darko Mrdja. Photo: Interpol
The Constitutional Court of Bosnia and Herzegovina has turned down an appeal from Darko Mrdja, a former member of a police intervention squad at the Public Security Station in the city of Prijedor, against the verdict convicting him of crimes against humanity.
The ruling said that there was no evidence to conclude that the Bosnian state court was unfair when giving Mrdja a combined sentence of 20 years in prison.
"The Constitutional Court finds that there was no violation of the right to a fair trial," said the decision, which was made on March 16.
Mrdja was initially sentenced to 17 years in prison by the International Criminal Tribunal for the Former Yugoslavia, ICTY in The Hague in 2004 after pleading guilty to involvement in the murders of Bosniaks from Prijedor at the Koricani Cliffs on Mount Vlasic in 1992.
He was then sentenced to 15 years in prison by the Bosnian state court for the killings and inhumane treatment of Bosniak civilians in the Prijedor area.
The appeals chamber of the state court ruled in August 2019 that the two sentences imposed on the former Bosnian Serb policeman should be amalgamated, and that he should serve 20 years in jail.
Mrdja, who had been on the run, was arrested in Prijedor in April 2020.
He then appealed against the combined sentence, arguing it was unfairly long because he had already been legitimately released after serving two-thirds of the sentence imposed by the Hague Tribunal.
He claimed that the state court had not properly counted the time he spent in prison under the Hague conviction towards the 20-year combined sentence.
But the Constitutional Court rejected this argument and said that "nothing led to a conclusion that, when calculating the sentence laid down by the ICTY towards the combined sentence, the Bosnian state court violated the law in a way that it brought the fairness of the proceedings against the appellant into question".
Constitutional Court decisions are final and cannot be appealed.