There are more than 1,600 memorials around Kosovo related to the 1998-99 war, but the authorities don't have a proper register of what has been built, or any legal guidelines to regulate the chaotic construction of monuments.
This post is also available in: Bosnian (Bosnian)
A joint statement issued by Kosovo's president and prime minister condemned any "involvement of citizens of Kosovo in the Macedonia incidents". The surviving gunmen were convicted of terrorism.
Beg Rizaj was a member of the Kosovo Liberation Army during the 1998-99 war in Kosovo and then fought in another armed conflict between ethnic Albanian rebels and the security forces in North Macedonia in 2001. His statue in Decan/Decani was not commissioned by the Kosovo authorities, but was an independent initiative of his former KLA guerrilla comrades.
Bashkim Ramosaj, the mayor of the Decan/Decani municipality, confirmed that the statue was erected in 2018 by a group of Rizaj's friends, mostly war veterans, and that the local assembly had no problem with his memorial being installed in the square.
"Beg Rizaj was a surviving war hero and given this, we did not discuss the way in which he was killed [in Kumanovo]," said Ramosaj.
"After all, there is no law in force that obliges us to follow any other procedure. We assessed that [his statue] deserved to be in the centre of the city," he added.
'Devaluation of the symbols of the war'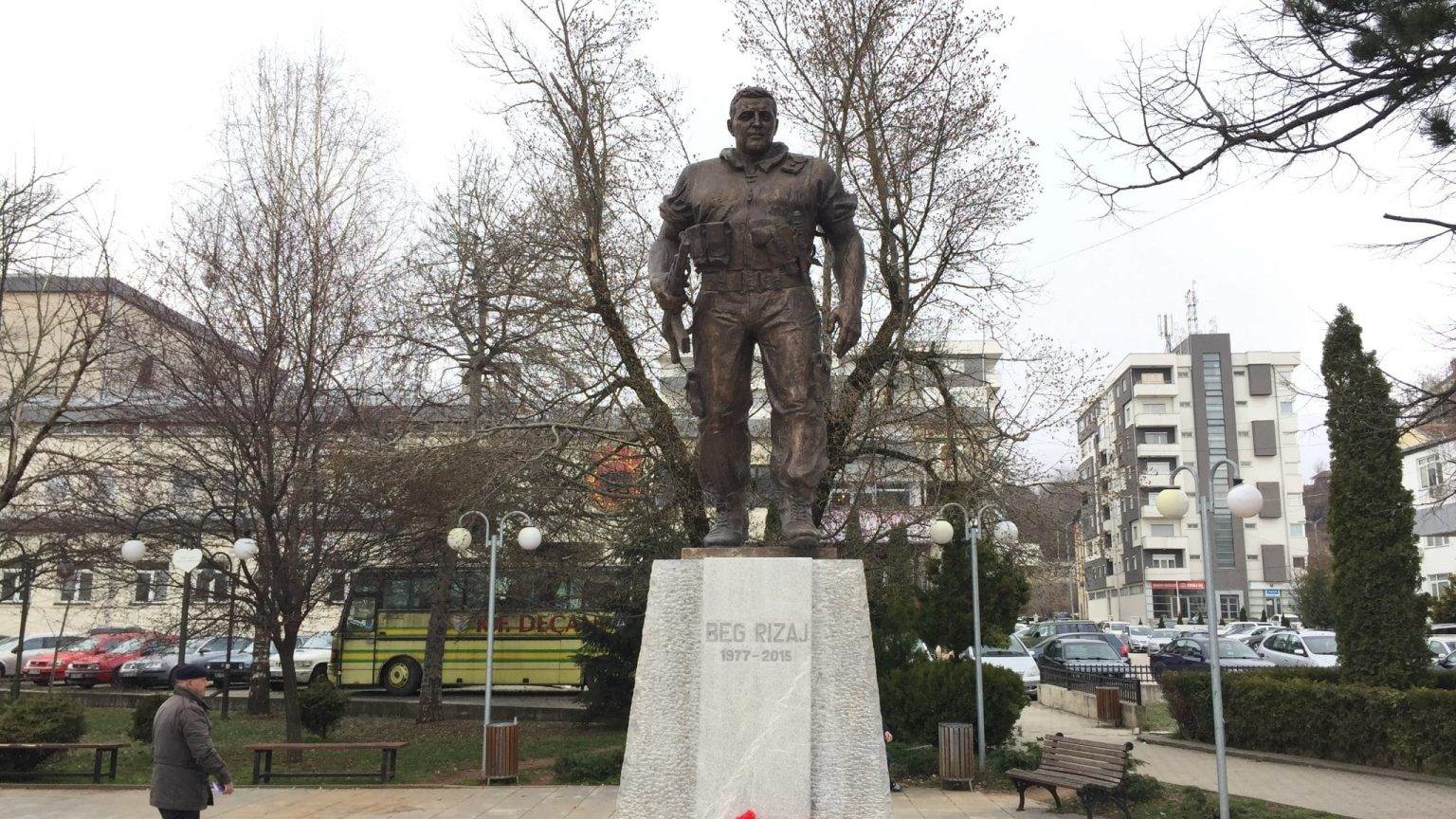 Statue of former KLA fighter Beg Rizaj in Decan/Decani. Photo: Serbeze Haxhiaj/BIRN.
The monument to Rizaj is an example of the widespread phenomenon in Kosovo of people erecting memorials and statues, mostly dedicated to wartime figures, without having to go through any legal procedure to gain permission or any public debate about whether the monument is valid or not.
"Sometimes this doesn't have anything to do with our history, but is something initiated by a family or a group of friends," Bislim Zogaj, head of Kosovo's Agency for Managing Memorials, told BIRN.
More than two decades after the war, the Kosovo authorities don't have yet a comprehensive official register of war-related monuments.
"We are working on a list in order to have general information. We have more than 1,600 war-related memorials," Zogaj said.
He argued that legislation is needed to ensure that memorials are historically correct, professionally created and properly sited.
"It is a devaluation of the symbols of the war if we allow anybody to put up statues and memorials anywhere, even in shopping centres," he said.
Xhavit Jashari, the head of the Association of KLA Martyrs' Families, argued that some of the people who have been honoured with memorials do not deserve them.
"We have asked for a state commission made up of various professionals who can assess [monuments] from both an ethical and professional point of view. But that [request] is being ignored," he added.
Last year, the Kosovo Assembly considered proposed legislation called the Kosovo Liberation Army War Values Law, which was intended to enshrine in law support for the KLA's wartime cause of liberation from Serbian rule.
But the proposed legislation didn't address the issue of memorials, and it ultimately failed to gain enough support from MPs in parliament after it was criticised for potentially threatening freedom of speech.
Monument-building in Kosovo has long been dominated by ideas of wartime heroism and the glorification of KLA guerrillas who were killed as freedom fighters – a view which is shared by politicians from across the country's political spectrum.
But Fatlum Rrahmani, a professor of history in Kosovo, said that monuments that present KLA fighters as heroic figures contradict the main argument used by the West when it decided to intervene militarily in Kosovo during the conflict in 1999.
"NATO's intervention was principally humanitarian, driven by atrocities against civilians by Serbian forces," Rrahmani told BIRN.
Yugoslav World War II monuments abandoned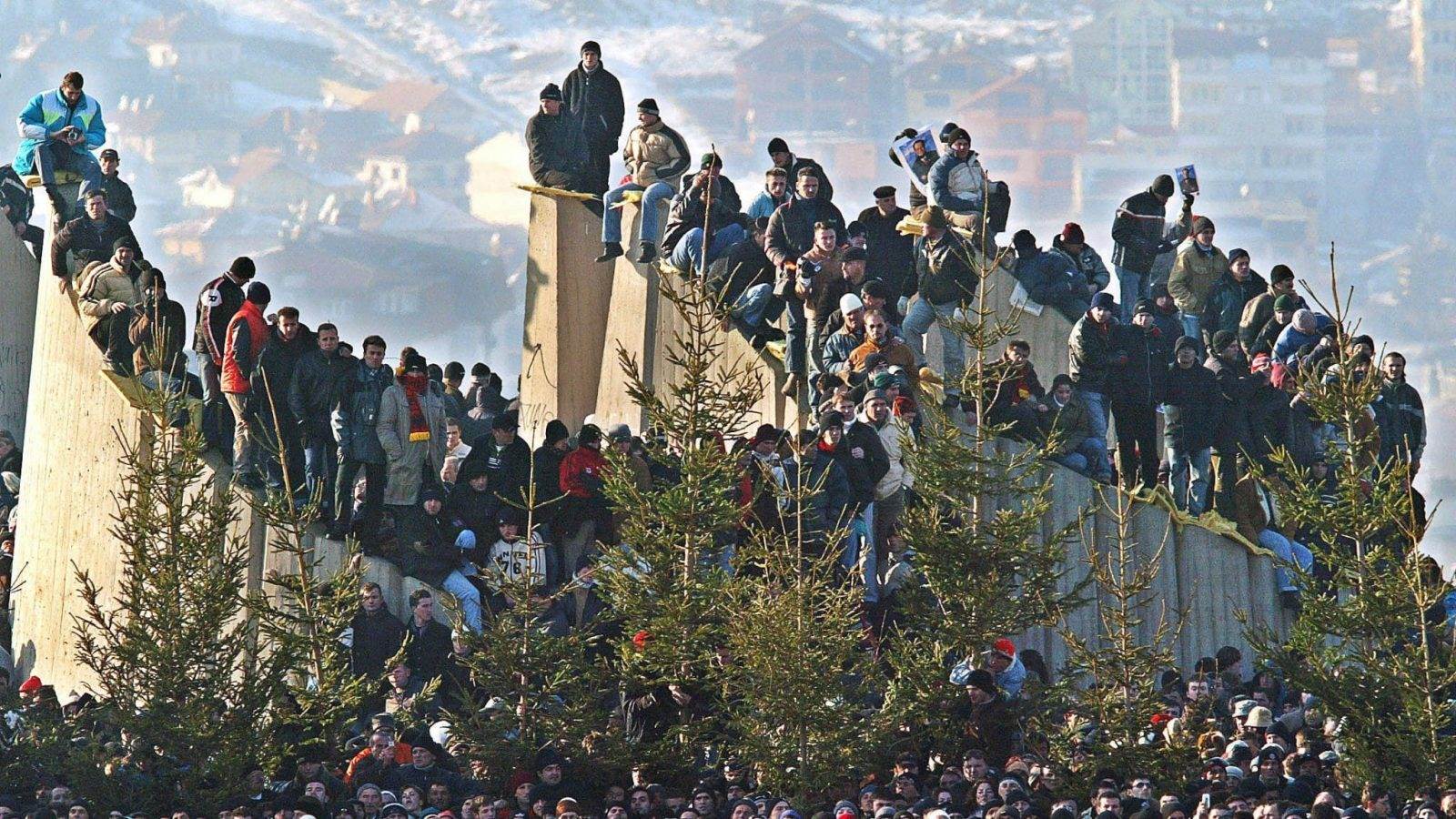 Thousands of Kosovo Albanians attend the funeral of President Ibrahim Rugova at the former Yugoslav 'Martyrs' Cemetery' complex in Pristina in January 2006. Photo: EPA/VALDRIN XHEMAJ.
After the war ended Serbia's rule over its former province, dozens of World War II memorials that were built during the Yugoslav Communist period in Kosovo were removed or vandalised, and hundreds of street names were changed.
One well-known example was the monument to Boro Vukmirovic, a Serb, and Ramiz Sadiku, a Kosovo Albanian, who were executed together while fighting for the Yugoslav Partisans during World War II.
They were promoted as symbols of Josip Broz Tito's state ideology of 'brotherhood and unity' and a memorial was built showing them embracing as they stood together before their execution in Landovica, near Prizren.
But after the 1990s war, the monument was removed and another one dedicated to the Kosovo Liberation Army fighters was erected in its place.
There are now only 11 monuments in Kosovo related to World War II and the Communist era in the former Yugoslavia. Only six of these are included on the Ministry of Culture's list of cultural heritage for temporary protection.
Built in 1961 in Kosovo's capital Pristina, the memorial complex dedicated to Yugoslav Partisan soldiers who were killed during World War II was the most recognisable monument of the Communist era.
Now the Yugoslav-era concrete memorial constructions have fallen into disrepair, and Kosovo Albanian figures like former President Ibrahim Rugova, former political prisoner Adem Demaci, and assassinated defence minister in exile Ahmet Krasniqi have been buried in other parts of the site, which is known as the Martyrs' Cemetery.
Several KLA war veterans are also buried there, along with six people killed in the Kumanovo gun battle in North Macedonia in 2015.
Zogaj said that the disorderly situation at the cemetery is unacceptable and needs to be dealt with.
"It's a shame to send any visitor there. We plan to exhume most of the war veterans buried there," he said.
Nora Arapi Krasniqi, an architect who specialises in cultural heritage, noted that as in other former Yugoslavia countries, many memorials built in Kosovo under Yugoslav rule in the second half of the 20th Century have been replaced with ones commemorating people who died in the 1990s war.
"What hasn't actually been working is an adequate control mechanism that would decide what to put in a certain public space and the narrative it is presenting," said Arapi Krasniqi.
In Kosovo, as in other former Yugoslavia countries, most war memorials only acknowledge the suffering of people from the dominant ethnic group.
Rrahmani argued that this is not necessarily a problem.
"In cases where the victims are civilians, the right to remember them should not be denied," he said.
In recent years, there have been attempts to move away from the dominant narrative of the victorious war and to commemorate those who suffered. The Heroinat (Heroines) monument in Pristina, for example, pays tribute to Kosovo Albanian women who were subjected to wartime sexual violence.
Jashari said that more memorials to the victims are needed: "We have asked for a memorial to children killed during the war, and to women as well," he said.