Bosniak Ex-Fighter Seeks Acquittal of Crimes Against Serbs
Wartime fighter Edin Gadzo's lawyer said he should be acquitted of unlawfully detaining and killing Serbs in Sarajevo in 1992 during the siege of the Bosnian capital.
This post is also available in: Bosnian (Bosnian)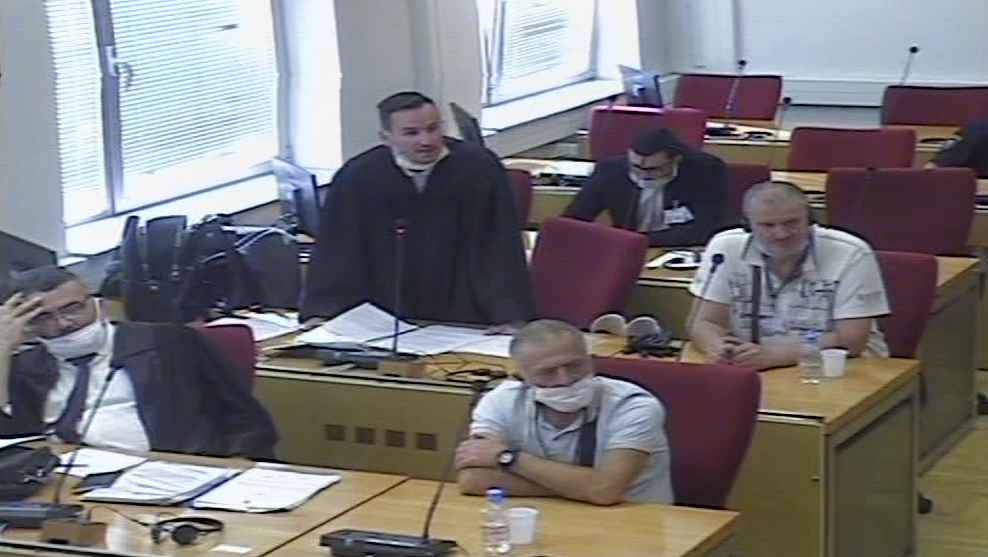 The defendants in court with their lawyers. Photo: Bosnian state court.
Edin Gadzo's defence lawyer urged the Bosnian state court on Friday to acquit his client, arguing that he could not have issued any orders to detain anyone because he was just a driver.
The prosecution alleges that Gadzo and his co-defendant Senad Dzananovic and unlawfully detained, tortured, mistreated and killed civilian detainees in the Alipasino Polje B Faza neighbourhood of Sarajevo in 1992 during the wartime siege of the city.
The two men are alleged to have been members of the 'Stela' unit of the local Territorial Defence force and of Bosnian Army special units during wartime.
But defence lawyer Senad Bilic said in his closing arguments that Gadzo could not have ordered anyone to detain civilians, and that he did not have the authority to decide on whether they should be detained or released, because he was a driver whose role was just to bring the prisoners to the detention facility.
He said that Gadzo did not torture one civilian, as the indictment claims, but only hit him.
"The witness said he hit him on one occasion. That cannot be classified as torture and beating," lawyer Bilic said.
He noted that Gadzo had been found to have a diminished mental capacity in 1992, and that he was found incapable of serving in the military in 1985.
Gadzo also addressed the court and said that his job was just to drive, and that he did not kill anyone.
The lawyer for his co-defendant Senad Dzananovic called for a verdict of acquittal at an earlier hearing in January.