Kosovo Acquits Ex-PM of Falsifying List of War Veterans
Former Prime Minister Agim Ceku and 11 other defendants were acquitted of falsifying a list of Kosovo Liberation Army war veterans so non-combatants could illegally claim welfare benefits.
This post is also available in: Bosnian (Bosnian)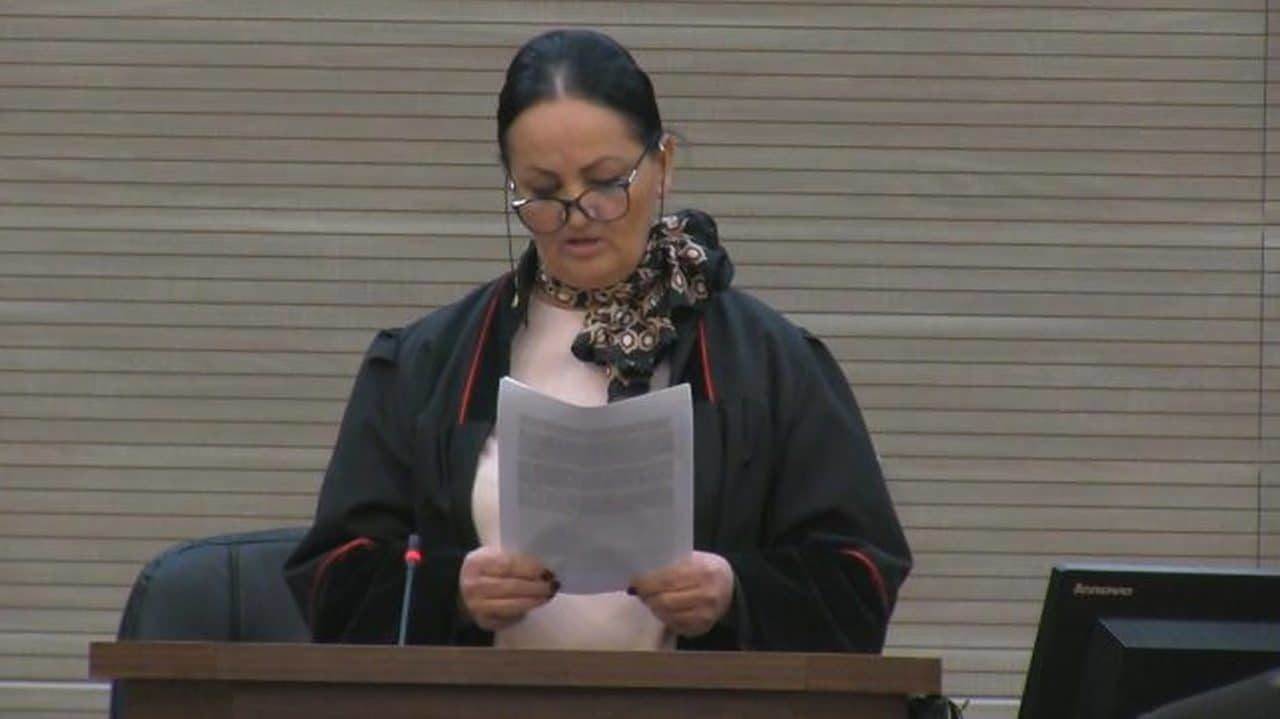 Pristina Basic Court judge Nushe Kuka-Mekaj reading the verdict in court on Tuesday. Photo: BIRN.
Pristina Basic Court on Tuesday cleared ex-premier Agim Ceku and 11 co-defendants, including another ex-minister and several ex-MPs, of abusing their official positions to add people to a government-approved list of Kosovo Liberation Army, KLA war veterans eligible for benefits.
Judge Nushe Kuka-Mekaj cited a lack of evidence as the reason for the acquittal, saying that the court was not provided with any proof that an audit took place to identify unlawful claims.
"The prosecution has not managed to convince the court in any form," Kuka-Mekaj said.
Agim Ceku, a former KLA commander, former prime minister and former Kosovo Security Force minister, was the head of the government's commission to verify KLA veterans.
The others who were cleared on Tuesday included former defence minister Rrushtem Berisha and former MPs Shkumbin Demaliaj, Nuredin Lushtaku and Shukri Buja.
Sadik Halithaja, Qele Gashi, Ahmet Daku, Faik Fazliu, Smajl Elezaj, Fadil Shurdhaj and Xhavit Jashari were also acquitted.
"It was a just and good decision," Ceku told media after his acquittal, adding that he "felt innocent" from the beginning.
Kosovo's Special Prosecution indicted the men in 2018 amid claims that thousands of people who never fought in the late 1990s war had been falsely registered as ex-guerrillas.
According to the indictment, the defendants used their official positions to illegally benefit others, costing the state budget over 88 million euros.
The government commission to verify veterans was launched in 2012, and in 2016 issued a list containing 46,000 names. In September 2017, the Kosovo Special Prosecution announced that its early investigations had revealed tens of millions of euros in benefits were being paid out illegally.
The indictment in the case was prepared by Special Prosecutor Elez Blakaj, who resigned in August 2018, stating that he had been under threat from "known and unknown people" who wanted him to drop the investigation.
A number of other suspects have been convicted of falsifying documents in separate trials across Kosovo.
In October 2019, the Basic Court in Peja/Pec ordered three individuals to return money they had fraudulently received after falsifying their veteran status.
Seven defendants are also currently awaiting trial after being indicted by the prosecution in the town of Mitrovica on charges of falsifying documents.
In January 2020, the Special Prosecution announced that over 8,000 applications had been sent for investigation to the Peja/Pec prosecution alone.