A ceremony will be held in the village of Buhine Kuce, near Vitez in Bosnia and Herzegovina, to commemorate 26 people, including eight children, who were murdered in 1994 but whose killers have never faced trial.
This post is also available in: Bosnian (Bosnian)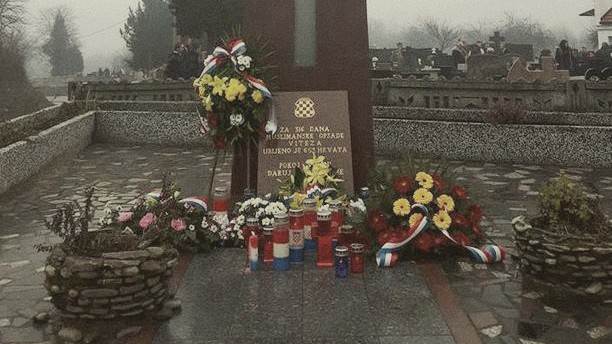 Memorial to the dead in the village of Buhine Kuce. Photo: BIRN.
The 27th anniversary of the killings of 26 Bosnian Croats in Buhine Kuce on January 9, 1994 will be marked on Saturday with a Catholic mass and the laying of flowers at the local cemetery.
Ljubica Garic, president of the Association of Families of the Killed and Disappeared Croat Defenders of the Croatian Defence Council of the Central Bosnia Canton, said that 26 people including eight children and four women were killed.
"Danijel Grbavac was the youngest victim…. He was less than two years old. His mother was also killed," Garic said.
"No one has ever been prosecuted," she added.
Zvonimir Vidovic from the veterans' legal assistance office at the Croatian National Assembly, an organisation bringing together Croat political parties in Bosnia and Herzegovina, said that a report was filed to the military prosecution in Vitez on November 10, 1994 accusing members of the Bosnian Army's so-called Guerrilla Unit of the killings in Buhine Kuce.
The Bosnian state prosecution told BIRN that its Special War Crimes Section is working on a case related to the killings in Buhine Kuce.
"The case is being processed. We are actively working on the case and undertaking activities [to resolve it]," said state prosecution spokesperson Boris Grubesic.