Karadzic Daughter: Remove Tribute to Bosnian Serb Wartime Leader
A plaque naming a student dormitory after wartime Bosnian Serb president Radovan Karadzic, which caused a political storm, was taken down after his daughter Sonja Karadzic-Jovicevic called for its removal.
This post is also available in: Bosnian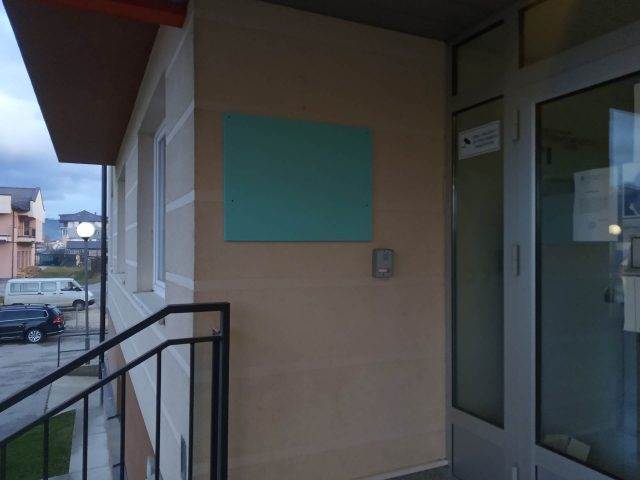 Place where the plaque was in Pale. Photo: N1
Sonja Karadzic-Jovicevic told media in Banja Luka on Thursday that she hopes that the removal of a plaque from the student dormitory in the town of Pale, which was named after her father Radovan Karadzic, "will put an end to the misuse of his name".
Karadzic-Jovicevic said it was "unbelievable that the attention the plaque is getting now is bigger than it was when it was first installed".
"I hope that the plaque's removal will put an end to future everyday political clashes that abuse the name of Radovan Karadzic and exert pressure on him personally and on members of his family," she added.
A few hours after Karadzic-Jovicevic spoke, the plaque was taken down, the student dormitory management confirmed to BIRN.
The plaque had been controversial since it was unveiled in 2016 at a ceremony attended by the leading Serb politician in the country, Milorad Dodik, who is currently chairman of the Bosnian state presidency.
Last month, the top international official in Bosnia and Herzegovina, High Representative Valentin Inzko, who is responsible for overseeing the implementation of the peace deal that ended the Bosnian war, told the UN Security Council that Dodik should remove the plaque or face sanctions.
Inzko said that if Dodik did not act to remove the plaque within six months, he should be banned from travelling to all EU countries.
Dodik responded angrily, calling Inzko a "monster" who supports the country's Bosniaks and is "taking revenge on Serbs and Croats".
Dodik also said that Bosnia's Serb-dominated entity Republika Srpska would not respect "any of his decisions".
Karadzic was sentenced to life in prison by the UN court in The Hague in March 2019 for the Srebrenica genocide, persecuting Bosniaks and Croats throughout Bosnia and Herzegovina, terrorising the population of Sarajevo and taking UN peacekeepers hostage.