Serbia Tries Female Ex-Soldier for Killing Bosniak Prisoners
Former Bosnian Serb soldier Visnja Acimovic told the court in Belgrade that she is not guilty of taking part in the shooting of 37 Bosniak men in Vlasenica during the war in June 1992.
This post is also available in: Bosnian (Bosnian)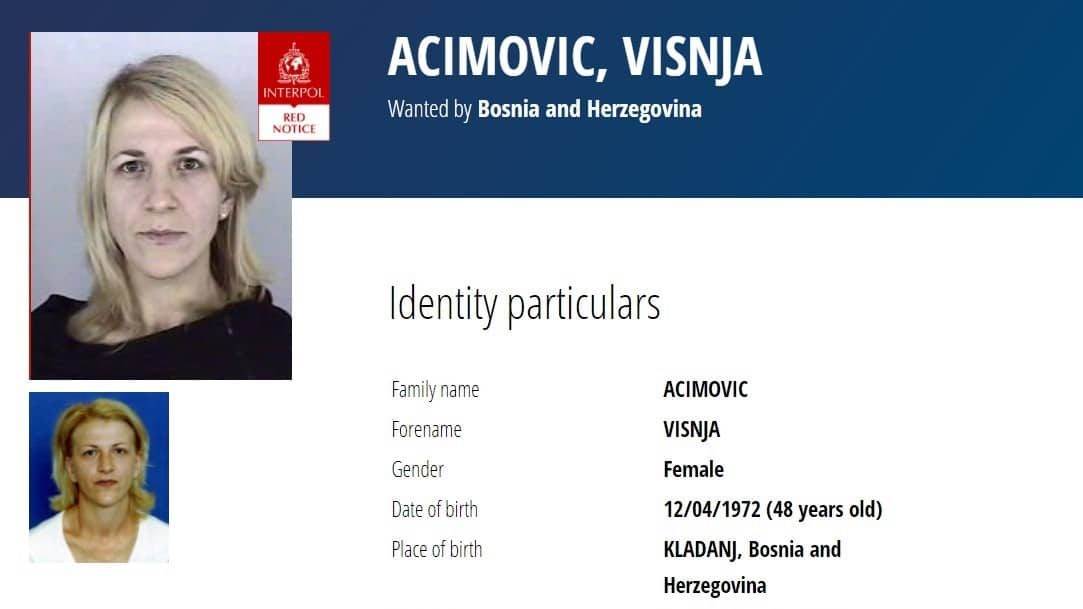 Interpol 'red notice' appeal for the arrest of Visnja Acimovic. Source: Interpol.
The trial of Visnja Acimovic, who is accused of involvement in the shooting of 37 Bosniak men at Mracni Dol near the Susica detention camp in the Bosnian municipality of Vlasenica in June 1992, opened at Belgrade Higher Court on Monday.
Acimovic told the court that she was not guilty. She said that from the end of May 1992 until the beginning of July that year, she and her family were staying in Backa Topola in Serbia.
"On May 22, 1992, my eldest brother died [in the war]. A day or two after the funeral, me and my parents went to my sister's, in Backa Topola, and we spent some 40 days there before going back to Vlasenica," she said.
According to the indictment, Acimovic participated in murdering the men together with several Bosnian Serb Army soldiers after the Bosniak captives had been brought by bus from a prison behind the court building in Vlasenica.
"The defendant is charged with having shot the victims with firearms while they were standing just a few metres away from the bus," the Bosnian prosecutor's office said when the charges were originally announced in Sarajevo in 2017.
The victims' bodies were only discovered at the Mracni Dol site in 2000.
The indictment says that Acimovic was a Bosnian Serb Army soldier, but she denied this in court on Monday.
She said that she had four brothers, all of whom were in the Bosnian Serb Army. One of her brothers is the head of the Vlasenica municipality, Miroslav Kraljevic.
The case against her was transferred from Bosnia and Herzegovina on the basis of a protocol on cooperation in war crimes prosecutions agreed between the two neighbour states.
The trial will continue in January.