Hague Prosecutors Reveal War Crimes Indictment of Kosovo's Thaci
Newly-resigned Kosovo President Hashim Thaci and three other former Kosovo Liberation Army leaders are charged with committing war crimes and crimes against humanity between March 1998 and September 1999 in Kosovo and Albania.
This post is also available in: Bosnian (Bosnian)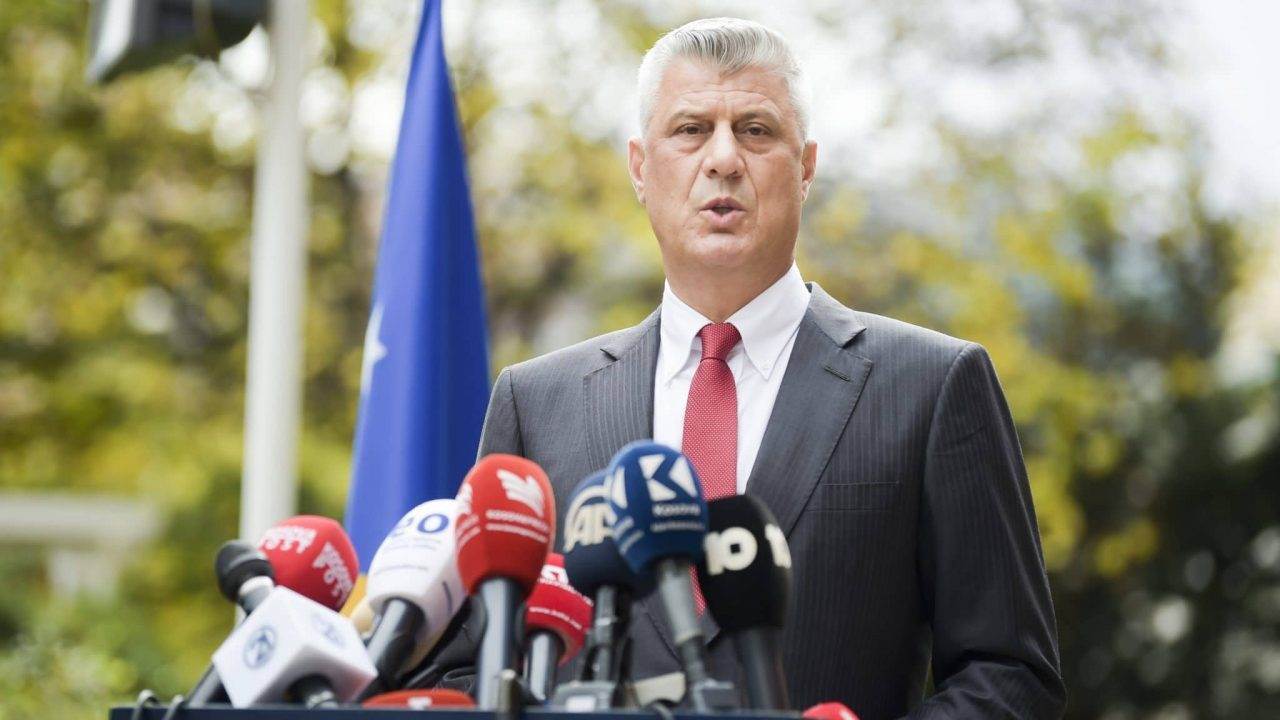 Hashim Thaci announces this resignation on Thursday. Photo: EPA-EFE
The Kosovo Specialist Prosecutor's Office in The Hague on Thursday evening published the indictment charging Kosovo President Hashim Thaci and three other former Kosovo Liberation Army leaders turned politicians with crimes against humanity and war crimes.
Thaci is accused alongside the former leader of the opposition Democratic Party of Kosovo, Kadri Veseli, the head of the parliamentary group of the Vetevendosje Movement opposition party, Rexhep Selimi, and the chairman of the national council of the Social Democratic Initiative (NISMA) party, Jakup Krasniqi.
The 68-page indictment contains ten counts and lists their alleged offences as "war crimes of illegal or arbitrary arrest and detention, cruel treatment, torture, and murder, and the crimes against humanity of imprisonment, other inhumane acts, torture, murder, enforced disappearance of persons, and persecution".
It says that the crimes were committed "from at least March 1998 through September 1999". All four men were senior figures in the KLA during the war and Thaci was the guerrilla organisation's political leader.
Thaci, Veseli, Selimi, and Krasniqi are accused of being responsible for crimes committed by themselves and other former members of the KLA in various parts of Kosovo but also in Northern Albania, "against hundreds of civilians and persons not taking part in hostilities".
Most of the crimes were committed in detention centres in 17 municipalities in Kosovo and two districts in Albani, Kukes and Has.
The four men are accused of being part of a joint criminal enterprise and sharing "the common purpose to gain and exercise control over all of Kosovo", using means including "unlawfully intimidating, mistreating, committing violence against, and removing those deemed to be opponents".
Opponents included alleged collaborators with Slobodan Milosevic's Yugoslav institutions and armed forces, people associated with the rival Democratic League of Kosovo, and "persons of Serb, Roma, and other ethnicities".
The indictment further claims that the four former KLA leaders turned politicians had "superior responsibility", as they were aware of the crimes mentioned in the indictment, and incited them as well as being involved in committing them.
Thaci stepped down as president on Thursday and was sent to The Hague to face charges. His resignation after his indictment was confirmed sparked messages of solidarity for the KLA's wartime struggle from ethnic Albanian political leaders on all sides of the political spectrum in Kosovo and Albania.
The KLA War Veterans' Organisation has also threatened to state a protest, despite government-imposed COVID-19 prevention measures that prohibit public gatherings of more than five people.
The Kosovo Specialist Chambers were set up to try crimes allegedly committed during and just after the Kosovo war from 1998 to 2000. They are part of Kosovo's judicial system but located in the Netherlands and staffed by internationals.
They were set up under pressure from Kosovo's Western allies, who feared that Kosovo's justice system was not robust enough to try KLA cases and protect witnesses from interference.
The so-called 'special court' is widely resented by Kosovo Albanians who see it as an insult to the KLA's war for liberation from Serbian rule.