North Macedonia Shaken by Compatriots' Links to Vienna Attack
After the revelation that one of the Vienna terrorist attackers was a citizen of North Macedonia and that others may have been involved, authorities are waiting to hear if one of the victims also came from the Balkan country.
This post is also available in: Bosnian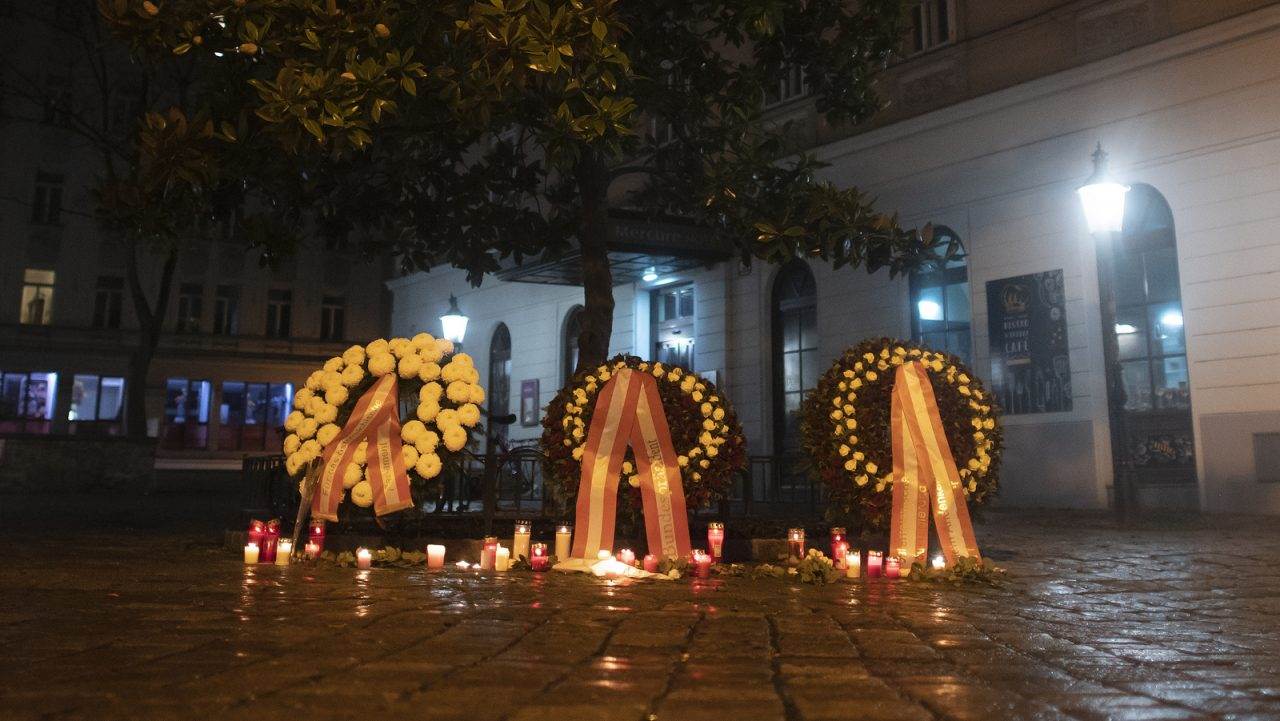 Candles and flowers at the crime scenes in central Vienna. Photo: EPA-EFE/CHRISTIAN BRUNA
Police in North Macedonia said on Wednesday that they are "still waiting for official confirmation" from their Austrian colleagues about whether a 20-year-old ethnic Albanian man from North Macedonia's village of Veleshta was one of the victims of this week's terrorist attack in Vienna.
Media yesterday reported that one of the victims, whose initials are N.V., has roots in North Macedonia – as did one of the attackers, a 20-year-old Islamic State sympathiser, Kujtim Fejzulahu.
Four people were killed and over 20 others wounded in the gun attack on Monday, sparking a major anti-terrorist operation to catch the killers. Fejzulahu was shot dead by police but the others fled.
Alsat M TV in North Macedonia on Tuesday aired an interview on Tuesday with one of the relatives of N.V. from the ethnic Albanian-populated village of Veleshta, near the town of Struga, who said that the young man had been an Austrian citizen and had been shot dead in a café in Vienna during the attack.
"What has happened is sad for his parents, for us as relatives and for the entire village," the relative told Alsat M.
"Today he should have started going to work. He had called one of his Austrian friends to celebrate. They went out to some café, but because they could not smoke inside, they went out for a smoke. After a few minutes, shots were fired and he was fatally hit," the relative added.
Attacker's village also in the spotlight
Austrian Interior Minister Karl Nehammer said on Tuesday that the attacker Fejzulahu was born in Vienna but had dual citizenship of Austria and North Macedonia.
North Macedonia's Interior Ministry also said on Tuesday that it has received a request from Austrian police to help gathering information about three people implicated in Monday's terror attack who hold dual citizenships of Austria and of North Macedonia.
The news about Fejzulah, who according to Austrian officials previously wanted to go and fight in Syria, put another village in North Macedonia in the spotlight – Celopek in the country's north-west, near the town of Tetovo, where his family used to live.
According to domestic media reports, Fejzulahu's family lived in Celopek until 2000, when they had moved to Austria, where Fejzulahu was born.
The Albanian-language Klan Macedonia TV cited his grandfather from the village as saying that Fejzulahu visited North Macedonia each year, but that for the past six months Fejzulahu had no contact with him or with his family in Austria.
"Of course, he was visiting each year with his family. He was usually staying at his mother and father's apartment but he had an apartment of his own as well [in Austria]. Now nobody knows what was he doing there," the grandfather was quoted as saying.
Meanwhile, the country's Islamic Religious Community organisation condemned the attack.
"We share the pain with the families of the victims and with all the people of Austria, and we strongly condemn the violence carried out in the name of Islam and the Muslims," said the head of the Islamic Religious Community, Shekir Fetahu.
He added that the aim of this violence was "creating chaos and terror on the streets of Europe, destroying the pillars of inter-religious tolerance and causing doubt in the Islamic community in general".
Attack reignites concerns about home-grown terrorism
Although Fejzulahu was born and raised in Austria, the terror attack in Vienna rekindled concerns about home-grown radicals.
According to North Macedonia's National Coordinative Body for Prevention of Violent Extremism and Fight Against Terrorism, the country has so far identified over 150 people who participated in fighting in Iraq and Syria. A total of 35 of them are believed to have died there.
Many of the others have since returned to their home country. At the moment ten returnees are serving jail terms for terrorism, and additional three for facilitating recruitment.
Afrodita Musliu, the executive director and founder of Skopje-based Nexus Civil Concept, an NGO working on preventing and countering violent extremism, said that the country must employ strong rehabilitation, resocialisation and reintegration techniques to counter the risk of returnees causing problems within the country.
"This process must start in the prisons and continue when they [the returnees] come back into their communities… If this country does not try to help them in some way, they will feel as if they are not part of this society, leading to the danger of them repeating their actions," Musliu said.
The last time that police arrested three alleged Islamic State sympathisers, returnees from Middle Eastern conflict zones, was this September. Authorities said at the time that they seized a cache of explosives and weapons that they suspected were intended for use in attacks within North Macedonia.