BIRN Wins Austria's Reporters Without Borders Press Freedom Award
RSF Austria on Thursday awarded BIRN its prestigious Press Freedom Award – A Signal for Europe – which BIRN's regional director, Marija Ristic, described as an honour and encouragement.
This post is also available in: Bosnian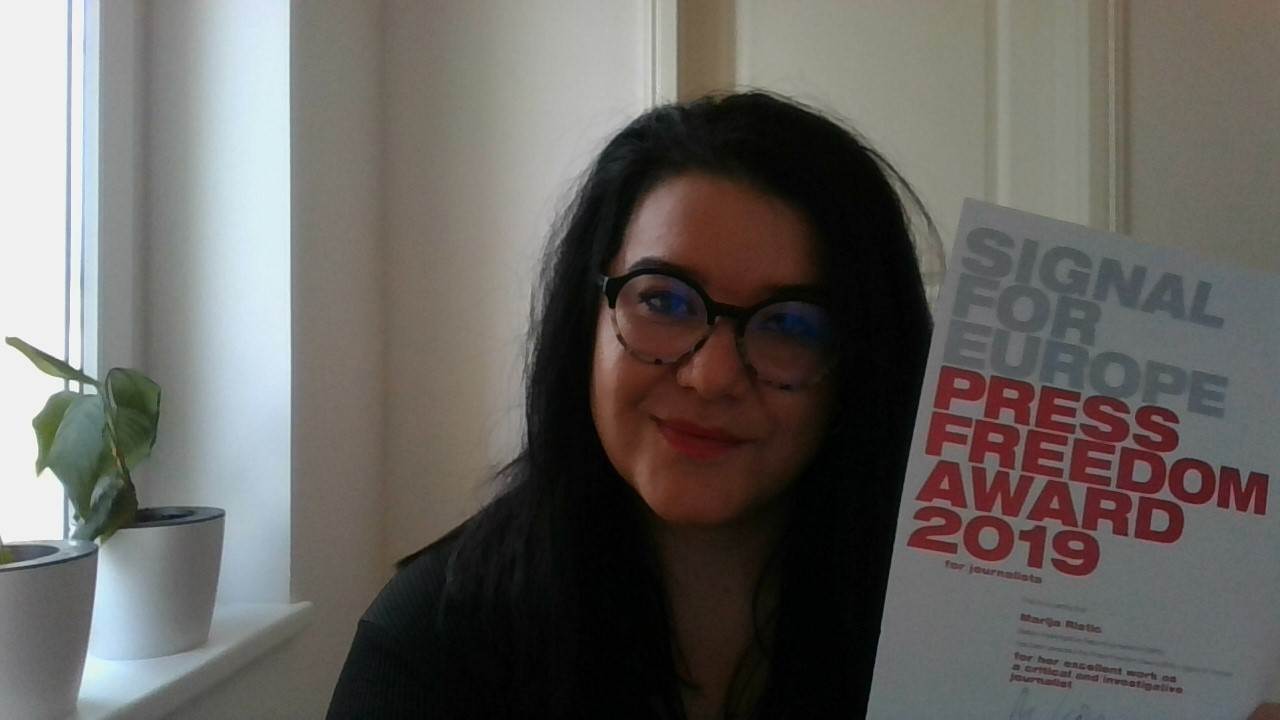 In a ceremony held online because of the COVID-19 restrictions, Reporters Without Borders Austria on Thursday honoured BIRN for its courageous investigative journalism in Eastern and South-Eastern Europe and for its dedication to the fight for human rights, democracy and justice for the victims of war crimes.
Marija Ristic, regional director of Balkan Investigative Reporting Network, said she felt "honoured by this acknowledgment from our Austrian colleagues. It is an encouragement and it gives us more motivation to continue with our uncompromising reporting."
"It supports us in our endeavour to make our societies more democratic and hold powerful to account," she added.
The award also specifically honoured BIRN's founder, Gordana Igric, the organisation's regional director until May 2018, for her pioneering work in establishing the network.
"With it, she has done enormous and almost unbelievable pioneering work," Rubina Mohring, president of Reporters Without Borders Austria, said.
"The result is a masterpiece," Mohring added. "This pan-Balkan journalistic network that she has built up now has offices in Albania, Bosnia and Herzegovina, Kosovo, North Macedonia, Romania and Serbia. The publications of the BIRN reports also reach the media in Ukraine, Bulgaria, Greece and Croatia, in Moldova and Montenegro, in Poland and Slovenia and in the Czech Republic."
Ristic stressed that the award was going to the entire organisation. "This is not just a reward for my leadership and Goca's vision," she said. "It is a reward for the whole network – with more than 200 people who work together and really made cross-border journalism, collaboration and diversity a reality in a region that saw wars and unrest."
Workers for the network "are often labelled spies", she remarked. "They face pressure, intimidation and lawsuits – but despite all of that they produce great public interest journalism."
The Austrian branch of Reporters Without Borders, RSF, gives the Press Freedom Award – A Signal for Europe every year.
The Paris-based RSF is a leading international non-profit and non-governmental organisation. It is dedicated to safeguarding the right to freedom of information, to promoting free, independent and pluralistic journalism and to defending media workers.