Bosnian Investigators Find Bones at Suspected War Grave Site
Human remains suspected to date back to the 1990s war have been discovered during an exhumation at Duboki Potok near the town of Knezevo in Bosnia and Herzegovina.
This post is also available in: Bosnian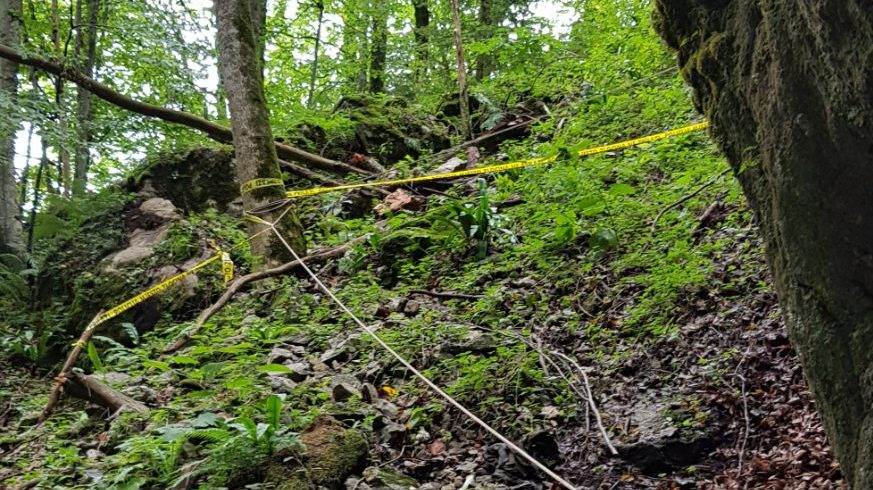 The exhumation site at Duboki Potok. Photo: Bosnian state prosecution.
The Bosnian state prosecution announced on Wednesday that several fragments of human bones have been found during the exhumation at Duboki Potok.The remains are believed to belong to one person, possibly a Bosniak killed during the war.
Missing Persons Institute spokesperson Emza Fazlic said investigators are continuing their search at Duboki Potok, where human remains were first discovered earlier this summer.
"It is being assumed that Bosniak victims from the Kotor-Varos area, who tried to get to Travnik via Vlasic in 1992, could be there," Fazlic said.
A mountaineering team from the State Investigation and Protection Agency was offering support during the exhumation.
"The terrain and location are not easily accessible. Mortal remains were noticed at that location in early June this year. As it was suspected that the area was mined, demining took place prior to the exhumation," Fazlic said.
More than 7,000 people who went missing during the 1992-95 war in Bosnia and Herzegovina have not yet been found.