The pandemic may have forced Pride organisers to cancel their planned march this year in Sarajevo, but activists say they will compensate for this loss with a host of other activities.
This post is also available in: Bosnian (Bosnian)
The Sarajevo Canton government had given its support for this year's march, however, with technocrat Prime Minister Mario Nenadic saying they wanted to improve the human rights of all citizens.
But the Pride organizers said they still faced additional hurdles such as strict security measures that are not usually imposed on other "high-risk" gatherings.
The organisers had planned to stage a march respecting current public gathering restrictions, including the ban on more than 100 people attending any outdoor events.
Last year, some 3,000 activists, supporters and allies from Bosnia and the region walked through the centre of Sarajevo under heavy security in September, at the first such event ever held in Bosnia.
Sarajevo has now become a regional hotspot for COVID-19 after a spike in infections in the last two months, with dozens, sometimes up to a hundred, new cases reported daily.
The health situation has forced the Sarajevo Film Festival, the capital's annual cultural highlight, to switch to a full online format for this year's edition, starting August 14.
"It is symptomatic that under the excuse of security or pandemic issues, gatherings that have an LGBTIQ prefix are being forbidden. It is a reminder of all those other excuses when we were rejected for this or that reason," Mirza Halilcevic told a webinar he co-hosted for fellow Pride committee members that was streamed live on the march's Facebook page this week.
"When you find yourself in a situation with a similar pattern, where you have already experienced that your gatherings or requests have been rejected, it requires deeper research and questioning of the reasons – did we postpone the march because it had become a security issue, or was this just another of those homophobic challenges that we need to overcome? I believe it is both," Halilcevic said.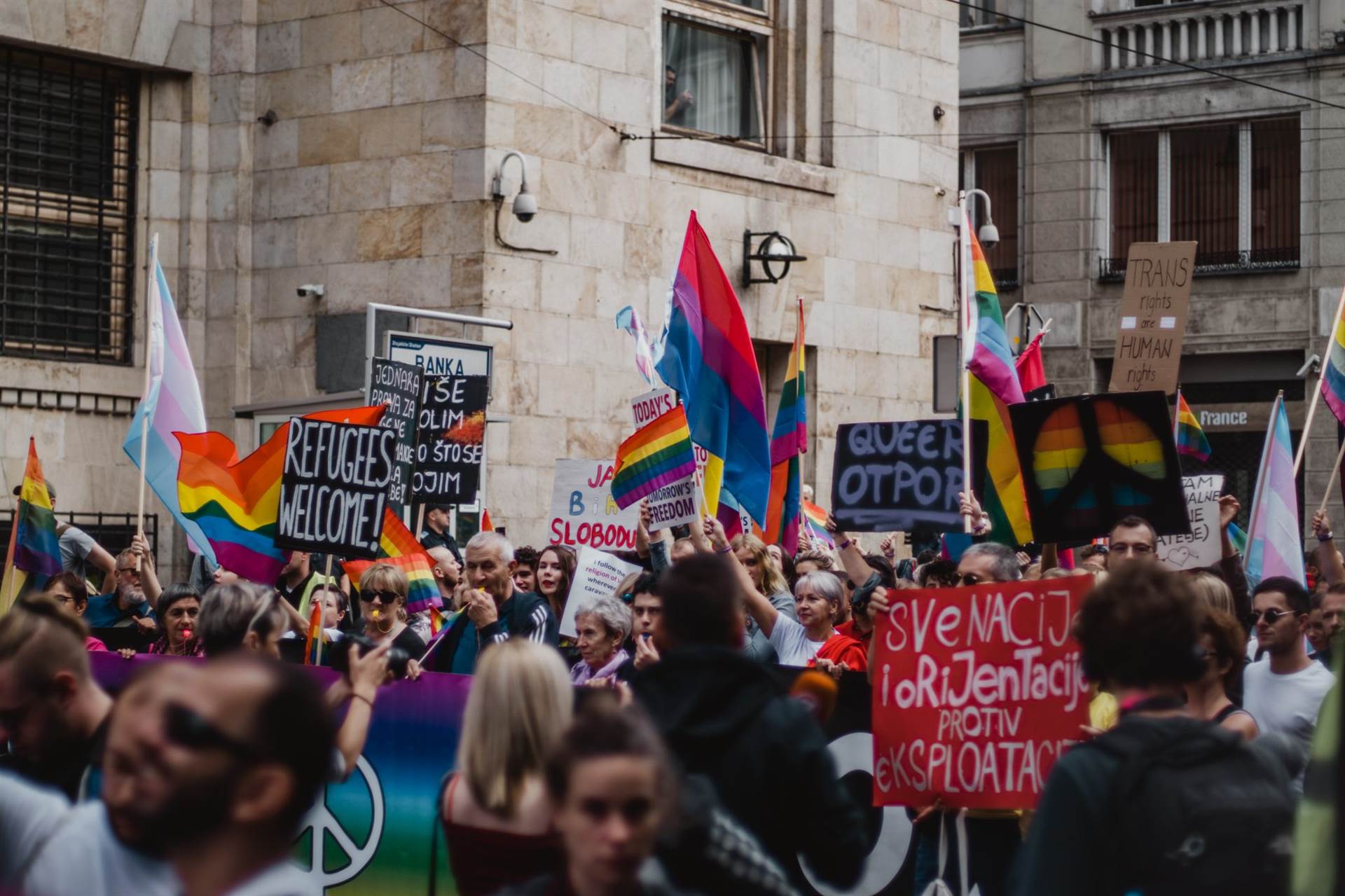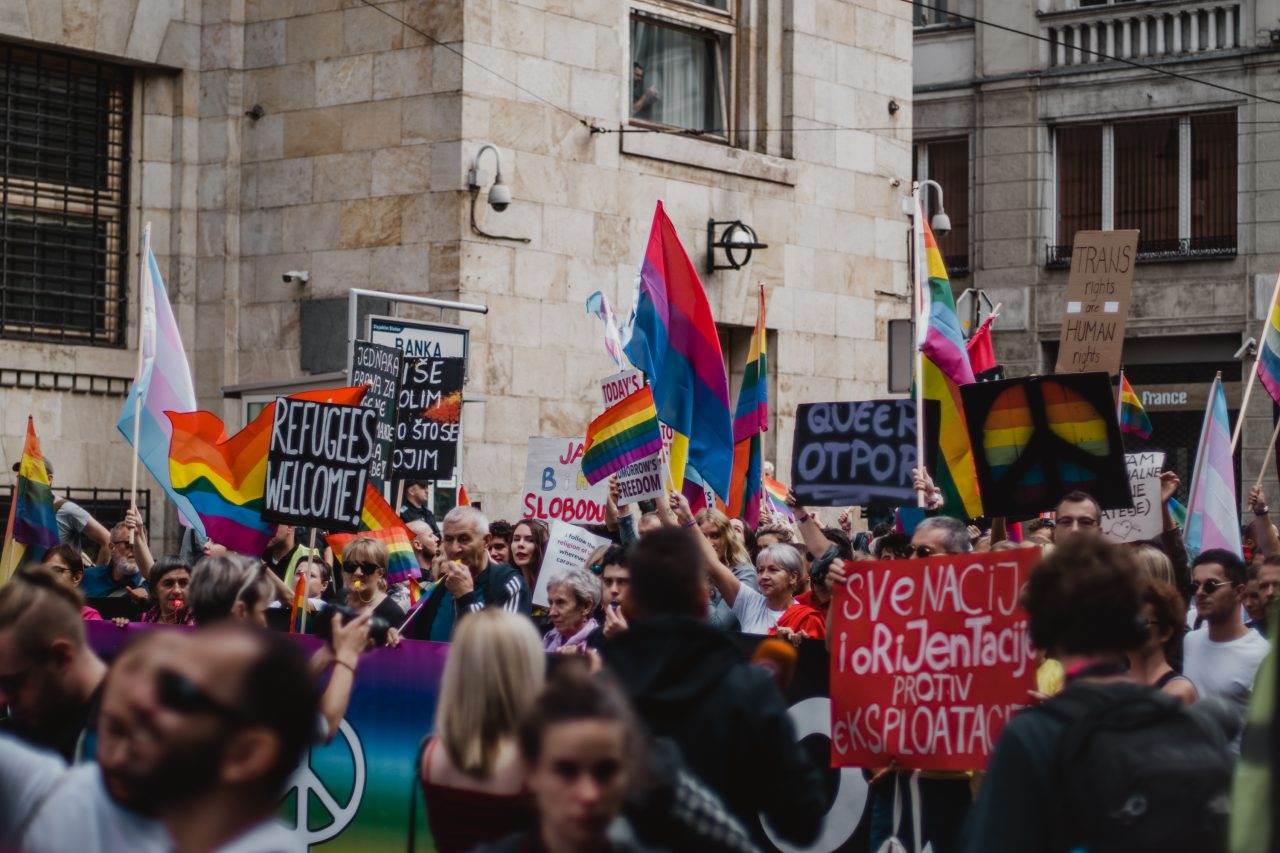 Sarajevo pride 2019. Photo: povorkaponosa.ba

Imam's sharp reminder of public hostility
With the march postponed for a better time, Halilcevic and his fellow activists say they will now work on putting out online content on the original day of the march that will focus on the issues and problems of the community, but also on those affecting other marginalized groups whose right to freedom and public assembly has been curbed.
"For all of us, this is a new situation and a challenge, but it is important to find new models for our fight and to clearly state our problems in Bosnian society, which is why such a protest is organised. All these problems have increased during the pandemic, when we had to enclose ourselves within our walls from which we want to escape," the Pride march's webinar co-host, Dajana Bakic, said.
Just hours after they said on August 6 that they were cancelling the march "in the name of solidarity with all those who are victims of the pandemic and of the negligence of the political system", the activists were harshly reminded of the hostility felt towards them from part of society.
A controversial Sarajevo imam thanked God and the coronavirus for cancelling the march in a post on Facebook – where he has tens of thousands of followers – drawing almost no public reaction except from a few prominent individuals.
Bosnia's official Islamic Community at first had no comment on Muhamed Velic's remarks, its spokesman telling BIRN that it does not regulate the work of imams that closely. Only days later did the faith body appear to distance itself from the cleric, saying his views did not reflect its position.
Lejla Huremovic, another Pride march organising committee member, said at least the Islamic Community was not using hate speech concerning her community. Last year, it called on Muslim believers not to use the language of hate and or call for violence amid several protests organised by opponents of Pride before and during the march.
"That was really a big thing because in the last 10 or 15 years, as [Pride] marches are being held throughout the region, some leaders have been spreading the language of hate," 33-year-old Huremovic, who works for the American media development organization Internews, told BIRN. "This is a positive example … but the problem appears to be at lower levels – and then we have cases such as Velic's," she added.
She said many members of her own community had found a way to reconcile their religious and sexual identities, while some imams and other clerics "are more open interpret religion in a different way and accept that we all are God's children.
"Unfortunately, these are only individuals, and the problem is … when religious communities do not come out publicly with such clear positions," Huremovic said in a video talk with BIRN with two other activists.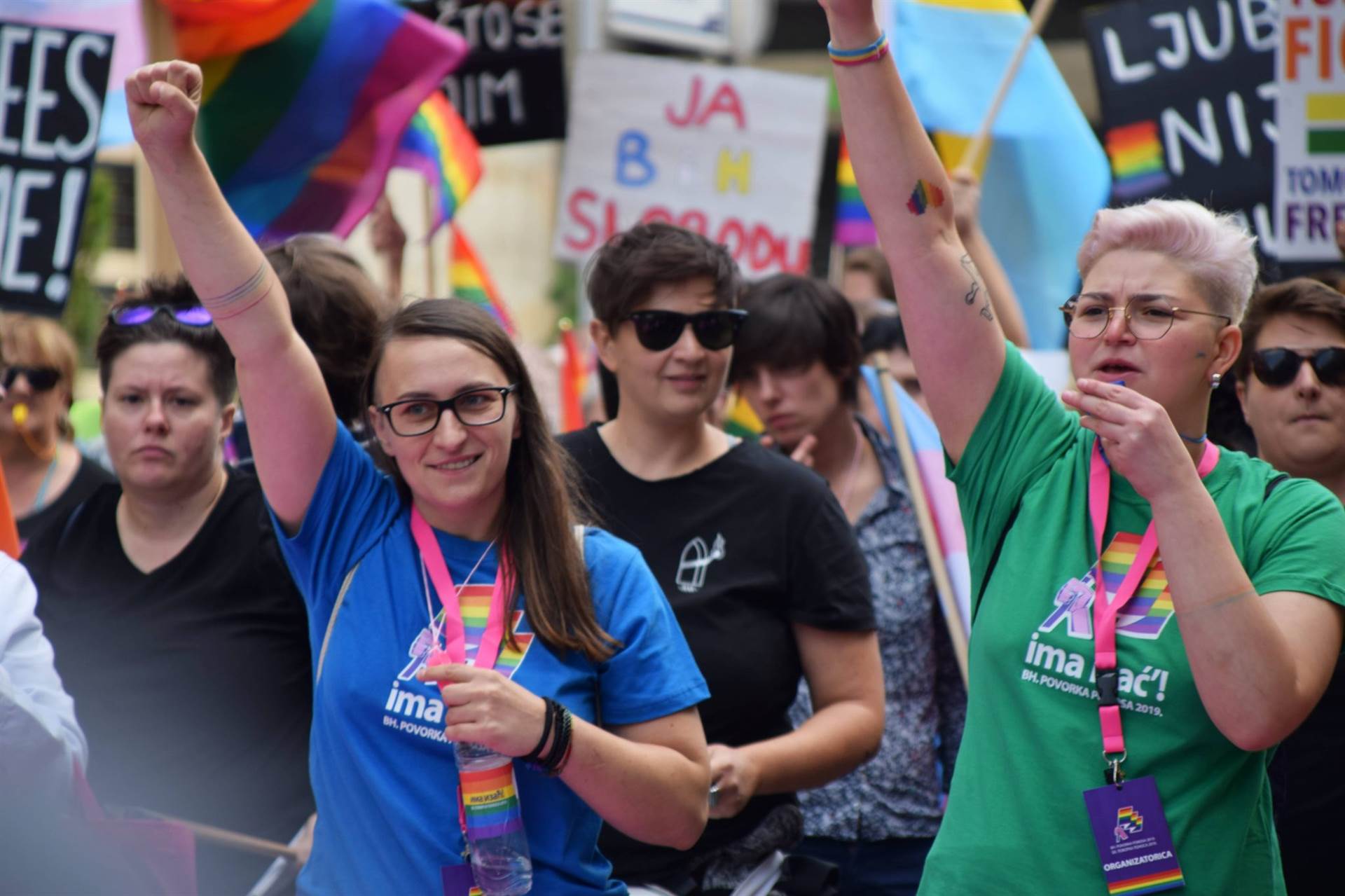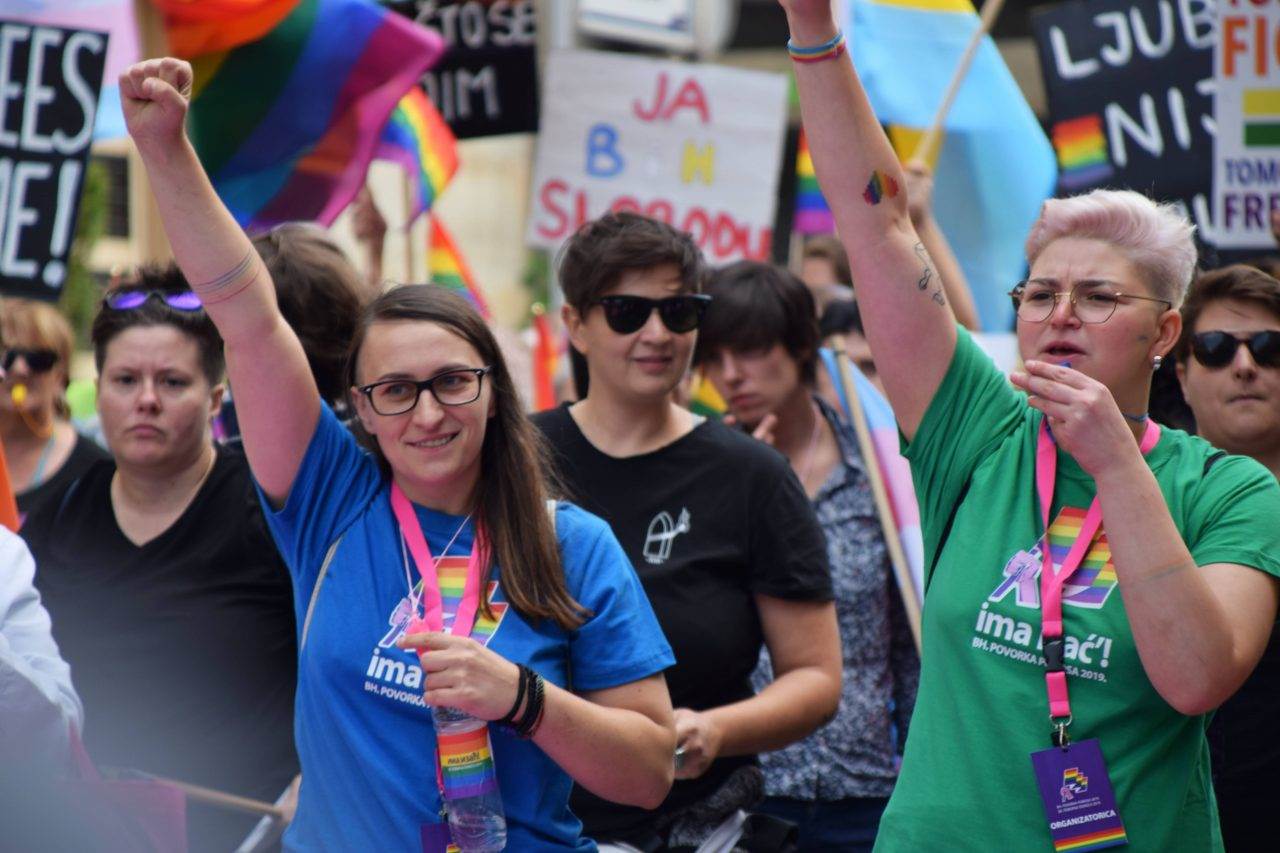 Lejla Huremovic (blue shirt) during Sarajevo pride in 2019. Photo: povorkaponosa.ba

Encouraged by moves in Montenegro
The coronavirus pandemic, with a lockdown and other movement and social restrictions, has been particularly harsh for the members of the LGBT community in Bosnia, said Darko Pandurevic, of the Sarajevo Open Center, an NGO that campaigns for LGBT and women's rights.
He cited a rise in verbal, psychological and physical violence, often from parents, as well as loss of work and a lack of contact and support from the community as some of the main problems.
"The health situation is especially alarming for trans persons who often need specific medical services and therapies that are almost inaccessible even in normal conditions, and often depend on travelling outside Bosnia.
"It is clear how strong the additional pressure and problems caused by the COVID-19 pandemic are, when travel is highly restricted and made very difficult," Pandurevic wrote in an email reply to BIRN.
"As well as the current difficulties, we've also mapped fear of what the future brings to LGBTIQ+ persons, having in mind primarily political and economic conditions, which indicate that in the coming period the rights and position of minorities will be even more difficult," Pandurevic added.
He said it was difficult to illustrate the situation with statistics as community members even in normal situations are reluctant to come out and expose themselves to potential stigma from their families and the public.
The pandemic, Pandurevic said, had also frozen the activities of a working group of the government of Bosnia's Federation entity, formed just before the onset of the virus, which had been tasked with preparing legislation on legalizing same-sex parterships. It held just one meeting in February.
"We are in contact with working group members and will try to continue work on this issue as soon as possible, in accordance with the situation we find ourselves in," he said, adding that while the Federation entity had made the first step, while some positive signs were also coming from the Serb-majority entity in the country, Republika Srpska, RS.
"The story about same-sex partnerships has at least started, and become part of the public discourse. Some inter-entity cooperation is visible too; there is a willingness of institutions of the Federation and RS to work together on equality for LGBTI persons," he said.
In the meantime, Pandurevic said, the LGBT community in Bosnia felt encouraged by Montenegro's adoption of the legislation legalising same-sex partnerships, becoming the first country in a largely conservative region that is not a member of the European Union to do so, after three earlier attempts over six years .
"This could be a clear and positive example for Bosnia and Herzegovina, that the adoption of such a law is possible even in societies dominated by traditional values," he added.
Signs of growing tolerance
Every day day that passes without same-sex partnership legislation makes it more difficult for the LGBT community, says Amar Catovic, a 23-year-old law graduate from the northwestern industrial town of Tuzla, Bosnia's third-biggest.
"You don't have the right to extended health and social security; and if my partner is dying in hospital, I can't visit him because we are not 'family,'" Catovic said in the video talk with BIRN with fellow activists and the Pride march organising committee members.
"The most important change is regarding ordinary people who need to become aware that LGBT people also pay taxes and have bills to pay," Catovic added.
Still, he said, he was encouraged by his experience as a trainee at the municipal court where he had been forced to listen to inappropriate comments and jokes and disapproving body language from some of his colleagues.
"The court president told me to file a criminal complaint against each person who did that. He asked how I felt, and whether I felt discriminated against; he literally spent an hour and a half talking to me," he recalled.
Bisera Hodzic, another LGBT and Pride march activist who spoke to BIRN via the video talk, said lack of support from state institutions was the most important issue for the community.
"When we talk about the hate speech and discrimination that I suffered online, I wasn't given any support, nor were the people who did it punished. The state gives us almost no support at all," she said.
But the 23-year-old literature student at Sarajevo's Faculty of Philosophy said she considered herself lucky compared to other people's experiences.
She had no big problems after she came out to her parents and friends eight years ago while a teenager living in the western town of Jace. "I think more or less the whole town knew about it, but people either didn't pay attention or didn't care," she said.
Hodzic said she recently went back to Jajce and tested the level of tolerance with a run through the city with a rainbow flag, the symbol of movement for lesbian, gay, bisexual, transgender, queer and other sexual minorities rights. "I ran at several locations in the town, and people saw it – but no one reacted or gave me a bad look," Hodzic said.